Before taking the nation's highest elected office, 45th President of the United States (POTUS) Donald J. Trump was successful at developing high end real estate (e.g.: Trump Tower), clubs, and golf courses. He had his television show, The Apprentice, beauty pageants, and best-selling books. He lived a publicly lavish billionaire's elite life. Never having previously held office, he risked it all to run for the presidency in the 2015-2016 election cycle. Among Republican primary contender ranks, a consequential achievement was that he took on the Bush family and beat them. He denounced Bush 43's handling of Iraq, Afghanistan, the U.S.' many foreign wars, and trade. He took public shots at popular President Barack Obama, former President Bill Clinton, his wife and former Secretary of State Hillary Clinton. Among both Democratic and Republican elites, candidate Trump used often sharp elbows and counterpunching to secure a four-year lease on the Oval Office. A recent federal inspector general's report, along with moves revealed and announced by the New York Attorney General's office, reveal points worth pondering on Flag Day USA, June 14, 2021 in this news analysis.
Per right-leaning Breitbart and other sources across the media spectrum, Inspector General (IG) of the U.S Department of the Interior "released a report Wednesday June 9, 2021 exonerating President Donald Trump from false claims that he used tear gas to clear "peaceful protesters" from Lafayette Square for a Bible photo-op."
Said Breitbart, "Democrats and the media falsely claimed that Trump had used "tear gas" to clear "peaceful protesters" from the park simply for a "photo op." Then-candidate Joe Biden went further, claiming that Trump held the Bible "upside-down."
In fact, as then-Attorney General William Barr explained to CBS News' 60 Minutes last year, the rioters had injured dozens of officers in the two days leading up to the operation, and the U.S. Park Police had independently decided to expand fences establishing a White House perimeter by one city block, using pepper balls to clear those who resisted."
PBS, and other often left-leaning media, tweeted and 'reported' claims last year that President Trump ordered the move to clear the park in order to grab a photo opportunity in front of nearby and historic St. John's Church.
The new IG report flips much of that agenda-driven script.  But following their release, this analysis will make the point that either way, it shouldn't much matter…
Citing the specific findings are the following from the IG's website's press release on 6.9.2021.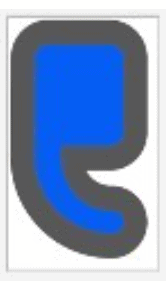 Review of U.S. Park Police Actions at Lafayette Park
Create Date: 
Wednesday, June 9, 2021
Report Date: 
Tuesday, June 8, 2021
At the request of then Secretary of the U.S. Department of the Interior David Bernhardt and Members of Congress, we reviewed the actions the U.S. Park Police (USPP) took to disperse protesters in and around Lafayette Park in Washington, DC, on June 1, 2020. Our review focused on events that occurred in and around the park from May 29 through June 3 amid the ongoing Black Lives Matter protests. We sought to describe what occurred primarily from an operational perspective, including how and when the USPP, in coordination with its law enforcement partners, developed and executed its plan to clear the park and the USPP's reasons for dispersing protesters from the area. We also sought to determine whether the warnings the USPP provided to protesters before it executed the plan complied with applicable guidance. We did not review as part of this project individual uses of force by USPP officers; these actions are the subject of separate inquiries or ongoing lawsuits.
Protests began in and around Lafayette Park on May 29, 2020. On May 30, the USPP and U.S. Secret Service established a unified command to coordinate the law enforcement response to the protests. From May 30 to 31, at least 49 USPP officers were injured while policing the protests, and Federal and private property was vandalized.
On the morning of June 1, the Secret Service procured antiscale fencing to establish a more secure perimeter around Lafayette Park that was to be delivered and installed that same day. The USPP, in coordination with the Secret Service, determined that it was necessary to clear protesters from the area in and around the park to enable the contractor's employees to safely install the fence. The USPP planned to implement the operation as soon as the fencing materials and sufficient law enforcement officers arrived at the park. Six other law enforcement agencies assisted the USPP and the Secret Service in the operation to clear and secure areas near the park.
The operation began at 6:23 p.m. and was completed by 6:50 p.m. Shortly thereafter, at 7:01 p.m., President Trump walked from the White House through Lafayette Park to St. John's Church. At 7:30 p.m., the contractor began assembling and installing the antiscale fence and completed the work by approximately 12:30 a.m. on June 2.
We found that the USPP had the authority and discretion to clear Lafayette Park and the surrounding areas on June 1. The evidence we obtained did not support a finding that the USPP cleared the park to allow the President to survey the damage and walk to St. John's Church. Instead, the evidence we reviewed showed that the USPP cleared the park to allow the contractor to safely install the antiscale fencing in response to destruction of property and injury to officers occurring on May 30 and 31. Further, the evidence showed that the USPP did not know about the President's potential movement until mid- to late afternoon on June 1—hours after it had begun developing its operational plan and the fencing contractor had arrived in the park.
We also found that although the USPP used a sound-amplifying long-range acoustic device to issue three dispersal warnings to the crowd on June 1, not everyone could hear the warnings. Furthermore, we found that the USPP does not have a detailed dispersal warning policy applicable to operations like the one that occurred on June 1 and that this may have led to the ineffective warnings issued to the crowd that day.
Finally, we found that the USPP and the Secret Service did not use a shared radio channel to communicate, that the USPP primarily conveyed information orally to assisting law enforcement entities, that an assisting law enforcement entity arrived late and may not have received a full briefing on the rules of engagement, and that several law enforcement officers could not clearly hear the incident commander's dispersal warnings. These weaknesses in communication and coordination may have contributed to confusion during the operation and the use of tactics that appeared inconsistent with the incident commander's operational plan.
Given the lack of a specific policy, we recommend that the USPP develop a detailed policy for protests and other events of the type that occurred on June 1 and improve its field communication procedures to better manage multiagency operations.
Read a statement from Inspector General Mark Lee Greenblatt regarding this Special Review report. (PDF).
##
Here we go again!

Episode 100 in "the press was wrong, Trump was right!"

I said this from the podium endlessly. But only now do they finally report the truth: "Police did not clear Lafayette Park area so Trump could hold 'Bible' photo op: Watchdog"https://t.co/ggpy6rYVtw

— Kayleigh McEnany (@kayleighmcenany) June 9, 2021
Either Way…
Regardless if the president had done what was wrongfully alleged or not, the issue of a photo and video opportunity hardly merited the tempest in the teapot the emerged. After all, politicians do all sorts of things – good, bad and ugly – for a photo op. It wasn't like President Trump was hiding that this was a photo op. That he made the centerpiece of that silently holding up the Holy Bible made it memorable and inspiration to millions. No doubt, that same gesture irritated millions of others.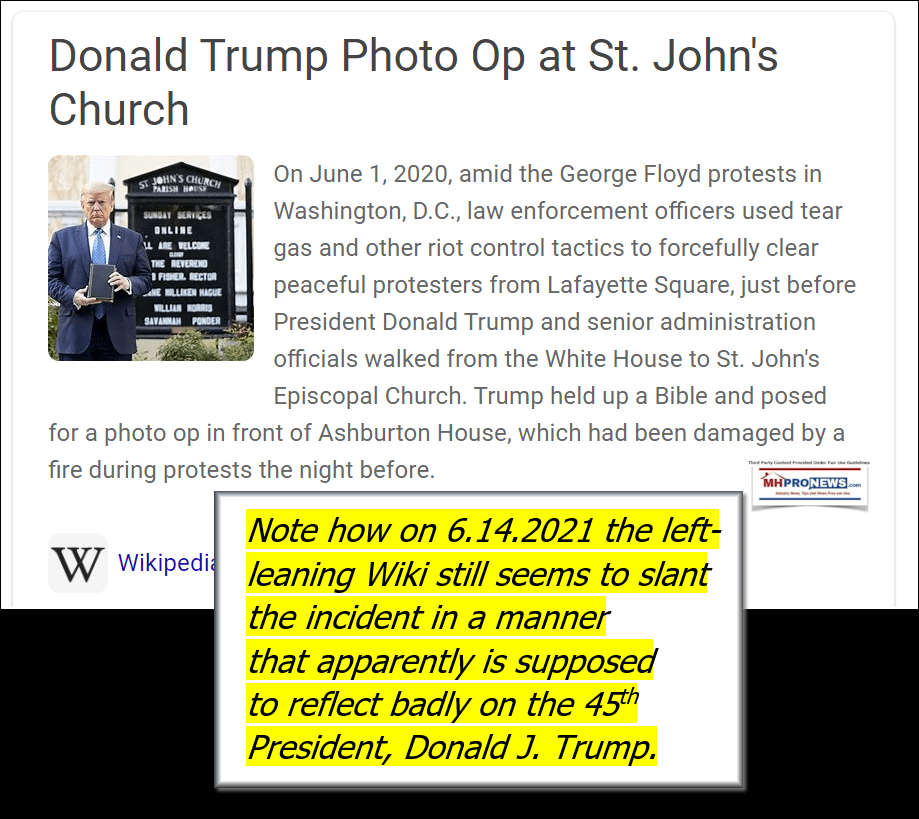 New York State's attorney general's office recently announced that they are investigating President Trump. The details of the 'investigation' were not disclosed, but this is hardly the first one by that state, or the federal government, for that matter.
Per CBS, "The New York Attorney General's Office announced that its investigation into former President Trump's company is no longer just a civil case. AG Letitia James confirms her office is working with the Manhattan District Attorney's Office in the investigation."
In no particular order of importance, the following.
1) Given that people were illegally assembled and numbers in that crowd were actively breaking the law, damaging and defacing private and public property on national TV, would it have been such a bad thing if President Trump did what his distractors claimed last summer? Sure, it was a video and camera opportunity or 'op.' Much of what any politician of any political party does can be reduced to an effort to get a memorable sound bite and 'photo op.' With that in mind, since at that time when purportedly organized and some paid demonstrators were throwing Washington, D.C. and several other U.S. cities into turmoil, wasn't such a symbolic walk by President Trump to St. John's Church a meaningful gesture?
2) While there have been arrests and prosecution over 2020 violence, defacing, and destruction of private and public property, an argument can be made that much of the mainstream media was too busy politicizing the matter instead of focusing on questions such as, who was paying for and organizing those events? MHProNews was an exception. We did fact and evidence-based reports, like the popular ones linked below.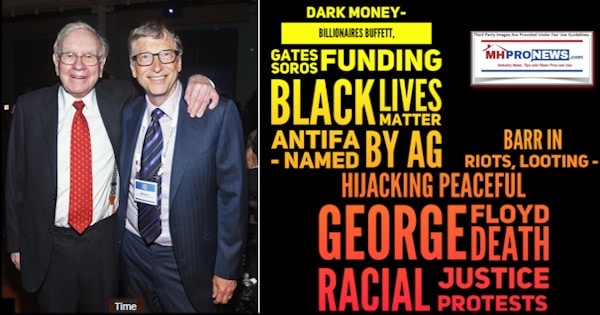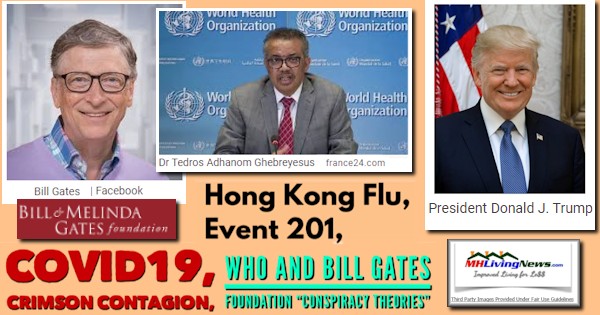 3) Each of those documented insights accurately conveyed to our readers on MHProNews and MHLivingNews insights months ahead of what mainstream media outlets – which sometimes hundreds of times our size and budgets – got wrong. The difference? A search for evidence-based reality that presents facts accurately and then makes reasonable common sense based analysis. It isn't that they are bad at reporting, they have an agenda that trumps accurate reporting, pardon the pun.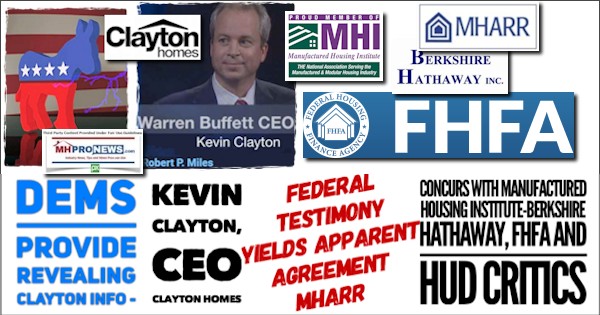 4) Thus, in hindsight, that readership record setting report – one of several in 2020 that presaged later media 'discoveries' weeks or months later, revealed much of the media's bias.
It is not only Flag Day today, but also the 45th President's birthday, he turned 75 today.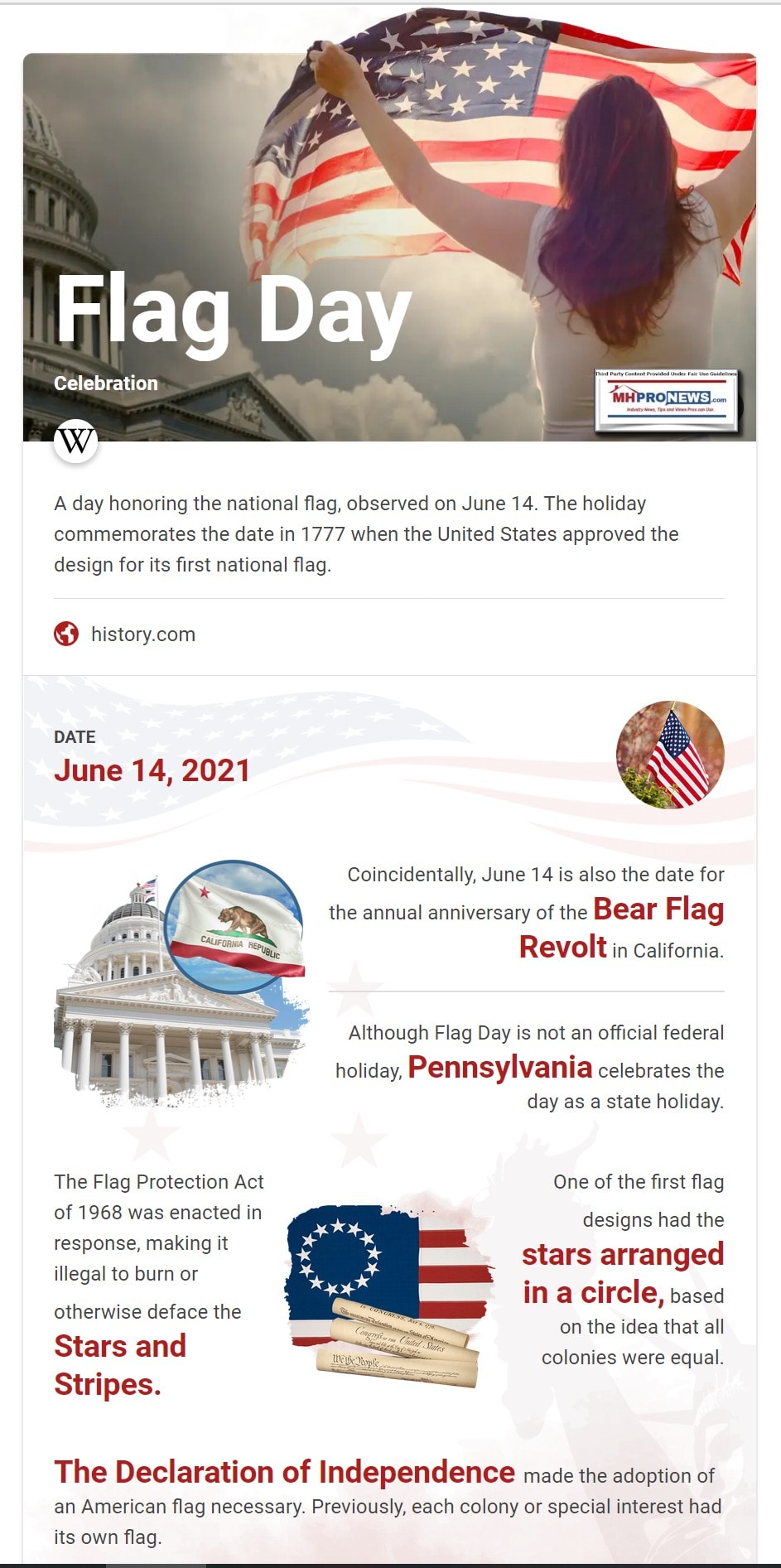 In America, thankfully, one is supposed to be presumed innocent until proven guilty.
Furthermore, investigations are supposed to be driven by evidence of wrongdoing.  Investigations aren't supposed to be started hoping to find evidence against a person that may be unfavored for whatever reasons.  The pattern during the past several years during the Trump era appears to reflect an almost Soviet style search of a crime based upon the desire to find something wrong with candidate- turned President Trump.
That's not to say that this pattern aimed against President Trump is a first in America. Far from it. History tells us that this vexing pattern has occurred during an array of administration going back decades. For instance. The Rev. Dr. Martin Luther King Jr. – also no saint, but nevertheless a revered figure in our nation's civil rights movement – was 'legally' spied on by the FBI, and who knows how many other aspects of the federal government.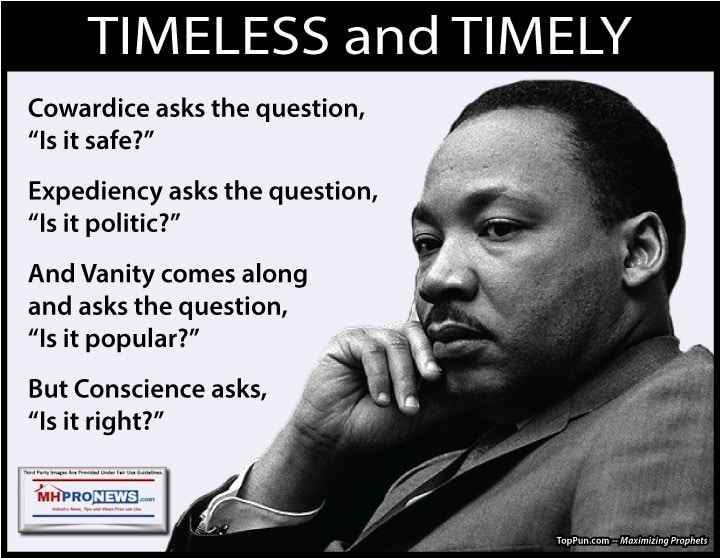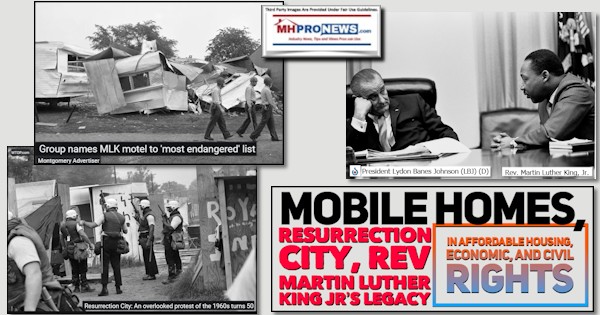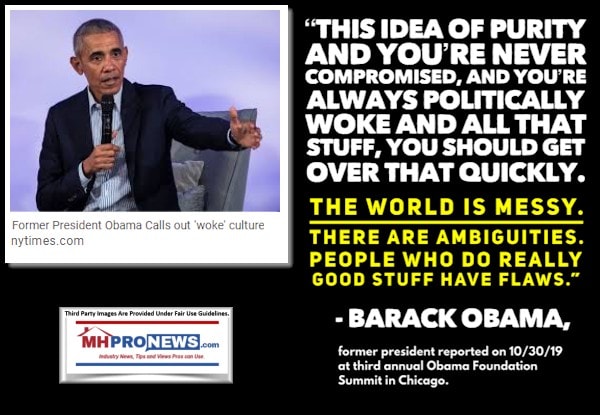 That noted, there is an apparent, nearly continuous, and often overlapping set of rolling allegations about President Trump. Taxpayer dollars have been torched by the millions, with nothing tangible to show for it with respect to the 45th President.
It is worth pondering how many millions have been spent investigating the 45th president by federal officials and others. So called "leaks" from inside the federal government often sparked these investigations. Time and again, nothing was found, or at least nothing actionable against the President Trump. That doesn't mean that he is a choir boy, he's not, but neither has he claimed that status. Sure, he takes his bows for authentic accomplishments. All presidents do. To the choir boy point, it would be hard to find an innocent chief executive in the entire 20th and 21st centuries, or earlier. The former President Barack Obama quote makes a similar point.
Flag Day is not a national holiday, but perhaps it should be. Flag Day is one day before the 'birthday' of the modern manufactured housing industry, June 15, 1976. My parents and their children celebrated Flag Day every year for their own good reasons.
Flag Day also happens to be the birthday of the 45th President of the United States (POTUS), Donald J. Trump.  The Inspector General's recent report was a unique pre-birthday "gift" by clearing President Trump of the often-repeated allegation a year ago that the 45th president ordered tear gas to disperse the crowd of protesters in order to get a photo opportunity in front of St. John's Church to hold a Bible up for the television and other cameras.
The media narratives on this Inspector General report by Trump supporters and Trump haters alike are predictable. Each arguably have flaws, which we know readers sort out for themselves for their own reasons. While it is good to know that the IG cleared 45, an argument can be made that a far more compelling set of questions should be the focus of the distractive discussion.
What the Last 5 Years Mean and What the Future May Hold for the 45th President and Our Profession
The president didn't invent the term 'fake news.' But he arguably popularized it.  There is not only fake news in national politics. There is also fake news in our industry too.  The patterns are often similar.  Several of the publications in our industry have clear ties to the Manufactured Housing Institute (MHI). They routinely give cover – directly, via razzle dazzle, or by looking another way – that may appear to give Clayton Homes and the big boys of our industry cover.  That is why factually driven stories based upon evidence and analysis that stands the test of time matters.
President Trump made a success in high-end real estate. What if President Trump, and/or some associate with him, flipped the script in manufactured housing?  He has the touch for exposing the fake in ways that resonate with millions.
The reports linked above and below shed light on these notions.    America is a republic that has long been under assault. The American Dream has long been under unjust pressure.
There were voices a few years ago before President Trump ran for office that he was looking into the affordable housing market. More recently, there were reports that the Trump family was checking into more middle-class type hotels. Never say never. It just may be that President Trump, who understands factory-built housing and has spoken well of it on several occasions, may just surprise Americans once again.
President Trump, from us to you, happy birthday.   You shook up the political landscape. Perhaps you'll do it again, and help liberate manufactured housing too, so that the industry can deliver on its great potential for fulfilling the American Dream for millions.
##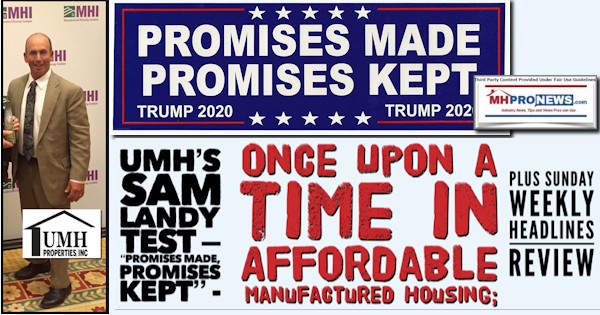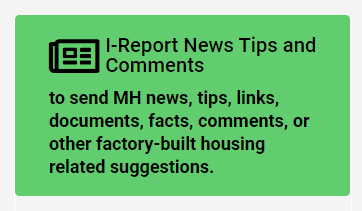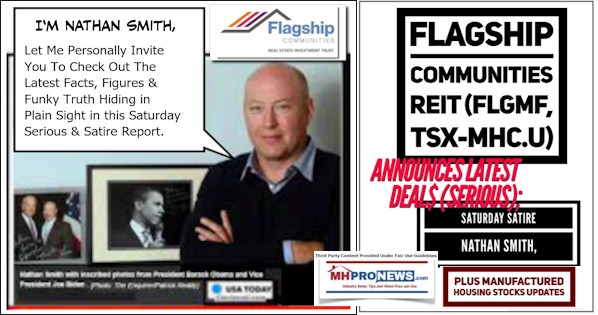 Our thanks to you, our sources, and sponsors for making and keeping us the runaway number one source for authentic "News through the lens of manufactured homes and factory-built housing" © where "We Provide, You Decide." © ## (Affordable housing, manufactured homes, reports, fact-checks, analysis, and commentary. Third-party images or content are provided under fair use guidelines for media.) (See Related Reports, further below. Text/image boxes often are hot-linked to other reports that can be access by clicking on them.)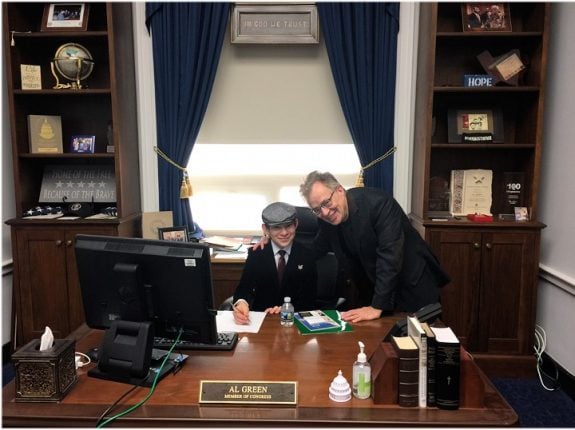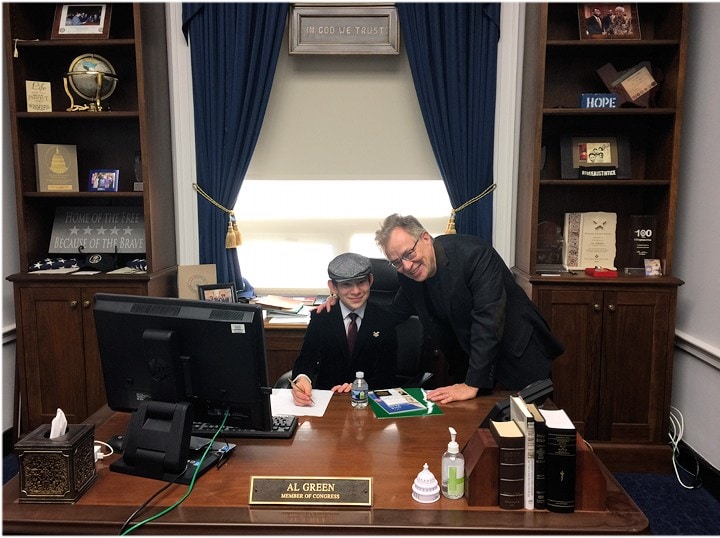 By L.A. "Tony" Kovach – for MHProNews.com.
Tony earned a journalism scholarship and earned numerous awards in history and in manufactured housing.
For example, he earned the prestigious Lottinville Award in history from the University of Oklahoma, where he studied history and business management. He's a managing member and co-founder of LifeStyle Factory Homes, LLC, the parent company to MHProNews, and MHLivingNews.com.
This article reflects the LLC's and/or the writer's position, and may or may not reflect the views of sponsors or supporters.
Connect on LinkedIn: http://www.linkedin.com/in/latonykovach
Related References:
The text/image boxes below are linked to other reports, which can be accessed by clicking on them.