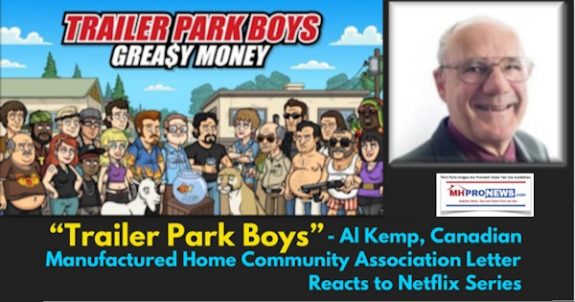 Al Kemp is the Executive Director of the Manufactured Home Park Owners Alliance (MHPOA) of British Columbia (BC). That Canadian trade group's manufactured home community (MHC) members, say Kemp, has an average vacancy rate of one site for every two properties.
Rephrased, those BC community owners have ½ a unit vacancy rate per MHC.
That would put them in a very elite category in the U.S.
Kemp has been an outspoken critic of the Canadian "mocukumentary" Netflix series problematically dubbed the Trailer Park Boys.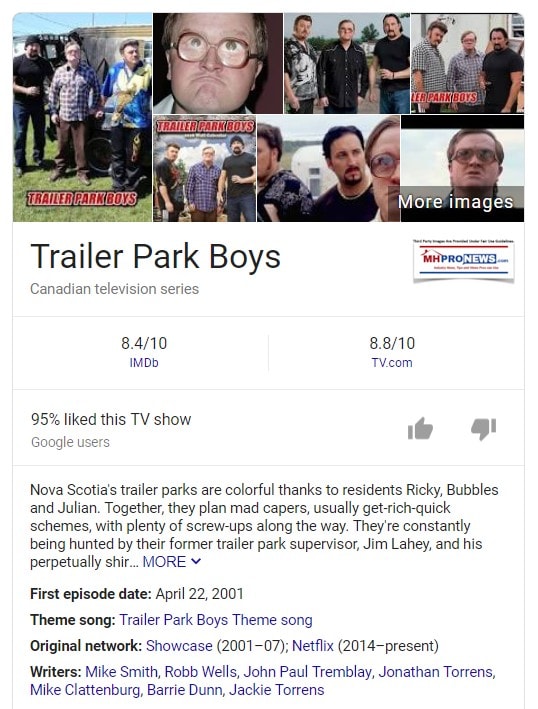 The Daily Business News on MHProNews has spotlighted Kemp's thoughts as recorded by mainstream media previously, for example, in the report linked in the clickable image/text-box below.
Millennials Need Affordable Housing, but "Trailer Park Boys" stigma slows Manufactured Home Acceptance
That prior report linked above is a useful read to understand the new letter and plans Kemp has shared with MHProNews readers. He begins by saying that "…at least in Canada – "trailer park" connotes exactly the type of persons portrayed in Trailer Park Boys."
That evokes, says Kemp, the painful "long-standing stereotype" he believes harms the proper understanding of manufactured homes and their reality of their products or residents vs. the shameful portrayal of the "TPBoys" on Netflix.
Kemp's insightful letter is found at the linked image/text-box below.
Hi Tony, The short answer is that – at least in Canada – "trailer park" connotes exactly the type of persons portrayed in Trailer Park Boys. This is a long-standing stereotype that was perhaps somewhat relevant 25 or more years ago.
Among the themes that MHLivingNews discovered was an issue with numerous manufactured home residents was the sting of the terms:
"Trailer,"
"Trailer Park," and of course,
"Trailer Trash."
Of course, just as some blacks refer to each other using what manufactured home advocate Donald Tye Jr. called the "n-word," some manufactured home residents or even some professionals do likewise.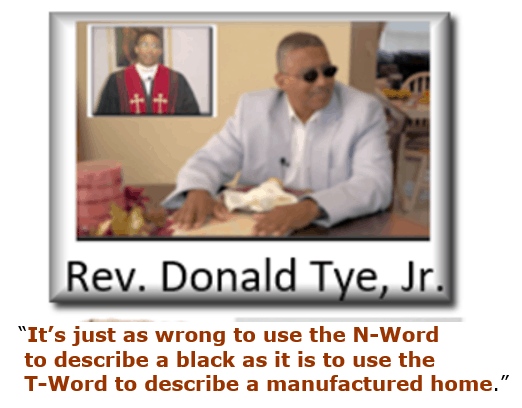 A survey by Foremost Insurance suggests that the use of the "t-word" was not always so for numbers of those living in our industry's factory-built homes and communities.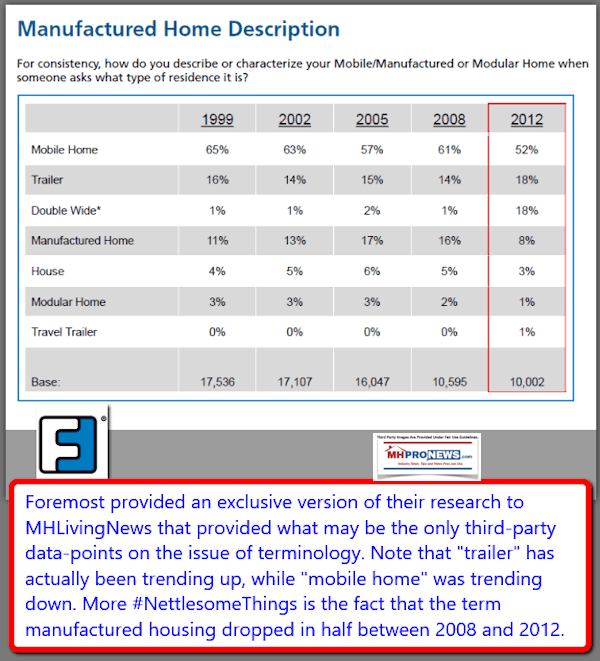 As 2018 winds down and industry professionals on either side of the U.S. Canadian line prepare for 2019 and beyond, there is an obvious need for tackling such #NettlesomeThings. See Kemp's thoughtful letter at this link here, or the link above to understand their perspectives.
What Kemp refers to as the "TPBoys" is clearly not the only challenge that faces our industry. But it is a thorn in the side, that along with other factors, harms the understanding and acceptance of manufactured housing and those who own them. That spills over into other arenas.  It's clear that after years of ignoring such issues that doing nothing isn't an acceptable answer.

See the related reports further below the byline and notices to better understand how the sting of the "t- word" has harmed our industry's home owners and business interests. That's "Industry News, Tips, and Views Pros can Use," © where "We Provide, You Decide." © "We Provide, You Decide." ## (News , analysis, and commentary.)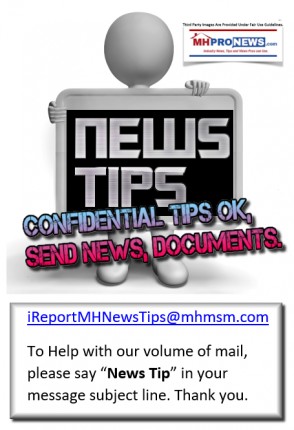 NOTICE: You can join the scores who follow us on Twitter at this link. You can get our 'read-hot' industry-leading emailed headline news updates, at this link here.

NOTICE 2: Readers have periodically reported that they are getting a better experience when reading MHProNews on the Microsoft Edge, or Apple Safari browser than with Google's Chrome browser. Chrome reportedly manipulates the content of a page more than the other two.
(Related Reports are further below. Third-party images and content are provided under fair use guidelines.)
1) To sign up in seconds for our MH Industry leading emailed news updates, click here.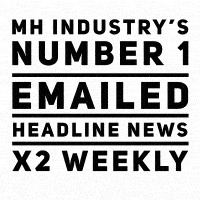 2) To pro-vide a News Tips and/or Commentary, click the link to the left. Please note if comments are on-or-off the record, thank you.
3) Marketing, Web, Video, Consulting, Recruiting and Training Re-sources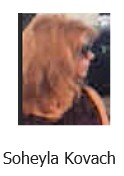 Submitted by Soheyla Kovach to the Daily Business News for MHProNews.com. Soheyla is a managing member of LifeStyle Factory Homes, LLC, the parent company to MHProNews, and MHLivingNews.com.
Related Reports:
"'Trailer Trash'? Watch Who You're Insulting When You Throw Around Those Words" – Buffalo News
The first step to solving a problem, said the late Zig Ziglar, is to admit that a problem exists. Manufactured homes are widely misunderstood. But why? The facts – when carefully examined – speak well about today's manufactured homes, as a few video interviews on this page from experts and actual homeowners alike suggests.
We learned from the National Association of Realtors (TM) Certified Business Economist (CBE) Scholastica 'Gay' Cororaton that manufactured homes can and do rise in value. Barry Noffsinger, a regional manager with manufactured home lender, Credit Human Federal Credit Union, told MHProNews that manufactured homes go up and down in value for exactly the same reasons as conventional homes.
Portsmouth, New Hampshire assistant mayor Jim Splaine is doing what he can to put an end to the stigma that's often felt by people who live in manufactured homes. Too often, the areas where manufactured homeowners live are improperly referred to as " trailer parks."
Writer Joe Dyton quotes Brena Swanson with HousingWire, who said, "Despite the negative stigma that surrounds mobile homes [sic], it doesn't mean the manufactured houses don't have a role to play in the housing process, especially when it comes to affordability."
Lois Requist is retired. She's an author, and the former Benicia, CA poet laureate. She recently moved into a manufactured home in a community in San Francisco metro. Terry Reynolds has a manufactured home too. Reynolds and his wife own a triple sectional, Requist has a more modest, yet still appealing, multi-sectional.
According to a study by Southeast Research, a Professional Researcher Certified operation, 97 percent of the owners of new manufactured homes described their home as attractive. And 45 percent of those buyers could have purchased a conventional, site-built house, but decided to buy a manufactured home instead.
"Trailers for Sale or Rent," "Pencil Head, Its Not a Trailer Park," Manufactured Home Rental Reality Checks
"Drag a hundred-dollar bill through a trailer park, you never know what you'll find," James Carville, Clinton Strategist
Millennials Need Affordable Housing, but "Trailer Park Boys" stigma slows Manufactured Home Acceptance