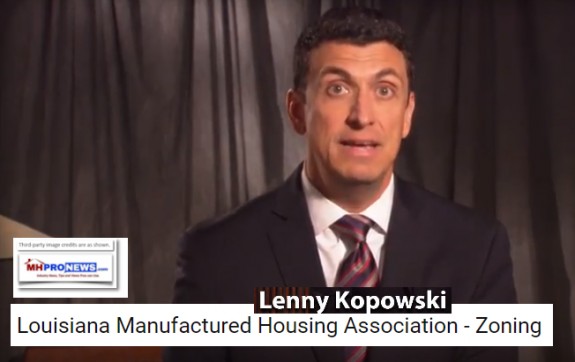 Their video is professional quality.
The topic is a critical one for the industry – zoning and placement for manufactured homes.
Lenny Kopowski – with the Louisiana Manufactured Housing Association – presents in the video below another example of how state-level manufactured housing trade associations have taken an often bold, proactive role at developing the HUD Code manufactured housing industry's image, education, and understanding.
The LMHA's efforts – or that of other state associations we've covered here on the Daily Business News, and MHLivingNews over the years – merits to be contrasted with what has been done by the national trade group, the Manufactured Housing Institute (MHI).
No video is perfect. 
But the fine LMHA video above was produced and posted online by LMHA about 6 years ago.  Meaning, they've been involved in doing that video educational effort, plus others, for years.
Meanwhile, MHI began late last year to publicize some of the advantages of manufactured housing. They did so after years of members and other industry professionals calling for such efforts – including from their own past president.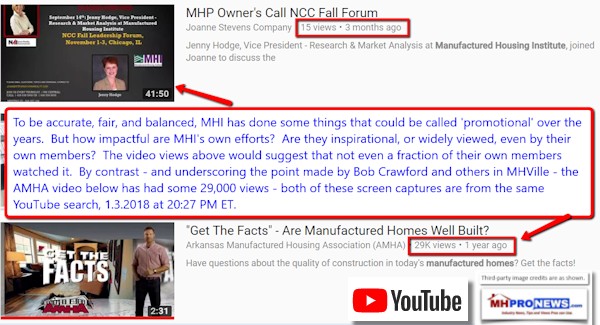 Mark Dillard is an award winner for communications. It's an honor given to him by his peers among manufactured home state associations in the manufactured housing industry. The Executive Director Dillard-led Manufactured Housing Institute of South Carolina (MHISC) created the infographic being shown further below on the topic of windstorms. For those who care about the American dream of home ownership, this is an always timely topic.
Two other examples of how state associations have taken a pro-active step in promoting educational facts about manufactured homes are linked above and below.
J.D. Harper, Executive Director of the Arkansas Manufactured Housing Association (AMHA) announced the completion and release of a series of short videos to address the myths – and the facts – about manufactured homes today.
Among the reasons that this is important to the industry, investors, public officials, and manufactured home owners will be clarified in a report to be published here on the Daily Business News.  The facts, commentary, and analysis will be framed in the context of statements made by MHI President and CEO, Richard "Dick" Jennison, under oath.
Are the controversies, concerns, and allegations about MHI continuing into 2018? 

Will the MHI members compel the Arlington, VA based organization be reformed, or be replaced, under pressure?
Bloomberg, Rising "Mobile Home" Prices, and the Manufactured Housing Institute (MHI)
Where is MHI's response to problematic mainstream media reports, like the one above or below?
The REAL Truth, vs. Fake News, About Modern Manufactured Homes


MHProNews' publisher has extended an invitation for MHI to respond to these and numerous other concerns in writing, which can then be published here for the industry at large to consider. 
Or, in the alternative, there's been an invitation for MHI to debate publicly at Louisville or Tunica via a video presentation that the entire industry could see. 
Will MHI take up the challenge? Time will tell. If they won't debate or disclose, why not?
Crawford's point about state associations is dramatically demonstrated by LMHA's video, or the other state association examples linked above. "We Provide, You Decide." ©  ## (News, analysis, commentary.)
(Image credits are as shown above, and when provided by third parties, are shared under fair use guidelines.)

Submitted by Soheyla Kovach to the Daily Business News for MHProNews.com.