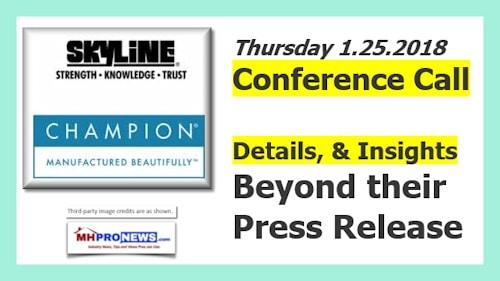 In a press release to the Daily Business News and others in media, Skyline Corporation and Champion Home Builder's have announced a joint conference call scheduled for 1.25.2018.
Before getting into their press release about the conference call and other details, sources tell MHProNews that Keith Anderson, president of Champion, told several attendees at the recent Louisville Manufactured Housing Show that he didn't get "much pushback" from Clayton Homes after their recent announcement.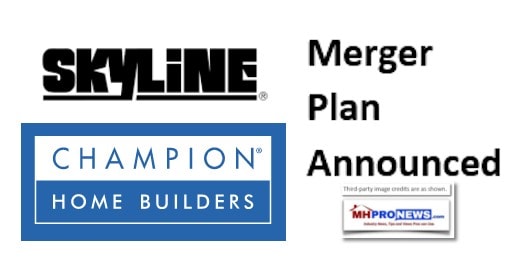 Another informed source told MHProNews that fairly typical non-disclosure agreements (NDA) exist between Skyline and Champion regarding their pending deal.
What's Happened Since the Skyline (SKY) Champion Homes Deal Was Announced? Plus MH Market Update$
There are certainly contingencies, per sources, which could cause their announced deal not to go through. Therefore, it is "Not yet a done deal."
The stock rocked north upon the initial news, but has since retreated, as last night's closing numbers reveal.  How much of that retreat by investors may be due to whispers surrounding the deal is not entirely clear.
The Bain Connection
Part of the release references Champion's connections to Bain Capital.  For those who may not recall, "The company [Bain Capital], and its actions during its first 15 years, became the subject of political and media scrutiny as a result of co-founder Mitt Romney's later political career, especially his 2012 presidential campaign," states Wikipedia.
That same source said, "Bain Capital is a global alternative investment firm based in Boston, Massachusetts. It specializes in private equity, venture capital and credit products. Bain Capital invests across a range of industry sectors and geographic regions. As of June 2014, the firm managed more than $75 billion of investor capital across its various investment platforms."
"The firm [Bain] was founded in 1984 by partners from the consulting firm Bain & Company.[2] Since inception it has invested in or acquired hundreds of companies including AMC Theatres, Artisan Entertainment, Aspen Education Group, Brookstone, Burger King, Burlington Coat Factory, Canada Goose, DIC Entertainment, Domino's Pizza, DoubleClick, Dunkin' Donuts, D&M Holdings, Guitar Center, Hospital Corporation of America (HCA), iHeartMedia, Sealy, Sports Authority, Staples, Toys "R" Us, Warner Music Group, Fingerhut, The Weather Channel, and Apple Leisure Group, which includes AMResorts and Apple Vacations."
"As of 2014, Bain Capital employs more than 900 people.[citation needed] Bain Capital is headquartered at the 200 Clarendon Street in Boston, Massachusetts with additional offices in New York City, Chicago, Palo Alto, San Francisco, Dublin, London, Luxembourg, Munich, Hong Kong, Shanghai, Mumbai, Tokyo and Melbourne."
Centerbridge
"Centerbridge Partners," says Wikipedia, "is a multi-strategy private investment firm focused on leveraged buyouts and distressed securities.
The firm manages over $25 billion of assets[1] and is based in New York City, with an additional office in London. The firm invests in both control (private equity and public debt with a "loan-to-own" strategy) and non-control (public market debt, public market equities, and other publicly traded securities) opportunities.
The firm [2] was founded in 2005 by Jeffrey Aronson and Mark Gallogly."
MAK
"MAK Capital" was also cited by the Skyline/Cision release as an investor in Champion.
Per Bloomberg, "MAK Capital One, LLC is an employee owned hedge fund sponsor. The firm primarily provides its services to pooled investment vehicles. It manages separate client focused portfolios. The firm invests in the public equity, fixed income, and alternative investment markets. It also employs event driven investing to make its investments. MAK Capital One, LLC was founded in May 2002 and is based in New York City."
According to the MAK website, "MAK Partners' aim is to successfully help define and implement customized strategies for investing in US and European commercial and residential real estate."
Per The Skyline/Cision Release…
"ELKHART, Ind., Skyline Corporation ("Skyline" or the "Company") will hold a conference call at 9:00 am Eastern Time on Thursday, January 25, 2018 to discuss the previously announced definitive agreement to combine operations with Champion Enterprises Holdings, LLC ("Champion"). 
Members of executive management of Champion also will participate in the conference call. 
To participate in the live conference call, dial 1-877-407-0784 (U.S. and Canada) or 1-201-689-8560 (International).  Presentation slides to accompany the call will be available," stated their release.
Quoting verbatim the balance of their release…
About Skyline Corporation:
Skyline Corporation and its consolidated subsidiaries design, produce, and market manufactured housing, modular housing, and park models to independent dealers, developers, campgrounds, and manufactured housing communities located throughout the United States and Canada. The company has eight manufacturing facilities in seven states. Skyline Corporation was originally incorporated in Indiana in 1959, as successor to a business founded in 1951, and is one of the largest producers of manufactured and modular housing in the United States. For more information, visit http://www.skylinecorp.com.
About Champion Enterprises Holdings, LLC:
Champion Enterprises Holdings, LLC was formed in 2010 as the parent company of Champion Home Builders, Inc. which was founded in 1953.  Champion Home Builders specializes in a wide variety of manufactured and modular homes, park-model RVs and modular buildings for the multi-family, hospitality, senior and workforce housing sectors. The company operates 28 manufacturing facilities throughout North America. Additionally, Champion operates a factory-direct retail business, Titan Factory Direct, with 21 retail locations spanning the southern U.S., and Star Fleet Trucking, providing transportation services to the manufactured housing industry from 10 dispatch locations across the United States. Champion is majority owned by funds affiliated with Bain Capital Credit (https://www.baincapitalcredit.com), Centerbridge Partners, L.P. (https://www.centerbridge.com), and MAK Capital.  For more information, visit https://www.championhomes.com.
Forward-Looking Statements
Except for historical information contained herein, this document expresses "forward-looking statements" which are intended to be covered by the safe harbor for forward-looking statements provided by the Private Securities Litigation Reform Act of 1995, as amended. Such matters include forward-looking statements regarding the prospective effects and timing of the proposed share contribution and exchange transaction with Champion (the "Exchange").  Generally, the words "believe," "expect," "intend," "estimate," "project," "will," and similar expressions indicate forward-looking statements.  Those statements, including statements, projections, estimates, or assumptions concerning future events or performance, and other statements that are other than statements of historical fact, are subject to material risks and uncertainties.  Skyline cautions readers not to place undue reliance on any forward-looking statements, which speak only as of the date made.  Skyline may make other written or oral forward-looking statements from time to time.  Readers are advised that various important factors could cause Skyline's actual results or circumstances for future periods to differ materially from those anticipated or projected in such forward-looking statements.  Such factors, among others, include, but are not limited to: potential failure to obtain shareholder approval of the Exchange-related matters to be submitted to Skyline's shareholders (the "Company Shareholder Approval Matters"); potential failure to obtain regulatory approval for the Exchange or to satisfy other conditions to the consummation of the Exchange on the proposed terms and within the proposed timeframes; costs or difficulties relating to integration matters might be greater than expected; material adverse changes in Skyline's operations or earnings; changes in laws, regulations, or accounting principles generally accepted in the United States; the effect of the recently enacted Tax Cuts and Jobs Act on Skyline and its subsidiaries; Skyline's competitive position within the markets it serves; unforeseen downturns in the local, regional, or national economies or in the specific regions in which Skyline has market concentrations; and other risks discussed in Skyline's filings with the SEC, including its Annual Report on Form 10-K, which filings are available from the SEC.  Skyline undertakes no obligation to publicly update or revise any forward-looking statements except as required by law.
Additional Information for Shareholders
In connection with the Company Shareholder Approval Matters and the proposed Exchange, Skyline will prepare a proxy statement to be filed with the SEC.  When completed, a definitive proxy statement and a form of proxy will be mailed to the shareholders of Skyline.  The proxy statement will contain important information about the Company Shareholder Approval Matters and the proposed Exchange and related matters.  SKYLINE'S SHAREHOLDERS ARE URGED TO READ ALL RELEVANT DOCUMENTS FILED WITH THE SEC, INCLUDING THE DEFINITIVE PROXY STATEMENT REGARDING THE PROPOSED EXCHANGE (INCLUDING ALL AMENDMENTS AND SUPPLEMENTS) CAREFULLY AND IN THEIR ENTIRETY WHEN THEY BECOME AVAILABLE BECAUSE THEY WILL CONTAIN IMPORTANT INFORMATION ABOUT THE COMPANY SHAREHOLDER APPROVAL MATTERS AND THE PROPOSED EXCHANGE.  Skyline's shareholders will be able to obtain, without charge, a copy of the proxy statement (when available) and other relevant documents filed with the SEC from the SEC's website at http://www.sec.gov.  Skyline's shareholders also will be able to obtain, without charge, a copy of the proxy statement and other relevant documents (when available) by directing a request by mail or telephone to Skyline Corporation, 2520 By-Pass Road, P.O. Box 743, Elkhart, Indiana 46514, Attention: Corporate Secretary, or by calling (574) 294-6521, or from Skyline's website at http://www.skylinecorp.com under the tab "Investors – SEC Filings."  The information available through Skyline's website is not and shall not be deemed part of this Current Report on Form 8-K or incorporated by reference into other filings Skyline makes with the SEC.  This communication does not constitute an offer to sell or the solicitation of an offer to buy any securities or a solicitation of any vote or approval.
This communication is not a solicitation of proxies in connection with the proposed Exchange.  However, Skyline and its directors and officers may be deemed to be participants in the solicitation of proxies from Skyline's shareholders with respect to the special meeting of shareholders that will be held to consider the Company Shareholder Approval Matters in connection with the Exchange.  Information concerning the ownership of Skyline securities by Skyline's directors and executive officers is included in their SEC filings on Forms 3, 4, and 5 and additional information about Skyline's directors and executive officers and their ownership of Skyline's common stock is set forth in the proxy statement for Skyline's 2017 annual meeting of shareholders, as filed with the SEC on Schedule 14A on August 22, 2017.  Shareholders may obtain additional information regarding the interests of Skyline and its directors and executive officers in the proposed Exchange, which may be different than those of Skyline's shareholders generally, by reading the proxy statement and other relevant documents regarding the proposed Exchange, when filed with the SEC.  These documents can be obtained free of charge from the sources indicated above.
SOURCE: Skyline Corporation."
— 30 —
Both firms are members of the Manufactured Housing Institute (MHI). A recent report on MHI, is linked below.
Busted! "Failure Bonus" Paid-Richard "Dick" Jennison, CEO Manufactured Housing Institute-per MHI Document$
Disclosure. MHProNews has no positions and makes no recommendations about the firms being reported. Last night's closing numbers are linked here.   "We Provide, You Decide." © ## (News, analysis, and commentary.)
(Image credits are as shown above, and when provided by third parties, are shared under fair use guidelines.)

Submitted by Soheyla Kovach to the Daily Business News for MHProNews.com.
Soheyla is a managing member of LifeStyle Factory Homes, LLC, the parent company to MHProNews, and MHLivingNews.com.