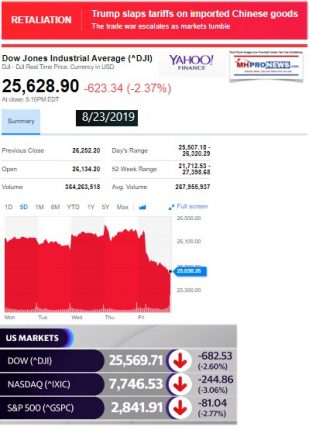 There will be days, weeks, months and perhaps years of arm-chair quarterbacking about today and decisions in Beijing and Washington made regarding U.S.-China trade.
Only those dialed into the economic engine potential of affordable housing can debatably appreciate how the current economic turmoil over tariffs, trade, interest rates, and other policy positions can grasp how big this could be if manufactured home industry leaders were acting in the best interests of the industry, home owners, and nation as a whole.
Let's simplify it, in teeing up the focus report, further below.  Housing is one of the greatest economic drivers or drags on the U.S. economy.  That was demonstrated in the early 2000s in a positive way and demonstrated in 2008 in a negative fashion.  Individual investors are not bound to follow the arguably flawed leadership of firms closely tied to the Manufactured Housing Institute (MHI), which is dominated by Berkshire Hathaway owned firms and allied brands.  Tonight's investor/market focus report also includes a look at the increasing tensions with China and the U.S.; but lurking in the background are the opportunities in disguise for those who 'get it' that the puzzle pieces are now hiding in plain sight for readers of MHProNews and our MHLivingNews sister site.
Let's dive in…
Every evening our headlined provide snapshots from two major media outlets on each side of the left-right news spectrum that reflect topics that influence or move investor sentiment. In moments on this business evening report, you can get insights-at-a-glance.
This report also sets the broader context for manufactured housing markets, in keeping with our mantra, "News through the lens of manufactured homes and factory-built housing" ©.
We begin with left-of-center CNN followed by right-of-center Fox Business. We share closing tickers and other related data courtesy of Yahoo Finance, and more. 5 to 10 minutes reading this MHProNews market report every business night could save you 30 minutes to an hour of similar reading or fact-gathering elsewhere.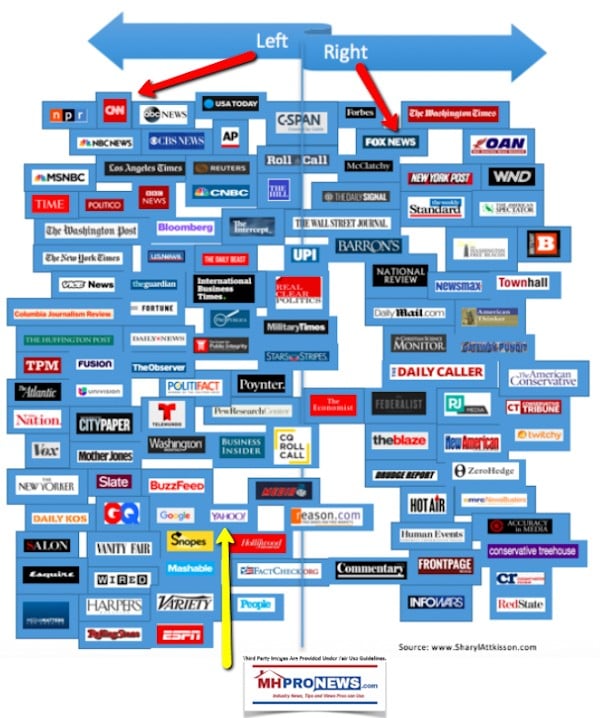 Headlines from left-of-center CNN Business.
Trade tensions slam stocks
The Dow plunged up to 700 points as Trump responded to new China tariffs
LIVE UPDATES Trump announces new round of tariffs on China
Beijing unveils new round of tariffs on $75 billion worth of US goods as trade war intensifies
What China's new tariffs mean for you
Opinion: Trump's trade war with China will be worth the fight
Analysis: How Trump's tax cuts and the trade war have set the stage for a recession
Koch Industries is the most important company you may not know
We did what Apple told us not to with the Apple Card
Russian humanoid robot named Fedor heads for the International Space Station
Google wants to squash political debates among its employees
Facebook staff had concerns about 'sketchy' Cambridge Analytica year before 2016 election
Powell acknowledges growing risk of slowdown, but gives no hint about rate moves
Opinion: CEOs are finally admitting to shortchanging society. It's about time
These smart shorts tell you how to improve your workout
IN SEARCH OF 5G
D8870R The Chicago skyline seen from Hancock tower
Looking for 5G? Here are the US cities that have it
New York City might ban wireless companies from selling your location data
Court deals blow to FCC's bid to speed 5G rollout
I tried 5G. It will change your life — if you can find it
5G is the future. But it's not really here yet
DoorDash details new tipping policy after backlash
Postmates CEO: Gig workers deserve a better deal than we have given them
Fast food big bet on delivery might not pay off
Lyft is still losing money but its outlook is improving
DoorDash is buying food delivery service Caviar for $410 million
Headlines from right-of-center Fox Business. 
Dow plunges more than 600 on worsening US-China trade brawl
Trump demands US companies 'start looking for an alternative to China'
Trump can't tell companies how to do business: former NJ governor
Trade deal might not happen in 2019, strategist says
FBI PROBES POT INDUSTRY, BUT NOT FOR THE REASON YOU MAY THINK
FBI officials said in a recent podcast that state licenses required to grow and sell marijuana open the possibility of public officials becoming susceptible to bribes in exchange for those licenses.
US recession could be caused by this 'big policy mistake': Mohamed El-Erian
Lindsey Vonn engaged to P.K. Subban, who commands big bucks on the ice
Trump orders US companies to block all fentanyl shipments from China
Target has big success with small stores
Here's how many Americans are struggling to pay their credit card balance in full
'Star Wars' may break the internet Friday when 'The Mandalorian' trailer hits
This airline's pilots are planning to strike for the first time ever in September
Disney, Sinclair close deal on 21 Fox regional sports nets
US flexes oil muscle to the world
NBA player Enes Kanter explains why he can't leave US
Lamborghini Urus SUVs are a hit with drivers
Here's where Amazon is expanding, adding jobs next
The Koch fortune: A look inside the brothers' wealth and business
Hong Kong protests are decimating its economy
Impossible Burger prank becomes Burger King feeding frenzy
Yield curve inverts again, but why that may not matter
Payden and Rygel Chief Economist, Jeffrey Cleveland, discusses the significance of a yield curve inversion and economic fundamentals.
'The Rock' tops Forbes list of highest-paid actors
FBN's Ashley Webster breaks down the top five highest paid actors of 2019 according to Forbes Magazine.
Ford secretly road-tests new electric Mustang SUV?
10 Market Indicator Closing Summaries – Yahoo Finance Closing Tickers on MHProNews…

Tonight's Business/Market/Political Impact Spotlight –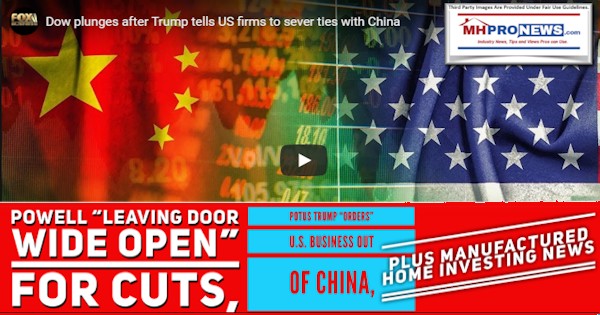 There are two parts to this evening's investor report.
Part 1 is manufactured home specific.
Part 2 is more general market information related to the drama that sent Wall Street into another sell-off.
Part 1
For the growing number of new readers here, it is important to note what makes manufactured housing such an amazingly appealing option for investors and sellers.  Besides the quality/value, about ½ the price of similar sized conventional construction on average, the Manufactured Housing Improvement Act of 2000 (MHIA) is a veritable gold-mine.
Recent Events Opening Opportunities in Manufactured Housing for Business, Investors, Affordable Home Seekers?
Among the MHIA vein of gold? Two words, federal "enhanced preemption" over local zoning.  Properly understood, that can unlock the doors to tens of billions of dollars a year in new construction.  To explain the potential, one must note that manufactured housing only did a paltry under $8 billion in total retail sales in 2018.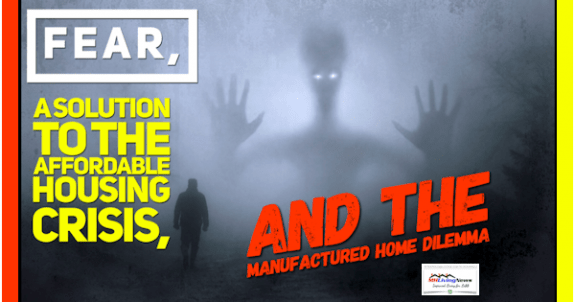 An investor that follows our site closely was among those that praised MHProNews for the 'breakthrough' in July in causing after months of sustained pressure the Manufactured Housing Institute (MHI) to pivot into a more public support of the "enhanced preemption" clause of the Manufactured Housing Improvement Act (MHIA) of 2000.
Under Pressure, MHI Pivots "HUD Must Implement and Enforce its Enhanced Preemption Authority"
First, it must be said that the Manufactured Housing Association for Regulatory Reform (MHARR) has likewise been putting pressure on MHI, notably so since their March 2019 meeting in Tunica.
But second, while thanking those who shared such kind comments, MHProNews publisher L. A. 'Tony' Kovach predicted that while it was a step ahead, MHI would not likely pivot to the broader public, or even on its own website.
Implementation of the Manufactured Housing Improvement Act of 2000, Congressional Hearing, Redux
That predication turned out to be accurate thus far.  It means that more pressure is needed on MHI and those there that call the shots.
"We Seem to Have Lost Common Sense," HUD Secretary Ben Carson – Homeless, Affordable Housing Crisis
Thus, MHProNews has continued to ratchet up the facts-evidence-and-follow-the-money reports and analysis. At the same time, MHProNews advises independents to IGNORE MHI's arguably failed leadership. See the related reports for more details on each of the noted topic.
But the bottom line is this.  If the White House, or investors apart from Washington's theater, want to 'goose' investment and the economy, there are few if any items that would do more than turning manufactured housing loose.
The laws needed are already on the books.  All that is necessary is to exert that legal authority at the local level.  That's something MHProNews has done successfully in recent months and over the years, just by making the right arguments to local jurisdictions.
Ideally, that legal argument should be made by HUD. But until then, it has been done successfully without HUD's intervention.  Making that work is a far surer bet than what Wall Street has been this year.
Part II
Fox Business and other outlets said Friday morning that Chinese leaders have announced new tariffs of 5 or 10 percent on $75 billion of U.S. goods, set go to into effect on Sept. 1 and Dec. 15. China also announced it would reinstate a 25 percent tariff on U.S. cars and a 5 percent tariff on auto parts.
The tariffs were a response to Trump's announcement earlier this month that new taxes would hit Chinese goods.
Trump on Aug. 1 said the U.S., beginning next month, would place a 10 percent tariff on $300 billion worth of Chinese goods, adding they could go "well beyond 25 percent" if necessary.
Beijing responded by letting its currency, the yuan, weaken below seven per dollar for the first time in over a decade.
The Trump administration then delayed the tariffs on about 60 percent of those goods until Dec. 15.
Presidential Tweets.
Love him. Hate him, it is hard to be indifferent, isn't it?  But given him credit, he is able to capture the world's attention with a few tweets.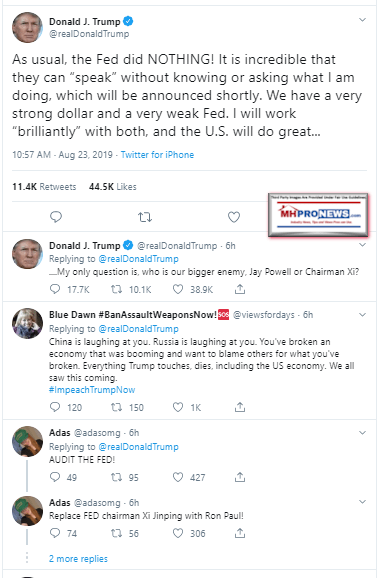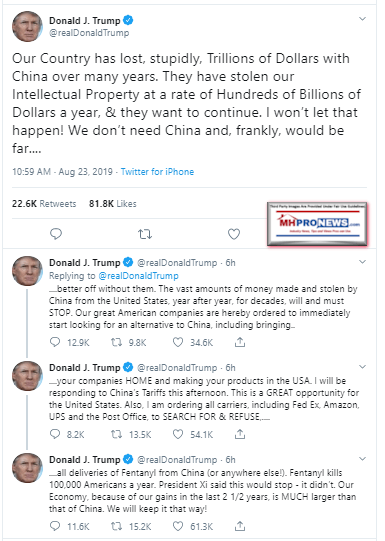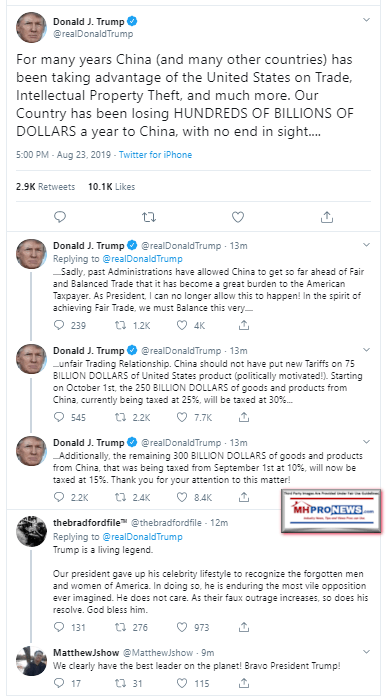 CNBC
Fox Business
Fox Business reported this evening that there may be a clause in federal law that in an emergency could allow the president to in fact 'order' certain international behavior by U.S. companies. That will be something that networks, other media, along with the president's friends and foes will no doubt plan on exploring.
That said, HUD Secretary Ben Carson on US-China trade, said earlier today that President Trump is a great negotiator, clarified the "order" comment.  In the second half of this video Dr. Carson also discusses housing and "Disparate Impact."
Affordable quality housing is one of the most critical issues of our time. So too is affordable home ownership, which should be the ideal goal over rental housing. A challenge is zoning and land use, which is highly politicized, and thus is often misunderstood. What follows is adapted from the comments letter addressed as shown …
Note on China, Trade and Manufactured Homes: our sources tonight tell us that at least for now, those companies that are sourcing products from China for manufactured housing construction say that they expect to continue to buy from that nation.  We'll monitor that among other items as it relates to this topic.
Closing thought for tonight…
Several Trump Administration steps taken in the past 2 years has positioned the president to take this 'China gamble' at this time. The 2020 elections are still over 14 months away. His opponents have and will use trade against him.  Talk of recession risks will likely continue if not ratchet up. If this gambit works, it could seal the deal on the 45th presidents reelection.  If the gambit sees the economy go so, polling suggests that it could be held against him.
It is high drama. The infographic below provides one of the puzzle pieces that explains why 45 thinks he call pull this off. Either way, stay tuned.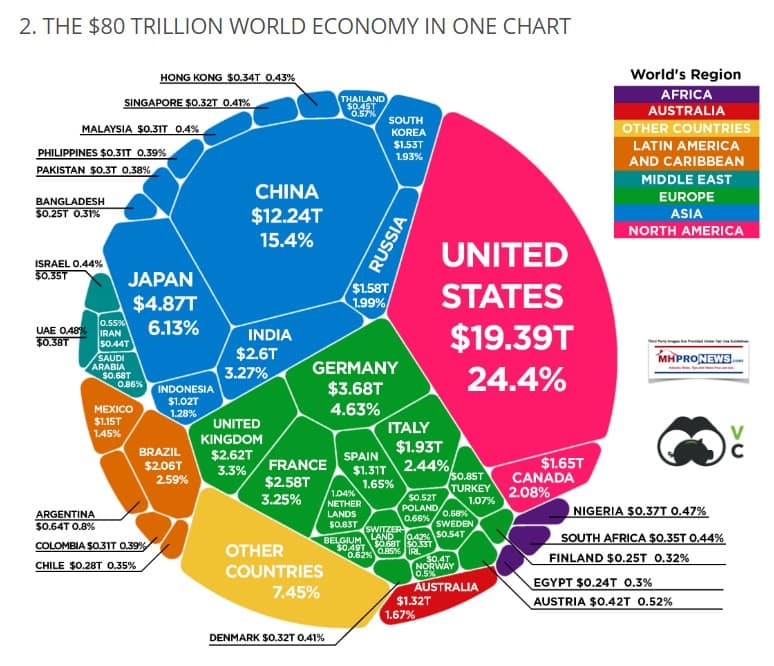 Related Reports:
"Too Fast, Too Furious" Said POTUS Trump, "I Am the Chosen One" on China, plus Manufactured Home Investing Updates
Pain Before Gain, Kevin O'Leary, Trade War "Starting to Work," plus Manufactured Home Stock Updates
Not Just Trade, Steve Bannon Says China Threat to U.S., Western Industrial Democracies, plus, MH Market Updates
Manufactured Housing Industry Investments Connected Closing Equities Tickers
Some of these firms invest in manufactured housing, or are otherwise connected, but may do other forms of investing or business activities too.
NOTE: The chart below includes the Canadian stock, ECN, which purchased Triad Financial Services.
NOTE: Drew changed its name and trading symbol at the end of 2016 to Lippert (LCII).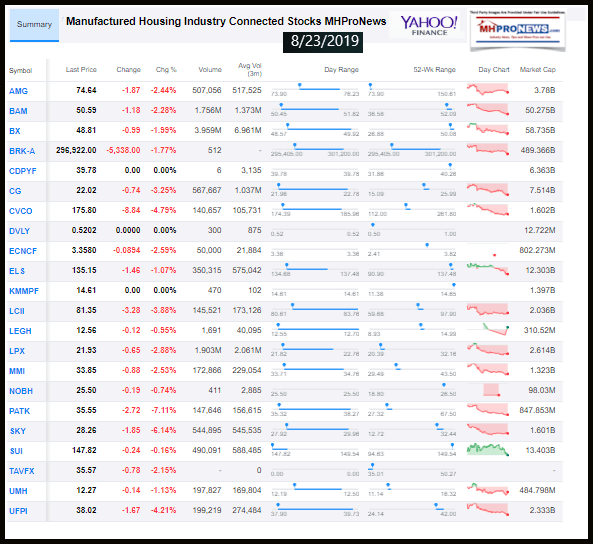 Updated for Summer 2019…
Berkshire Hathaway is the parent company to Clayton Homes, 21st Mortgage, Vanderbilt Mortgage and other factory built housing industry suppliers.
· LCI Industries, Patrick, UFPI, and LP each are suppliers to the manufactured housing industry, among others.
· AMG, CG, and TAVFX have investments in manufactured housing related businesses.
Your link to an example of industry praise for our coverage, is found here and here. For the examples of our kudos linked above…plus well over 1,000 positive, public comments, we say – "Thank You for Your Vote of Confidence."
· For expert manufactured housing business development or other professional services, click here.
· To sign up in seconds for our industry leading emailed headline news updates, click here.
· Disclosure. MHProNews holds no positions in the stocks in this report.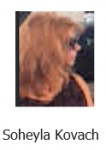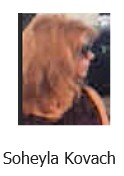 "We Provide, You Decide." © ## (News, analysis and commentary.)
(Image credits and information are as shown above, and when provided by third parties, are shared under fair use guidelines.)
Submitted by Soheyla Kovach, co-managing member of LifeStyle Factory Homes, LLC and co-founder for MHProNews.com, and MHLivingNews.com.

Connect with us on LinkedIn here and here.