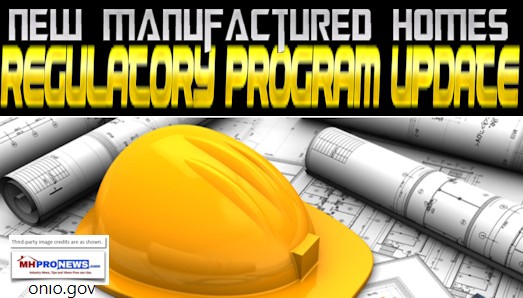 It was a battle that the entire industry needed to track, because of the implications for other state governments that might be tempted to follow suit.

In spite of several 'false narratives,' the manufactured home industry ultimately lost that battle.
Fires Burning Manufactured Housing's Public Image? News, Review, MH Industry Impact
Now, the questions shift to what will the new regulatory regime mean for industry professionals in Ohio? Or what could it foreshadow in other states?
Last year, the battle to save the Ohio Manufactured Home Commission achieved an initial win in their House, only to be defeated in their state Senate.
The Manufactured Housing Institute (MHI) gave the Ohio state association some support – but obviously, it was not enough. It is yet another example of MHI showing their flag, without achieving their stated goal.
Manufactured Homes Commission Abolished, Effective January 21, 2018
The Ohio Department of Commerce (DOC) 'new' commission to regulate manufactured housing in that state is officially taking over. The press release that follows is verbatim from the Ohio Department of Commerce.

New Manufactured Homes Regulatory Program Update
Today is the last business day before responsibility for the Manufactured Homes Program transitions to Commerce. That change is effective at 12:01 a.m. on Sunday, Jan. 21. While Commerce has no authority until the transition takes place, it's important that we keep you up-to-date, so that the transition is seamless for you.

As we head into the weekend, here are a few reminders:

Sunday, Jan. 21

·     You will still operate as you do today! All the current rules that direct your work, as well as any existing contracts you have with the Ohio Manufactured Homes Commission, will stay in place for the immediate future. If changes become necessary, notice will be provided.

Monday, Jan. 22

·     You can reach us when we open at 8 a.m. Monday morning:

·     For all matters involving installers, inspectors, home installation, parks and dispute resolution, contact the Division of Industrial Compliance at 614-644-2223.

·     For all matters involving dealers/brokers and salespersons, contact the Division of Real Estate & Professional Licensing at 614-466-4100.

·     Those general numbers are staffed Monday-Friday, 8 a.m.-5 p.m. by representatives who will help connect you with the proper person to assist you. If you know what section you need to reach, below is direct contact information:

·     For matters regarding Installers: Ohio Construction Industry Licensing Board (OCILB), 614-644-3495 or Carol.Ross@com.state.oh.us

·     For matters regarding Parks (including park complaints): OCILB, 614-752-7127 or Shamikka.Brookins@com.state.oh.us

·     For matters involving Inspectors: Board of Building Standards, 614-644-2613 or Michael.Lane@com.state.oh.us

·     For matters involving Installation Inspections/SEAL reports: Bureau of Building Code Compliance, 614-728-9104 or Michelle.Grago@com.state.oh.us

·     For matters involving Dealers/Brokers: Division of Real Estate and Professional Licensing, 614-644-9734 or Webreal@com.state.oh.us

·     For matters involving Salespersons Division of Real Estate and Professional Licensing, 614-644-9734 or Webreal@com.state.oh.us

·     For Dispute Resolution: Division of Industrial Compliance Legal Section, 614-644-3297 or Aaron.Johnston@com.state.oh.us

If you use an old email or phone number, don't worry! The Commission's emails, main phone number and fax number will be redirected to Commerce sometime on Jan. 21.

The lines of communication that we established during the transition won't go away once we assume responsibility on Jan. 21. Watch for regular email updates and news, and check out the Commerce Manufactured Homes Program website for more information. Our website, though active later today, does not stand in for that of the Commission until Jan. 21. You should continue to use Commission resources like its website until Commerce assumes responsibility.

If you know of anyone who would like to be added to our mailing list, they can sign up online.

Please continue to reach out to us with any questions or feedback, and share this information with your members. We look forward to working together!
The Daily Business News will continue to track such developments for industry readers, investors and researchers. ## (News, analysis, and commentary.)
(Image credits are as shown above, and when provided by third parties, are shared under fair use guidelines.)

Submitted by Soheyla Kovach to the Daily Business News for MHProNews.com.