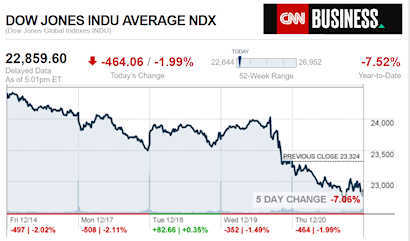 There will be a brief commentary below on the snapshot of the manufactured housing market this evening. That will be followed by Jim Cramer's – the Mad Money show host – commentary on left-of-center business and investment focused news site, CNBC. Cramer has been a vocal critic of the Fed's policies this year. Earlier today, he blasted the Fed's policy has helping the rich, while hurting the vast majority of Americans.  On a day that the markets have again retreated into/toward bear territory, Cramer's commentary will be our focus this evening.
If you're new, already hooked on our new spotlight feature – or are ready to get the MH professional fever – our headline report is found further below, after the newsmaker bullets and major indexes closing tickers.
The evolving Daily Business News market report sets the manufactured home industry's stocks in the broader context of the overall markets.  Headlines – at home and abroad – often move the markets.  So, this is an example of "News through the lens of manufactured homes, and factory-built housing." ©
Part of this unique evening feature provides headlines – from both sides of the left-right media divide – which saves busy readers time, while underscoring topics that may be moving investors, which in turn move the markets.
Readers say this is also a useful quick-review tool that saves researchers time in getting a handle of the manufactured housing industry, through the lens of publicly-traded stocks connected with the manufactured home industry.
This is an exclusive evening or nightly example of MH "Industry News, Tips and Views, Pros Can Use." © It is fascinating to see just how similar, and different, these two lists of headlines can be.
Want to know more about the left-right media divide from third party research?  ICYMI – for those not familiar with the "Full Measure," 'left-center-right' media chart, please click here.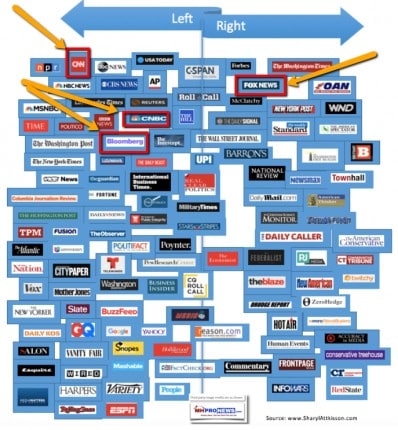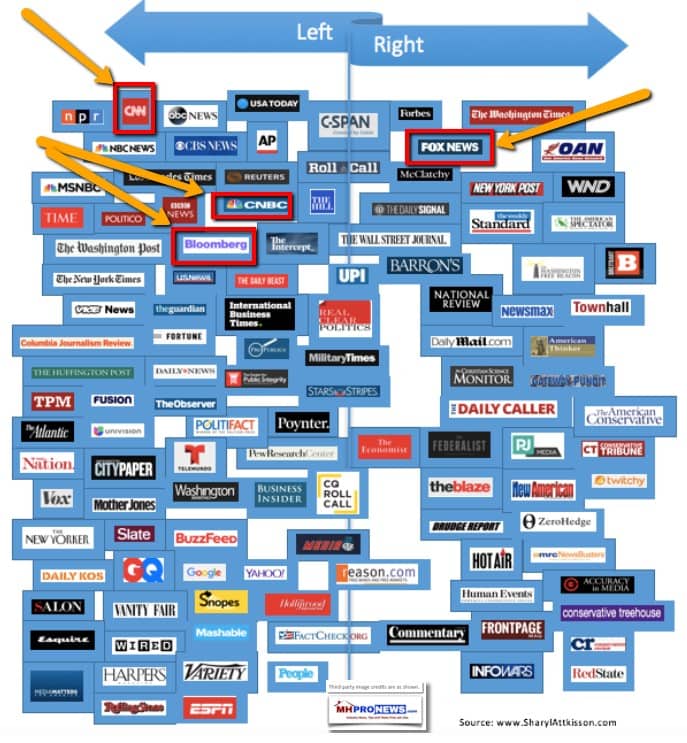 Select bullets from CNN Money…
The bankrupt company has reached a critical point in its fight for survival
The Dow plunges, Nasdaq flirts with a bear market and oil is in free fall
The recent market slowdown is normal, strategist says
ANALYSIS Why Jerome Powell's quiet show of defiance against Trump and Wall Street is so important
Navy Federal deposit issue triggers pre-Christmas anxiety for members
US charges Chinese hackers in scheme targeting business and military
Facebook and Wells Fargo are in bottomless pits of scandal. They each reacted differently
Tech companies and carmakers are the hottest employers in Europe
BlackBerry's bet on connected cars pays off
Advertisers are boycotting Tucker Carlson, and it's having an effect
5 common tax misconceptions to avoid
Biggest US cigarette company buys $13B stake in an e-cigarette startup
ANALYSIS Don't panic. There's still money to be made in the stock market
The very important reason these tiny robots are taking pictures of cats
Lululemon's controversial founder: The company is worse off without me
PERSPECTIVES How stores trick you into overspending during the holidays
Costco: Retail's overlooked holiday winner
Barclays app stops you spending on the wrong stuff
Why Amazon could win the battle for holiday toy sales
Watch out for these holiday shopping scams
How this CEO of a 167-year-old company keeps it young
Lyft's John Zimmer put it all on the line to catch Uber
She 'faked it til she made it.' Now she runs a billion-dollar jewelry business
CEO thinks it's crazy to work more than 40 hours a week
IBM just bought his company for $34 billion. But he says its unique work culture won't change
Select Bullets from Fox Business…
Dow falls below 23K as Nasdaq nears bear market
This is where America's rich have moved
Opinion: Crumbling crude is flashing a warning signal
Mnuchin: Market reaction to Fed rate hike 'completely overblown'
Amazon's gamble on Whole Foods might not pay off
Social Security's 'never-beneficiaries' include these people
The best time to buy a house
Jerry Seinfeld is once again the highest-paid comedian of the year
There's a blue-collar worker shortage in the US
Taxpayers can no longer claim these 4 deductions
2018 Farm Bill will revolutionize hemp industry in US: Hemp CEO
Trump wants to require more food stamp recipients to work for federal dollars
US companies with the most six-figure job openings
Dow, S&P 500 having worst month since 1931 as Grinch hits Wall St.
Trump tariff war with China sends US retailers on buying binge
Patriots QB Tom Brady could miss $5M in performance bonuses this season
Want to work from home? These are the top 10 jobs
Lands' End returns to iconic American roots
Wegmans issues recall for cauliflower rice, stir fry mixes over E.coli concerns
A look at past government shutdowns, as border wall fight heats up
A government shutdown is unlikely to roil US economy, Moody's says
Partial government shutdown: Here's what happens
Continue to Government Shutdown
Elon Musk's Boring Company unveils high-speed LA tunnel
Nike surges on earnings beat after tough market day
Amazon could add 20 jets to air shipping fleet, impacting FedEx business: Report
Amazon Alexa shares man's recordings with stranger
These are the 10 best countries for business
Chick-fil-A poised to jump Subway, Burger King in US fast food market
Patients pay too much out of pocket for meds: Eli Lilly CEO
Star Wars creator George Lucas leads Forbes wealthiest celebrities of 2018
After Altria deal, Juul employees to get $2B bonus
Caribou Coffee reveals data breach at 265 stores
Money behind college football bowl names like TaxSlayer Gator Bowl, explained
Altria takes 35 percent stake in e-cigarette firm Juul
Today's markets and stocks, at the closing bell…

Manufactured Housing Composite Value (MHCV)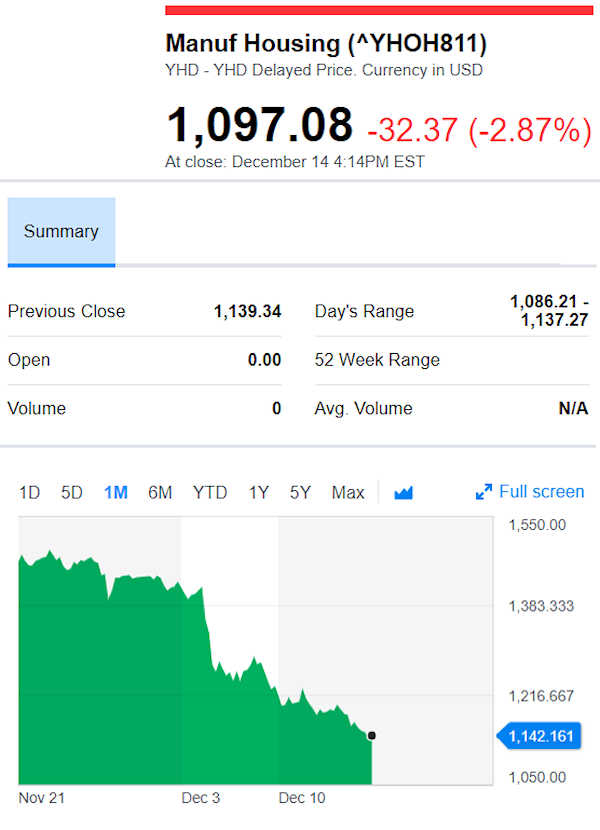 Today's Big Movers
For all the scores and highlights on tracked manufactured home connected stocks today, see the Bloomberg graphic, posted below.
Today's MH Market Spotlight Report –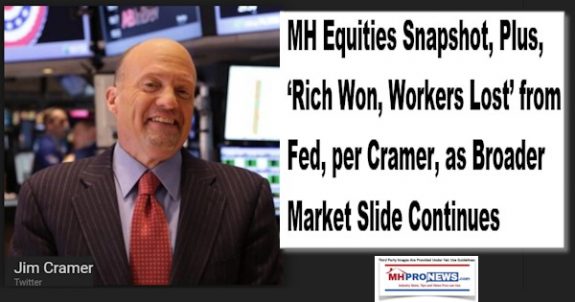 Industry Equities Snapshot
Even a few seconds glance at the Bloomberg closing ticker snapshot below will reveal that most manufactured home industry tracked stocks are at or near their 1-year lows. That mirrors the trend for the broader market, which continues the slide down that began before the midterms.
Earlier today, the Daily Business News spotlighted what is an apparently well-intended effort by a manufactured housing state association to cheer on investing in manufactured housing communities.  To see the report, click the image/textbox below.
State Association Steps Up, Promoting Manufactured Home Communities Investing
Noting the good intent, the strongest case for communities are facts and news like ELS' latest below.  Note that ELS is bucking the general trend downward among MH equities.
The case can be made that manufactured housing historically performed as well or better during downturns, precisely because it is affordable housing.  There will always be a market for affordable homes, so long as the product is properly understood.  That's in part a messaging matter.
One of the many indicators that manufactured housing isn't properly understood by many – including some in the investment community – is precisely the slide reflected below.
The slide – especially in purely or mostly manufactured home stocks – is arguably one more indicator that the post-production Manufactured Housing Institute (MHI) is failing the majority of the industry, in favor of a select few.  They are desire praise for photo ops and Facebook likes, then don't they deserve a measure of accountability when matters are obviously growing awry?
Insider Tips – Clayton Multi-Million Dollar Plan Aims at Replacing Sales Staff? Warren Buffett, Bill Gates, Kevin Clayton Meeting
Now, on to the comments of Jim Cramer from earlier today.
'Rich people won' — Cramer on how Fed rate hikes widen wealth gap, hurting working Americans
·        The central bank led by Jerome Powell is taking money out of the pockets of the middle class, says CNBC's Jim Cramer.
·        "We had seven years when the rich got really rich," while the middle class struggled for a decade with stagnant wages," the "Mad Money" host says.
·        Wealthy people can better afford to take shelter in money market accounts, he adds.
"The rich people won," Cramer said on "Squawk on the Street." "We had seven years when the rich got really rich," while the middle class struggled for a decade with stagnant wages. "They didn't make their money during the period where you could make money," he added.
The wealthy can better afford to shelter in money market accounts because they don't have to chase yield to make money, Cramer said. "They can buy CDs now. They can sell all they want. You get 3.5 [percent rates]. I bought some 3.5 [percent] CDs yesterday, and I feel pretty good. They're out five years, and I'm older now, and I'm not trying to hit it out of the park with index funds."
Wednesday evening, Cramer said: "The only people who should be really happy about this statements are the rich: your wealth will be preserved. If you work for a living, you're probably getting a raise after a lost decade of wage growth. Powell wants to put a stop to that."
"Yay, the rich don't have to worry; don't have to worry about a slowdown. Because do you know why? You only have to get rich once. But the not-so-rich, sorry," said Cramer. In Powell's "dogmatic world, you're making too much money as it is."
Ouch.  But it's a comment akin to what Steve Forbes and others have said recently about the Fed's policies.
Click the text/image box below for a Related Report:
Fed Rate Hike, Chair Jerome Powell Comments Send Broader Markets, Most MH Equities Reeling
Bloomberg Closing Ticker for MHProNews…
NOTE: The chart below includes the Canadian stock, ECN, which purchased Triad Financial Services.
NOTE: The chart below covers a number of stocks NOT reflected in the Yahoo MHCV, shown above.
NOTE: Drew changed its name and trading symbol at the end of 2016 to Lippert (LCII).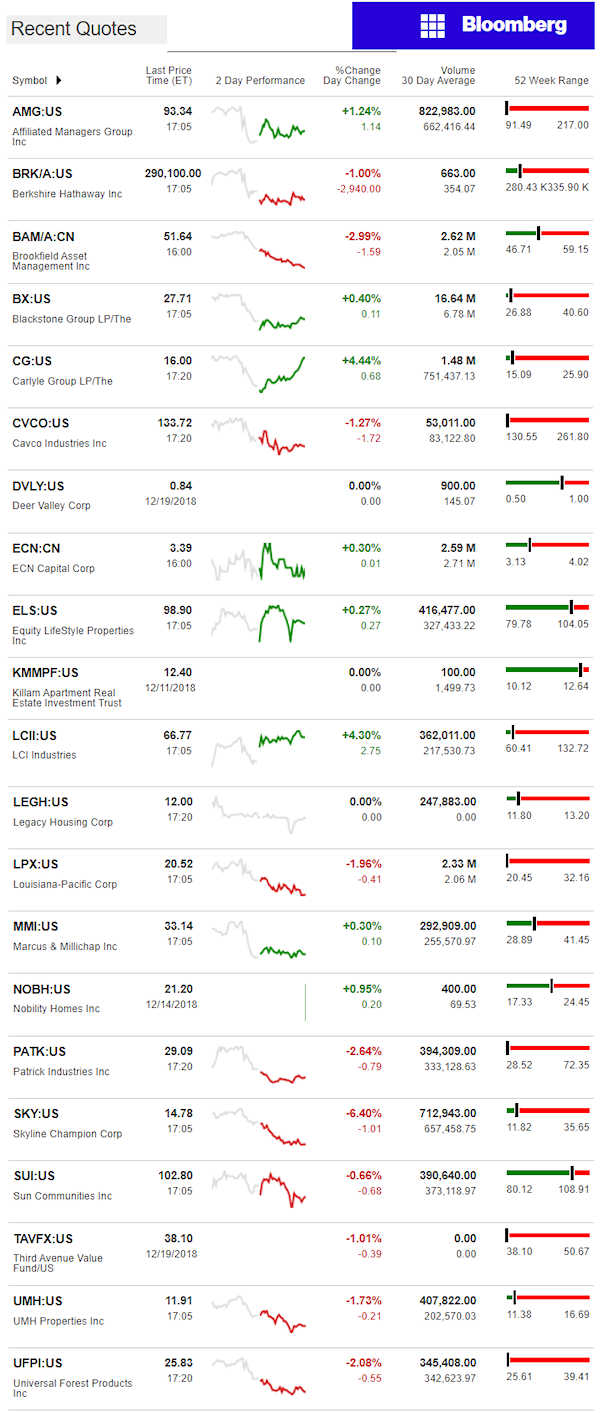 Berkshire Hathaway is the parent company to Clayton Homes, 21st Mortgage, Vanderbilt Mortgage and other factory built housing industry suppliers.
LCI Industries, Patrick, UFPI and LP all supply manufactured housing.
AMG, CG and TAVFX have investments in manufactured housing related businesses.
Your link to industry praise for our coverage, is found here.
For the examples of our kudos linked above…plus well over 1,000 positive, public comments, we say – "Thank You for your vote of confidence."
"We Provide, You Decide." © ## (News, analysis and commentary.)
(Image credits and information are as shown above, and when provided by third parties, are shared under fair use guidelines.)
Submitted by Soheyla Kovach to the Daily Business News for MHProNews.com.