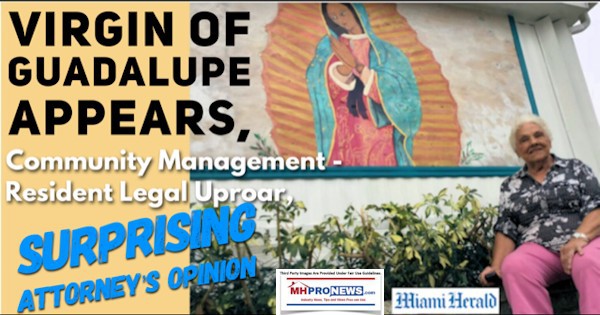 In business, you might technically be on the right side of a law, but still appear badly to the public at large that you hope to attract and serve.
A recent fracas arose between 85 year old resident, Millie Francis, and a resident-owned manufactured home community's management. Vanguard Management decided to make a legal issue over an elderly Hispanic resident's outdoor religious artwork, which appears on the street-side of her home.
It's made regional news from Atlanta to Miami. It gained prominence on Fox News nationally. A fair housing expert has shared her legal perspective on the matter with the Daily Business News on MHProNews, which will be presented further below.
But let's set the stage first with some general background.  Then, we'll look at some specifics of this case, and thereafter will provide the legal insights.
Why this attention in the industry's leading trade media? Because the story is arguably about much more than the 'guidelines for living,' or other community rules. It's even more than fair housing or freedom of religion issues, although those are all serious enough.
It is arguably a potential lesson to be learned about the message this sends to literally millions of members of various demographic groups, and what this says about manufactured home community living.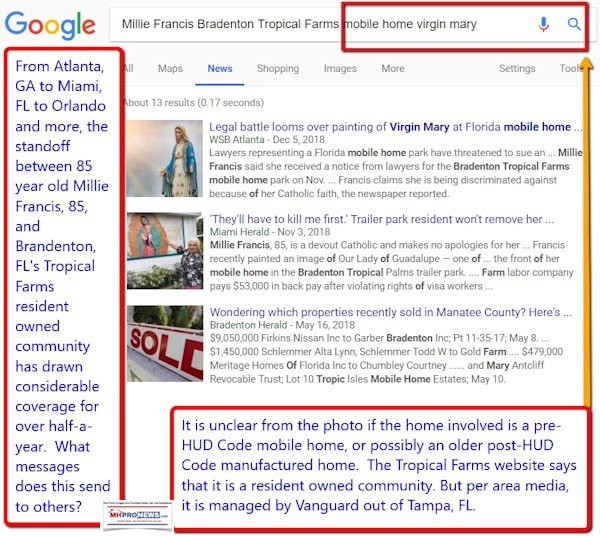 Regional Mainstream Media Coverage
Over one in five living in the U.S. is Catholic, according to Pew Research. "23.9% of Americans identify themselves as Catholic…approximately 72 million," in a 2008 Pew report.
According to the U.S. Census Bureau, "57.5 million…The Hispanic population of the United States as of July 1, 2016, making people of Hispanic origin the nation's largest ethnic or racial minority. Hispanics constituted 17.8 percent of the nation's total population."
The Population Reference Bureau says that some 46 million Americans are over age 65, about 15 percent of the population.

So in one fell swoop, a photo and headline about this elderly woman's tiff with her community's management, and they have potentially offended no less than three sizable interest groups.
If you looked at women as another interest group, or those who take issues about freedom of religion seriously, even larger groups could be offended by the headlines this story about Millie Francis and what she says is her 'heavenly inspired' art work has generated. That it has gone into the days covering Advent and the feast day of
That's significant, because the Washington Post said in 2014 that "People don't pay much attention to the news. … Overall, 41 percent of Americans report that they watched, read, or heard any in-depth news stories, beyond the headlines, in the last week…" It's not just one media source that says a problematic headline that can lodge in someone's subconscious.
A writer for Forbes in 2016 said, that 59 percent of you will share an article without reading beyond the headline.  Ouch.
So even if Vanguard Management, which reportedly operates Bradenton Tropical Farms – and which they and the community manager declined comment on this report – are technically correct, potentially millions who heard or saw a blip in their local or regional news, could have a problematic view of the matter.
Rephrased as a possible lesson learned for industry professionals, sometimes it is the better to be right, and still do what a resident of customer wants, then to make an issue that ends up creating headlines like this vexing story has.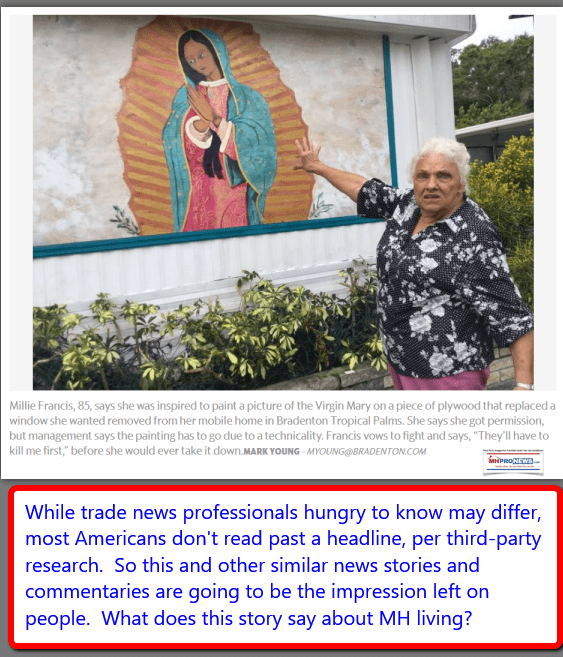 Let's see what a letter writer in the Orlando Sentinel had to say, which is between the next two graphics.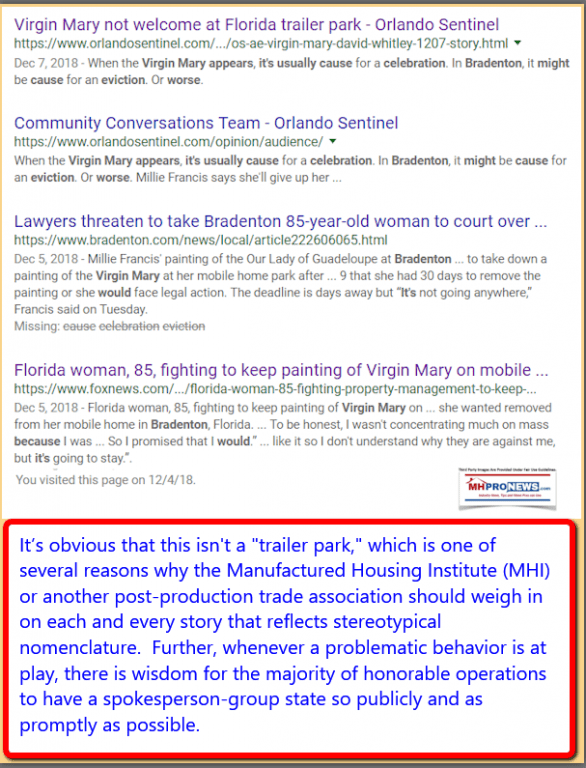 When the Virgin Mary appears, it's usually cause for a celebration. In Bradenton, it might be cause for an eviction.
Or worse.
Millie Francis says she'll give up her life before she takes down the painting of Our Lady of Guadalupe on her mobile home, the Bradenton Herald reported.
"They'll have to kill me first," she told the paper.
They are Vanguard Property Management, which runs the mobile home park where the 85-year-old Francis lives. They say she has run afoul of the rules and neighbors have complained about the work of art.
The hubbub began this spring when Francis replaced the front window of her mobile home with a piece of plywood, the Herald reported. A devout Catholic, she went to Mass and was inspired to paint the image.
Janet Nowakowski, the neighborhood property manager, told the Herald that Francis had permission to remove the window. She said the project was not completed in time and that Francis didn't get the painting approved by the park's architectural review committee.
Francis thinks it's more as a case of religious discrimination than red tape.
"There's all kinds of stuff out there, but this is because I'm Catholic and it's wrong," she told the Herald. "With all the things going on in the world, I would think there would be more important things to worry about than this."
Such worldly concerns have inspired people to seek divine guidance for eons. In that quest, there have been about 2,000 sightings of the Virgin Mary since 1531, when the Catholic Church started investigating such reports.
One of the most famous sightings was at Lourdes, France in 1858. Now 6 million people a year visit St. Bernadette's grotto, with thousands hoping to be cured from their afflictions.
Clearwater made the sightings map in 1996 when a stain on the glass window at the Seminole Finance Company took the shape of the Virgin Mary.
Jesus has been spotted in a lot of places, including a breakfast taco and a bag of Cheetos.
The Bradenton mobile home park has no restrictions against grocery sightings, but Nowakowski said Francis will have to resubmit her application to the architectural review board if she wants to keep her painting.
Francis says that's not going to happen.
"I don't bother anybody and I don't want anyone bothering me," she told the Herald. "I got permission from them, but I'm not asking for anymore permission. This is America, I'm 85 and will do what I want with my own property."
God's speed, Millie Francis.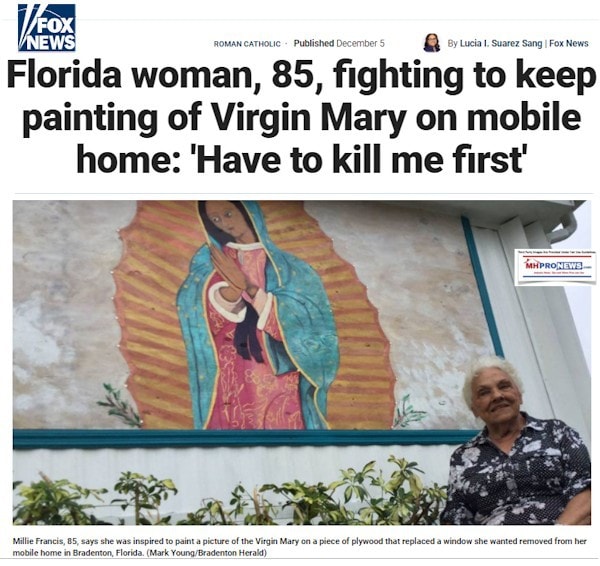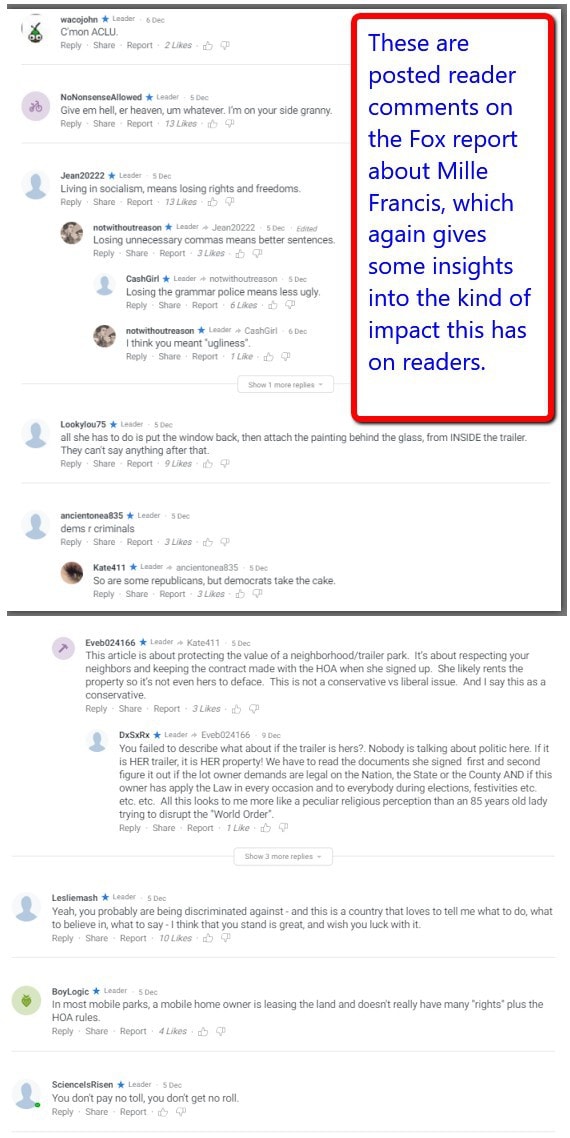 Check out the above.  The headline is from Fox, on their national news site. The comments that follow the photo and caption are just some of those posted by readers about this scenario.
With these items as a backdrop, let's turn to what Nadeen Green, JD, an actively retired fair housing attorney and long-time expert for For Rent had to say about this case.
Fair Housing Attorney Sounds Off

Per Nadeen Green, J.D., "I used to see this quite often in the apartment industry and those of us who teach fair housing always told owners/companies to understand that it is an "all or nothing" business decision.  Many MF communities have rules that say nothing can be placed outside or in windows to be viewed from the outside. Others allow residents to display what they want (sports flag during important games, holiday decorations, flags from their original countries, etc). Often there were time rules – 2 weeks before an event, holiday or national day, for example. one week after.  But once such is allowed, it is pretty well open season, which is why "nothing" often was the case.
"In this article the threshold issue is whether there are rules and policies for anything done outside the home (note that there is a reference to an architectural committee process) and whether this resident complied with those.  If other artwork or displays have been allowed, arguably hers should be as well unless there is a rule along the lines of "seasonal displays will be allowed but they must be secular and non-religious displays will not be allowed."  If this resident is allowed to have her art displayed (whether as a result of community rules or legal ruling) than anyone else can have religious displays as well…from any religion…
One more comment…there is no need to accommodate for religion in housing (unlike in the employment arena).
"While fair housing and fair employment have many parallels, they have never been in lock step (even, as you now know, the protected classes are different under the federal law).  BTW, often state or local governments do add further protections to the housing laws so sometimes the differences are not as vast.
"For years "disparate impact" was a difference.  It is articulated in the federal employment law but not mentioned in fair housing, which led to all sorts of legal wrangling so that now that must be considered in housing (mostly as to criminal background checks for residents).  Another big area of difference in civil rights laws is that of service animals.  The Americans With Disabilities Act does not recognize emotional support animals and those can be excluded from public places; the Fair Housing Act does recognize emotional support animals and that is why a housing provider must accommodate such.  Disability is the only federally protected class that requires reasonable accommodation and that is why disability is the number one area for legal disputes – HUD charges and private lawsuits."
— end of Nadeen Green's legal commentary. —
There you have the legal side of the Millie Francis – Madonna painting issue, with the normal disclaimer that Nadeen Green is not your attorney, so this should be understood as general guidance, not specific legal advice to you.
So, as noted above, there are several ways to ponder this issue.  There is a strictly legal view.  There is the public relations perspective.  There is a resident relations to consider as well.  What's missing from this is the question of how other residents responded to Francis' display.  Finally, there is the question – what if she was truly inspired to take up this issue?
Lots to ponder, and unpack, just days before Christmas.  That's "Industry News, Tips, and Views Pros Can Use," © where "We Provide, You Decide." ©   ## (News , analysis, and commentary.)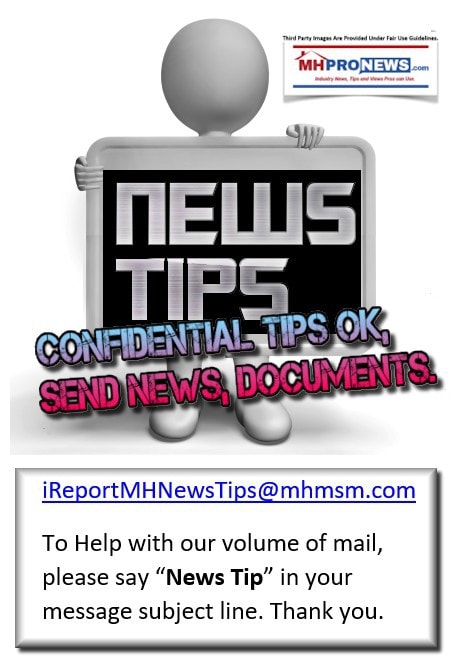 NOTICE: You can join the scores who follow us on Twitter at this link. You can get our 'read-hot' industry-leading emailed headline news updates, at this link here.

NOTICE 2: Readers have periodically reported that they are getting a better experience when reading MHProNews on the Microsoft Edge, or Apple Safari browser than with Google's Chrome browser. Chrome reportedly manipulates the content of a page more than the other two.
(Related Reports are further below. Third-party images and content are provided under fair use guidelines.)
1) To sign up in seconds for our MH Industry leading emailed news updates, click here.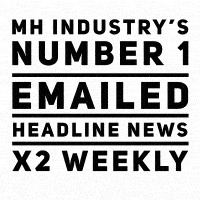 2) To pro-vide a News Tips and/or Commentary, click the link to the left. Please note if comments are on-or-off the record, thank you.
3) Marketing, Web, Video, Consulting, Recruiting and Training Re-sources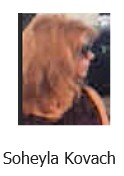 Submitted by Soheyla Kovach to the Daily Business News for MHProNews.com. Soheyla is a managing member of LifeStyle Factory Homes, LLC, the parent company to MHProNews, and MHLivingNews.com.
Related Reports

:
Manufactured Housing Institute Housing Alert, Affordable Housing Crisis, MHI's #NettlesomeThings Response
In the windows of some manufactured homes and other dwellings, there will be a menorah visible tonight. In manufactured home communities from coast-to-coast, you'll find Christmas lights on homes, which perhaps are more properly called Advent lights before December 25th, and Christmas lights on and after that date.