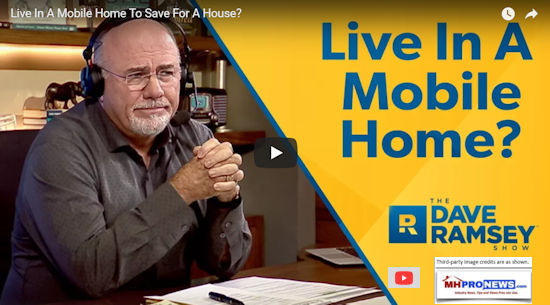 Relevant background information is important for understanding an issue.
To understand why Dave Ramsey's take on "mobile homes" [sic] as an "investment" for a home buyers matters to the industry and millions of manufactured home owners, Ramsey's background matters.



"The Dave Ramsey Show is a three-hour, self-syndicated radio program and podcast, hosted by the eponymous finance author and speaker, that airs Monday through Friday from 2-5 EST. It is primarily broadcast from Brentwood, Tennessee," says Wikipedia.
Per the Dave Ramsey Show "Fact Sheet,"
"More than 4.5 million people have participated in Financial Peace University;
More than 13 million radio and digital listeners weekly to The Dave Ramsey Show;
More than 600 radio affiliates to The Dave Ramsey Show…"
Against that background, is the video from Dave Ramsey, posted below.
Ramsey's YouTube page says, "Dave Ramsey explains why buying a mobile home is not a wise investment."  That's a problem for manufactured home owners, and for the industry, to the degree that it impacts the public's perception.
Ramsey's stock-in-trade is teaching people to get debt free, among other things.
A pair of other Ramsey "Fact Sheet" bullets,
More than 25 years of Dave on-air
More than 10 million books sold combined
Among his websites milestones,
1992: Self-published Financial Peace
1992: Began The Dave Ramsey Show
1994: Began teaching Financial Peace University
1997: Financial Peace becomes a best-seller
1999: More Than Enough published and debuted a best-seller
2002: The "Dave Says" column is launched in newspaper publications
The point for manufactured housing professionals?
Several, but let's point to these.
1)    At least during this segment which was posted on  Oct 25, 2017, Ramsey fails to make any distinction between a mobile home, which haven't been built since June 15, 1976, and a modern manufactured home, though he mentions the terminology.
The American Dream has long been defined as including home ownership. While there are several positive economic signals in the early weeks of President Donald Trump's Administration, it will take some time for millions to see their incomes go up enough to allow them to do what most of their parents or grandparents achieved – a home they could call their own.
2)    Perhaps Ramsey is unaware of the HUD PD&R that Manufactured Home Living News referenced several times, which documented that manufactured homes appreciated side-by-side with conventional housing.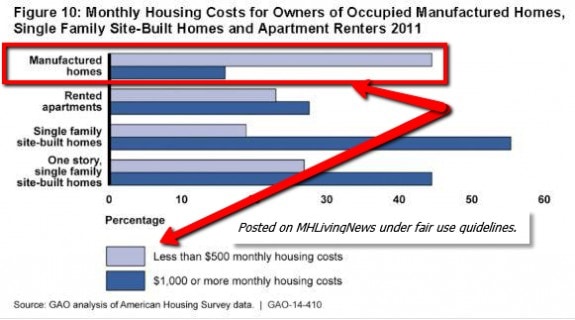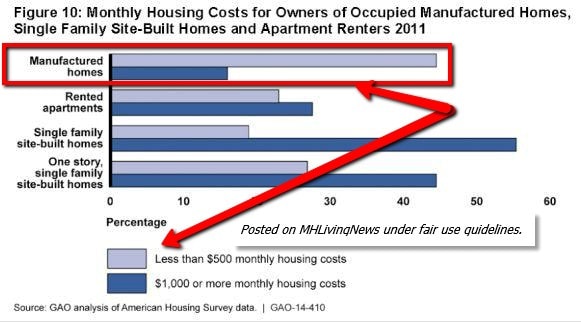 3)    Or maybe the talk show celebrity doesn't know the research coming out of the Pacific Northwest, that documents rising manufactured home values.
4)    Nor does Ramsey note – in those cases where mobile or manufactured homes lose value – why they do.  Industry professionals must know these and stand for the facts. Because they mirror the same factors that limit or cause the loss in value of a conventional house.  2008 wasn't that long ago, when tens of millions saw their conventional housing drop in value.
5)    Where was the Manufactured Housing Institute (MHI) response to this Dave Ramsey segment?  It is part of the 'other image campaign,' that Marty Lavin blasted MHI for in their self-touted campaign.
Since that segment aired, FAU's Ken Johnson statements that indicate that manufactured homes can be a good investment, even a superior one – using Professor Johnson's formula.
New University Research Shaking Rent vs. Buy Beliefs in Housing, MH Industry Impact?
6)    Their is also the Urban Institute (UI) issued report that claims that manufactured homes appreciate, but at a slower pace then conventional housing. While that UI report has its own issues, that MHProNews has been fact-checking, that point on appreciation is worth noting.
"Follow the Money" – Controversial Urban Institute Report on Manufactured Housing
MHLivingNews and MHProNews have promoted the obvious reality that Eric Belsky said.  Ramsey's an intelligent fellow. Given the opportunity, Ramsey may well see it differently if he understands the combination of factors – including financing – that has limited manufactured homes.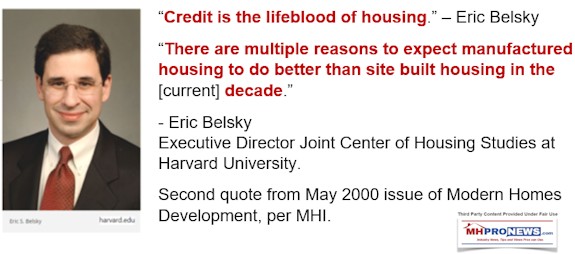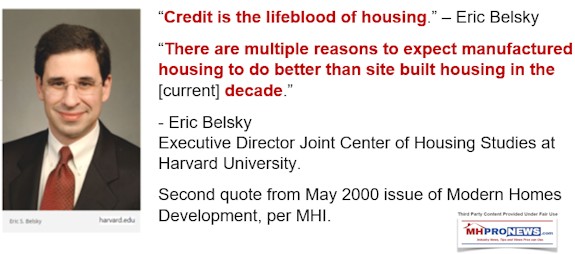 Fact-based public education,
good lending options,
in a healthy economy,
with homes in good condition in an appealing location,
the law of supply and demand,
are what result in appreciation. Each of those are true for conventional and manufactured homes.
See what the lender said in the article linked below.
Where a 14×60 Single Section Manufactured Home Selling for $150,000 is a Bargain
It should be the national umbrella association's task to routinely reply to each and every falsehood.  Or to promote each and every good piece of news.  As MHI member Frank Rolfe noted, they don't do so.


There's good reason to believe MHI knows that rebutting falsehood is wise.  Their own prior chairman said there's a good case to be made for that practice.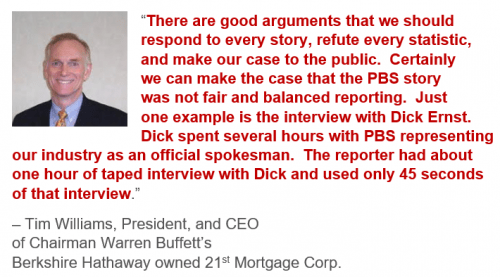 So why doesn't MHI promote useful news that they don't create?  Or why is MHI piddling-around with problematic advertorials, and videos that focus on only 4 members, that are barely getting watched?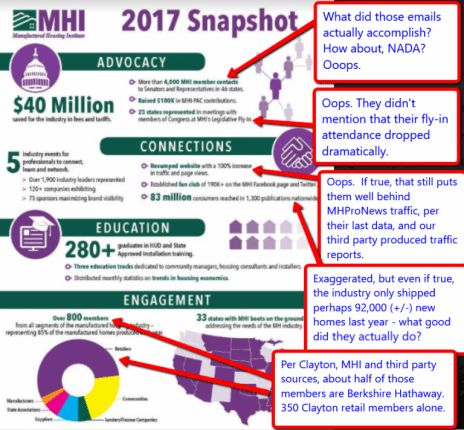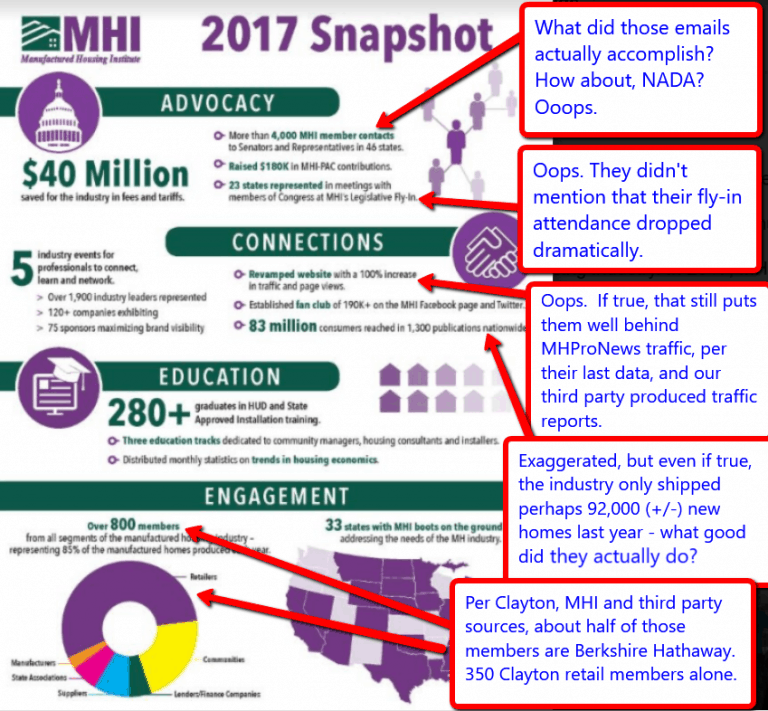 As far as appreciation is concerned, it is insightful to see what the lender said in the article linked below.  Because he summarizes the drivers behind gain-or-loss of value in any form of housing, not just manufactured homes.
Where a 14×60 Single Section Manufactured Home Selling for $150,000 is a Bargain
You don't have to agree with everything that Frank Rolfe says or does to see the wisdom of having the national umbrella association's task to include routinely replying to each and every falsehood.  Would that make a difference with widely respected professionals like Ramsey?  Could it hurt?
On the Dave Ramsey Show website, there was an episode where, "Dave speaks out against big taxes on the rich and invites people who disagree with him to call in and go head-to-head. In this hour, Dave argues about why the Warren Buffett rule is a lie and responds to a caller's claim that many of the wealthy are irresponsible."
Warren Buffett Wants an MH Shark Tank – Clayton, 21st, MHI, 'Gift that Keeps Giving'
Based upon that, one might think that Ramsey doesn't seem to be a fan of the Oracle of Omaha.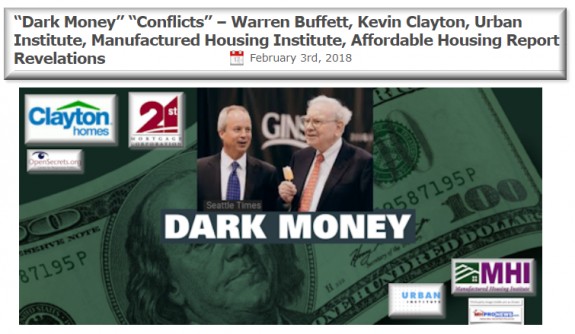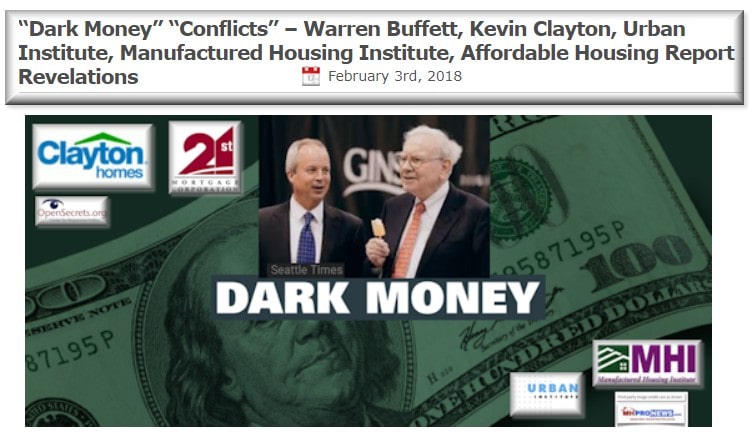 So does Ramsey understand the role that Buffett's "moat" plays in depressing the demand for manufactured housing in ways that benefit the widening of said Clayton/21st/VMF et al moat?
That's a point that Berkshire Hathaway dominated MHI is unlikely to make.
This is another reason why no matter how nice most people or members at MHI may be, the organization itself needs to have their records forensically examined.  Buffett's businesses need to have the widest possible array of inquiries. Once those investigations are accomplished, any and all legal action that are warranted should be taken.
That's a key part of how the industry can break free of its still relatively low production and sales levels.  It is also the fact-based, logical key to making sure that manufactured home owners get the maximum value out of their housing investment.
"We Provide, You Decide." © (News, analysis, fact-checks, and commentary.)
Sign Up Today! Click here to sign up in 5 seconds for our factory-built home industry-leading and growing emailed headline news updates. You'll see in the first issue or two why big, medium and 'mom-and-pop' professionals are reading them by the thousands. These are typically delivered twice weekly to your in box.
Follow us on Twitter:
ManufacturedHomes
@mhmsmcom
(Image credits are as shown above, and when provided by third parties, are shared under fair use guidelines.)

Submitted by Soheyla Kovach to the Daily Business News for MHProNews.com.
Soheyla is a managing member of LifeStyle Factory Homes, LLC, the parent company to MHProNews, and MHLivingNews.com.