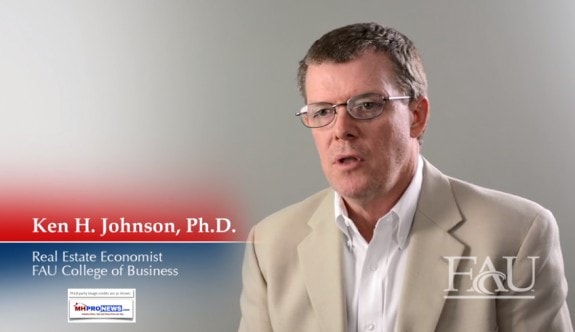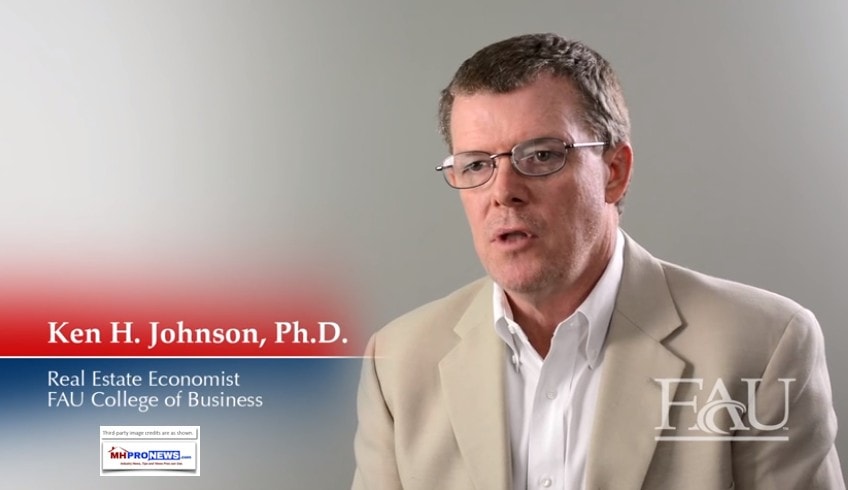 The National Association of Realtors (NAR), and National Association of Home Builders (NAHB) must be huddling in strategy sessions on how to respond to new university level research. The study group's claims could shake the core belief of which is better as an investment, renting or buying? And is renting always a waste of money?
Not only could their findings shake up real estate, and conventional builders, it has deep potential meaning for the manufactured housing industry too, and MHProNews has exclusively learned.
So, it will be important for all housing professionals to understand the research, because the topic is likely to increasingly come up from shoppers and others.
"When considering buying and building wealth through equity appreciation versus renting and reinvesting in a portfolio of stocks and bonds, property appreciation does not change the results," said study co-author Ken Johnson, Ph.D., real estate economist at Florida Atlantic University (FAU) College of Business and co-developer of the Beracha, Hardin and Johnson Buy vs. Rent Index.
The media release to MHProNews states, "The American Dream of homeownership as the path to creating wealth may be due for a revision. A new study by faculty at Florida Atlantic University, Florida International University and the University of Wyoming finds that the property appreciation most homeowners expect when buying a home may be relatively meaningless in terms of building wealth."
Before You Reject Their Findings…
Some may be tempted to just reject their findings in a knee-jerk fashion.
Diana Olick, CNBC's Real Estate editor, published the following top lines/bullets about Johnson and his colleague's study.

Homeownership doesn't build wealth, study finds
Households are better off taking control of their finances than relying on fluctuating home values.
The homeownership rate is still hovering near its record low, yet demand has been steadily rising.
Nationwide, since the recession, there have been two distinct housing markets.
"On average, renting and reinvesting wins in terms of wealth creation regardless of property appreciation."-Ken Johnson, study co-author
The question of rent versus buy has been wildly popular during the housing recovery. The historic housing crash at the end of the last decade came as a bitter shock to millions of Americans, many of whom never considered that home values could fall at all or that they could fall as far as they did.
Johnson's Video Outline Similar to a Canadian Study Video in their Findings
"When you assume that those monies are reinvested at a rate of return, renting, on average, wins in terms of wealth creation," Johnson said in the release. "Of course, many renters will not reinvest those monies and will instead use them for consumer goods, which is the least desirable option in terms of building wealth."
Their analysis –  published in the Journal of Housing Research –  showed that households not likely to reinvest buy-rent cash differentials should lean toward ownership, rather than rent, because their primary residence as ownership forces them to save.
"The American Dream is alive and well but in need of revision," Johnson said. "To that end, we suggest not all but most should own rather than rent due to ownership's embedded commitment to save. Owning real estate should be sold as a strategy to create better set of risk-adjusted returns rather than create wealth alone."
This Canadian video by the Globe and Mail works a formula that comes to a similar conclusion as Johnson's research.
While Americans can often buy with a lower down payment than Canadians, the fact that both sides of the border came to a similar conclusion is noteworthy.
How Will This Impact Housing Shoppers, and the Manufactured Home Industry?
While the impact is an open question, one must note that millennials have been slower that prior generations – for several reasons – to make the move toward ownership.
MHLivingNews contacted the researchers with some specific questions, to gauge how their research may impact those considering manufactured housing?
Each are educated, successful, clearly proficient, and informed about housing. That's because they've experienced all kinds of living, and they did their homework before buying their new home too. They live on an sizable, private acreage near Sperry, in Osage County, OK. They'll explain in this video why that's relevant for their new home decision.
'Significant' would be an understatement as to what the researchers said in reply to our inquiries.
That exclusive report is planned for MHLivingNews this weekend. Make sure you check it out, and have your colleagues do the same.  This story will be updated with a link to that report, once published. Stay tuned.
Update: as promised…
## (News, analysis, and commentary.)
Note 1: For those who want to sign up to our industry-leading headline news emailed updates – typically sent twice weekly to thousands of MH inboxes – please click here to sign up in just seconds. 
You'll see in the first issue or two why big, medium and 'mom-and-pop' professionals are reading them by the thousands, typically delivered twice weekly.
Related: For marketing and other MH Professional Services, click here.
(Image credits are as shown above, and when provided by third parties, are shared under fair use guidelines.)

Submitted by Soheyla Kovach to the Daily Business News for MHProNews.com.