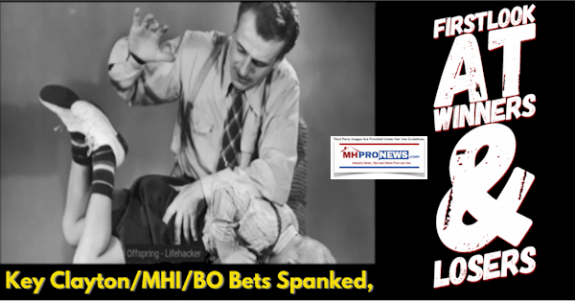 There's work to do.
There are still undecided midterm races.  Some may be headed to possible recounts, or an upcoming special election.
First, we will look at the facts, then we will take a glance at what this could mean for manufactured housing (MH) and the industry's investors.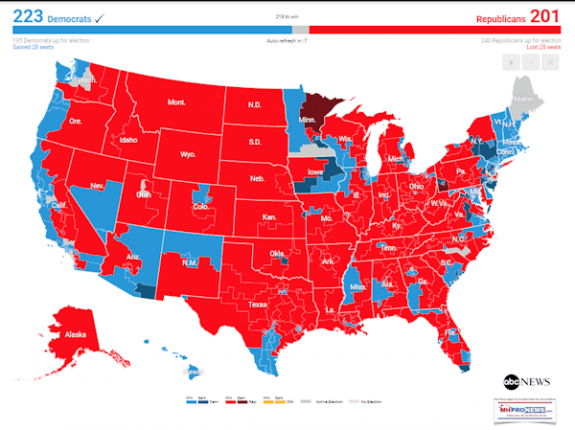 While details are still outstanding, the broad brushes are now known.
Democrats picked up enough seats to take control of the U.S. House of Representatives, but not as many as the GOP waves during the Clinton or Obama administration midterms.
The Republicans or GOP (Grand Old Party) have increased their hold on the U.S. Senate.
Democrats won some hard fought gubernatorial races, and will have a net gain in state houses, but Dems also lost some high-profile states.
It's a mixed bag, with plenty of data to unpack for weeks or even months by political experts and analysts.
Some interesting and troubling factoids include, but are not limited to:
Former president Barack Obama campaigned in places like Florida, Indiana, Ohio, Georgia, Nevada, California, Illinois, and Pennsylvania.
The Netflix-contract beneficiaries -Barack and Michelle Obama's will earn millions from Netflix millions for years – had results that were decidedly mixed.
Mr. Obama campaigned for Democrats like:
Mayor Andrew Gillum, who conceded his race to now Governor-Elect, Ron DeSantis.
Stacey Abrams, in Georgia – a higher volume MH state – had stars like Oprah Winfrey came for her too. Abrams has yet to concede the gubernatorial race as this is being written, but trails.
Former CFPB director Richard Cordray went down in Ohio to a relative unknown POTUS Trump backed Republican for the governor to replace never-Trump Kasich.
Former president Obama embraced Senator Joe Donnelly (IN-D), who lost to relative unknown Mike Braun, who was strongly backed by President Donald J. Trump.
Bottom line, in several battle ground (tossup) states, key candidates the 44th president campaigned for, lost. In some states that are strongly Democratic, or are tilting more blue, candidates Mr. Obama backed won.
It has to be said that some of Mr. Obama's campaign events were small to tiny compared to those of President Trump. That has to be a point of concern for Democratic strategists, and by contrast is a bright spot for POTUS Trump, who is his party's single biggest draw.
Some polling was clearly off, while others performed better.
President Donald J. Trump expanded his lead by several seats in the Senate.  These were also other victories in key states he personally campaigned in.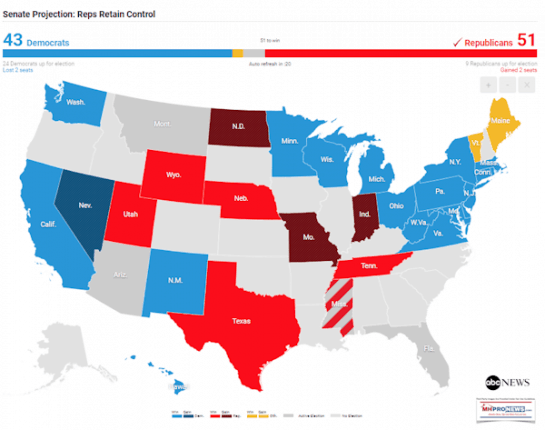 For example, in Florida, Ron DeSantis is the Governor-elect there. In the primaries, POTUS Trump backed DeSantis over popular Adam Putnam. That bet paid off.
In states like Indiana, Missouri, North Dakota, Tennessee and Texas, GOP candidates that faced huge fundraising disadvantages that Democratic billionaires wanted, the D's fell short.  That includes Beto O'Rourke (D) in Texas, which was highlighted for months by the left-of-center media. O'Rourke could still end up as part of a packed field for 2020 among Democratic presidential hopefuls.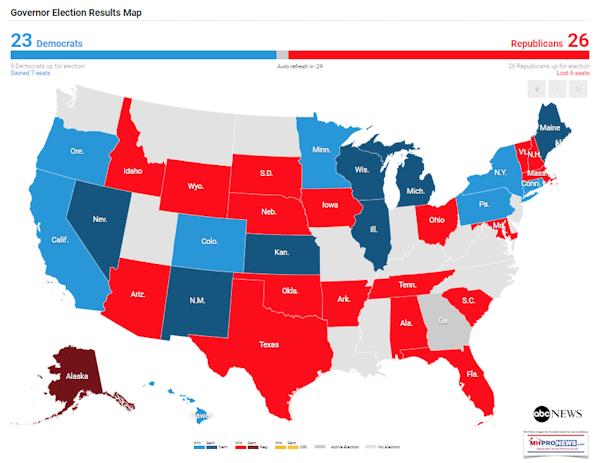 By the way, the political race across the board for 2020 is underway.
Spanked! Clayton/Buffett/MHI/Billionaires Beaten in Other Key Races
The Clayton-MHI and Buffett-Billionaire Democratic donor class bet on unseating:
Andy Barr in KY 6, they lost in a race that President Donald Trump personally campaigned for in the midterm run-up.
Now Senator-Elect Marsha Blackburn, who was opposed by the Claytons, even though she and Barr had both carried water for them and MHI in Congress for Preserving Access to Manufactured Housing.
Joe Donnelly (IN-D), who was a long-time beneficiary of MHI and their allies largess.
There are several candidates that MHI backed candidates, like Secretary Hillary Clinton's VP, Tim Kaine, that won. But he won in a reliably blue district.
Perhaps among the more important reveals in this past few months, thanks to MHProNews fact-checks and "Follow the Money" Research is this. MHI, the Clayton's, Warren Buffett and his fellow Democratic billionaires have been exposed for their arguably duplicitous behavior.
Was Manufactured Housing Advocate Congressman Andy Barr Backstabbed?
For examples, see the links above and below.
"He's Lying," Campaign Insider Video – "Don't Do Politics?" Tell Jim Clayton, Phil Bredesen, and Marsha Blackburn, Preserving Access to Manufactured Housing Act Supporter
Keep in mind, ex-and current MHI members or former Clayton team members have said to MHProNews that this kind of behavior isn't just reserved for politics.  As but one example, ICYMI or need a refresher, is the example below.
Expose! Why Has Warren Buffett/BH Funded Anti-MHC Activists, MHAction? Why Fund Attacks on ELS, Frank Rolfe, Blackstone Group?
Some Other Midterm Issues of Interest to MHVille
Some ballot propositions that bear some closer looks for the future are:
Prop 10 in California goes down.
Prop 4 in FL giving former felons the vote passed.
Another interesting factoid is this. In West Virginia, Joe Manchin (D) vote for Brett Kavanaugh for the Supreme Court, and held his seat. Several battleground state Democrats in the Senate who voted against Kavanaugh, lost.
Representative Mia Love, a conservative Black Republican in conservative stronghold Utah is undecided.  She trails her Democratic challenger, Ben McAdams, that may take days to sort out, per the Salt Lake City Tribune.
Another wildcard?  Mitt Romney, who blasted President Trump during the 2016 campaign, publicly made up as he was considered for Secretary of State by then President-Elect Trump won his race in UT.  Will he be the next John McCain/Jeff Flake Republican? Time will tell.
An estimated 113 million voted, per ABC News.  But only some 13 percent of 18 to 39 year olds voted. That often-played card – that the youth vote would pour out this time – was once more elusive, a drag more on the Democrats who court that block.
We surfed between Fox, CNN, and MSNBC last night.  CNN talking heads, for example, admitted that this was not a "blue wave," though they were clearly thrilled at the victories in the House.
There were states where far left candidates won, like Vermont or Maryland, but so did GOP gubernatorial candidates in those same states. Interesting? You bet.
Overall, It's a Mixed Bag, With Possible Silver Linings
What is certain is that the Team Trump, with far fewer dollars than the Democrats, stopped those who claimed that the Senate would be lost, where the GOP picked up seats.  From the perspective of the Oval Office, if you must have a divided Congress, holding the Senate was the more important win for the Trump Agenda.  POTUS Trump can now more easily get his nominees for the courts and his cabinet.
An underreported point among almost all media is that several of the Democrats positioned themselves as moderates, or even embracing some of the Trump agenda. That's arguably a ruse, but it worked for some candidates, while it failed for others.  For example, outgoing Senator Claire McCaskill (MO-D) literally called some of her fellow candidates "those crazy Democrats," while saying she would support the president on border issues.
It ended up pretty-close to what MHProNews projected, with the GOP Senate lead expanding.  It appears as of this time that 9 of the 11 candidates that President Trump campaigned for in the last week before the midterms saw the GOP candidate win. That's a history-bucking trend.
Lee Carter's Insights 
We will look in the days ahead at Lee Carter's insights on the how differently Democrats, Republicans and Independents can "hear" exactly the same thing.  This played a role in the midterms, indeed, in every election for some years.
But it is also an insight for manufactured housing professionals.  Those are among the reasons we will look at that, because it one of the keys to better understanding how more votes – and more customers – can be obtained.
Enough for now to say that messages have to be crafted that break-through the noise that opposition or years of misinformation.
Wins and Losses, Lessons and Initial Look Ahead
Each side has interesting or troubling victories and losses. Some quick takes are as follows, each of which has significant meaning for manufactured housing industry professionals. We'll bullet these for now.
Education can work. Those who followed the Trump Rallies should know they were informative for those who attended and tuned in. He also kept them interesting, often using humor, and kept the crowds engaged.
Track records are helpful, but are sadly not bullet proof.
President Trump does have coattails, but there are limits.
The lack of full unity among the GOP cost some seats that may have been won or held. While there are exceptions, some losses in Congress were by lukewarm Trump supporters.  For example, it is questionable if Ted Cruz would have won absent the 45th President's support.  Why in still red Texas?  One read is that Cruz's track record with POTUS Trump was problematic.
Money, deception, lies, and propaganda can work, but they are not omnipotent. This bullet deserves several stars by it.
That facts and education can still defeat propaganda and money, and are hopeful signs.
What MHProNews spotlighted for months was that freebies still hold appeal to tens of millions of voters. Some openly socialist candidates won, while others lost.  Some who backed single-payer healthcare or what some dub "Medicare for all" – socialized medicine – worked often enough for Democrats to expect that to continue to be a theme for their party.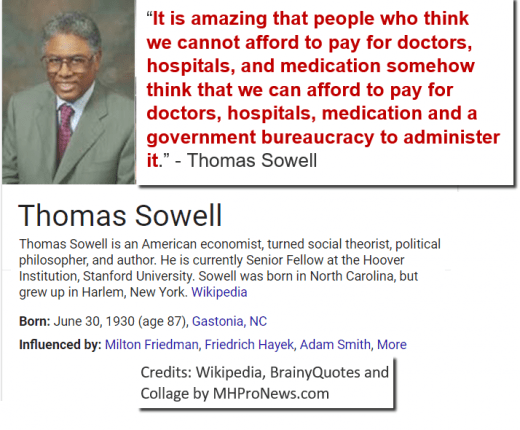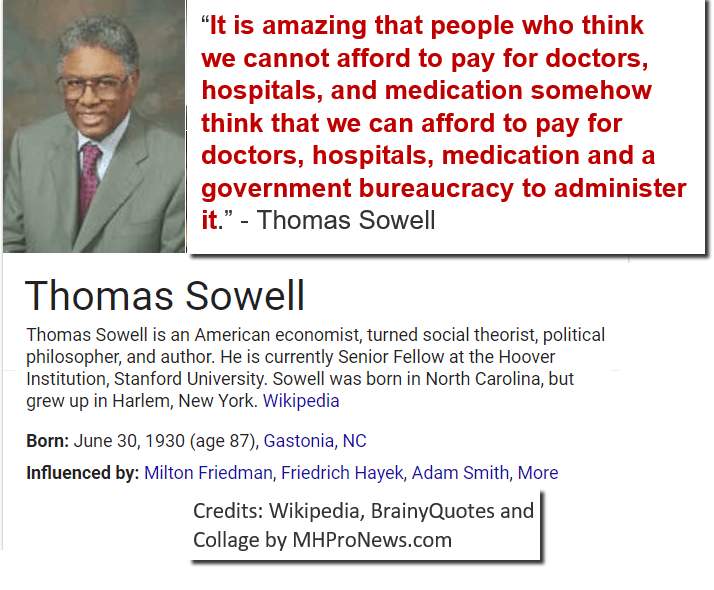 Education has to be ongoing. Otherwise, endless propaganda, billionaires and big money can win out.  Another takeaway was the relevance of the related report, linked further below.
The Upcoming Lame Duck Session?
What will be something important to watch is what happens in the lame duck session, before the new Congress is seated.  Can President Trump get any legislation he wants through during the next few weeks?  While recent history would suggest that is a challenge, the president is a fighter. Stay tuned.
What Lies Ahead for America, and MHVille?
As this is being written, markets are up.  A split Congress means that Democrats can't impeach the president, thought several of their candidates promised to make his life miserable for the next two years. Hearings of all kinds could follow in the House.  Will it slow or stop the America First agenda?
Will there be any bipartisanship on issues like infrastructure?
What will happen on hot topics like the FHFA and the GSEs? This is an issue that will impact MHVille, see the related report, linked below.
Conflict of Interests? MHI's, MHARR's Most Recent Statements on Controversial GSE Lending, House Financial Services Committee Chairman Weighs In
There are several items we will be unpacking in the days ahead.  For example, it is an open question as to the impact of hundreds of billions of investing dollars that were flowing into the U.S. this year as a result of the Trump tax cuts and regulation agenda.  Democrats can't undo that agenda, those laws are in place and are, for now, safe.  But are they threatened in the foreseeable future?
Markets and investors will be sorting that out, as they look at the tea-leaves.
The Trump-Republican economic platform has been performing.  That message didn't entirely break through. And therein lies a challenge for manufactured housing and the nation.
The rule of law was essentially on the ballot. The rule of law, arguably benefits our industry, while a lack of it harms it. Socialist ideals, picking and choosing which laws and private property rights are enforced all matter to MHVille professionals.
It is also misinformation that lies at the heart of several of the victories for Democrats. It is misinformation, Capital/lending manipulation, and failure to enforce existing laws that have harmed manufactured housing.
POTUS' tweets post-election are a riot.  For those who lack a sense of humor, don't bother looking, but he's clearly just begun to fight.
We put our boots back on this morning, because the split-decision lays a potential framework for future victories.
We'll examine some note of those opportunities for the industry, as we continue to unpack this midterm in the days ahead. Of course, that will come along with our continuing industry-leading coverage of other  issues and news that impact manufactured housing.
The president will address the nation shortly. That's "News through the lens of manufactured homes, and factory-built housing," © where "We Provide, You Decide." © ## ## (News, analysis, and commentary.)
(See Related Reports, further below. Third-party images and content are provided under fair use guidelines.)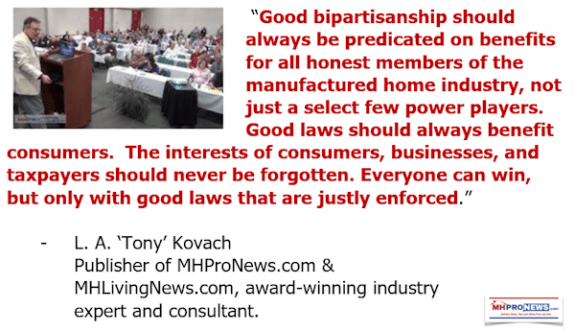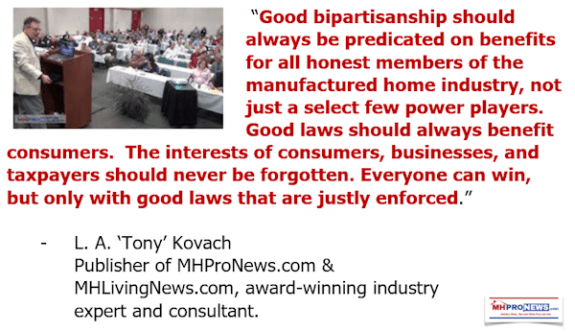 By L.A. "Tony" Kovach – for MHProNews.com.
Tony is the multiple award-winning managing member of LifeStyle Factory Homes, LLC, the parent company to MHProNews, and MHLivingNews.com.
Office 863-213-4090 |Connect on LinkedIn:
http://www.linkedin.com/in/latonykovach
Sign Up Today!
Click here to sign up in 5 seconds for the manufactured home industry's leading – and still growing – emailed headline news updates.
Related References:
The following are not the only purported purveyors of monopolistic moats, manipulating misinformation, or harmful policies and practices. But they are a good start. The companies listed ought to broken up under federal antitrust laws. Not regulated. Broken up. Don't worry, the world didn't stop when the AT&T monopoly was broken up in the 1980s, America benefited.
Following Facts, Money – Sam Zell, Warren Buffett, Tim Williams/21st Mortgage, and Manufactured Housing