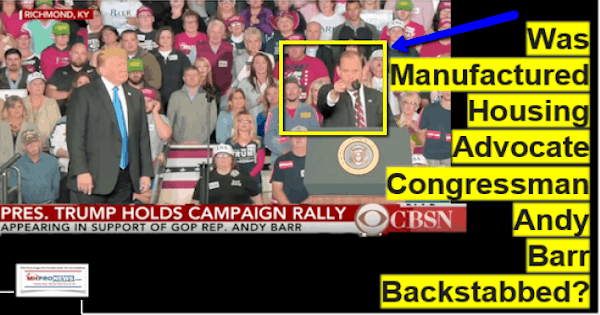 Congressman Andy Barr has carried water for the Arlington, VA based Manufactured Housing Institute (MHI) for several years.
MHI has justifiably called him a "champion" for the industry.

The screen capture reveals just one of the bills he helped get done for MHI indicates, he's delivered for them and for the industry.
Let these first two videos of Congressman Barr speak for themselves.  Wouldn't it be great if every law maker felt this way?
MHLivingNews, spotlighted his efforts more than once on behalf of manufactured home owners, prospective buyers, and the industry itself. One such example is linked below.
Congressman Andy Barr, from Kentucky's 6 th Congressional district, spoke in the House of Representatives on March 9, 2017 in favor of manufactured housing. Representative Barr addressed challenges caused by the Consumer Financial Protection Bureau regulations.
MHI's PAC understandably gave Congressman Barr campaign contributions. Rep. Barr got his part of the job done, time-after-time.
So where is their backstabbing involved?
Big League Politics
Barr's KY 6 is considered a swing district for a possible Democratic takeover of the U.S. House of Representatives. Amy McGrath, a left-leaning Democrat and combat veteran is getting pools of money from outside of this district.
Bluntly, Democrats have targeted Barr for elimination. Kentucky Democrat Nathan Smith is not far away, sources suggest to MHProNews, working the system…
Giving to Both Sides…
As political savants know, there are those who give to both major party candidates in a race.  Sometimes those donations come directly.  But sometimes, they are oblique. That can be legal.
The Drudge Report recently highlighted a story by the Hollywood Reporter, which said that 99 percent of Hollywood executives give their campaign contributions to Democrats. MHProNews spotlighted recently that 7 of the top 10 billionaires in the U.S. are Democratic supporters.  That includes Warren Buffett, who's Berkshire Hathaway conglomerate owns Clayton Homes, 21st Mortgage, and numerous other companies involved in manufactured housing.
So, it must be noted that MHI is dominated by Warren Buffett led Berkshire Hathaway. Voices inside and outside of the industry have made that observation.  It's no secret.  A Berkshire Hathaway executive, sometimes two, have sat on the MHI executive committee for years.
Berkshire's chairman routinely supports progressive, left-leaning, Democratic candidates.
Buffett's mega-billionaire buddies, along with second tier billionaires like George Soros and Tom Steyer,  are doing the same. ICYMI, see the related reports, further below for facts and figures on this specific point.  That isn't conjecture, it is documented reality.
So why is Congressman Barr – who did what Buffett's Clayton, 21st, MHI et al wanted – suddenly facing a massive amount of campaign contributions from leftist groups?
Before you answer that question for yourself, consider the related question.
Isn't what is happening to Barr a warning to all who may think today, 'but I've been loyal to:'
Clayton Homes,
21st,
MHI, etc.
because as soon as your usefulness is deemed over, you too could be discarded like a wet rag?
That's not mere conjecture.
Bear in mind, that MHProNews has heard directly from those that did business with Clayton for years. Some even did high volume for Clayton. But when they did something that Clayton didn't like, those sources tell us that Clayton turned on them and targeted them for elimination.
President Trump on the Stump for Rep. Andy Barr
By contrast, President Donald J. Trump campaigned with and for Andy Barr.  As a business man, the president understands the concept of loyalty.  Note too, if you watch the entire video, that the president – who is painted by his opponents as vindictive and petty – praises Senator McConnell, who he has on several occasions crossed swords with.  Can you detect any of that in this video?
But let's return our focus back to Congressman Barr.
"I've met Congressman Andy Barr in person. He described first-hand experiences with pre-HUD Code mobile homes, as well as with post-HUD Code manufactured homes. He seems well informed on our industry's issues. He struck me as a genuinely good, sincere man. This is precisely the type of person whom the industry needs backing manufactured housing, from both sides of the political aisle," said L. A. "Tony' Kovach, publisher of MHProNews.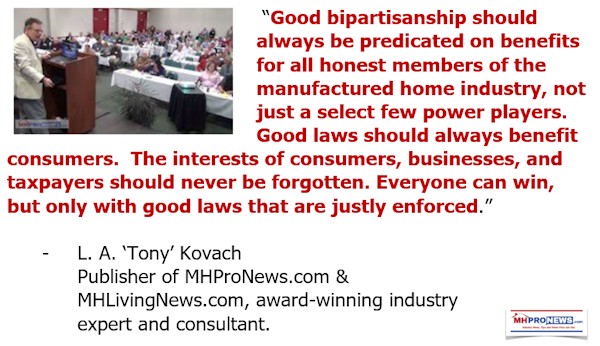 A Distinction 
There are plenty of rank and file Democrats who are nice people, well meaning, intelligent, caring, etc.
But there are examples of Democratic leaders who behave in a 'use them and don't care if you later abuse them' fashion. That can happen in other organizations and political parties too.
But here is a case of Congressman Barr, who has fought successfully for manufactured housing industry interests in Washington, D.C..  If the indicators and sources are correct, then the purported powers-that-be behind MHI are treating Barr very badly.
Barr certainly merits the votes and support of those in KY6, and beyond.  Bear in mind too that it is only with
"Other people resist, but this president gets results," said Congressman Barr (KY-6-R) at a POTUS Donald J. Trump Rally on his behalf in Richmond, KY. In The video below, Barr begins to speak at about 24:20, you can watch him take the stage a few moments before that timeframe.
Barr said he knew that candidate Trump would become president when he said "My opponent has a slogan…'I'm with her'…I have a different slogan, "I'm with you!"
Also, present Saturday night were Senate Majority Leader, Mitch McConnell (KY-R) and Senator Rand Paul (KY-R). The video below presented because it was part of the same event that Barr and POTUS Trump appeared at.  It is entitled by the source as "Rand Paul EXPLOSIVE Speech at Trump Rally in Richmond Kentucky – October 13, 2018."

Was Manufactured Housing Advocate Congressman Andy Barr Backstabbed? 
In the backdrop of all that Barr did for manufactured housing and others, do you think you can trust the billionaires on the left? Or can you trust their non-profit tools, like MHI?
Why not ask Congressman Andy Barr that question?
But Barr may be too much of a gentleman to say that there are backstabbers at work in manufactured housing. Whatever he might say, the turn of the voters is upon us.
The midterms are three weeks out, early voting is underway in several states. Keep Andy Barr in mind, and others like him when you vote. It was mostly the GOP who passed S. 2155. It was entirely the GOP that passed The Tax Cuts and Jobs Act.  That's this morning's "News Through the Lens of Manufactured Homes, and Factory-Built Housing," © where "We Provide, You Decide." © ## (News, analysis, and commentary.)
(Related Reports are further below. Third-party images and content are provided under fair use guidelines.)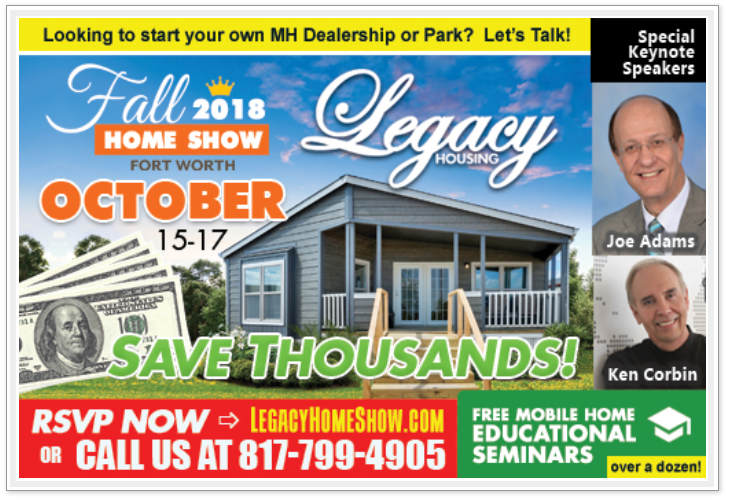 1) To sign up in seconds for our MH Industry leading emailed news updates, click here.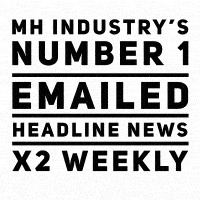 2) To pro-vide a News Tips and/or Commentary, click the link to the left. Please note if comments are on-or-off the record, thank you.
3) Marketing, Web, Video, Consulting, Recruiting and Training Re-sources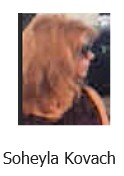 Submitted by Soheyla Kovach to the Daily Business News for MHProNews.com. Soheyla is a managing member of LifeStyle Factory Homes, LLC, the parent company to MHProNews, and MHLivingNews.com.
Related Reports

:
Financing – Dramatic Shift – Manufactured Housing Institute (MHI) Insider News Tips
Danny Glover, Presidents Barack Obama & Donald Trump, Promises Kept, and Affordable Manufactured Housing
Let's stipulate that both President Donald J. Trump and his anti-Trump opponents at times error in various ways. No one is perfect. Let's note later why the bullets below matters for the cause of the economy, affordable housing in general, and manufactured homes in particular.