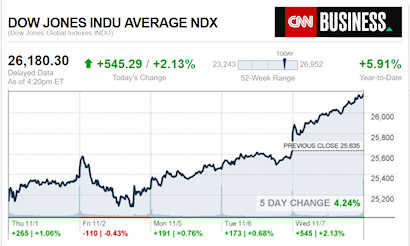 The markets are up over 500 points today, as the midterms and that part of 'uncertainty' are done. The full import of what's occurred will be sorted out by professionals and investors.  While voters were being cast, and pundits were getting ready to pour over data, Sun Communities announced yesterday a strategic deal with Australian based Ingenia Communities.  That will be our featured spotlight for this evening's market report.
Advertise with MHProNews to be seen
If you're new, already hooked on our new spotlight feature – or are ready to get the MH professional fever – our headline report is found further below, after the newsmaker bullets and major indexes closing tickers.
The evolving Daily Business News market report sets the manufactured home industry's stocks in the broader context of the overall markets.  Headlines – at home and abroad – often move the markets.  So, this is an example of "News through the lens of manufactured homes, and factory-built housing." ©
Part of this unique evening feature provides headlines – from both sides of the left-right media divide – which saves busy readers time, while underscoring topics that may be moving investors, which in turn move the markets.
Readers say this is also a useful quick-review tool that saves researchers time in getting a handle of the manufactured housing industry, through the lens of publicly-traded stocks connected with the manufactured home industry.
This is an exclusive evening or nightly example of MH "Industry News, Tips and Views, Pros Can Use." © It is fascinating to see just how similar, and different, these two lists of headlines can be.
Want to know more about the left-right media divide from third party research?  ICYMI – for those not familiar with the "Full Measure," 'left-center-right' media chart, please click here.
Select bullets from CNN Money…
Dow surges nearly 550 points
Investors are turning their focus to 2020
CNN calls Trump's press attacks 'un-American' after contentious news conference
PERSPECTIVES The midterms were a win for investors
Fed meets to weigh future rate hikes
Starbucks isn't done growing in America or China
ANALYSIS The myth of Donald Trump, CEO president
Colorado voters reject limitations on fracking
Health concerns drive voters to back Medicaid, weed and trans rights
San Francisco voters approve homeless tax that divided Big Tech
How to talk about politics at work
Netflix is launching two new European series that may play well in America too
The nightmare won't end
Wells Fargo found another 145 customers who lost homes after a glitch
The bank knew for years that auto insurance was hurting customers, lawsuit says
Scandals spark more executive turmoil
Wells Fargo 'misled' investors about toxic culture, NY Attorney General says
Customers are fed up, and could yank billions of dollars in deposits
Elizabeth Warren wants Wells Fargo to fire its CEO. She wants the Fed's help
The pros and cons of dividing HQ2 between two cities
Everything we know about the search
Bezos reveals how he'll make HQ2 decision
Why Amazon may want a big city
Opinion: Chasing Amazon was never going to pay off
Sears creditors suggest Eddie Lampert structured deals to enrich himself
Sears' bankruptcy is affecting Hanes' bottom line
How Sears wasted $6 billion that could have kept it out of bankruptcy
Sears needs money. And time is running out
What retailers can learn from the Sears saga
Select Bullets from Fox Business…
Attorney General Jeff Sessions resigns at Trump's request
US stocks rise as Republicans keep Senate, Democrats win House
Gun control supporters get major win in Washington
San Francisco homeless tax passes after push from Salesforce founder Benioff
Midterms and marijuana: These states voted to approve
These states will pay higher taxes on items after midterm elections
Tax Cuts 2.0: Prospects post midterms
Federal Reserve meets this week: what to know
Florida sports gambling measure passes despite NFL's Dolphins plea to voters
O'Rourke falls to Cruz despite $70M fundraising windfall
Republican control of Senate to cap socialism: Varney
These are the faces of the new House committee chairs
Why a split Congress could be good for US stocks
Midterm result is best-case scenario for investors
Trump will get China trade deal 'very quickly': Scaramucci
Medicaid scores big in Utah, Idaho, Nebraska voting
These states voted to increase their minimum wage
The best investment pick post midterms?
Trump's biggest Fed fears may come true after midterms
Maxine Waters will 'grind down' Trump's deregulatory efforts: Jeb Hensarling
Wells Fargo admits more than 500 customers lost their homes due to 'calculation error'
Marijuana stocks rise as Michigan legalizes recreational use
Facebook, Macy's opening small business pop-up stores
These are the most livable mid-sized American cities
Colorado nabbed three top-10 spots when it comes to livable cities.
Today's markets and stocks, at the closing bell…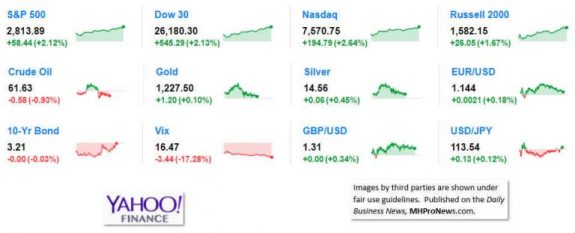 Manufactured Housing Composite Value (MHCV)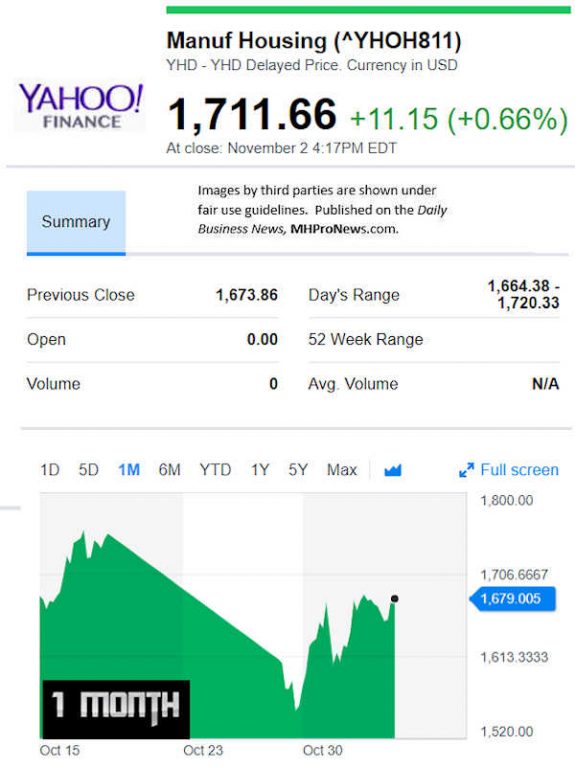 Today's Big Movers
For all the scores and highlights on tracked manufactured home connected stocks today, see the Bloomberg graphic, posted below.
Today's MH Market Spotlight Report –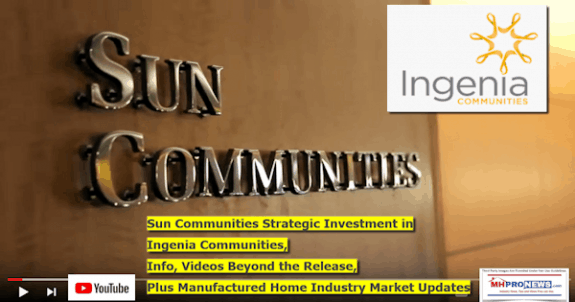 This evening's look at Sun Communities will take 3 parts.
1) Their official Globe Newswire release yesterday.
2) Videos about Sun from a third-party, and one from Sun itself that counters a corporate culture controversy. There is also a video about Ingenia, by that firm, that MHProNews has added to their release.
3) A 40,000 foot level view of Sun (SUI).
The Media Release to the Daily Business News on MHProNews
Sun Communities, Inc. (NYSE:SUI) (the "Company"), a real estate investment trust ("REIT") that owns and operates or has an interest in manufactured housing and recreational vehicle communities, today announced a strategic investment in Ingenia Communities Group (ASX: INA), a leading owner, operator and developer of senior manufactured housing communities and holiday resorts in Australia, as well as a development joint venture with Ingenia.
Sun will invest approximately US $54 million for a 9.9% ownership stake in Ingenia. Sun and Ingenia will also form a 50/50 joint venture to establish and grow a manufactured housing community development program in Australia.
The transaction represents a unique opportunity for Sun shareholders, who will benefit from investments in both Ingenia, which has delivered strong earnings growth over the past few years and has a large existing acquisition and development pipeline, as well as a development joint venture poised to capitalize on the sector's positive trends. Ingenia benefits from Sun's meaningful initial capital investment, ongoing financial support through the joint venture and the ability to leverage Sun's experience as a leading owner, operator and developer of manufactured housing and recreational vehicle communities.
The Australian Manufactured Housing and RV Community sector is highly fragmented and traditional housing, on a relative basis, is increasingly expensive. Over the past 20 years, median home prices in key Australian capital cities have appreciated between 200% and 400%. Furthermore, there is a limited supply of high quality Manufactured Housing and RV communities. Industry fundamentals and Australian demographic trends provide long term support for the sector's growth prospects. There is a particular need for affordable seniors housing as the over-55 population is expected to grow at twice the rate of the rest of the Australian population.
"We are extremely excited about investing in and alongside Ingenia and believe this venture provides a unique opportunity for Sun to strategically invest in the Australian MH and RV sector. Ingenia is a market leading operator, owner and developer of an attractive portfolio of communities across Australia. We have been actively monitoring the Australian market for some time given the sector's similarly attractive attributes to the North American market. The Australian MH and RV sector is early in its growth cycle, is primed for consolidation, benefits from strong demographic trends and has very favorable supply and demand dynamics," stated Gary Shiffman, Chairman and Chief Executive Officer of Sun Communities.
"We have spent considerable time with Ingenia Board and management team members and have found their business model and culture to be highly compatible with that of Sun's. This transaction provides our shareholders with an attractive opportunity to benefit from the growth potential of an emerging leader in the Australian sector and creates an opportunity for Sun to leverage its expertise to help accelerate that growth. We are pleased to be partnering with Ingenia's strong and proven management team as they continue to grow their platform which has the largest development pipeline in Australia," added Mr. Shiffman.
"We are pleased to partner with Sun as we capitalize on the exciting opportunities for growth we have identified in the emerging Australian market. Working with a leading operator who has a long history in the mature North American market and is aligned strategically and economically with our objectives will allow Ingenia to accelerate growth as we leverage our platform and pipeline," said Simon Owen, Managing Director and Chief Executive Officer of Ingenia Communities Group.
Upon completion of the investment, Mr. Shiffman will join Ingenia's Board of Directors. Ingenia will manage the development and operations of the communities in the joint venture. This international investment opportunity provides Sun with a well-regarded established partner and the ability to capitalize on highly attractive Australian market dynamics with parallels to that of North America.
About Ingenia Communities
Ingenia Communities Group (ASX: INA) is a leading operator, owner and developer of a growing portfolio of lifestyle and tourism communities across key Australian urban and coastal markets. Ingenia has a diversified portfolio of 61 rental, lifestyle and holiday communities, comprised of over 7,000 income producing sites and a development pipeline of over 3,000 sites.
About Sun Communities
Sun Communities, Inc. is a REIT that, as of September 30, 2018, owned, operated, or had an interest in a portfolio of 370 communities comprising over 127,000 developed sites in 31 states and Ontario, Canada.
##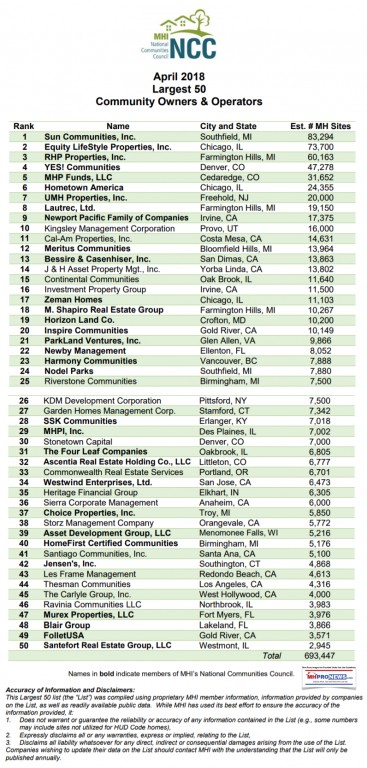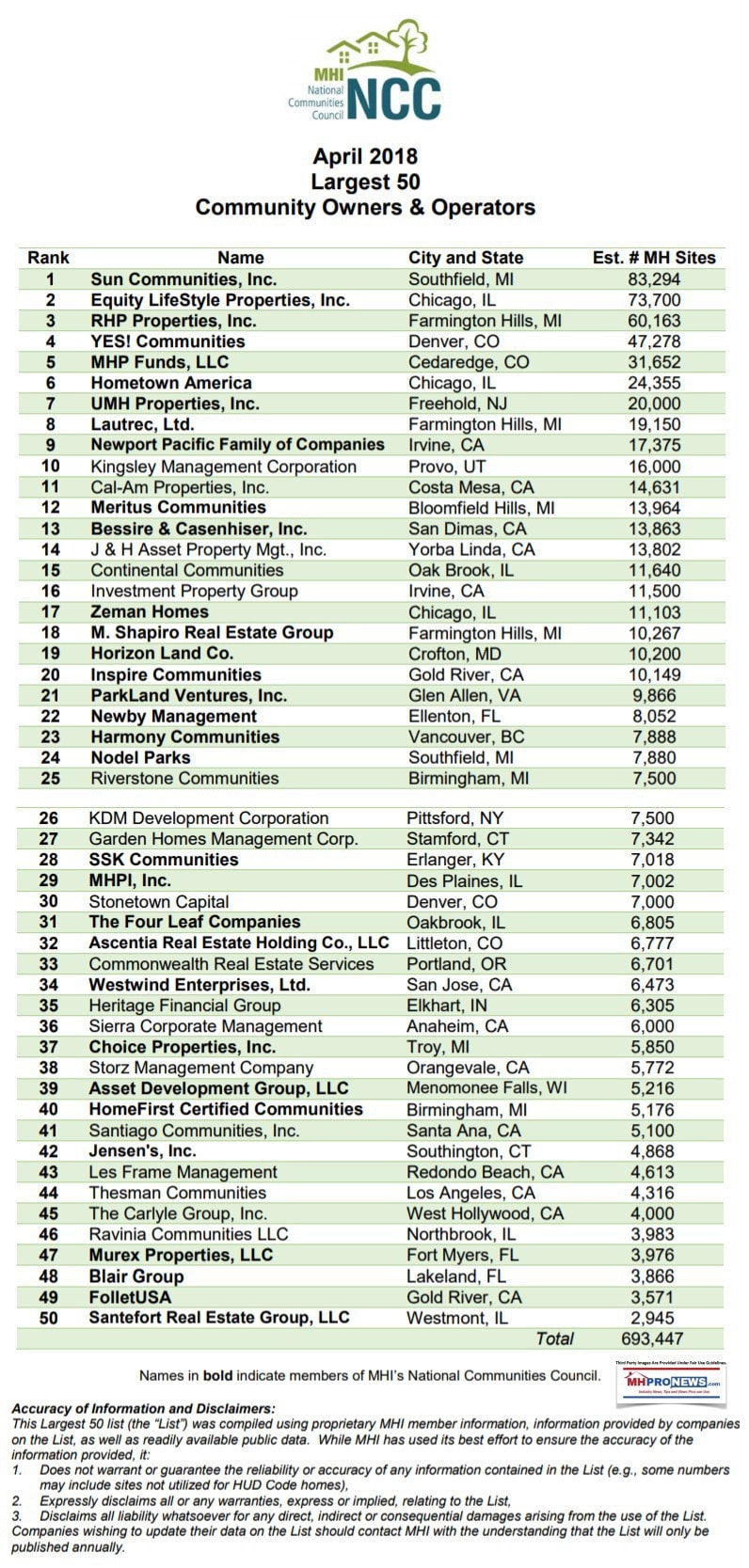 There is no question that Sun Communities has been a good investment for many. A glance at the Bloomberg closing ticker's 1-year performance alone suggests it. We've covered Sun for many years, and numerous investors and funds find it a to be a solid investment.
In fairness to Sun Communities' Company Culture rating below, anonymous sources can run the gamut.  When MHProNews gets comments that request anonymity, we honor those requests, but don't use some of those anonymous comments at all.  Why?  We strive to cross check those anonymous comments in a variety of ways.  When we quote outside sources, we do so accurately.  We don't know if those same safeguards are used by Comparably in their May 2018 ratings of Sun Communities' workplace culture scores, which that firm says are based on 60 different ratings.
For balance to the above, we also present a Sun Communities produced video, to give both sides of the issue.
A prior report on the Daily Business News on MHProNews on Sun appears at the link below.
Advertise with MHProNews to be seen
Gary Shiffman, Chairman and Chief Executive Officer Sun Communities (SUI), Statement$, Video
Finally, MHProNews has spotlighted the Australian market for several years.  They have opportunities there that are unique.  Not unlike a place like potentially Hawaii in the U.S., Australia could witness manufactured home communities development in a fashion that could redefine the image there.  It's a development worth monitoring, which we will continue to do.
Bloomberg Closing Ticker for MHProNews…
NOTE: The chart below includes the Canadian stock, ECN, which purchased Triad Financial Services.
NOTE: The chart below covers a number of stocks NOT reflected in the Yahoo MHCV, shown above.
NOTE: Drew changed its name and trading symbol at the end of 2016 to Lippert (LCII).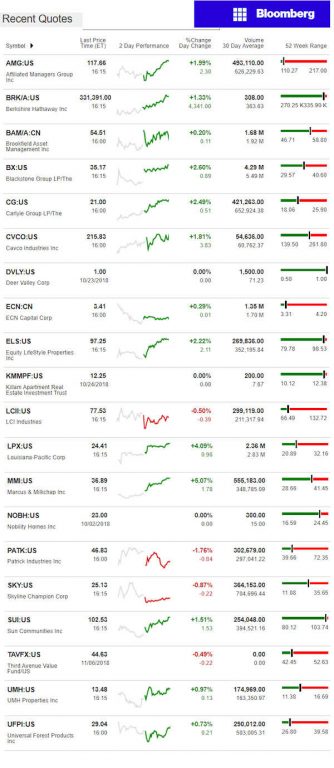 Berkshire Hathaway is the parent company to Clayton Homes, 21st Mortgage, Vanderbilt Mortgage and other factory built housing industry suppliers.
LCI Industries, Patrick, UFPI and LP all supply manufactured housing.
AMG, CG and TAVFX have investments in manufactured housing related businesses.
Your link to industry praise for our coverage, is found here.
For the examples of our kudos linked above…plus well over 1,000 positive, public comments, we say – "Thank You for your vote of confidence."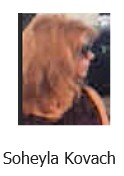 "We Provide, You Decide." © ## (News, analysis and commentary.)
(Image credits and information are as shown above, and when provided by third parties, are shared under fair use guidelines.)
Submitted by Soheyla Kovach to the Daily Business News for MHProNews.com.