"Facts are stubborn things."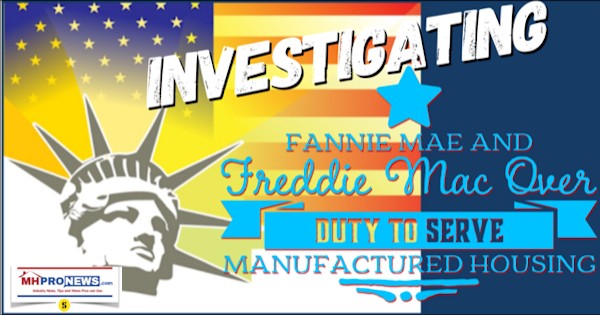 "Assuming that the meaning of "new" hasn't changed recently, "new" means "not done before." And, if "new" still means "new," then it also means, by definition, that there is no pre-existing loan performance data for that "new" class of home – because it's … well … "new." – Mark Weiss, J.D., President and CEO of the Manufactured Housing Association for Regulatory Reform (MHARR).
Wit is the soul of wisdom, goes an old maxim.
With that pull quote above from his full message below, Weiss exposes the apparent contradiction of providing Duty to Serve (DTS) lending for the Clayton Homes/Manufactured Housing Institute (MHI) backed 'new class of homes.'
Attentive industry readers will recall that Fannie Mae and Freddie Mac have said that a 'lack of data' caused them to not dive deeply into manufactured home lending, especially on home only or 'chattel' personal property loans. Yet they do have data on those loans. They also have the obvious example of several lender sustainably performing personal property loans. That's inferred performance.
By contrast, as Weiss said, the GSEs have no data whatsoever on this Clayton/MHI backed new class of homes.
An outraged MHI-only member producer told MHProNews in 2018 his disgust over how the GSEs snubbed the vast majority of manufactured housing by Fannie and Freddie with this phrase: "What are we chopped liver?"
"What Are We, Chopped Liver?" MHI Member December 2018 Reactions
Another MHI-only member producer told MHProNews about the same time that the new class of homes makes no sense. Per that source, the GSEs already did lending on par with conventional housing for modular homes. Why establish this new class of HUD code manufactured homes, when modular housing already exists, and the same producers routinely do both? In a sense, it is arguably like doing nothing at all for manufactured housing, unless it is much the same as an on-frame modular unit.
Insider Insights from GSEs
The Daily Business News on MHProNews asked a consultant to a GSE, prior to the roll out of their 'new class of homes,' program the following. Had the GSEs considered what the impact would be on the rest of manufactured housing? And if the 'new class' of homes was successful, what if it undermined confidence in the balance of all other manufactured housing?
The reply was stunning. Per that consultant, if a negative impact on other manufactured homes occurred, the GSE could always take that into consideration after a year or so of data was collected.
Rephrased, the consultant said the GSE was willing to risk undermining the value and confidence in all manufactured homes, in order to roll out the new Clayton/MHI backed project as they envisioned it.
Outrageous, but there it is. Other consultants to GSEs told MHProNews equally stunning revelations.
But the focus of this report is the newest edition of MHARR — ISSUES AND PERSPECTIVES. It is being reproduced below in its entirety. It will be followed by additional insights and commentary by MHProNews.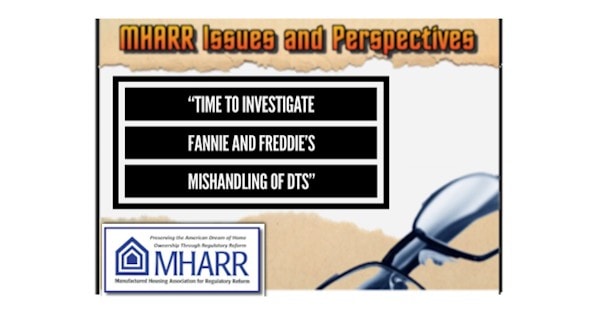 "TIME TO INVESTIGATE FANNIE AND FREDDIE'S MISHANDLING OF DTS"
By Mark Weiss
JUNE 2019
It's been more than ten years since Congress enacted the Housing and Economic Recovery Act of 2008 (HERA) and its "Duty to Serve Underserved Markets" (DTS) mandate. DTS directs both Fannie Mae and Freddie Mac to "develop loan products and flexible underwriting guidelines to facilitate a secondary market for mortgages on manufactured homes for very low, low and moderate-income families." Insofar as it expressly authorizes programs for both real estate and personal property (chattel) manufactured housing consumer loans, DTS was – and always has been – aimed at increasing the availability (and lowering the cost) of purchase-money financing for mainstream, affordable manufactured homes by providing securitization support for lenders, which would lower their credit risk, while promoting greater market competition, which would also result in lower borrowing costs for consumers. That laudable objective, however, has not been achieved, and with the industry now in an eight-month sustained production decline, DTS remains a nearly empty shell, leaving the 80% of the manufactured housing consumer finance market that relies on personal property loans totally unserved, while scarce – and badly needed – DTS resources are diverted to programs that do nothing for mainstream manufactured housing consumers, but do benefit a handful of the industry's largest corporate conglomerates. This "hijacking" of DTS, with the knowledge and support of both Fannie Mae and Freddie Mac, deserves a thorough investigation by Congress and full accountability for those involved.
Put simply, DTS was never designed to be a corporate welfare program for the industry's largest conglomerates. But that is exactly what it's becoming, as a result of its botched implementation by Fannie Mae and Freddie Mac (with a "wink and a nod" from their federal regulator, the Federal Housing Finance Agency – FHFA), and its diversion away from the mainstream, affordable manufactured homes produced by all HUD Code industry manufacturers, in favor of high-dollar, hybrid-type homes that are produced by only one or, at most, just a handful of manufacturers. As usual, the winners in this fiasco (thus far) are certain well-heeled, well-connected industry conglomerates that play to the pre-existing prejudices of Fannie and Freddie, while the "losers" are the rest of the HUD Code industry and the millions of lower and moderate-income American families that could otherwise be helped by DTS to purchase and own a home of their own.
The factual analysis leading to these conclusions is, in actuality, simple, straightforward and fundamentally undisputed. Start with a basic undisputed fact, as confirmed by federal government data. That is — as shown by U.S. Census Bureau housing market data — that some 76% of all HUD Code manufactured housing placements in 2017 (the most recent year for which such data is available), were titled as personal property (i.e., chattel). While not necessarily representing a one hundred-percent direct correlation, this data effectively means that something close to three-quarters of the manufactured homes purchased in 2017 were financed as personal property, while only 17% of all manufactured homes that year were titled – and presumably purchased and financed – as real property. This division between personal property-based placement and financing on the one hand, and real estate-based placement and financing on the other, has remained relatively constant in recent years, moreover, with the proportion of personal property placements varying between 76% and 80%, while real estate placements varied between 13% and 17%. Thus, there can be no actual or legitimate dispute that the vast bulk of the manufactured homes purchased by lower and moderate-income American families, are served by personal property-based chattel financing.
Nor is this – or should this — be a surprise to anyone. While manufactured housing personal property loans generally carry a higher interest rate than real estate-based loans, due, in part, to the absence of land as security for the lender, personal property loans, using the home itself as the sole security for the lender, cost less overall than real estate loans which include the purchase cost of the land underlying the home. As a result, personal property loans have tended to be favored by lower and moderate-income consumers, including consumers who might otherwise be unable to afford a home of their own. That is, with an average sales price of $48,300.00 without land (in 2017) a single-section manufactured home would cost far less to purchase and finance than either an average site-built home with land (with an average combined sales price of $384,900.00) or a single-section manufactured home with land, which, according to the same data, could add something on the order of $90,000.00 to the structural price of the home itself. Consequently, even with higher borrowing costs for chattel loans (resulting from higher interest rates), such loans on HUD Code manufactured homes nevertheless represent – and have always represented – the most affordable route to homeownership for any American anywhere in the United States.
Given this basic, undisputed data, the most direct route to fulfilling the promise and mandate of DTS – i.e., putting more lower and moderate-income American families into homes that they can truly and legitimately afford – would be for Fannie Mae and Freddie Mac to provide market-significant securitization and secondary market support for the manufactured housing personal property consumer lending market, as MHARR has always maintained. This is where the vast majority of manufactured housing purchasers are, and where the vast majority of lower and moderate-income manufactured housing purchasers are. And, not to overstate the point, these are the very people that Fannie and Freddie should be serving and, in fact, were created to serve, and are directed to serve by their respective charters and authorizing legislation.
But Fannie Mae and Freddie Mac have no interest in serving the type of housing consumers served by mainstream manufactured housing. Thus, they have no interest in providing securitization and secondary market support for mainstream, chattel-financed manufactured housing. If they did have such an interest, and had been serving the mainstream manufactured housing market all along, DTS would not have been necessary and would not have been enacted by Congress. What need would there be for a remedy – such as DTS — if there was no problem to begin with? Conversely, the fact that Congress felt the need to enact a remedy shows that there was, in fact, a problem with Fannie and Freddie's treatment of manufactured housing consumers. But Fannie Mae and Freddie Mac, aided by FHFA and some within the industry, have worked overtime to circumvent that remedy, while they continue to discriminate against lower and moderate-income manufactured American families that seek to purchase a truly affordable, mainstream manufactured home. At the same time, Fannie and Freddie talk about support for the mainstream manufactured housing market while, in fact, doing no such thing.
How do we know this? Again, "facts are stubborn things." To start with, the reality is that neither Fannie Mae nor Freddie Mac has yet to implement even a "pilot program" for manufactured home chattel loans, some 11 years after the enactment of DTS. A May 23, 2019 letter from Fannie Mae Vice President Jonathon Lawless to MHARR thus refers only to a "potential" manufactured housing personal property "pilot" program. And forget any kind of market-significant support for the predominate type of manufactured home consumer lending in the United States. In fact, according to sources, Fannie and Freddie have yet to provide market support for any manufactured home consumer personal property loans under DTS – a point effectively confirmed by Mr. Lawless, whose May 2019 letter states that Fannie Mae's DTS Plan "has never called for [the] immediate purchase and securitization of these [personal property] loans."
And what are Fannie Mae and Freddie Mac doing instead? Rather than providing the type of market support that is desperately needed to expand the availability and affordability of mainstream manufactured homes for lower and moderate-income purchasers – what they should be doing under DTS – Fannie and Freddie instead, are offering support for the types of "manufactured homes" that they want to see and promote; not mainstream, affordable, HUD Code manufactured homes, but "manufactured homes" that are more like the far more costly site-built homes that Fannie and Freddie are accustomed to dealing with. Thus, in a January 14, 2019 article entitled "Delivering on Our Affordable Housing Mission Under Duty to Serve" (and there are many more such examples), Fannie Mae Executive Vice President Jeffrey Hayward refers to "manufactured homes" constructed in accordance with Fannie's "MH Advantage" program – for manufactured homes titled as real estate (not chattel) – as being "similar to site-built homes." And, of course, this is – and remains – Fannie and Freddie's central criterion in providing support for "manufactured homes" – i.e., they cannot be mainstream (and therefore affordable) manufactured homes but, instead, must be "similar to [the] site-built homes" that Fannie and Freddie are used to dealing with, and thus are within their pre-existing "comfort zone."
It's the same thing with the so-called "new class" of manufactured homes. These homes are described (and specified) as being more like site-built homes – or a hybrid between site-built homes and manufactured homes. As a result, they are projected to cost significantly more than an "average" mainstream manufactured home – up to approximately $220,000.00 as compared with an "average" (2017) price of $71,900.00 for all mainstream manufactured homes (i.e., both single and multi-section) — and are simply not the type of affordable, non-subsidized affordable housing resource that is provided by mainstream manufactured housing; meaning, again, that they would appeal – and be marketed to – the more "upscale" consumers that Fannie and Freddie would prefer to deal with.
And just as long as we're on the subject, what type of loan performance data exits to support the creation of a special program for this supposed "new class" of manufactured home (or "MH Advantage" homes for that matter)? For more than a decade, Fannie and Freddie have refused to provide any type of DTS support for mainstream manufactured housing personal property loans, citing a lack of "performance data" to justify entry into that market. So, if the availability of "performance data" is thus a prerequisite for market support from Fannie and Freddie under DTS, what type of "performance data" do Fannie or Freddie have for an entirely "new class" of home?
Assuming that the meaning of "new" hasn't changed recently, "new" means "not done before." And, if "new" still means "new," then it also means, by definition, that there is no pre-existing loan performance data for that "new" class of home – because it's … well … "new." So, for the 80% of the existing, mainstream manufactured housing market financed through chattel loans, no performance data means no DTS support. It means not even a measly "pilot program" after 11 years. But for a "new" class of higher-cost home, being pursued by just a few of the industry's largest conglomerates (if that many), no performance data means a ticket to instant Fannie and Freddie support – even though there is not one word about a "new class" of manufactured homes or a pilot program for a "new class" of manufactured homes in the DTS implementation plans filed by Fannie and Freddie and approved by FHFA in 2018. And all of this comes to you courtesy of the same people who nearly crashed the world economy by backstopping trillions of dollars in "subprime" loans on homes that borrowers could not legitimately afford.
The reality is that DTS is in the process of being "hijacked" by special interests. It is being diverted from its primary, essential and crucial mission with regard to manufactured housing – to expand the availability of consumer loans for mainstream manufactured housing; to bring more lenders into the market; and to lower the (interest) cost of mainstream manufactured home consumer loans through increased competition and risk reduction for lenders. Fannie and Freddie's treatment and botched implementation of DTS is an ongoing farce for the industry and an ongoing tragedy for lower and moderate-income Americans who simply wish to purchase a home of their own, but continue to be subjected to flat-out discrimination, in open defiance of Congress and with a knowing, and apparently intentional pass from FHFA. The time has come, therefore, for Congress to re-involve itself in this matter, to conduct a thorough and probing investigation of DTS with respect to manufactured housing, and see to it that the DTS directive is enforced and implemented now, not "honored" in the breach.
Mark Weiss
MHARR is a Washington, D.C.-based national trade association representing the views
and interests of independent producers of federally-regulated manufactured housing.
— ## —
Disclosure
Stating the obvious, let's nevertheless note as a disclosure that MHARR is a banner advertiser, thus a sponsor of this publication. That noted, Berkshire Hathaway subsidiaries – Clayton Homes, 21st Mortgage Corporation – and the Manufactured Housing Institute (MHI) were also banner advertisers/sponsors of this site – which is the industry's largest and most read manufactured home trade media by far. Our fact-checks of MHI, et al began while they were advertisers. Our fact-checks began years before MHARR became a sponsor. Therefore, we have a clearly established record of covering matters as we see them.
It must also be noted that while we were doing such fact-checks and analysis, that MHI's elected and staff leaders were publicly praising MHProNews.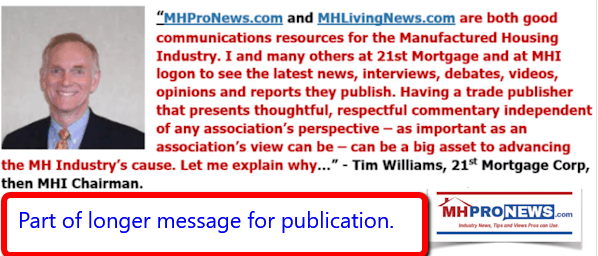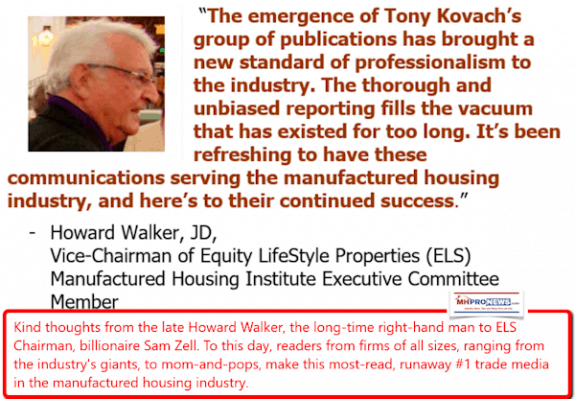 Our publisher – L. A. 'Tony' Kovach – has also stated several times in 'digital print' that in hindsight, he now sees the disconnects. For example, there was Warren Buffett's very public support of candidates who signed into law and worked to protect from any changes the Dodd-Frank legislation that gave birth to the Consumer Financial Protection Bureau (CFPB). Meanwhile, Clayton Homes, 21st Mortgage, other Berkshire Hathaway brands, and MHI all spent years and millions of dollars 'opposing,' lobbying, and fighting to modify. A detailed review of that 'Rope-a-Dope' is linked here. That fact-check and analysis includes this following stunning admission by a former MHI SVP who could not have been clearer. The years of efforts that lied ahead were a waste of time and money.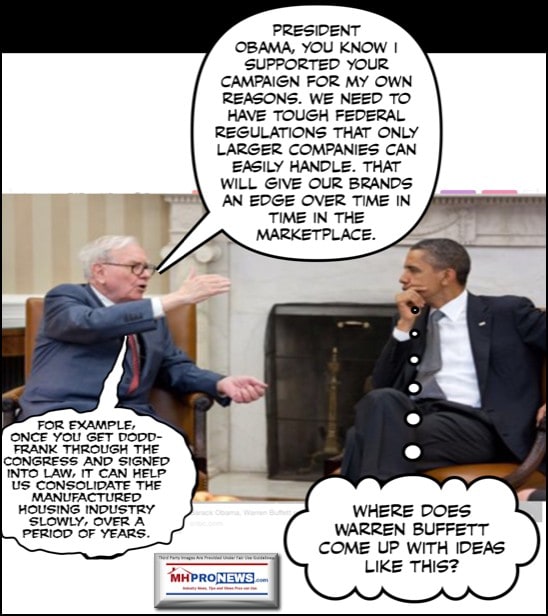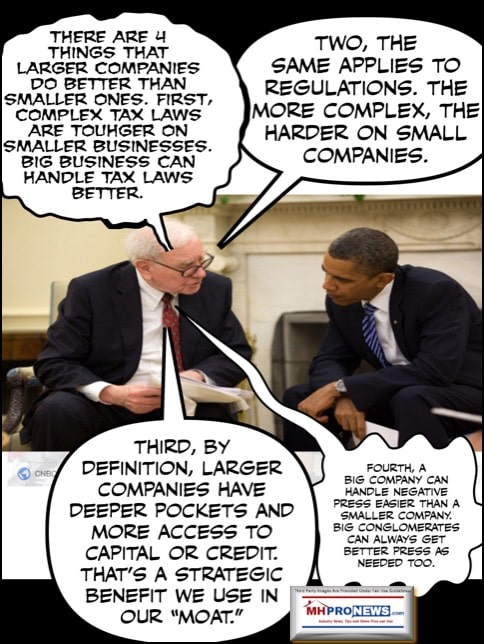 The Common Threads?
The common thread between DTS and the never-enacted Preserving Access to Manufactured Housing Act are access to financing. Our publisher stressed that the principle behind Preserving Access – or DTS – are fine. In the case of Preserving Access, while it was a 'good idea,' it was also all but guaranteed to fail. There was no practical logic in pursuing it.
What has been occurring with DTS is similar. So Weiss' points are timely.
An MHI-only member connected source that's worked with the GSEs has told MHProNews that part of what caused Fannie and Freddie from not implementing DTS in the aftermath of the passage of the Housing and Economic Recovery Act (HERA) 2008 was the relatively poor performance of 21st Mortgage Cop and Vanderbilt Mortgage and Finance (VMF) lending.
Now, given the mainstream housing mortgage/credit meltdown, that 'relatively poor' has to be considered in the broader context. After all, lending did return to conventional housing, despite the scandals that occurred. Manufactured homes had negligible impact on the 2008 housing/mortgage crisis that trigged the so-called 'great recession' that rippled through the world's economy.
As a former MHI connected executive has said, manufactured home lending and past losses were a "pimple on an elephant's ass" compared to what happened with conventional housing.
"An Elephant Ass," Understanding GSEs, Duty to Serve, Manufactured Home Lending
Let's recall that the 2008 housing/mortgage crisis was not the first such event. The S&L crisis was smaller by comparison, but had an estimated $160 billion finance impact.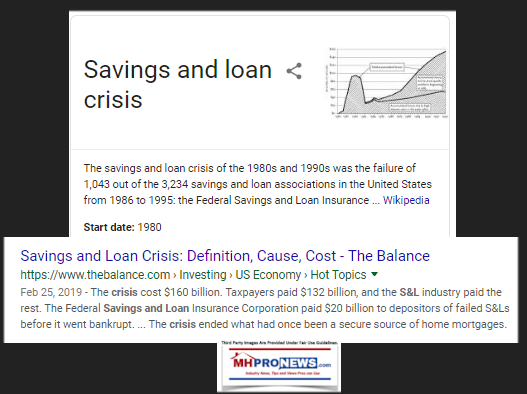 Within that context, what's noteworthy is that per various sources, Berkshire owned lenders de facto helped derail the use of DTS early after its passage and were a source of an excusing DTS now on virtually all but this new class of homes.
21st, Clayton, and Warren Buffett de facto revealed their responsibility for their harmful impact on manufactured home lending which caused thousands of retailers and some producers to go out of business.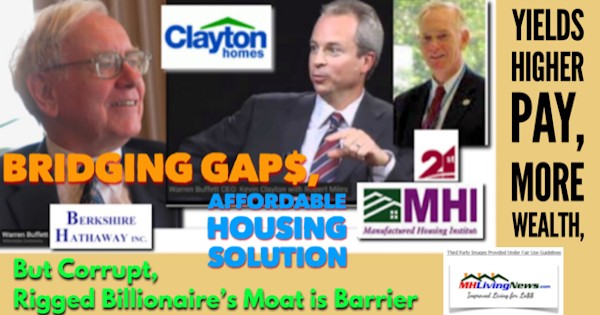 That in turn also arguably kept lending from flowing back into the manufactured housing space.
DTS Manufactured Home Lending Committee Member Says MHI in "Unholy Alliance" to Divert Needed GSE Support Away from Manufactured Housing
The aftermath and outcomes were many. These incidents contributed to the tidal shift that hit not only manufactured home retailers, but also communities, occupancy, and thus their values were impaired too.
Manufactured Home Community Case Study, UMH Properties, Lessons for Independent Community Owners, Investors
There is also an element of self-fulfilling prophecy in this matter. A lack of lending naturally harms resale values of manufactured homes, much like it did with conventional housing during the housing/mortgage crisis.
Furthermore, as was reported last year, it was the Federal Housing Finance Agency (FHFA) that said that manufactured homes demonstrably appreciated in value. Given the various ways that lending to manufactured homes have purportedly been artificially limited, that factoid is a pleasant surprise.
It should be noted that virtually all of what Weiss has recounted occurred prior to the Mark Calabria becoming Director of the FHFA.
In a previous comment to MHProNews, Weiss made the previous statements above and below about Duty to Serve (DTS).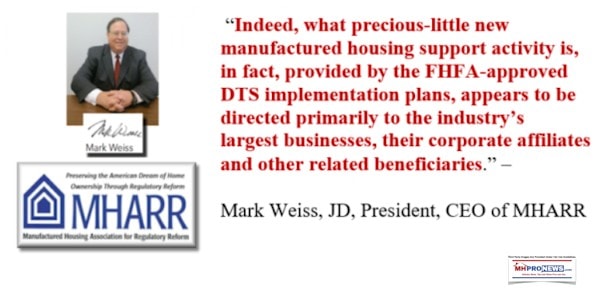 Additional points that bears mention is that the GSEs have been sponsoring MHI events. How is that not a conflict of interest?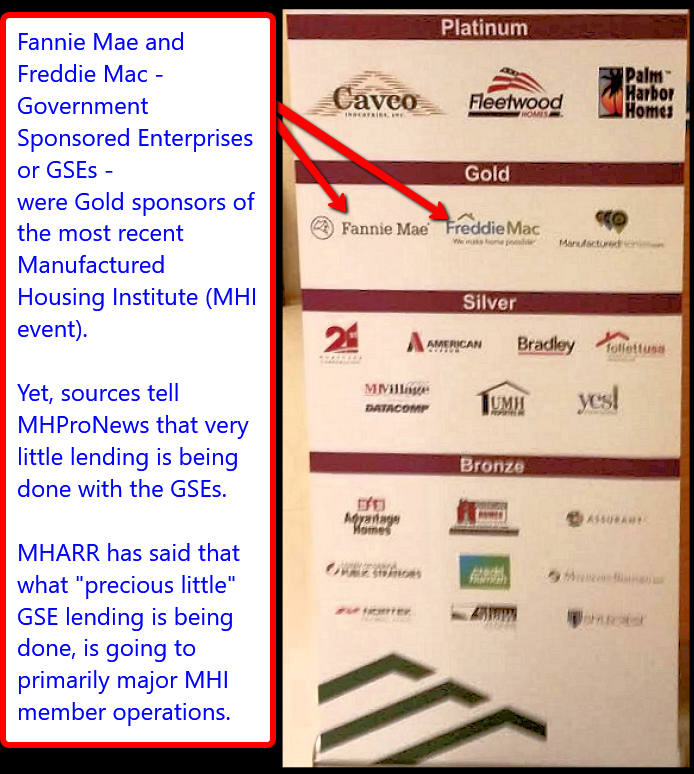 Furthermore, well prior the Calabria era beginning and before the new Congress being seated in 2019, Jeb Hensarling pointed to what he felt was improper lobbying by GSEs. One of several possible references to that is linked via the text-image box below.
Update on Fannie Mae Lobbying, and Manufactured Housing Controversy
Conclusions
There is a quilt-work of items that are causing the slowdown and underperformance of manufactured housing. Financing must rank high on that list, for the reasons noted herein.
But at the core of these concerns ought to be the common threads.
Clayton Homes, 21st Mortgage, Vanderbilt Mortgage and Finance, and Berkshire Hathaway have their finger prints on these matters.
Clayton and their related Berkshire lenders has been spotlighted by several Democratic lawmakers, including 2020 presidential hopefuls.
Senate Democrats – Including 2020 Presidential Contenders – Ask CFPB Protect Consumers Against Predatory Lenders — Point Finger at Clayton Homes, Berkshire Hathaway Lending
The Manufactured Housing Institute (MHI) held closed door meetings with the GSEs, that none of the parties involved have released meeting minutes on. They should be part of any Congressional or other investigation.
The Seattle Times, and Clayton's hometown local news media – besides MHProNews – has reported on numerous federal investigations relative to Clayton that purported involve MHI connections.
One of the posted comments on the video above, from 'Tobz4uhuni ItsMyName' posted this, with typos in the original:
"Clayton aka Vanderbilt is a horrible place. I have been in mine since 07. They placed it on the wrong land and it sets off by 3 acres. They know they did this and refuses to move it and correct the problem. They also have been offered a deed to the piece of land where it sits providing they quit claim the other piece of land that sits 3 acrea off and they refuse to move. Yet these unethical people, predators, illegal subhumans expect for me to pay for this mobile home when it isnt attached to the acre its suppose to. It sits on someone elses land and he will be moving it soon bc he is building a home where the mobile home sits. Clayton can make it right, but refuses. Plus they sell someone whose credit scores are 500 and 525 mobile homes with a price tag of 63k, an interest rate of 10.5% and make only 9 dollars an hr. Make complaints with your attorney generals office, the state of Tennessees attorneys office and the consumer protection bureaus office. These people need to be stopped."
These may well rise to the level that merit Congressional investigation, but also Department of Justice (DoJ) investigation. In a recent statement, DoJ's top antirust person made statements that if applied to Clayton et al could be seen as a warning sign. See the link here, and the related reports, further below.
That's today's second episode of "News Through the Lens of Manufactured Homes, and Factory-Built Housing," © where "We Provide, You Decide." © ## (News, analysis, and commentary.)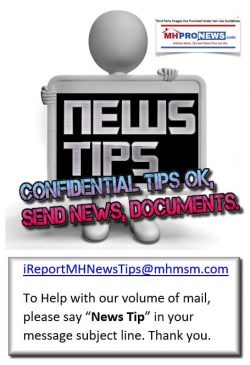 NOTICE: You can get our 'read-hot' industry-leading emailed headline news updates, at this link here. You can join the scores who follow us on Twitter at this link. Connect on LinkedIn here.

NOTICE 2: Readers have periodically reported that they are getting a better experience when reading MHProNews on the Microsoft Edge, or Apple Safari browser than with Google's Chrome browser. Chrome reportedly manipulates the content of a page more than the other two browsers do.
(Related Reports are further below. Third-party images and content are provided under fair use guidelines.)
1) To sign up in seconds for our MH Industry leading emailed news updates, click here.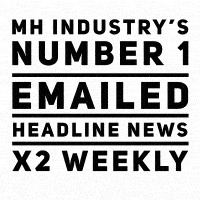 2) To pro-vide a News Tips and/or Commentary, click the link to the left. Please note if comments are on-or-off the record, thank you.
3) Marketing, Web, Video, Consulting, Recruiting and Training Re-sources
Submitted by Soheyla Kovach to the Daily Business News for MHProNews.com. Soheyla is a managing member of LifeStyle Factory Homes, LLC, the parent company to MHProNews, and MHLivingNews.com.
Related Reports

:
You can

click on the image/text boxes

to learn more about that topic.
Shocking, True State of the Manufactured Housing Industry, plus Solutions for Profitable, Sustainable Growth – May 2019
Secretary Ben Carson's, Julian Castro's Manufactured Housing, "Trailer," "Mobile Home" Revelations, 2020 Battles Ahead
Washington, D.C., May 15, 2019 – With manufactured housing producers, retailers and communities offering their best homes (and related consumer protection) ever, and in light of the failure of the ostensible representation of the industry's post-production sector to fully and effectively advance the marketing, consumer financing and, most importantly, the full acceptance of federally-regulated manufactured housing as the nation's premiere source of non-subsidized affordable housing and homeownership, the Manufactured Housing Association for Regulatory Reform (MHARR) has launched a new project and initiative to fight selected, especially egregious instances of discriminatory and exclusionary zoning targeting manufactured housing and manufactured housing consumers.