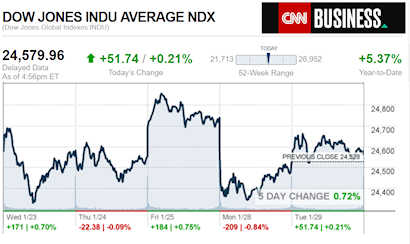 Living in la-la-land is for the birds. This evening's report is another example of why sourcing across the left-right media divide is not only useful, but necessary for any independent thinker. Our focus this evening will be former Starbucks CEO and billionaire, Howard Schultz's thoughts on fellow Democrats plans, and why he is willing to run as an independent and not a Democrat.
If you're new, already hooked on our new spotlight feature – or are ready to get the MH professional fever – our headline report is found further below, after the newsmaker bullets and major indexes closing tickers.
The evolving Daily Business News market report sets the manufactured home industry's stocks in the broader context of the overall markets.  Headlines – at home and abroad – often move the markets.  So, this is an example of "News through the lens of manufactured homes, and factory-built housing." ©
Part of this unique evening feature provides headlines – from both sides of the left-right media divide – which saves busy readers time, while underscoring topics that may be moving investors, which in turn move the markets.
Readers say this is also a useful quick-review tool that saves researchers time in getting a handle of the manufactured housing industry, through the lens of publicly-traded stocks connected with the manufactured home industry.
This is an exclusive evening or nightly example of MH "Industry News, Tips and Views, Pros Can Use." © It is fascinating to see just how similar, and different, these two lists of headlines can be.
Want to know more about the left-right media divide from third party research?  ICYMI – for those not familiar with the "Full Measure," 'left-center-right' media chart, please click here.
Select bullets from CNN Money…
Apple's iPhone revenue for the quarter fell to $52 billion. Follow our live updates
The number Apple doesn't want to talk about
Here are the parts of Apple's business that are growing
How to disable FaceTime after that newly discovered bug
The Fed can hold steady and that's great news for stocks
This week's GDP report will be delayed
Sears lost millions over the holiday season
Pension watchdog objects to plan to save Sears
Howard Schultz and the promise of the CEO president
The US sanctions on Venezuela will have unintended consequences for the oil industry
Trump's Twitter insult about 'Team of Vipers' might be helping Cliff Sims sell books
PG&E files for bankruptcy after California wildfires
Business is 'praying' for Brexit to be delayed
Boeing flies high and annual sales could top $100 billion
Bentley Continental GT is classic style in a modern package
This 14-year old found Apple's FaceTime bug before it went viral
Pepsi Super Bowl ads surround Coca-Cola vending machines in Atlanta, GA.
The biggest rivalry in Atlanta on Super Bowl weekend has nothing to do with football
How Howard Schultz ran Starbucks tells us how he might run America
China slams US over 'unreasonable crackdown' on Huawei
Why America's fight with Huawei matters
US v. Huawei: 4 striking takeaways from the indictments
Huawei's smartphone sales soared 30% last year. It plans to overtake Samsung by 2020
WHEN SEEING ISN'T BELIEVING
Fake video is coming. The US government is racing to fight it
Lawmakers warn of 'deepfake' videos ahead of 2020 election
Go inside the Pentagon's race against doctored videos
Here's why it's so hard to spot deepfakes
Select Bullets from Fox Business…
Apple rises on earnings, revenue beat despite iPhone, China concerns
Obama speaks at Boeing conference after $10 million donation
These workers may never receive back pay after shutdown
Stocks close mixed on earnings, trade concerns
Apple's FaceTime could be spying on you. Here's how to turn it off
Ocasio-Cortez slams Google, Facebook for role in climate change denial
Taxes and your wallet: What the average American pays
Philips shifting 'hundreds of millions' of production due to trade war
Kamala Harris' plan to eliminate private insurance: What to know
US-China trade talks a Trump and Xi matter, Larry Kudlow says
Lampert's Sears rescue bid a problem for pensioners?
PG&E owner files for bankruptcy protection
Walmart, Fanatics launch sports retail platform
Howard Schultz 2020?
Howard Schultz, 2020 hopeful, gave less than 1% of fortune to charity, tax records reveal
Schultz would guarantee Trump re-election in 2020: Chris Christie
Schultz slams ideas from Democrats Harris, Warren, Ocasio-Cortez
Steelmakers hit record profits under Trump tariffs, other industries suffer
NFL admits blown call in Saints-Rams game amid fan lawsuit
Cashless Super Bowl shopping? Visa, NFL are working on it
WWE takes on Super Bowl LIII halftime show with 'Halftime Heat' broadcast
California might lower its marijuana tax, here's why
Ocasio-Cortez, Warren tax plans catastrophic for US economy: Larry Kudlow
'Made in America' training sneakers for US military
Venezuela crisis: Cold War with Russia redux, Varney says
When taking Social Security at 62 could be wise
Today's markets and stocks, at the closing bell…

Manufactured Housing Composite Value (MHCV)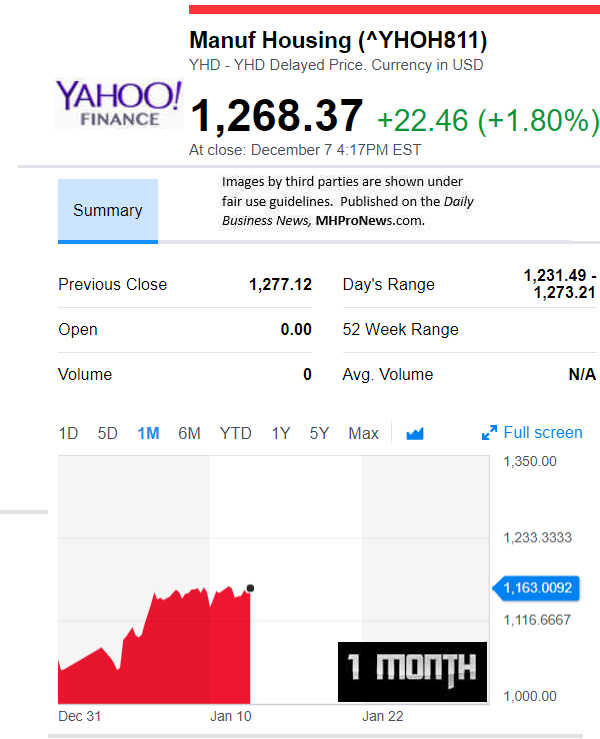 Today's Big Movers
For all the scores and highlights on tracked manufactured home connected stocks today, see the Bloomberg graphic, posted below.
Today's MH Market Spotlight Report –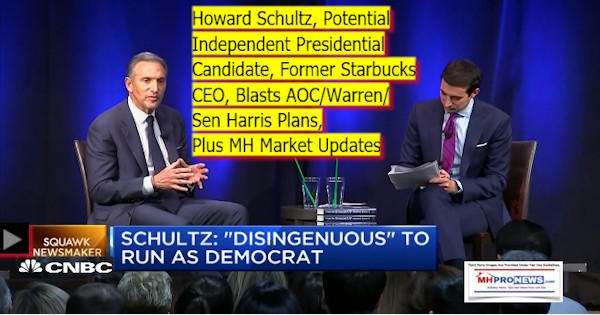 On a day when the broader markets rose, and when there were more gainers than losers among manufactured housing industry connected tracked stocks, we look ahead once more to the developing 2020 contest, because of all of the business/economic implications.
Earlier today we published a report that featured extensive thoughts from progressive billionaire George Soros.  That's linked here.  Interestingly, while Soros is still very much a progressive, on the points made on his recent speech shown in the linked report, the billionaire could have sounded like someone on a Fox News broadcast.
This evening, we'll return to the stir that's being caused across the political landscape by billionaire Democrat, Howard Schultz.  He's also still very much a progressive.  But he lays out the fiscal facts that explain why the plans being floated by Alexandria Ocasio-Cortez (AOC), or Senators Elizabeth Warren, Kamala Harris, or Bernie Sanders just won't work.
While many say Schultz has no chance, the ubiquitous Drudge Report says he does have a path.
Some toplines from CNBC this evening:
The billionaire former Starbucks CEO says he could never run for president as a Democrat because the party has moved too far left.
"If I ran as a Democrat, I would have to say things that I know in my heart I do not believe, and I would have to be disingenuous," Schultz tells CNBC.
Schultz says the nation cannot afford the priorities of the far-left Democrats, including full government-paid health insurance and college tuition.
Schultz said the plans being advocated by some of the far left in the Democratic party would ruin the country.  In ten years, it would be approximately $40 Trillion dollars. The billionaire said the U.S. already has $21½ trillion in debt as a country.
Regarding President Trump's comments about his possible candidacy?
"I'm not trying to win the Twitter primary," Schultz said.  Does that sound like its on?
The former Starbucks CEO is lining up professionals, per reports, from across the left-right divide that would allow him to run as an independent centrist. Democrats hate him for this, and while some on the right are smiling, others — not so much.
We'll monitor how that goes, in an emerging field packed with Democratic hopefuls.  See the related reports, linked below.
Related Reports

:
Former Starbucks CEO Howard Schultz hires ex-Obama aide for Communications, Does Independent Run Hurt Dems or POTUS Trump More? Plus MH Market Updates
Bloomberg's Reality Check for Senator Warren's and AOC's Tax Plans, Plus MH Market Updates
Not Just Income Tax, Warren Pitches Wealth Tax On Assets, Plus MH Market Updates
Will Current Political Currents Lead to a Top 70 Percent U.S. Tax Rate in 2021?
Bloomberg Closing Ticker for MHProNews…
NOTE: The chart below includes the Canadian stock, ECN, which purchased Triad Financial Services.
NOTE: The chart below covers a number of stocks NOT reflected in the Yahoo MHCV, shown above.
NOTE: Drew changed its name and trading symbol at the end of 2016 to Lippert (LCII).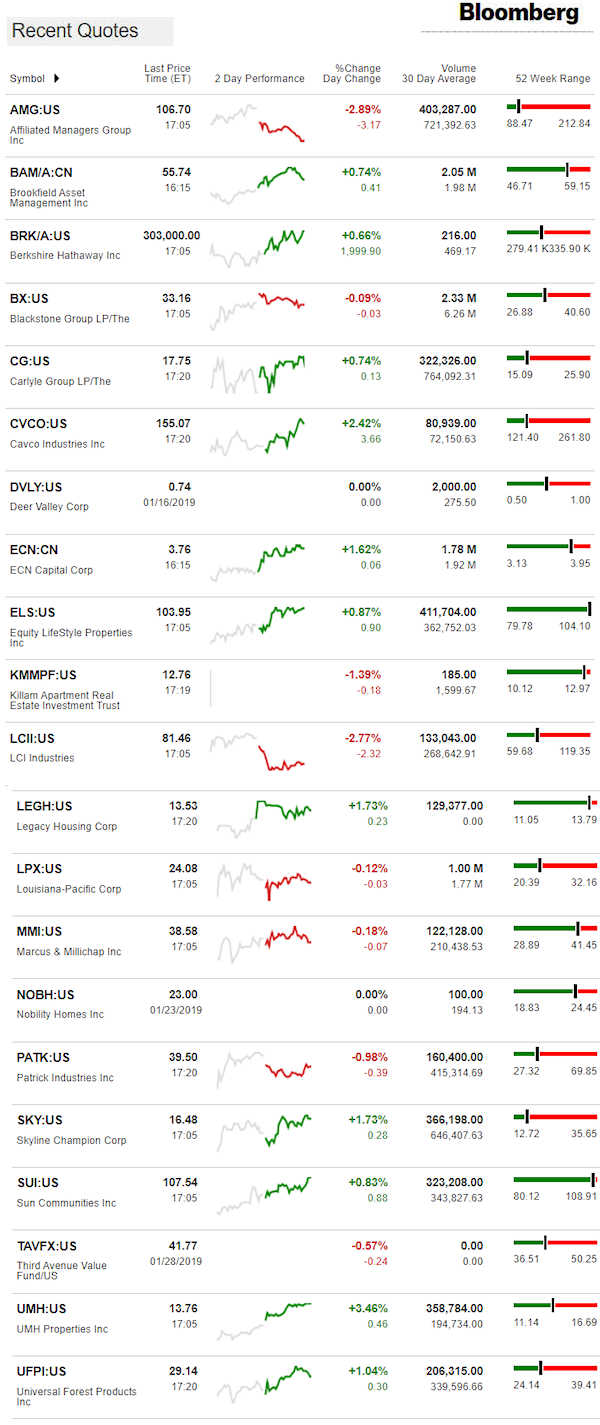 Berkshire Hathaway is the parent company to Clayton Homes, 21st Mortgage, Vanderbilt Mortgage and other factory built housing industry suppliers.
LCI Industries, Patrick, UFPI and LP all supply manufactured housing.
AMG, CG and TAVFX have investments in manufactured housing related businesses.
Your link to industry praise for our coverage, is found here.
For the examples of our kudos linked above…plus well over 1,000 positive, public comments, we say – "Thank You for your vote of confidence."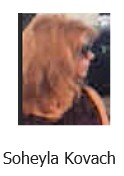 "We Provide, You Decide." © ## (News, analysis and commentary.)
(Image credits and information are as shown above, and when provided by third parties, are shared under fair use guidelines.)
Submitted by Soheyla Kovach to the Daily Business News for MHProNews.com.