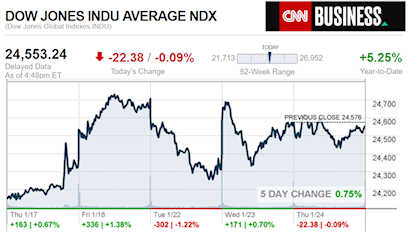 On a day when most manufactured housing tracked stocks rose, the Daily Business News on MHProNews will take a look at Democratic presidential hopeful, Senator Elizabeth Warren's proposed "wealth tax," which will go beyond not just taxing incomes, but will also tax someone's assets.  Welcome to the 2020 race.
If you're new, already hooked on our new spotlight feature – or are ready to get the MH professional fever – our headline report is found further below, after the newsmaker bullets and major indexes closing tickers.
The evolving Daily Business News market report sets the manufactured home industry's stocks in the broader context of the overall markets.  Headlines – at home and abroad – often move the markets.  So, this is an example of "News through the lens of manufactured homes, and factory-built housing." ©
Part of this unique evening feature provides headlines – from both sides of the left-right media divide – which saves busy readers time, while underscoring topics that may be moving investors, which in turn move the markets.
Readers say this is also a useful quick-review tool that saves researchers time in getting a handle of the manufactured housing industry, through the lens of publicly-traded stocks connected with the manufactured home industry.
This is an exclusive evening or nightly example of MH "Industry News, Tips and Views, Pros Can Use." © It is fascinating to see just how similar, and different, these two lists of headlines can be.
Want to know more about the left-right media divide from third party research?  ICYMI – for those not familiar with the "Full Measure," 'left-center-right' media chart, please click here.
Select bullets from CNN Money…
The US-Venezuela relationship in shambles
Here's how the turmoil could impact oil prices
Next year, the US will export more energy than it imports for the first time in 67 years
Nasdaq jumps as chip stocks surge; Dow inches lower
PERSPECTIVES Why the Fed should be worried about deflation
Southwest says shutdown will cost it up to $15 million
PG&E shares soar after California clears it in 2017 fire
Instacart CEO reaffirms IPO is 'definitely' on the horizon
DAVOS RECAP George Soros: Chinese tech companies cannot be allowed to dominate
Corporate America's earnings outlook darkens as slowdown fears rise
Apple shifts staff from autonomous vehicle project
Wilbur Ross says furloughed federal workers should take out loans
Over the limit: When lawyers drink too much
The downside of working from home
The fastest way to pay off $10,000 in credit card debt
An NYC apartment just sold for $238 million. That's the highest price ever paid for a home in the US
What Tractor Supply Co. can teach other retailers
EXCLUSIVE How to solve the world's plastics problem: Bring back the milk man
Boeing's first autonomous air taxi flight ends in fewer than 60 seconds
Bizarre self-driving concept cars
Planes may hold the secret to safe self-driving cars
We took an exclusive ride in a flying car
Uber invests millions to build flying taxis in France
China's slowdown could mean bad news for Caterpillar
China to Davos: Stop freaking out about our economy
China will overtake the US as the world's biggest retail market this year
Huawei executive: Tech is the biggest loser in trade war
CEOs say the trade war is killing business confidence
Select Bullets from Fox Business…
Elizabeth Warren is planning a 'wealth tax' of her own
January jobs report could be a 'significant' number, Larry Kudlow says
Stocks mixed as trade worries weighed, strong earnings buoyed
Trump admin appears to be bracing for prolonged shutdown
Why this iconic Valentine's Day candy won't be on store shelves this year
This billionaire just bought the most expensive home in US history
Jobs that aren't worth their expensive educational requirements[overlay type]
Jobs that aren't worth their expensive educational requirements
Sears bankruptcy case paralegal reportedly earned $174K in November
BuzzFeed to cut 15 percent of its staff
Optum sues Berkshire Hathaway, JPMorgan Chase in trade secrets case
A look at which media companies have slashed their workforce
China knows what's at stake with trade war, Bain Capital co-chair says
PG&E shares soar after investigators clear firm of causing 2017 fire
Millennial tax returns: A profile of young filers
Venezuela regime change big business opportunity: John Bolton
Sears' struggle to survive an opportunity for these retail rivals
Juul's lobbying skyrockets as FDA weighs e-cig ban
Starbucks shares climb after earnings, revenue beat
Ford's profits plummet amid China troubles, Trump tariffs
Twitter CEO admits platform does divide people
Bank CEOs to testify in front of House panel in March
This is what was a major player affecting airlines' quarterly resultsv
Microsoft president on China blocking Bing: Principles matter
Today's markets and stocks, at the closing bell…

Manufactured Housing Composite Value (MHCV)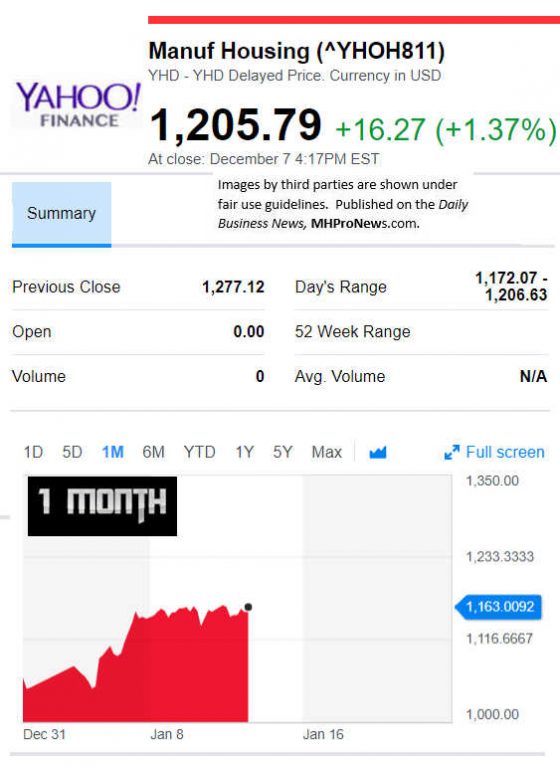 Today's Big Movers
For all the scores and highlights on tracked manufactured home connected stocks today, see the Bloomberg graphic, posted below.
Today's MH Market Spotlight Report –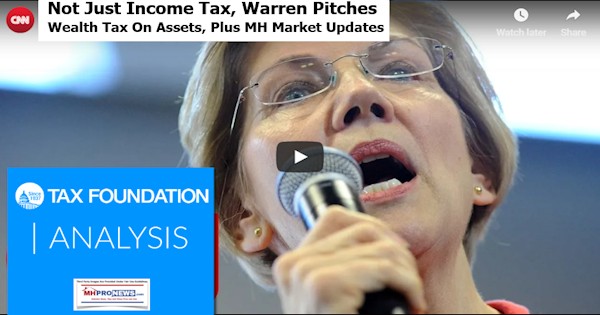 The ideas coming out of some Democratic presidential hopefuls is a reminder of what's on the line in 2020. Senator Elizabeth Warren's (MA-D) tax asset taxing "wealth tax" gets a CNN plus Tax Foundation – left-right perspective look this evening as our featured report.
We're not endorsing the CNN video, which in this case has a well-known 'anti-Trump' panel.  That said, it is a useful view of how progressives will look at or respond to this kind of plan.
Expert response to this plan comes from the Tax Foundation, which provided MHProNews this evening with the following analysis of the Warren Wealth Tax.

Today, Senator Elizabeth Warren (D-MA), Democratic presidential hopeful for 2020, announced plans for a wealth tax on high-net-worth individuals.
The new wealth tax would assess:
· A 2% annual tax on individuals with more than $50 million in net worth
· A 3% annual tax on individuals with more than $1 billion in net worth
There are two main reasons a tax like this would be a bad idea:
1.    It would be difficult to administer
2.    It would be a poorly designed tax on capital
Administrability Challenges
The uber-wealthy tend to own things like real estate, trusts, and business ownership interests, which are difficult to value on an ongoing basis.
Imagine a large privately-held company—its value could change almost daily. How would the tax handle these fluctuations?
This is already a challenge faced by the IRS when administering the estate tax but is faced only once by an individual. Here, the problems would multiply as the tax would be assessed annually on a much larger share of individuals.
Poorly Designed Tax on Capital
When designing a tax on capital you want to target what are called super-normal returns—returns over and above the amount needed to compensate someone for saving—and exempt, or lightly tax, normal returns to investment.
Normal returns are effectively the rate of return an individual requires to make it worthwhile to save their money and delay consumption. The taxation of normal returns can ultimately discourage an individual from investing, which is why economists generally favor exempting them.
In contrast, super-normal returns can include highly successful business ventures, economic rents, returns to patents, and luck. This is the type of capital income a system should target for taxation. Taxation of super-normal returns doesn't necessarily distort investment decisions.
Unfortunately, a wealth tax gets that principle exactly backward: a wealth tax lightly taxes super-normal returns while heavily taxing normal returns.
Doing the Math
You can think of a 1 percent wealth tax as a 1 percent subtraction from annual returns. If we earn a return of 5 percent, but there is an annual wealth tax of 1 percent, our return is really 4 percent.
This low-return asset is hit hard—a 20 percent(!) tax on its returns. In contrast, an asset earning 20 percent gets reduced to a return of 19 percent. That's only a 5 percent tax on those returns.
The Bottom Line
Wealth taxes impact more than just wealthy individuals.
The capital owned by these high-net-worth individuals is used to employ others, make products consumed by others, and generate returns for pensions and retirement accounts owned by others.
When discussing issues like income inequality, policymakers should consider the limitations and negative consequences of using the tax code as a fix.
Related Reports:
Will Current Political Currents Lead to a Top 70 Percent U.S. Tax Rate in 2021?
Bloomberg Closing Ticker for MHProNews…
NOTE: The chart below includes the Canadian stock, ECN, which purchased Triad Financial Services.
NOTE: The chart below covers a number of stocks NOT reflected in the Yahoo MHCV, shown above.
NOTE: Drew changed its name and trading symbol at the end of 2016 to Lippert (LCII).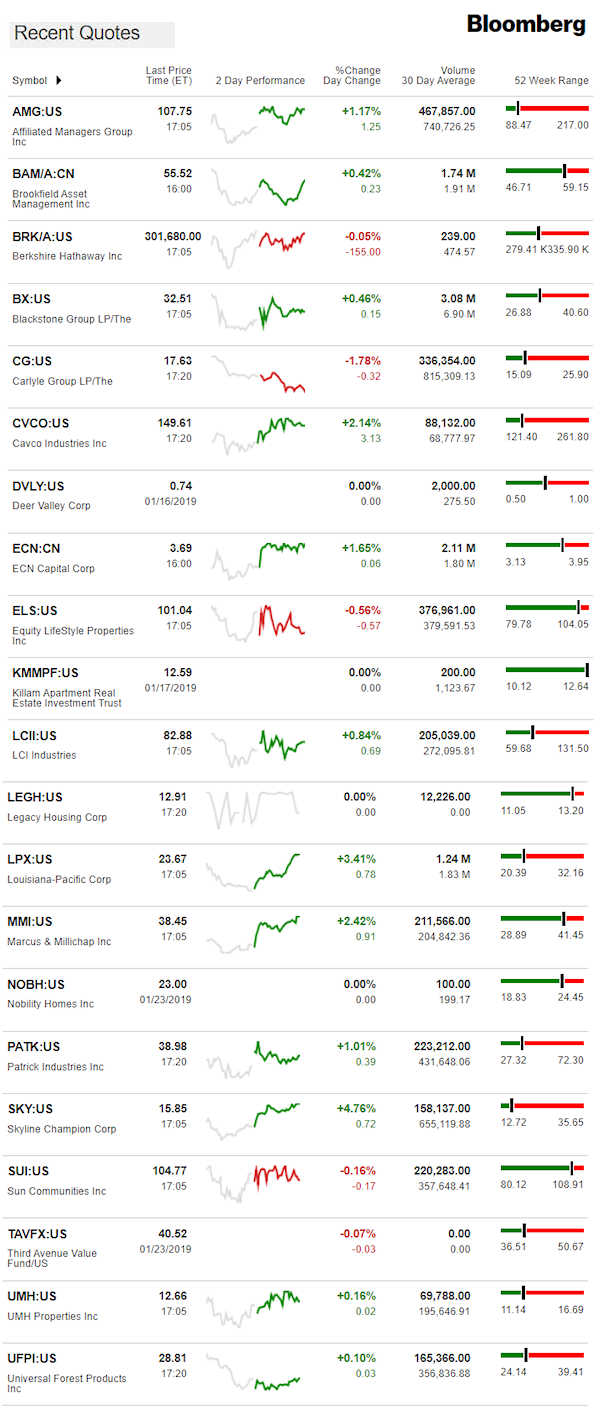 Berkshire Hathaway is the parent company to Clayton Homes, 21st Mortgage, Vanderbilt Mortgage and other factory built housing industry suppliers.
LCI Industries, Patrick, UFPI and LP all supply manufactured housing.
AMG, CG and TAVFX have investments in manufactured housing related businesses.
Your link to industry praise for our coverage, is found here.
For the examples of our kudos linked above…plus well over 1,000 positive, public comments, we say – "Thank You for your vote of confidence."
"We Provide, You Decide." © ## (News, analysis and commentary.)
(Image credits and information are as shown above, and when provided by third parties, are shared under fair use guidelines.)
Submitted by Soheyla Kovach to the Daily Business News for MHProNews.com.