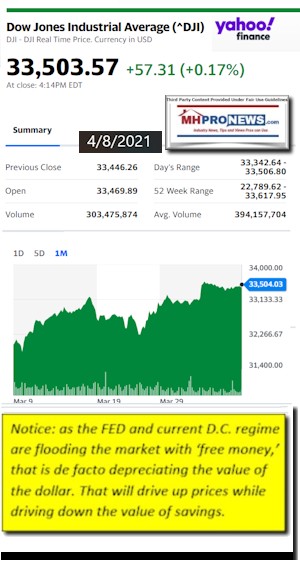 That corruption exists in business, nongovernmental organizations (e.g.: nonprofits), and among public officials would not likely be questioned by most news-savvy individuals. The question is how well does mainstream media do at consistently exposing such corruption? What does media do when a story is stumbled upon, or falls in their lap if 'connected' individuals and/or groups are involved?
How does Gray TV and their Colorado news channels KJCT8 and KKCO11 stand up in comparison to the Society of Professional Journalists Code of Ethical Conduct policies? First, let's note that the SPJ ethics code is largely a noble and even compelling statement. However, this is an open question. Is that SPJ code enforced or acted upon any better than the Manufactured Housing Institute/National Community Council Code of Ethical Conduct has been in the last two years?
In probing that question, it should be noted that lumping everyone into a single basket is routinely mistaken. The headline and this report and analysis are not to be taken to an extreme.
Facts are what they are. There may well be courageous journalists and serious publishers and producers of mainstream media that are keen about "Seeking Truth and Report[ing] It" – as the SPJ Code calls for – that they will ignore the possible short-term impact on their bottom line in order to do what is necessary to keep the public properly informed.
Just hours ago, MHProNews did the latest engagement, fact-check, and analysis on a mainstream news report that ventured into manufactured housing territory. Recall that prior MHI Chairman Tim Williams, the President and CEO of Berkshire Hathaway owned 21st Mortgage Corp, thought going after inaccurate information about manufactured housing was a good idea.
Ironically, a seemingly outraged Frank Rolfe made a similar statement to Williams. Rolfe is the mutually self-declared "partner" of Dave Reynolds.

To tee the above up in the context of the SPJ Code, some pull quotes from the SPJ website are warranted.
"The Society declares these four principles as the foundation of ethical journalism and encourages their use in its practice by all people in all media."
Those four principles are:
Seek Truth and Report It
Minimize Harm
Act Independently
Be Accountable and Transparent
MHProNews editorially believes those principles are worthwhile. If they were being followed, they would likely over time build a significant audience for those who consistently applied those principles.
But the sobering reality is that much of the mainstream media is owned by a relatively small group of conglomerates. It is a point that voices across the left-right spectrum have pointed out numerous times over a period of years. While there may appear to be a diversity of platforms and media outlets, numbers are often held by a single holding company.
In the case of today's report – linked below – the parent company for those two channels are Gray TV. Per their website: "GRAY TELEVISION: Gray Television is a leading media company that owns and operates high-quality stations in 94 television markets. Upon closing pending transaction, Gray will own television stations serving 102 television markets that collectively reach 25.4 percent of US television households."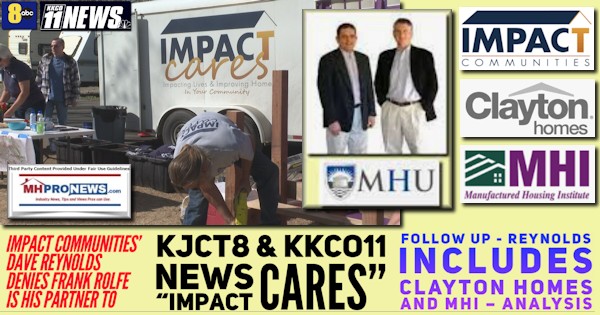 A look at the Gray TV corporate ethics statement – linked here – does not appear to make any references to accuracy in reporting. Nor is there any apparent mention of the SPJ Code of Ethical conduct.
From the Gray TV website is this:
"THE VISION TO SERVE
We have a strong and influential leadership team that empowers each member of our company to grow, thrive and deliver positive impact to those around us. While our footprint is expanding, we remain committed to keeping news local and doing what we can to ensure our stations continue to remain fixtures in their communities. Connecting with communities will always remain central to our mission."
Once more, where is their any mention of accuracy or balance in reporting?
Instead, that "Vision to Serve" statement says they are: "committed to keeping news local and doing what we can to ensure our stations continue to remain fixtures in their communities." Being a "fixture" may mean nothing more than providing pabulum that keeps advertisers and the powers that be among investors happy.
Check this background data out. To shed light on how media is working in America – and how this may impact manufactured housing – the following is enlightening. Per CNN, these are the top ten institutional holders of publicly traded Gray TV's stock
Rephrased, whatever possible standards that are promulgated by the stations that featured the controversial "Impact Cares" report linked here and above did not cause either station's management or staff to respond. By contrast, NBC News responded to MHProNews. So too has the Wall Street Journal and numerous others in mainstream national, as well as local, news media. That does not mean that they always did what was asked. But some have. And many had the professional courtesy of responding.
Looking at that CNN insight above, according to the Private Equity Stakeholder Project (PESP) some of the largest private equity firms "in the world have made investments in manufactured home communities in the US. … residents, it is nearly impossible to move their homes – the structures cannot withstand the … Vanguard Group, Fidelity, Blackrock…"
But that backdrop can be even more difficult to discern than that quick check. Where are the holdings and/or ad dollars of Berkshire Hathaway brands? Microsoft and Bill Gates? Run down the list of the allies of those and the courageous journalism index may falter. Note that while this is obviously different than the report in question, the principle noted below by the Defender may still apply.
Additionally, there are numerous voices from mainstream media that have been previously reported by MHProNews, that make it clear that some news is "fake."
Before pivoting to the featured focus, which will explore more of this SPJ and media ethics-connected thread, the following came in from Dave Reynolds with Impact Communities and Impact Cares after our report published earlier today.
It is clear from your emails that you have a pre-determined agenda and view point, which will not change no matter what I say. The fact that you are attempting to spin Impact Cares events–which have been helping literally hundreds of people have a better quality of life and which I pay for out of my own pocket–into something negative, leads me to unfortunately conclude that, in my opinion, you do not appear to be operating in good faith and, instead, solely intend to defame me and otherwise spread inaccurate, harmful information about me. In light of that, I do not believe any further dialogue would be productive.
Thanks,
Dave Reynolds…"
First, his statement is arguably an assumption that was not properly qualified by any disclaimers, such as the use of the word 'allegation.' Rather, he said: "It is clear from your emails that you have a pre-determined agenda and view point, which will not change no matter what I say." – that may be viewed as libel or slander. For a seasoned business professional, that's a miss. But for the sake of this of advancing this report-focused discussion and reply, let's set that aside for now.
Here was the MHProNews response from this writer, which has one typo in the original corrected and the metaphor completed for clarity.
I'm a world class philosopher's son, and while the apple might have rolled farther than he would have liked [from the proverbial tree] – as your "partner" Frank might recall – debate and logic are part of that philosophical mix.
You are ducking questions, plain and simple, right? Isn't one excuse as good as another?
We just published the article a few minutes ago see that, linked here.
https://www.manufacturedhomepronews.com/impact-communities-dave-reynolds-denies-frank-rolfe-is-his-partner-to-kjct8-kkco11-news-impact-cares-follow-up-reynolds-includes-clayton-homes-and-mhi-analysis/
Feel free to answer those questions. Or not. Perhaps the evidence speaks for itself?
Because some in mainstream media may well care enough to dig into those relevant issues. Or perhaps a public official might dig into this – for real.
Thank you.
Tony…"
That wraps on what is arguably a hopeful note that someone in media, academic research, plaintiffs' attorneys or perhaps one or more public official(s) may wish to get to the root of what has gone wrong in manufactured housing.  After all Samuel Strommen with Knudson Law stumbled upon our research and reports. He evaluated it. He reported on it in a thoughtful fashion.
There is value to reporting that gets granular and seeks to accurately convey reality. There are also weaknesses and vulnerabilities when reports that fail to hit the proper notes – or fail to make warranted corrections – occurs. Lightening may not strike in a certain area often, but it does strike.
Speaking of purported evidence of corruption and/or incompetence that is worthy of investigation…
This off the record comment came in from a seasoned manufactured home industry executive in response to the report linked below.
"The lead article, in particular, is outstanding.  Well done."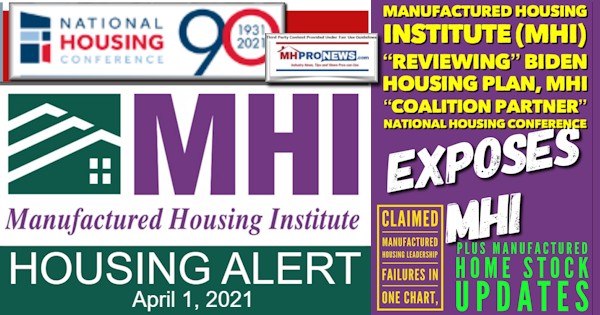 Before pivoting toward tonight's featured focus segment – and for the benefit our growing numbers of new readers – a few quick evening/nightly market report insights.
Every business evening/night, MHProNews provides a bullet list of left-right news headlines from CNN Business and Newsmax. In a matter of moments, savvy professionals can see at a glance news headlines and views across the political spectrum.
This is a time saving and insightful way to quickly grab insights from across the left-right divide.  It is a useful at-a-glance opportunity for those who are hooked on this market-nightly feature.
Our featured focus follows the quotable quotes, periodic political cartoons, those left-right headlines, and two of our three market summary graphics as reported at the closing bell.
After the featured focus, are some recent/related report links and the third manufactured housing focused stock equities graphic. There are some additional items that include the free signup for the manufactured housing industry's x2 weekly emailed news to the most-read trade publication in our profession:
On a mostly mixed day for manufactured home connected equities, let's advance toward our featured focus on the SPJ, how their code of conduct is expressed vs. how it is practiced.
Quotes That Shed Light – Industry, American, Social, National Issues
Headlines from left-of-center CNN Business
Prices climb
A General Motors worker is shown on the assembly line at the General Motors Lansing Delta Township Assembly Plant on February 21, 2020 in Lansing, Michigan. The plant, which employs over 2,500 workers, is home to the Chevrolet Traverse and Buick Enclave.
Car prices surge as GM shuts more plants during chip shortage
These auto makers think tiny electric cars are the next big thing
Jobless claims are on the rise again. But that doesn't mean the recovery is doomed
America's economy could be heading for a golden era of growth. But risks remain
Jeb Bush: America is failing its workforce
Video captures couple accidentally defacing expensive artwork
This is what Disney Parks of the future will look like
$15 billion of Tencent stock sold in record share trade
Wall Street is betting on Joe Biden getting infrastructure done
How AstraZeneca's latest vaccine troubles could slow the global recovery
Chinese tech firms with ties to the military added to US blacklist
The guy who started GameStop mania will soon be chairman of the board
America is facing a ketchup packet shortage
Avengers Campus, opening June 4, 2021, at Disney California Adventure Park in Anaheim, California, will invite guests of all ages into a new land where they will sling webs on the first Disney ride-through attraction to feature Spider-Man. The immersive land also presents multiple heroic encounters with Avengers and their allies, like Iron Man, Black Panther, Black Widow and more. At Pym Test Kitchen, food scientists will utilize Ant-Man and The Wasp's shrinking and growing technology to serve up perfectly sized snacks.
Disney sets opening date for Marvel's Avengers Campus
Jaxon Stern, 4, from left, Nicole Toone, Sawyer Stern, 2, and Victoria Stern order lunch at Costco's food court while shopping in the new Evansville store, Friday, June 28, 2019. They ordered a few "famous" $1.50 hot dogs.
Costco Opening 18
One of Costco's secret weapons is coming back
Middle class home in Midwest America.
Homeowners saw their property taxes take a big leap last year
Headlines from right-of-center Newsmax 
Florida Files Suit Against Biden Administration Over Cruise Ban
"Today Florida is fighting back," Gov. Ron DeSantis said. "I don't think the federal government has the right to mothball an industry for more than a year based on very little evidence and very little data."
The Biden Presidency
Florida Sues Biden Administration Over Cruise Ban
Interior Secretary Looks to Restore Utah Monuments Cut in Trump Admin
Biden Admin Blames Trump For Record Illegal Border Crossings
US 'Increasingly Concerned' by Russian Troop Buildup on Ukraine Border
Fed's Powell: US Nears Full Reopening to 'Different Economy'
Dingell: Democrats Won't Support Infrastructure Without SALT Limits Repeal
Ilhan Omar: Biden Border Wall Plan 'Shameful and Unacceptable'
Biden Announces Actions on 'Epidemic' of Gun Violence
Newsfront
Permits Won't Be Needed to Carry Handguns in Tennessee
Tennessee has become the latest state to soon allow most adults 21 and older to carry handguns without first clearing a background check and training after Gov. Bill Lee on Thursday signed the measure into law. "I signed constitutional carry today because it shouldn't be…
Related Stories
Arizona Gov. Ducey Signs Bill to Block New Federal Gun Laws
Police: 1 Dead, 4 Injured in Shooting in Bryan, Texas
At least one person was killed and several others wounded in
Portland Approves $6 Million to Fight Gun Violence, with $1.4M for Unarmed Patrols
The city of Portland, Oregon has approved a plan to spend about $6
COVID Patient Gets Lung Transplant From Living Donors
Doctors in Japan announced Thursday they have successfully performed
Related
Online Scammers Selling Fake COVID-19 Vaccine Cards
Are Some COVID-19 Vaccines More Effective Than Others?
Australia Halts AstraZeneca Shots for Under 50s Over Clot Concerns
Women Serve Critical Role in COVID-19 Vaccine Rollout
NY State Budget Reflects Cuomo's Weakening Influence Amid Scandals
Scandal-plagued Democrat New York Gov. Andrew Cuomo is reportedly
Republicans Push for Foreign Worker Visa Ban Extension
Amid high unemployment and an unprecedented surge of illegal
Twitch Latest Tech Firm to Adopt Policy Addressing Offline Activity
Video livestreaming service Twitch has become the latest technology
Lack of Oxygen From Police Restraint Killed George Floyd, Doctor Testifies
A critical care doctor called as a prosecution witness in Derek
Amazon Union Election Tally Starts, Turnout 55 Percent
S. regulators on Thursday started tallying votes in Amazon.com
WH Cagey About Prospects for Gun Sales Background Checks
White House press secretary Jen Psaki on Thursday finessed a vexing
Experts: US Faces 65 Percent Chance of Above-Normal Hurricane Season
Global climate patterns and atmospheric humors are leaning toward
Myanmar's UK Ambassador Locked Out of Embassy for Supporting Overthrown Civilian Leader Suu Kyi
Myanmar's ambassador to Britain told reporters Wednesday that he had
Fed's Powell: US Nears Full Reopening to 'Different Economy'
The U.S. economy, boosted by quickening vaccinations and signs
Trump Nudges Sen. Ron Johnson to Run for Reelection
Former President Donald Trump on Thursday endorsed Sen. Ron Johnson,
Ford Cutting More US Production Due to Chips Shortage
Ford Motor Co said on Thursday it will halt additional U.S. auto
Tillis Announces He's Recovering From Prostate Cancer Surgery
Thom Tillis, R-N.C.,reported Thursday that he is recovering
Scientists Call for New COVID-19 Origins Probe – With or Without China
A joint China-World Health Organization (WHO) study into COVID-19 has
NY's $2.1B Fund Aids Illegal Immigrants Hurt by Pandemic
New York State will offer one-time payments of up to $15,600 for
John Gizzi: Boehner Hits Right Wing, Ignores His Own Lack of Character
Former House Speaker John Boehner has gone woke
GOP Critics: Blue States Have Voting Laws Stricter Than Georgia's
Republicans pushing for new voting laws nation wide say their proposals
Zeldin Announces Candidacy for New York Governor
Zeldin Announces Candidacy for New York Governor
Lee Zeldin, R-N.Y., Thursday announced he'll run for governor
Ethical journalism should be accurate and fair. Journalists should be honest and courageous in gathering, reporting and interpreting information.
Tech Investor Thiel: Bitcoin 'a Chinese Financial Weapon'
Peter Thiel is "pro-crypto" and "pro-Bitcoin maximalist, "but he also
Finance
Jobless Claims Rise to 744K as Virus Still Forces Layoffs
The number of Americans applying for unemployment benefits rose last week to 744,000, signaling that many employers are still cutting jobs even as more people are vaccinated against COVID-19, consumers gain confidence and the government distributes aid throughout the…
Gates-Led Group Wants to Help Climate Tech Find Paying Customers
Global Food Costs Keep Climbing in Threat to Consumer Wallets
Tesla Says the Cameras in Its Cars Aren't Activated in China
G20 Working for Deal on International Corporate Tax by July
Health
Online Scammers Selling Fake COVID-19 Vaccine Cards
For as little as $20, you can get a COVID-19 vaccine card online. Scammers abound on the Internet offering look-alike three-by-four-inch cards that are falsified copies of the official vaccine cards issued by the Centers for Disease Control…
6 Science-Backed Health Benefits of Kindness
Kissing Boosts Your Immune System and Health
Women More Prone to Concussion's Long-Term Harms: Study
New Device Preserves Hearts for Transplants Longer
Market Indicator Closing Summaries – Yahoo Finance Closing Tickers on MHProNews…
Featured Focus –
Where Business, Politics and Investing Can Meet
As was noted previously, not only did MHProNews reach out to two GrayTV stations several times prior to publishing our analysis of their 'news report' on "Impact Cares," we also provided them with the finished report.
Silence. Of course, silence is a constitutionally protected right.
That said, here are those 4 SPJ principles once more.
four principles are:
Seek Truth and Report It
Minimize Harm
Act Independently
Be Accountable and Transparent
In looking at the article carefully linked here, how could station or Gray TV management look themselves in the mirror?
Under "Seek Truth and Report It" the SPJ code of conduct encourages the following. Items that may not apply are not listed.
"Journalists should:
– Take responsibility for the accuracy of their work. Verify information before releasing it. Use original sources whenever possible.
– Remember that neither speed nor format excuses inaccuracy.
– Provide context. Take special care not to misrepresent or oversimplify in promoting, previewing or summarizing a story.
– Gather, update and correct information throughout the life of a news story.
– Identify sources clearly. The public is entitled to as much information as possible to judge the reliability and motivations of sources.
– Be vigilant and courageous about holding those with power accountable. Give voice to the voiceless.
– Support the open and civil exchange of views, even views they find repugnant.
– Boldly tell the story of the diversity and magnitude of the human experience. Seek sources whose voices we seldom hear.
– Avoid stereotyping. Journalists should examine the ways their values and experiences may shape their reporting.
– Label advocacy and commentary.
– Never deliberately distort facts or context, including visual information. Clearly label illustrations and re-enactments."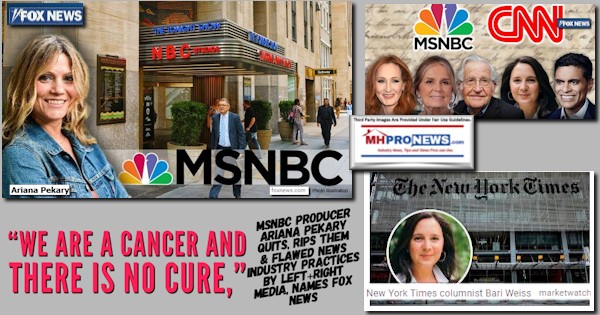 If Gray TV or the station do a follow and inform MHProNews, it would be our intention to so report.
Related, Recent, and 'Read-Hot' Reports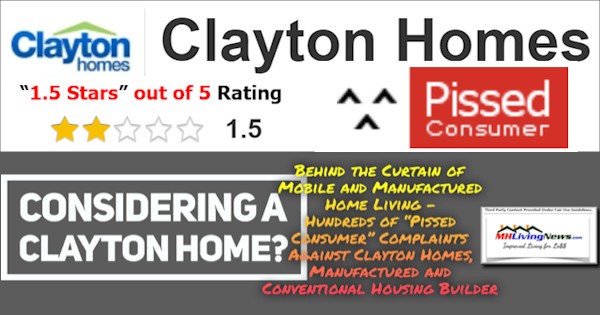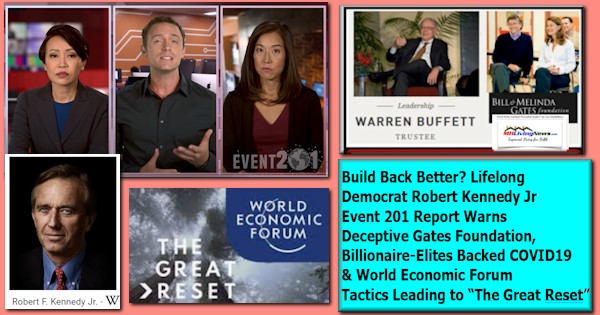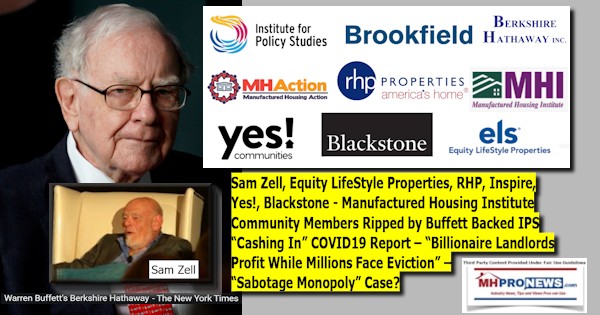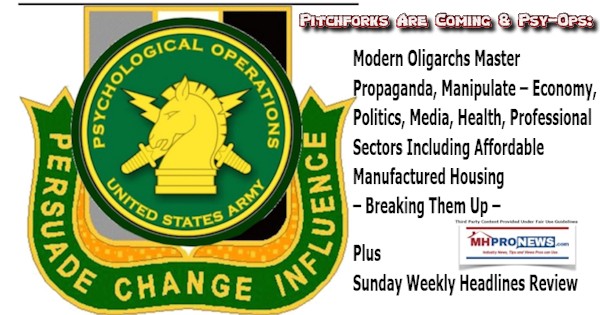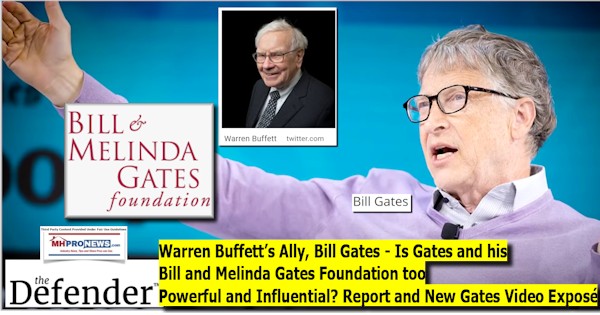 Manufactured Housing Industry Investments Connected Closing Equities Tickers
Some of these firms invest in manufactured housing, or are otherwise connected, but may do other forms of investing or business activities too.
NOTE: The chart below includes the Canadian stock, ECN, which purchased Triad Financial Services, a manufactured home industry lender
NOTE: Drew changed its name and trading symbol at the end of 2016 to Lippert (LCII).
NOTE: Deer Valley was largely taken private, say company insiders in a message to MHProNews on 12.15.2020, but there are still some outstanding shares of  the stock from the days when it was a publicly traded firm.  Thus, there is still periodic activity on DVLY.
Spring 2021…
Berkshire Hathaway is the parent company to Clayton Homes, 21st Mortgage, Vanderbilt Mortgage and other factory built housing industry suppliers.
· LCI Industries, Patrick, UFPI, and LP each are suppliers to the manufactured housing industry, among others.
· AMG, CG, and TAVFX have investments in manufactured housing related businesses. For insights from third-parties and clients about our publisher, click here.
Enjoy these 'blast from the past' comments.
MHProNews. MHProNews – previously a.k.a. MHMSM.com – has celebrated our 11th year of publishing, and is starting our 12the year of serving the industry as the runaway most-read trade media.

Sample Kudos over the years…
It is now 11+ years and counting…
Learn more about our evolutionary journey as the industry's leading trade media, at the report linked below.
· For expert manufactured housing business development or other professional services, click here.
· To sign up in seconds for our industry leading emailed headline news updates, click here.

Disclosure. MHProNews holds no positions in the stocks in this report.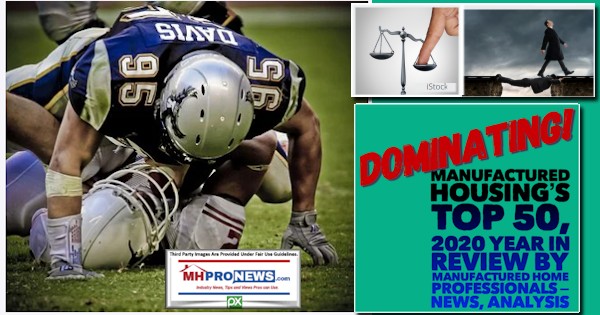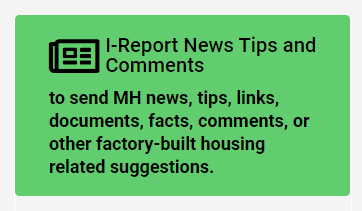 That's a wrap on this installment of "News Through the Lens of Manufactured Homes and Factory-Built Housing" © where "We Provide, You Decide." © (Affordable housing, manufactured homes, stock, investing, data, metrics, reports, fact-checks, analysis, and commentary. Third-party images or content are provided under fair use guidelines for media.) (See Related Reports, further below. Text/image boxes often are hot-linked to other reports that can be access by clicking on them.)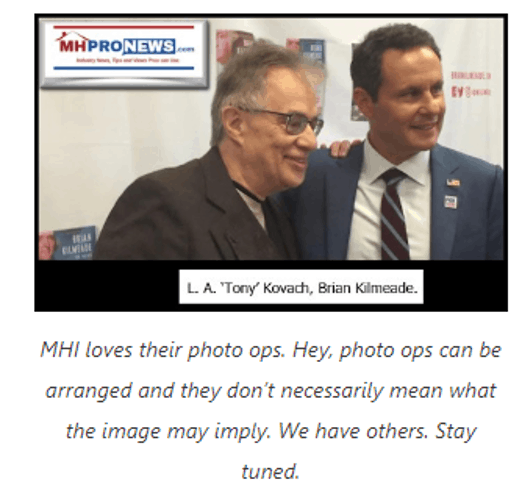 By L.A. "Tony" Kovach – for MHLivingNews.com.
Tony earned a journalism scholarship and earned numerous awards in history and in manufactured housing. For example, he earned the prestigious Lottinville Award in history from the University of Oklahoma, where he studied history and business management. He's a managing member and co-founder of LifeStyle Factory Homes, LLC, the parent company to MHProNews, and MHLivingNews.com. This article reflects the LLC's and/or the writer's position, and may or may not reflect the views of sponsors or supporters.