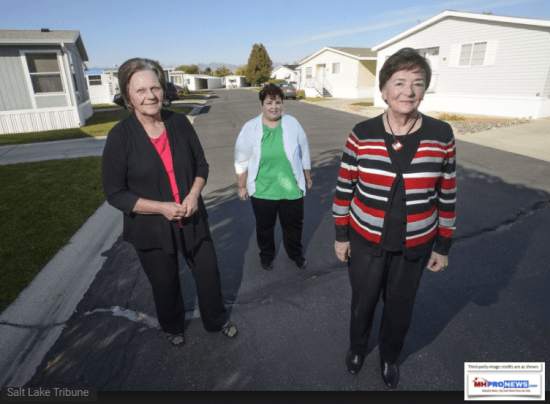 Conversion of a land-lease manufactured home community from investor ownership into resident ownership is an event that takes place several times annually.
It's part of a trend that often brings 'positive media' coverage to the industry.
These conversions into a resident owned community also arguably avoids a bad news story too.
A number of times every year, some manufactured home community – often mischaracterized by local media as a "mobile home park" or "trailer park" – play into those sad stereotypes by a redeveloper announcing that everyone in the "park" is being evicted, because a big box store or high rise multifamily housing complex is going on that same site.
Those tales of redevelopment and evictions are a media theme that's been replayed thousands of times over the course of the last two decades.
So every time a community is saved from that redevelopment outcome,
it's good news for the residents there,
good news for the seller, because they routinely get market rates for the sale of the property,
and creates largely positive vs. entirely negative media coverage for the industry-at-large.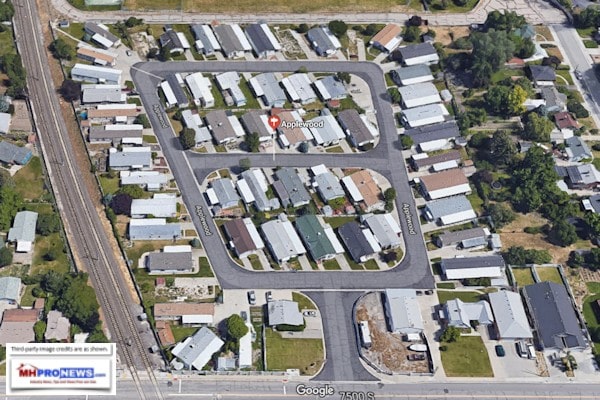 How MHAction Turns Happy News, Into a Story Harmful to Industry Pros
The recent conversion of a manufactured home community in Utah into an ROC cooperative reveals the aggressive stance that MHAction is taking against land-lease community owners.
Regular MHProNews readers may recall that MHAction has been targeting part of the manufactured home industry community sector for some time, including Equity Lifestyle Properties (ELS), and Frank Rolfe and his partner's RV Horizons/Mobile Home University.
Frank Rolfe, MHU/RV Horizons Protest by MHAction; Nathan Smith/SSK/MHI Flashbacks?
An insider source tells the Daily Business News how this ROC deal came about.  The seller of the community could have proceeded with turning the property into a redevelopment project, after evicting all of the residents.
Instead, the would-be redevelopers sold to the residents. That's a win, as noted above.
But MHAction activists were apparently not satisfied with getting the community converted.  They then diminished the very ones who made the creation of the coop possible.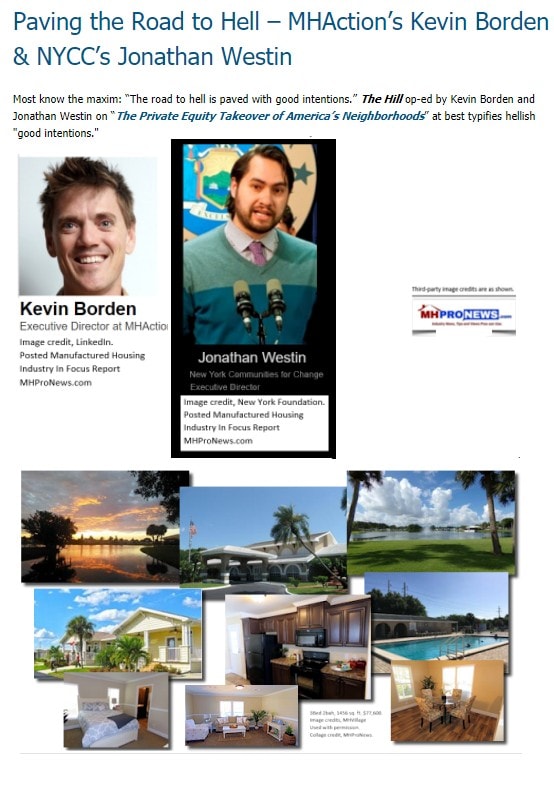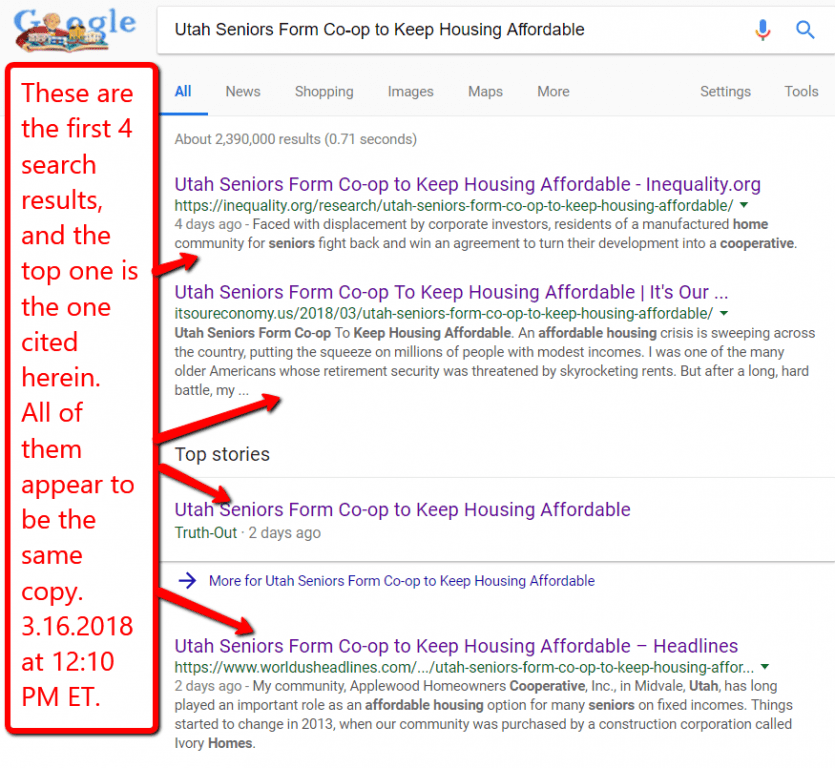 Shirlene Stoven – MHAction Activist – Multiple Outlets Pick Up Her "Story"
Shirlene Stoven is a self-described activist who has applied the lessons taught by MHAction.  Here below is Stoven's letter, quoted verbatim, so that industry professionals can see for themselves what MHAction is doing.  Notice her use of negative or harsh terminology, like "predatory." This version appeared of Stoven's article appeared in an advocacy site called "Inequality."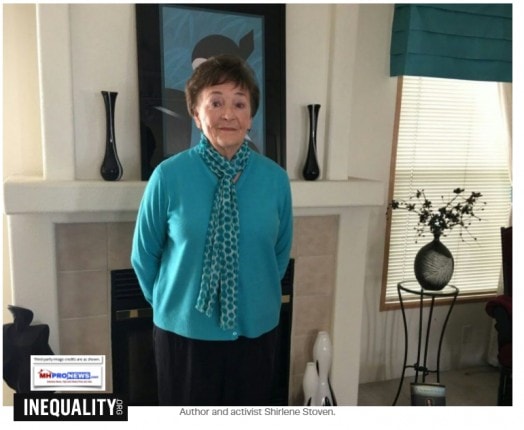 Utah Seniors Form Co-op to Keep Housing Affordable
"An affordable housing crisis is sweeping across the country, putting the squeeze on millions of people with modest incomes. I was one of the many older Americans whose retirement security was threatened by skyrocketing rents. But after a long, hard battle, my neighbors and I managed to beat back a redevelopment proposal that would've displaced our senior community. Our story might help others do the same.
My community, Applewood Homeowners Cooperative, Inc., in Midvale, Utah, has long played an important role as an affordable housing option for many seniors on fixed incomes. Things started to change in 2013, when our community was purchased by a construction corporation called Ivory Homes. Ivory rapidly began to enact massive rent increases over a two-year period. It seemed clear to us that their plan was to economically evict homeowners in order to build a large apartment complex that would have provided no affordable housing.
My neighbors and I decided to fight back. We got in touch with UCOMH (Utah Coalition of Manufactured Homeowners) and MHAction, a national group that also advocates on behalf of mobile home owners. And we began organizing. Our goal was to build a base of support and turn that into the necessary people power it takes to win.
We went door to door with petitions and collected over 2,600 signatures. We attended city council meetings and city planning meetings. We met with the mayor. We reached out to ROC USA, an organization that assists communities like mine to become cooperatively owned. We researched the Olean Walker Housing Fund, a state loan fund that helps to promote and preserve affordable housing. We brought to bear public pressure on Ivory Homes to ensure that they couldn't get away with displacing seniors who called Applewood home.
In the end, we prevailed. This month we signed paperwork to emerge as a cooperatively-owned community. This allows us to have local control over rent levels and to keep them at an affordable rate. We are a community where our neighbors are valued and no longer threatened with unjust evictions.
We believe that cooperative ownership, along with community land trusts, public ownership, and non-profit ownership, are examples of ownership models that allow for manufactured housing to remain affordable. We need to continue to build support for community-friendly ownership models like these as a counter balance to the predatory real estate investors.
Through MHAction leadership trainings I learned that our situation in Midvale mirrored the housing crisis that millions of families are grappling with in cities and communities across the country. One cause of this crisis is the rise of private equity funds that are greedily gobbling up communities and driving housing prices sky-high by catering to wealthy buyers and renters. One of these is Equity International, owned by Sam Zell, a billionaire who owns numerous manufactured home communities across the country.
In 2016 I had the opportunity to work with community leaders involved with New York Communities for Change to disrupt a presentation by Zell to real estate investors in New York City. Moments like that taught me that it's okay to fight, and that I have a right to stand up and speak out.
My neighbors and I hope our victory in Midvale will help promote more efforts to push for and win housing justice for all communities. We're committed to continue this fight until all families have a safe and affordable place to call home."  ##
– By Shirlene Stoven, published in Inequality, and other progressive websites.
MH Professional/Investor Call to Action
This article by Shirlene Stoven is the type of emotional media appeal merits a rapid response from a post-production national trade association that addresses such matters with clarifying corrections. As MHProNews has previously noted in analysis, such a negative narrative is also harmful to the image – and thus the appeal and value – of manufactured home owners.

Where is that at the national level in manufactured housing?
Frank Rolfe and other industry professionals are among those who've asked the Manufactured Housing Institute (MHI), and are awaiting a practical, productive, and meaningful answer. ### (News, analysis, and commentary.)
Related:
(Third party images, and cites are provided under fair use guidelines.)
Notice: for professional business development services, click here.
Sign Up Today!
Click here to sign up in 5 seconds for the manufactured home industry's leading – and still growing – emailed headline news updates. You'll see in the first issue or two why big, medium and 'mom-and-pop' professionals are reading these headline news items by the thousands. These are typically delivered twice weekly to your in box.

Submitted by Soheyla Kovach to the Daily Business News for MHProNews.com.
Soheyla is a managing member of LifeStyle Factory Homes, LLC, the parent company to MHProNews, and MHLivingNews.com.