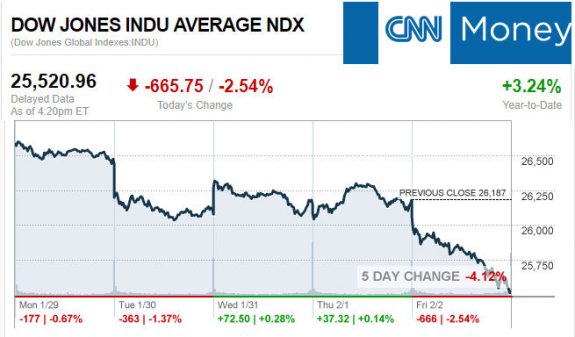 Let's simplify what this highly politicized FISA memo uproar is all about.
What's been called the "Trump Dossier" for over a year, was in fact paid for by former Secretary Hillary Clinton, and the Democratic National Committee.
That document was deemed "Salacious and Unverified" per James Comey, former FBi director, and others, then and since.
That is to say, the "dossier" was political opposition material intended to be used against candidate Donald Trump in the closing days of the 2016 campaign.  Think of it as high-priced creative writing intended to harm a political opponent.  "Dossier" makes it sound authentic; it's not.
That creative writing document, plus media reports based on that document, were then used by the Obama era Justice Department (DOJ) and the Federal Bureau of Investigation (FBI) to obtain a FISA warrant to spy on the Trump campaign.  Translation. Law enforcement was weaponized in an American election.
That FISA warrant would likely not have been issued without the Clinton/DNC funded "dossier."
That's a bombshell claim, which would involve numerous illegalities. It calls into question the basis for the Mueller probe, which was also influenced by the "dossier," that was paid by the Clinton campaign/DNC
That could lead to a new special counsel to investigate those federal officials who abused the FISA process and politicized federal powers in a presidential election.
That's why Democrats are screaming, and why Republicans have been pushing to get it out.
The actual FISA Memo, the White House's attachment to it authorizing the release of the document, and  videos on that and the market rattle will be our featured report.
If you're new, already hooked on our new spotlight feature – or are ready to get the MH professional fever – our headline reports are found further below, just beyond the Manufactured Housing Composite Value for today.
The evolving Daily Business News market report sets the manufactured home industry's stocks in the broader context of the overall markets.
Part of this unique feature provides headlines – from both sides of the left-right media divide – that saves readers time, while underscoring topics that may be moving investors, which in turn move the markets.
Readers say this is also a useful quick-review tool that saves researchers time in getting a handle of the manufactured housing industry, through the lens of publicly-traded stocks connected with the manufactured home industry.
MH "Industry News, Tips and Views, Pros Can Use." ©
Selected headlines and bullets from CNN Money:
Dow plunges 666 points — worst day since Brexit
Black unemployment rate is no longer at the record low
Disputed GOP-Nunes memo released
YouTube to label videos from state-funded media
Experts caution Trump's $1.5 trillion infrastructure plan
Is anyone actually getting public service loan forgiveness?
The genius strategy of Amazon's HQ2 search
Here's who's getting a raise these days
'Black Panther' is breaking pre-sale ticket records
Iced tea company kills plan to buy bitcoin mining rigs
Amazon's employee-tracking wearables raises concerns
Selected headlines and bullets from Fox Business:
Dow plunges 665 points
Bond yields jump to 4-year high, pressuring stocks
Exxon profit misses expectations; shares sink
Amazon poised to surpass Microsoft in value for first-time ever
Tax reform needs to be permanent: Gary Cohn
Bezos, Buffett, Dimon: Health care's newest power trio?
Wynn's $7.5M payment to employee said to involve paternity claim
Wage growth best since 2009, buttressing Trump's claim
General Electric's slow demise
Twinkie maker to give out bonuses after Trump tax cut
Democrats are moving heaven and earth to keep FISA memo quiet: Varney
Stock rally is nearing end; oil has peaked: Here's where to invest
Elon Musk has sold $10M worth of flamethrowers since Sunday
Americans' big spending for Super Bowl Sunday festivities
Trump is not a racist, he is a great man: NFL legend Herschel Walker
NFL legend Herschel Walker speaks out in defense of President Trump.
ICYMI – for those not familiar with the "Full Measure," 'left-right' media chart, please click here. 
Today's markets and stocks, at the closing bell…
S&P 500 2,762.13 -59.85(-2.12%)
Dow 30 25,520.96 -665.75(-2.54%)
Nasdaq 7,240.95 -144.92(-1.96%)
Russell 2000 1,547.27 -32.60(-2.05%)
Crude Oil 65.13 -0.67(-1.02%)
Gold 1,334.10 -13.80(-1.02%)
Silver 16.53 -0.62(-3.61%)
EUR/USD 1.2457 -0.0048(-0.38%)
10-Yr Bond 2.854 +0.081(+2.92%)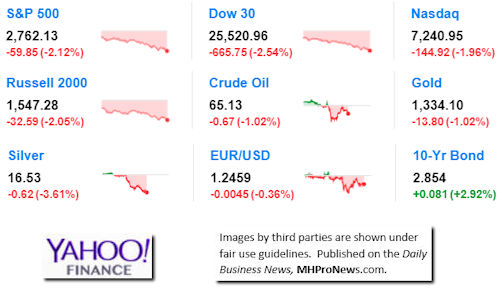 Manufactured Housing Composite Value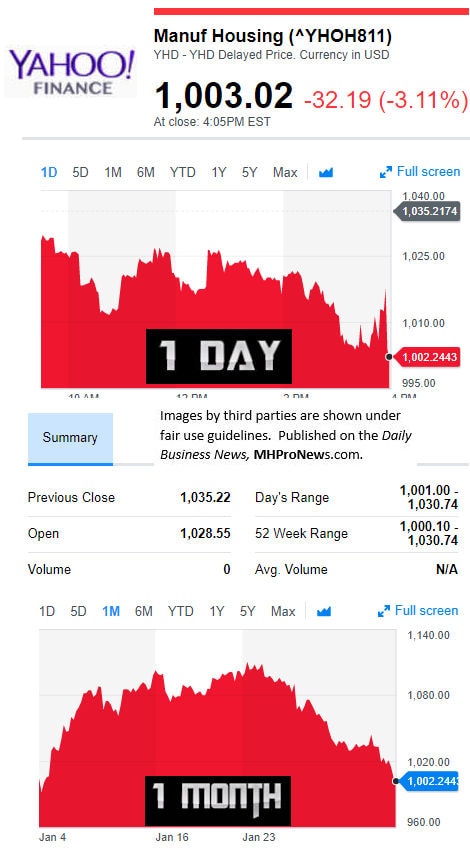 Today's Big Movers
For all the scores and highlights on tracked manufactured home connected stocks today, see the Bloomberg graphic, posted below.
Today's MH Market Spotlight Report –
FISA Memo Released 
Of course stocks fell.
It's "the swamp," "deep state," market uncertainty, and business all rolled into one.
The "FISA Memo" from the House Intelligence Committee, is linked here.  It opens with the White House authorization for its release.  The FISA memo itself is 4 pages.
Fox News political analyst, Olympic Media managing editor. and Daily Caller editor Katie Frates explain why the release of the FISA memo — a controversial report written by Rep. Devin Nunes (R-Calif.) that alleges abuses of power by the FBI and Department of Justice — is so important.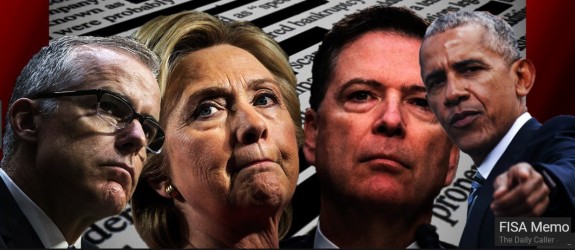 See Recent Exclusive 1 Year Snapshot of All Tracked Stocks
Profitable Insight$ – POTU$ Trump Effect on MH Stock$ at 1 Year, Part 4
Suppliers LPX, Patrick, Manufactured Home Builders Nobility, Skyline Homes – the Trump Effect on MH Stocks, Markets Part 3
Trump Effect – 1 Year Election Impact on Manufactured Housing Connected Stocks, Part 2
Just the Facts – Trump Effect on Manufactured Home Connected Stocks, Part 1
NOTE: The chart below includes the Canadian stock, ECN, which purchased Triad Financial Services.
NOTE: The chart below covers a number of stocks NOT reflected in the Yahoo MHCV, shown above.
NOTE: Drew changed its name and trading symbol at the end of 2016 to Lippert (LCII).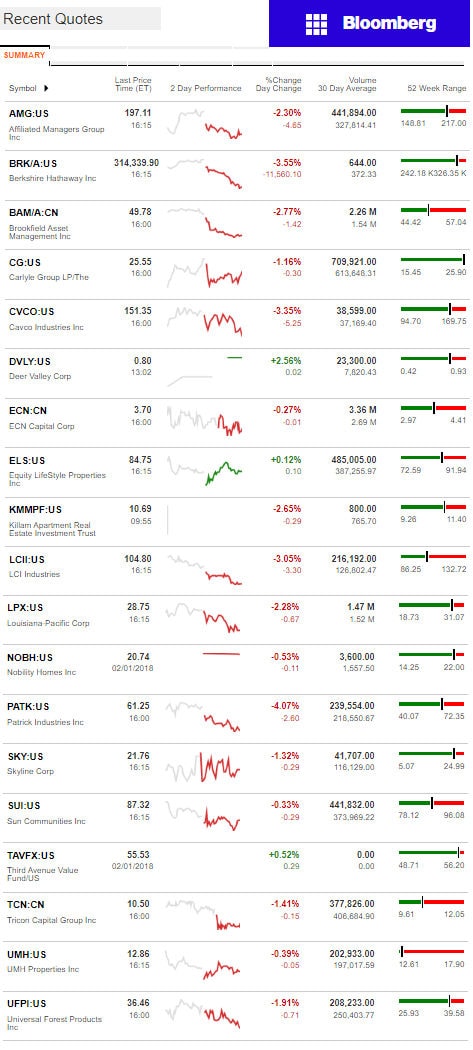 Berkshire Hathaway is the parent company to Clayton Homes, 21st Mortgage, Vanderbilt Mortgage and other factory built housing industry suppliers.
LCI Industries, Patrick, UFPI and LP all supply manufactured housing.
AMG, CG and TAVFX have investments in manufactured housing related businesses.
Your link to a recent round of industry praise for our coverage, is found here.
For the examples of our kudos linked above…plus well over 1,000 positive, public comments, we say – "Thank You for your vote of confidence."
"We Provide, You Decide." © ## (News, Analysis.)
(Image credits are as shown above, and when provided by third parties, are shared under fair use guidelines.)

Submitted by Soheyla Kovach to the Daily Business News for MHProNews.com.