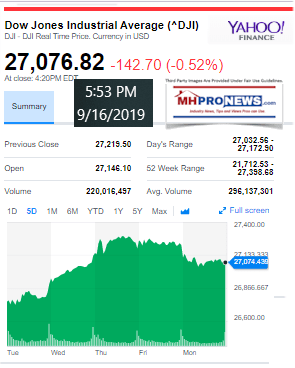 One might think that spiking oil would ruffle manufactured home markets. But not so today, as HUD Code factory-home producers today fared well, as did most manufactured housing industry connected stocks tracked here every business evening on MHProNews. But the potential for energy, economic, and geo-political disruption from a hot-war in the Middle East involving the Saudis, Iran, or other nations can't be underestimated. While the U.S. is more energy secure than it has been in decades, let's be blunt. Other nations depend on those Middle Eastern oil and gas, and other nations buy – or don't purchase – products from the U.S. So hurting other economies could hurt the U.S., as those behind the strike no doubt know. Our featured report this evening will be the President Trump's press conference comments on the drone strike on Saudi oil production.
Every evening our headlined provide snapshots from two major media outlets on each side of the left-right news spectrum that reflect topics that influence or move investor sentiment. In moments on this business evening report, you can get insights-at-a-glance.
This report also sets the broader context for manufactured housing markets, in keeping with our mantra, "News through the lens of manufactured homes and factory-built housing" ©.
We begin with left-of-center CNN followed by right-of-center Fox Business. We share closing tickers and other related data courtesy of Yahoo Finance, and more. 5 to 10 minutes reading this MHProNews market report every business night could save you 30 minutes to an hour of similar reading or fact-gathering elsewhere.
Headlines from left-of-center CNN Business.
Wall Street's still buying
Traders work on the trading floor at the New York Stock Exchange (NYSE) in New York City, U.S., September 3, 2019. REUTERS/Andrew Kelly
Despite trade tensions and lackluster earnings, investors think the market has room to grow
Nearly 50,000 union employees are striking against General Motors. Here are their demands
LIVE UPDATES The UAW says it saved GM. The truth is complicated
Oil prices spike after attack on Saudi disrupts global supply
America has a huge stash of emergency oil. This is why
Alan Valdes: Oil could go to $100 per barrel
China's economy is getting worse. That makes a trade deal more likely
Gas prices will climb following the Saudi attacks
3 JPMorgan traders indicted in alleged pricing scheme
Why America has a White Claw shortage
CUPERTINO, CALIFORNIA – SEPTEMBER 10: Attendees look at the new Apple iPhone 11 Pro during a special event on September 10, 2019 in the Steve Jobs Theater on Apple's Cupertino, California campus. Apple unveiled several new products including an iPhone 11, iPhone 11 Pro, Apple Watch Series 5 and seventh-generation iPad. (Photo by Justin Sullivan/Getty Images)
Demand for the new iPhone 11 appears to be off to a good start
'Seinfeld' is heading to Netflix in 2021
America's energy boom can't stop oil prices from rising
The Pixel 4 is coming. Google announces October 15 event
The new iPhone is betting almost everything on its camera
The Apple Watch's secret weapon is its new price
The iPhone 11 is here but is it worth the upgrade?
Google rolls out Android 10 for Pixel phones
WeWork is the poster child for everything wrong with tech unicorns
Inside WeWork, one couple wields control
Malls are filling their empty spaces with doctor's offices
Where the CEO sits matters
A company where everyone works from home. Here's how to make it work
Headlines from right-of-center Fox Business.
SAUDI OIL ATTACK TO IMPACT US GAS PRICES; WHAT TO EXPECT
Keystone XL pipeline would give US nearly 1 million oil barrels per day
Stocks slide as oil surges to biggest gain in 11 years
Trump's 'locked and loaded' tweet after Saudi oil attack means 'several things:' VP's chief of staff
GM-UAW Strike Latest Developments
Here's what GM is offering UAW workers on strike
GM is making big money and workers want a bigger slice.
UAW president is unnamed co-conspirator in corruption probe
The report is another blow to the union's reputation.
GM makes these popular vehicles at plants where workers are striking
Here are some of plants that assemble popular vehicles where UAW workers are on strike.
Continue to More GM News
Manhattan DA subpoenas Trump tax returns
'SNL' fires new cast member on heels of racial slur
OxyContin heirs find buyer for NYC mega-condo; take a look inside
$35 million vanishes as payroll company abruptly closes
General Mills recalling this type of flour after finding E. coli
Colin Kaepernick's Nike commercial wins Emmy
Apple set to fight over $14B in back taxes owed
These homes are driving the millennial real estate market
JP Morgan execs indicted on market manipulation, racketeering charges
Papa John's feuds with historically black college over scholarship money
Trump slams Powell and Fed ahead of meeting, calls for 'big' rate cut
Walmart is giving away money for old car seats; here's how to cash in
SoFi lands naming rights for LA NFL stadium
Former NASCAR champion Mike Stefanik dead at 61
How Purdue Pharma's bankruptcy will impact pending litigation
NFL offers $3M helmet challenge to create new model for player safety
The contest asks helmet manufacturers, engineers and designers to produce a prototype that outperforms all helmets currently worn by NFL players in laboratory testing.
Texas professor charged with stealing Silicon Valley tech for China's Huawei
Bo Mao was arrested in Fort Worth, Texas, on August 14 and charged with conspiracy to commit wire fraud in the theft of a first-of-its-kind drive from CNEX Labs in February 2017.
Google to pay over $1B to settle France tax disputes
Alphabet Inc's Google unit will pay more than $1 billion in fines and back taxes in order to settle tax disputes in France.
Evie Fordham
Facebook cryptocurrency threatens national sovereignty, official says
Facebook's Libra cryptocurrency is not getting a lot of love from world financial leaders.
Google confirms settlement on worker speech rights
The move from the National Labor Relations Board is part of a settlement of formal complaints that the tech giant punishes employees for raising concerns about equality and freedom of speech.
Gen Z are the most likely to be influenced online compared to older generational counterparts
Members of Gen Z are the most likely to be influenced online when compared to members of Millennials, Gen X, and Baby Boomers, a recent survey found.
TiVo looks to stream into the future with a new console
TiVo's new CEO, Dave Shull, said he wants to create a spinoff of the company's patent portfolio by next year, according to a recent report.
Oracle CEO Mark Hurd taking leave
US can trump China innovation: Condoleezza Rice
'The United States can win any competition in innovation… but we have to do it in our own way,' said Condoleezza Rice.
California bill requiring companies to treat gig workers as employees advances
10 Market Indicator Closing Summaries – Yahoo Finance Closing Tickers on MHProNews…

Tonight's Business/Market/Political Impact Spotlight –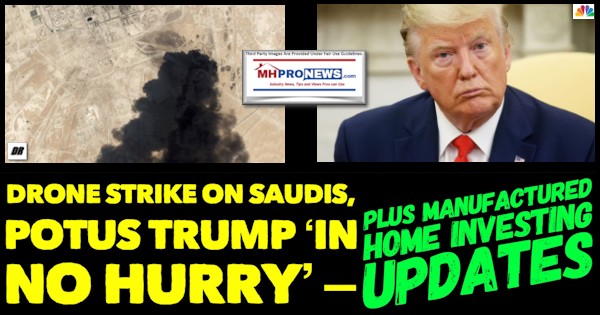 "It's certainly looking that way at this point," Trump responds to a question whether Iran was responsible for the attacks.
The largest oil processing facility at Abqaiq and the nearby oil field was attacked on Saturday, knocking out more than half of the kingdom's oil output.
"That was a very large attack and it could be met with an attack many, many times larger very easily by our country, but we are going to find out who definitively did it first," Trump says.
President Donald Trump said on Monday that he's in no rush to respond to a coordinated attack that hit Saudi Arabia's oil industry over the weekend, said left-of-center CNBC.
Right-of-center Fox Business reported that oil prices have surged at the highest rate in 11 years in the wake on the drone strike, being attributed by many to Iran or Iranian backed forces.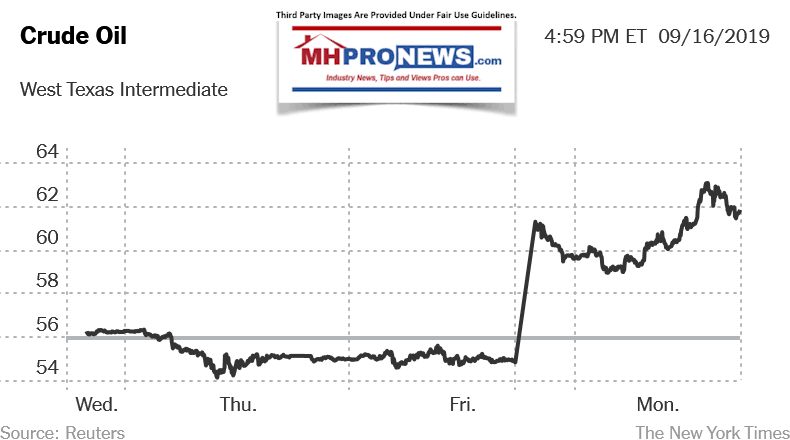 The largest oil processing facility at Abqaiq and the nearby Saudi oil field was attacked on Saturday. That knocked out 5.7 million barrels of daily crude production. It is equal to more than 50% of the kingdom's oil output.
"It's certainly looking that way at this point," Trump responded to a question on whether Iran was responsible for the attacks. "I don't want war with anybody but we are prepared more than anybody … We have a lot of options but we are not looking at options right now."
"That was a very large attack and it could be met with an attack many, many times larger very easily by our country, but we are going to find out who definitively did it first," he added.
Iranian president Hassan Rouhani said Monday the attacks on Aramco were a "reciprocal response" to the aggression against Yemen. The Saudi-led military coalition stated that the attack was carried out by "Iranian weapons" which they said did not originate from Yemen.
Satellite and other technology should be able to trace the sources of the attack. But this raised the question, how did the drones escape Saudi radar or other defenses?
On Sunday the president tweeted that the U.S. is "locked and loaded" after the attacks on Saudi's oil supply. But he also indicated that the U.S. and other nation's Strategic Petroleum Reserves can keep the markets "well-supplied," so he is not expecting major disruption at this time.
The president is heading to New Mexico for a campaign rally tonight. It is part of a strategy to turn blue New Mexico into a red Trump state in 2020, per the Trump campaign. MHProNews will monitor the oil and other geo-political developments.
Related Reports.
'Hell Yes, We'll Take Your AR 15s,' 'Corrupt System,' 3rd Democratic Duel, plus Manufactured Housing Investment Updates
Nobility Homes (NOBH), Prestige Home Centers Buck National Trends, Facts & Analysis
Marketers, Leaders – What B2B Topics Attracts Manufactured Housing Industry Professionals?
Manufactured Housing Industry Investments Connected Closing Equities Tickers
Some of these firms invest in manufactured housing, or are otherwise connected, but may do other forms of investing or business activities too.
NOTE: The chart below includes the Canadian stock, ECN, which purchased Triad Financial Services.
NOTE: Drew changed its name and trading symbol at the end of 2016 to Lippert (LCII).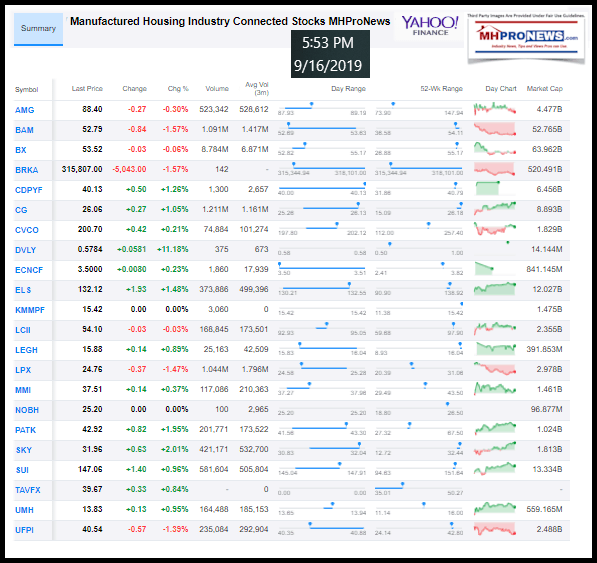 Updated for Summer 2019…
Berkshire Hathaway is the parent company to Clayton Homes, 21st Mortgage, Vanderbilt Mortgage and other factory built housing industry suppliers.
· LCI Industries, Patrick, UFPI, and LP each are suppliers to the manufactured housing industry, among others.
· AMG, CG, and TAVFX have investments in manufactured housing related businesses.
Your link to an example of industry praise for our coverage, is found here and here. For the examples of our kudos linked above…plus well over 1,000 positive, public comments, we say – "Thank You for Your Vote of Confidence."
· For expert manufactured housing business development or other professional services, click here.
· To sign up in seconds for our industry leading emailed headline news updates, click here.
Disclosure. MHProNews holds no positions in the stocks in this report.
"We Provide, You Decide." © ## (News, analysis and commentary.)
(Image credits and information are as shown above, and when provided by third parties, are shared under fair use guidelines.)
Submitted by Soheyla Kovach, co-managing member of LifeStyle Factory Homes, LLC and co-founder for MHProNews.com, and MHLivingNews.com.