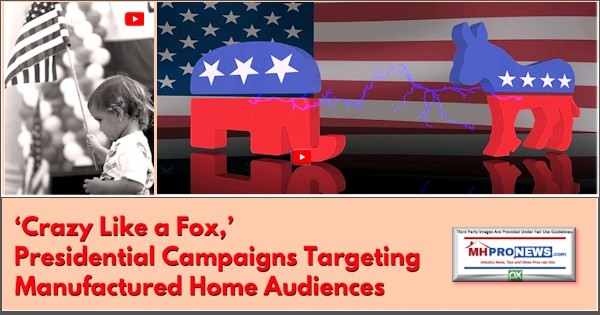 You can't understand President Donald J. Trump without first grasping several themes in his classic book, "The Art of the Deal." The man is crazy like a fox. He's the first president in some time known to have visited a manufactured home community in his official capacity. He has praised factory-builders on camera. His family business had ties to Revolution Precrafted Homes. More about POTUS Trump further below.
Next…
It may or may not be a coincidence, but after we reached out with information, former HUD Secretary Julian Castro and his campaign rolled into a manufactured home community in Iowa. They spotlighted the problematic activity of Havenpark Capital Management, a Manufactured Housing Institute connected firm. That report, which includes a slick video that team Castro produced, is linked below.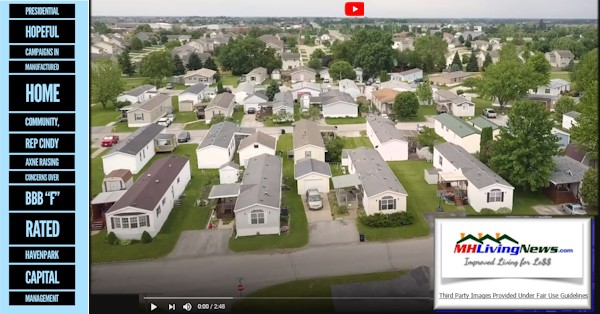 Castro and the Trump Administration are not the only 2020 candidates and politicos to be giving some form of serious attention to the most proven form of manufactured housing.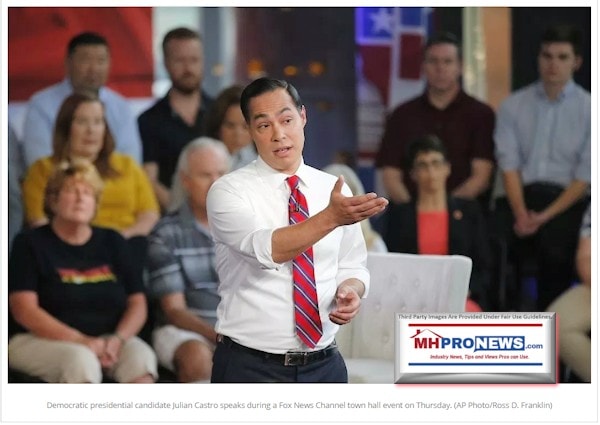 New York Times columnist Thomas Friedman – no fan of President of the United States (POTUS) Donald J. Trump, a man who warned that the stock market would collapse if DJT won in 2016 – is now warning his fellow Democrats that if they don't go move back toward the political center, they will give the 45th president four more years. He's not alone, other Democratic strategists and pundits are saying similarly.
Several Democrats have made a modicum of hay about Warren Buffett, Clayton Homes, 21st Mortgage Corp, Vanderbilt Mortgage and Finance.  Senator Elizabeth Warren (MA-D) and a House Democratic colleagues have spotlighted issues that arose from embarrassing negative headline creating behavior that spotlighted Last Week Tonight with John Oliver's viral hit video errantly named "Mobile Homes." As the report linked here makes clear, the common ties to each firm mentioned in Oliver's video is their tie to the Manufactured Housing Institute (MHI). That's arguably a big ouch for the Arlington, VA based trade group, and those tied to them.
Rephrased, Democrats have both opportunities and challenges, as does POTUS Trump. Numbers of Democrats have been talking antitrust for some time.  So are some Republicans, including in the Trump Administration. Democrats are talking about affordable housing.  So too are Republicans. Some of it is bipartisan, which is the ideal.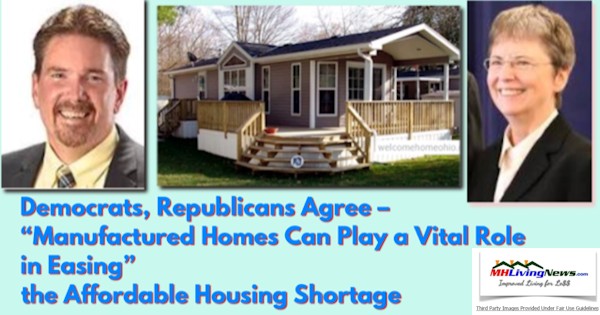 But not one has had the guts or timing – so far – to call out Warren Buffett, Berkshire Hathaway brands operating in manufactured housing by name and pointed out the obvious concerns documented below.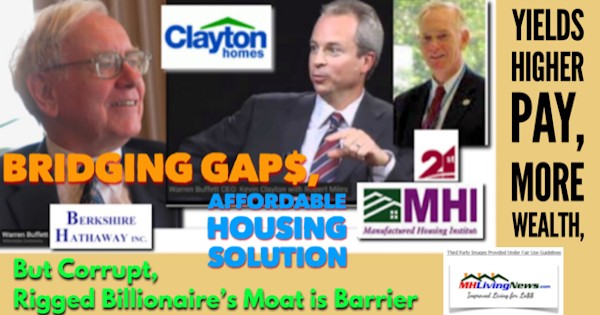 So far, no political leader has tied the problematic behavior of several firms to MHI, which is dominated by Berkshire and a few 'big boy' brands.
Crazy Like a Fox?!?
Merriam Webster defines the meaning of the adage like this: "Definition of crazy like a fox: appearing foolish or strange but actually very clever."
President Trump stoked the fires around four freshman Democrats, which resulted in a vote in the House of Representatives branding him a racist.  Republicans say that voted violated House rules that date back to Thomas Jefferson. Those 4 'radical feminists' poll poorly with independents.
Elections are decided like this.  Each major party has to turn out its own base. Presidential elections are decided by:
who has the fewest defections from their base and how many of those opposition defections can be won over – it may not take large percentages.
Who wins over the most independents.
Who has the fewest numbers among their base that decide not to vote.
In 2011, then President Barack Obama had similar poll numbers to what President Donald J. Trump has now in 2019.  President Obama had a weaker economy, but had strong support from the mainstream media, tech giants, and some of the nation's top billionaires.  Even people who disagreed with President Obama often admitted that they found him to be 'likeable.'  Those and other details on both sides of the political divide were enough for then POTUS Obama to win "four more years."
POTUS Trump has a strong economy. Third party research suggests he's had negative media about 90 percent of the time. His base is strong, and certain polling suggests he's rising among minorities in acceptance. To charges of racism that he dismisses, his defenders point to a series of prominent blacks and Hispanics that say it just isn't so. Despite his history of being a womanizer, that hasn't separated him from even the Evangelical Christian part of his base. No tax returns? No problem with his base. He's not delivered on 'the wall,' but he has worked at it.  He's not completed major trade deals, but is working at them, plus the economy is strong even while those are pending.
There is a lot of political theater at play on both sides of the left-right aisle.  Love him, hate him, or the few that are in the middle about the president, 45 is good at staying in the spotlight. He's adept at spinning an attack on him as a counterpunch at his opponents.
If you haven't watched a Trump campaign rally, there is no way to understand him without doing so. Last night's campaign event is posted below. There are several versions of the rally in NR last night, this one already has over 500,000 views. We watched on CSPAN.
The people in the background behind the speaking president in the video will be seen smiling, laughing, pointing and talking.  Unlike some campaigns, which 'stage' the people behind the speaker, Trump rally attendees have to stand in line for hours and for the most part it is reportedly first come, first served seating.
No one on the left at this time on the Democratic side has crowd sizes like President Trump's.  Industry marketers, take note. Whatever your view of his policies, thinking wheat and chaff, you will see that the president is both an educator and a showman.  Our industry needs both, but that is another story for another time.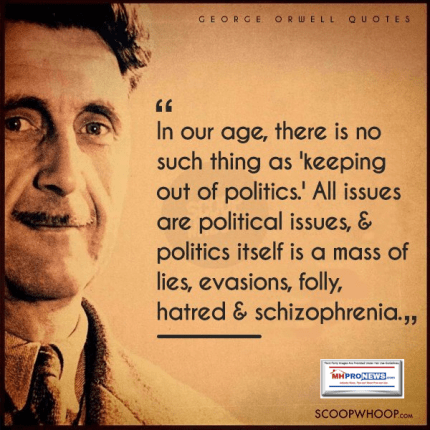 Former VP Joe Biden – the current leader in Democratic polls – might make it to the nomination, but it frankly seems unlikely. Former first lady Michelle Obama dismissively said that they would not weigh in to support the 44th president's own former VP. Ouch. There is no energy in that campaign. Whatever one thinks about AOC, she's basically dismissed Biden.  Her support lies elsewhere for 2020.
The greater energy seems to be around Senators Kamala Harris, Elizabeth Warren, and Bernie Sanders, the later of whom has faded a bit, while the other two rose.  Former HUD Secretary Julian Castro has had some good reviews, but is still not in the top tier of candidates.  There is a lot to watch on the left. Billionaire Tom Steyer is proof that the possible candidates who may jump in. Periodic word is heard, despite denials, that Michelle Obama might run. If not, it is big bucks in the private sector that may make the prior occupants of 1600 Pennsylvania Ave from being disinterested in Michelle O jumping into the 2020 race.
While Democrat Starbucks founder billionaire Howard Shultz has backed away from an independent run for the White House, if the party he believes in goes far enough left, who knows?  He or another – there are others on the radar pondering an independent run – may jump in.
It will be a wild ride.  We're not saying at this stage who will win or lose, but we will note that despite the polls that say that President Trump would lose to any Democrat, Thomas Friedman has a point. Americans recall that in 2016 the polls suggested that it was going to be Madam Secretary Hillary Clinton who would win the race to the Oval Office. Now, she's yesterday's news.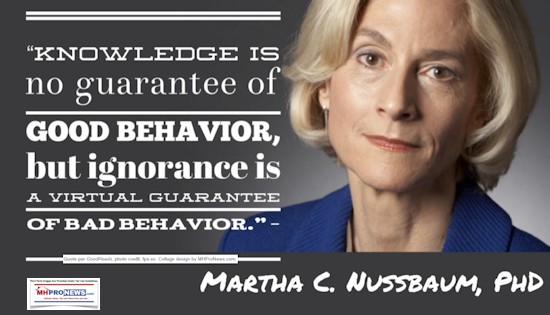 Why It Matters to MHVille
This matters to the industry on several levels. Financing, antitrust, affordable housing, zoning, placement, regulatory issues – numerous issues are on the table.  Enforcing existing laws ought not be political issues or any issue, but in fact they are. The industry may at times think that it is 'picked on' for failure to enforce existing laws, but it happens more than many realize.  Prime examples are the border/immigration and antitrust laws, ignored by both major parties for some 16 years prior to the start of the Trump Administration.
For manufactured housing, failure to enforce:
Federal Housing Finance Agency (FHFA) and the Duty to Serve (DTS) manufactured housing and other underserved markets were made law under the Housing and Economic Recovery Act (HERA) of 2008. Director Mark Calabria is still new on the job at the FHFA. Will he force more than the GSEs doing a toe in the water, as Berkshire and MHI both want? See more, linked here.
Housing and Urban Development (HUD) Secretary Ben Carson has arguably done more in 2 years than any predecessor in the 21st century to promote manufactured homes. That said, he has not yet acted on enhanced preemption made law by the Manufactured Housing Improvement Act (MHIA) of 2000. The 'establishment' or the 'deep state' at HUD has failed to intervene in most, but not all, purported violations of enhanced preemption for years.  Democratic lawmakers called that out years ago.  But who will force actual action in implementing the federal preemption or other overlooked/ignored aspects to the MHIA?  See link here and more below the byline in related reports.
FHA Title 1 reform of the 10/10 rule gets some attention by MHARR. But there are also opportunities for Title II lending – even on leasehold, not just fee simple – that could apply to manufactured housing with modest tweaks. Those tweaks on Title II may or may not be doable by regulatory fiat. There are also financing programs that are getting virtual no attention. MHI and their big boy backers, for whatever reasons, is effectively ignoring all of those.
Antitrust law, RICO, and other purported violations of IRS nonprofit and other regulations.
So, there are several unenforced laws at play.  It isn't just manufactured housing.
Some mainstream media coverage has shed light on these topics, often – but not always – citing manufactured housing's Clayton Homes and their lenders as examples. The views on this next news video dwarfs several of those by MHI combined.
Head fakes by Buffett and the Berkshire brands may not be per se illegal.  But if MHI is claiming to be working to advance the cause of manufactured housing, and is 'failing' to do so, that could be legally problematic on several levels for MHI staff and the association too, per informed sources.
Time will tell if the Trump strategy of dealing with a largely, but not entirely, hostile media will work on Election Day 2020. Time will tell if Democrats repeating impeach, racist, and Russian collusion will play with enough voters at the polls. Much can happen between now and then.
Much will occur that can't be known until it happens.  But 'Teflon Don' has escaped trap after trap laid by his opponents for some 4 years.  You can see the president getting stronger as he grows into his role. Jake Tapper on CNN, no fan of the president, said that the POTUS Trump has won this last round of the routine drama in Washington, even as the House Democrats voted to denounce him. It is complicated, but it is arguably craziness like a fox.
It is the art of the deal.
It is nevertheless a jump ball. Each side has their tools and tactics. Who wants it most?  And from the perspective of MHVille, who will do the smartest outreach on the various issues that matter to millions of voters among the 22 million who live in our industry's homes and the manufactured home industry's professionals, advocates, and investors?
That's this morning's installment of "News Through the Lens of Manufactured Homes, and Factory-Built Housing" © where "We Provide, You Decide." © ## (News, commentary, fact-checks, and analysis.)
(See Related Reports, further below. Text/image boxes often are hot-linked to other reports that can be access by clicking on them. Third-party images and content are provided under fair use guidelines.)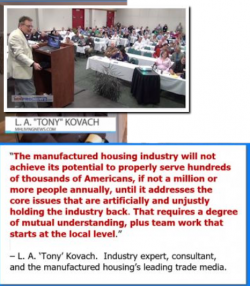 By L.A. "Tony" Kovach – for MHProNews.com.
Tony earned the Lottinville Award in history from the University of Oklahoma. He has earned multiple awards in manufactured housing and in history. He's a managing member of LifeStyle Factory Homes, LLC, the parent company to MHProNews, and MHLivingNews.com.
Office 863-213-4090 |Connect on LinkedIn:
http://www.linkedin.com/in/latonykovach
Sign Up Today!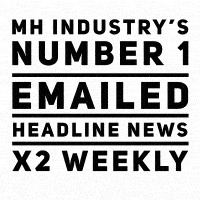 Click here to sign up in 5 seconds for the manufactured home industry's leading – and still growing – emailed headline news updates.
Related References:
The text/image boxes below are linked to other reports, which an be accessed by clicking on them.
What Are Federal Officials Researching About Manufactured Housing?
In a truly free enterprise system, various needs are identified. Then a means of profitably yet honestly serving those needs are established. Ideally, both the customer and product/service benefit. The happy customer(s) then tell or send their friends. That pattern repeated often enough yields success. For millions, perception is reality.
George Orwell, All Issues Are Political Issues, Manufactured Housing Challenges, and You