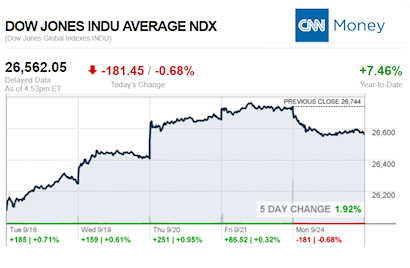 Fuel costs are an important element to manufactured housing transportation. Domestic drilling is another tie-in with factory-built housing.  OPEC is the "Organization of the Petroleum Exporting Countries." The OPEC cartel is primarily Middle Eastern. As fracking has made the U.S. rival Saudi Arabia and Russia in oil production, OPEC has a strategy on oil.  New insights on a developing issue with big oil will be our focus for this evening.
If you're new, already hooked on our new spotlight feature – or are ready to get the MH professional fever – our headline report is found further below, after the newsmaker bullets and major indexes closing tickers.
The evolving Daily Business News market report sets the manufactured home industry's stocks in the broader context of the overall markets.  Headlines – at home and abroad – often move the markets.  So, this is an example of "News through the lens of manufactured homes, and factory-built housing." ©
Part of this unique evening feature provides headlines – from both sides of the left-right media divide – which saves busy readers time, while underscoring topics that may be moving investors, which in turn move the markets.
Readers say this is also a useful quick-review tool that saves researchers time in getting a handle of the manufactured housing industry, through the lens of publicly-traded stocks connected with the manufactured home industry.
This is an exclusive evening or nightly example of MH "Industry News, Tips and Views, Pros Can Use." © It is fascinating to see just how similar, and different, these two lists of headlines can be.
Want to know more about the left-right media divide from third party research?  ICYMI – for those not familiar with the "Full Measure," 'left-center-right' media chart, please click here.
Select bullets from CNN Money…
Landmark deal will create the world's biggest gold miner, worth $18 billion
Corporate America, not banks, could cause the next recession
Michael Kors could buy Versace in $2 billion deal
Tiger Woods' victory came with ratings spike for NBC
SiriusXM is buying Pandora in a $3.5 billion deal
Sky shareholders cheer Comcast's $40 billion knockout bid
How a Romanian refugee-turned-CEO found the American Dream
Google CEO: 'We do not bias our products to favor any political agenda'
Amazon wants Alexa everywhere
Trump's trade war with China just got a whole lot bigger
Pot company CEO expects the American market to open up
RELIABLE SOURCES
Kavanaugh calls allegation in New Yorker story a 'smear'
Walmart discriminated against pregnant workers, federal agency says
Walmart is where the trade war comes home
The trade war reaches Procter & Gamble — and into the medicine cabinet
Comcast outbids Fox for Sky
The CEO of one of India's biggest banks is being forced out
Google discussed promoting pro-immigration search results
China just blocked Amazon's streaming service Twitch
The disappearing White House press briefings, explained
GoPro shoots for a comeback
Apple's newest iPhones are the best yet. But do you need them?
Google still lets third-party apps scan your Gmail data
GE's turbine troubles raise more red flags
Satellite captures space junk for the first time
How maggots made two brothers millions
Don't cut up your credit cards yet — or sell MasterCard, Visa and AmEx
Trump administration makes it easier to fight for tariff exemptions
Retirement planning mistakes you probably don't realize you're making
President Trump helps out Fox's Sean Hannity before rally
AT&T brings Trump back into Justice Department's antitrust case
Disney CEO Bob Iger says there will be a 'Star Wars' slowdown
Team Trump says NBC News edited Holt's exclusive interview. Here's the truth
Farrow in, Moonves out: #MeToo reshapes list of Hollywood's most powerful
Growing theories about Amazon's HQ2 winner
Your living room was just the beginning for Alexa
How Amazon plans to battle Walmart in India
Amazon is now the third-biggest ad platform in the United States
Gap challenges Lululemon with a men's athleisure line
Prosecutors weigh charges against JD.com founder Richard Liu
Select Bullets from Fox Business…
Goldman Sachs' lavish spending on Lloyd Blankfein's post-CEO office sparks debate among employees
Most women make this crucial financial retirement mistake
Stocks fall amid Deputy AG Rosenstein drama
These products will now cost more due to the US-China trade war
What Jimmy Garoppolo's knee injury means for his $137.5M contract
America's shale boom may have a shelf life
Companies that are most attractive to students
The slippery slope of assuming Kavanaugh is guilty: Regan
Weight Watchers changes its name, shifts focus
Tiger Woods may get calls from old sponsors following first win in years
Five financial moves to make this fall
Taxpayers' heightened IRS penalty risk may continue through 2020
The agency won't release a new W-4 form next tax season.
Americans' credit scores hit all-time high
Sears CEO hopes to avoid bankruptcy, pushes rescue plan
SiriusXM to acquire Pandora in $3.5B deal
Will Michael Kors make Versace cheaper?
Uber, Lyft drivers earning half of what they did in 2013: Study
Michael Jordan makes two enormous donations to Hurricane Florence victims
Snap, Amazon partner on in-app shopping feature
As aid checks go out, farmers worry bailout won't be enough
How women who retire with their husbands often lose out
Here's the newest technologies for seniors and their homes
IRS warns some retirees at risk of tax penalty: What to know
Colorado meatpacker recalls ground beef after E. coli death
Nissan recalls cars, SUVs due to risk of fire
Hurricane Florence poses mental health issues for 'years ahead': HHS Secretary
Today's markets and stocks, at the closing bell…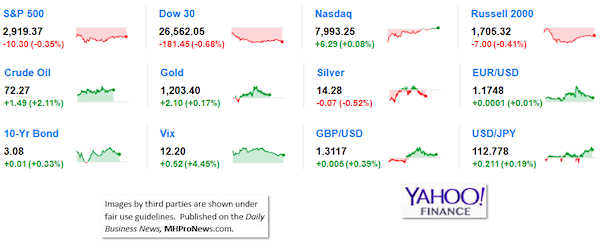 Manufactured Housing Composite Value (MHCV)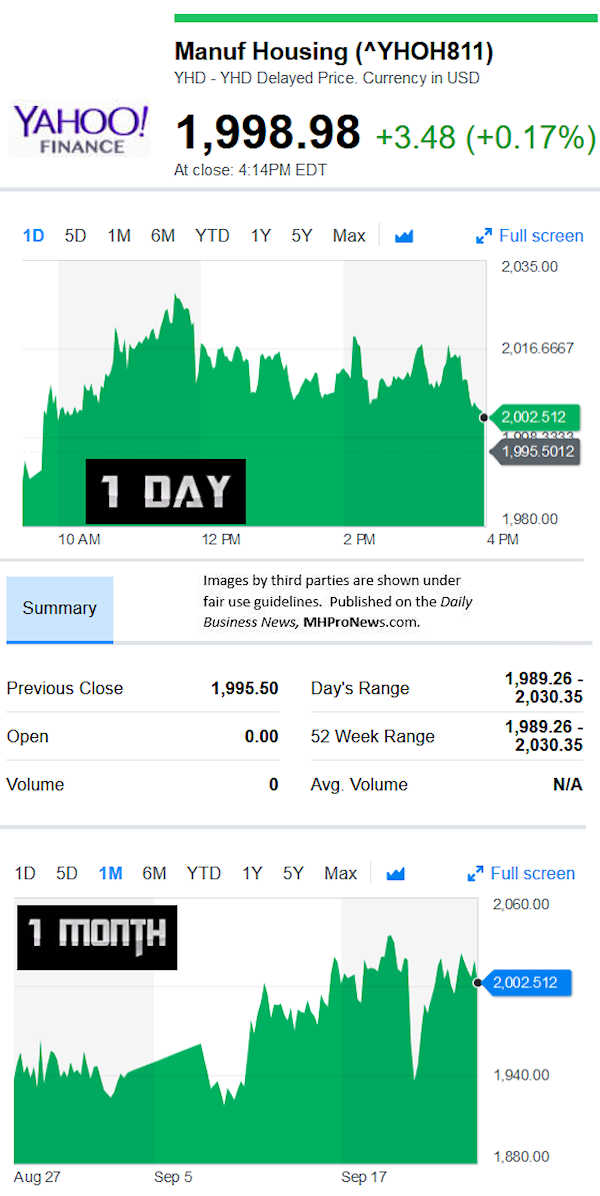 Today's Big Movers
For all the scores and highlights on tracked manufactured home connected stocks today, see the Bloomberg graphic, posted below.
Today's MH Market Spotlight Report –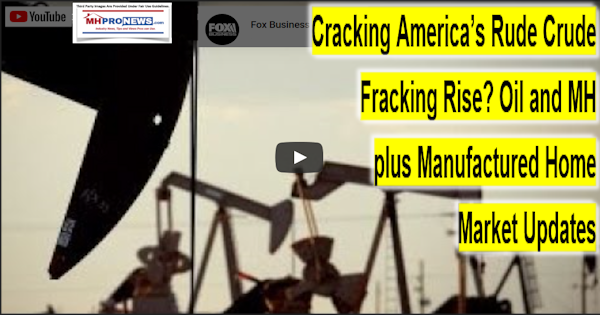 President of the United States (POTUS) Donald J. Trump has been tossing around the word "monopoly" more and more this year.  This time, his focus is on oil, OPEC, and his complaint that they're propping up prices. 
OPEC projects that "the strongest annual increases are seen in the near-term, in which total U.S. tight oil increases by an average of 1.4 million barrels a day" annually from this year to 2020, says Fox Business.
OPEC leaders believe that there is a definable window for U.S. oil production. Their organization says shale oil production will peak by the late 2020s. OPEC's forecast is for U.S. shale growth to peak at 14.3 million barrels a day between 2027 and 2028.  They then project it will fall to an average of 12.1 million barrels a day by 2040.
The U.S. Energy Information Administration (EIA) also expects domestic crude oil production to increase over the next five years.  They then say it will flatten after 2022, staying at about 11 million to 12 million barrels per day through 2050.
Of course, much can occur between now and then.  Fracking emerged in the last decade to reignite American oil production.  Other technologies can emerge in the window of time noted above too. But among the takeaways from this is that even our 'allies' and international 'friends' monitor and make plans on how to outplay the U.S., just as OPEC did for much of the 1970s through the mid-2010s. The U.S. spies on other nations, including friends, and they spy and do their research on America too.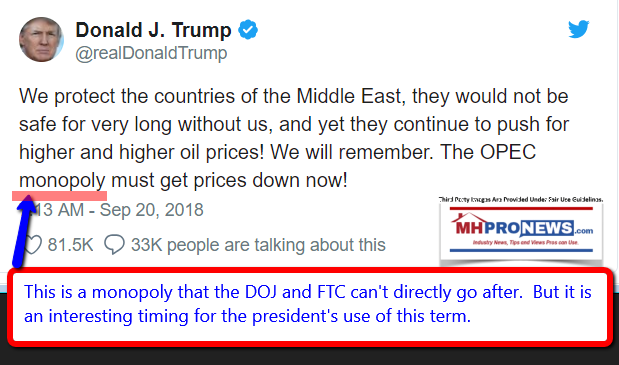 Let's close on the POTUS Trump tweet, and provide a link back to what is developing domestically on the anti-monopoly issue.
Related Reports:
Draft EO for Trump Administration AntiTrust Order Obtained by MHProNews
Bloomberg Closing Ticker for MHProNews…
NOTE: The chart below includes the Canadian stock, ECN, which purchased Triad Financial Services.
NOTE: The chart below covers a number of stocks NOT reflected in the Yahoo MHCV, shown above.
NOTE: Drew changed its name and trading symbol at the end of 2016 to Lippert (LCII).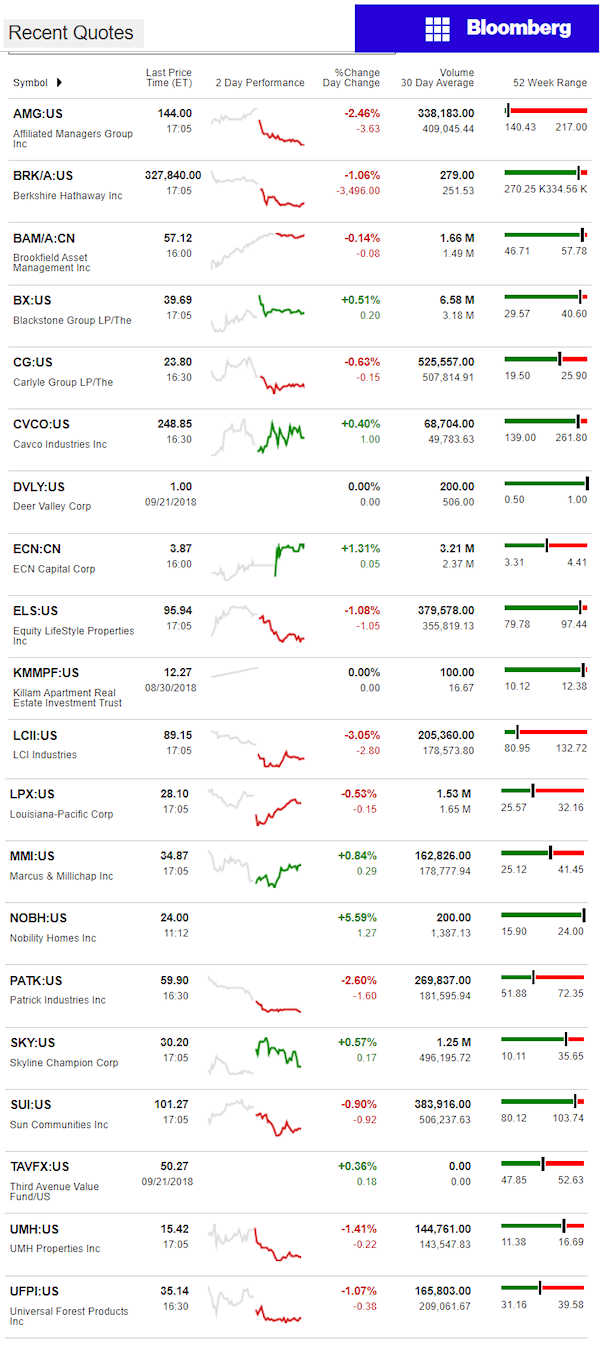 Berkshire Hathaway is the parent company to Clayton Homes, 21st Mortgage, Vanderbilt Mortgage and other factory built housing industry suppliers.
LCI Industries, Patrick, UFPI and LP all supply manufactured housing.
AMG, CG and TAVFX have investments in manufactured housing related businesses.
Your link to industry praise for our coverage, is found here.
For the examples of our kudos linked above…plus well over 1,000 positive, public comments, we say – "Thank You for your vote of confidence."
"We Provide, You Decide." © ## (News, analysis and commentary.)
(Image credits and information are as shown above, and when provided by third parties, are shared under fair use guidelines.)
Submitted by Soheyla Kovach to the Daily Business News for MHProNews.com.