"Manufactured home communities have a long history of providing low-cost housing in the U.S., where residents drive their homes in, secure them, and pay a monthly rent to stay on the owner's land. These homes are typically the least expensive option when it comes to unsubsidized housing, serving households with a median annual income of about $30,000," wrote Hallie Golden, in a new article for CityLabs. 
Golden – a freelance writer, who per LinkedIn does some work for the AP too – is the most recent to look at the topic of manufactured homes, land-lease communities, specifically through the lens of cooperatives as a form of resident owned communities (ROCs).
Golden's story – and the majority of others through the years in mainstream media and third-party research – is readily categorized as positive, at least for ROC USA. Here's how Golden opened her report,
"When a landlord sells a mobile home park1, it can upend an entire community. Through co-ops, residents are finding a way to stay where they live and control their rent costs."
It's frankly a common theme in academia, and in mainstream media reports.  That point about "insecurity" for manufactured home owners in a land-lease is often played up by Prosperity Now (formerly, CFED), or resident activist groups such as NMHOA, and MH Action.
Golden cites Jim Wallace, a resident in a community who she says is "now a 71-year-old retired manufacturing engineer." "I was doing some pacing on the floor," said Wallace, when the community he lived in for years was about to be sold by its owner.
"I was doing some pacing on the floor," said Wallace.
Per CityLab's account, "Wallace and the other members of the 25-home community had a plan. For years, the residents had wrestled with the fact that they have little to no say in the park's long-term future. So in July, they wrote a letter to the landlord, expressing their concern. "We wanted assurance that our homes would be safe for us to enjoy in the future," said Katy Bowen, president of the Duvall Riverside Village's board of directors and one of its residents. The next month, the landlord sent them a letter offering to sell them the property."
"They formed a co-op, got a loan, and bought the 4.5-acre land, about 25 miles northeast of Seattle, for $1.18 million," said Golden. "With that, they officially became Duvall Riverside Village."
Golden's story references the Manufactured Housing Institute (MHI) on a factoid that's likely accurate. Namely, that the average income of a mobile or manufactured home owner hovers around $30,000.
But her CityLab report also references some other claims, including from Apartment List, which published a report that's a mixed bag of accurate and problematic data. Golden's figure on the number of communities comports with no known source, so perhaps she split the difference between what MHI and a source like "Frank and Dave" use.  As she put it: "an increasing number of approximately 40,000 mobile home communities1 in the United States have opted to take landlords out of the equation."
Frank Rolfe, Dave Reynolds, George Allen, Manufactured Home Community Controversy Continues
That may be technically true, but if someone reads that as if there is a wave of ROCs, that's not true. ROC USA's president, Paul Bradley, has told MHProNews that they can convert roughly 15 communities a year as they are currently configured.  Would they like to do more?  In time, of course.
By the way, Mike Bullard told MHProNews today that they attempt to educate those they speak to about the proper terminology.  He also said that crane's are obviously rarely used in the moving of a HUD Code manufactured home.
Here's part of how Golden reported, "Owners [of manufactured homes] also must be able to afford the $5,000 to $15,000 price tag that may be needed to move the structure. Bullard said the process involves a crane and a truck, and often additional vehicles to escort the oversize load."
Why the ROC Articles Matter, Lessons Learned?
The industry faces a real image issue that MHI and thousands of others in our industry have arguably only put their toe in the water on addressing.
Consider the comment below, posted on Golden's article:
"Gary_Gilmore: "The housing solution that no one wants. No developer wants this – no profit. No architect wants it – no glory. No neighbor wants this – too much drain on the tax base."
Almost every word of the above is demonstrably inaccurate.  But there's plenty of evidence that there are millions who believe similarly.  Until MHProNews posted a reply, that statement went unaddressed.  Why?
Moving on, ROC USA has for years had overwhelmingly positive media. While they are at times misunderstood within the industry, that's perhaps due in part due to the action of groups apart from ROC – like NMHOA or MHAction. When they demand ROCs, people believe they must be in cahoots with Bradley's group.
There's evidence to the contrary, like Bradley's reply to the rent control issue.  As the commentary linked below from Bradley to MHProNews reflects, his view on rent control is hardly the position of NMHOA or MH Action.
Fair and Balanced on CFED – View On Rent Control, Letter to Editor by ROC USA President, Paul Bradley, on security for manufactured home community residents,
So beyond the industry, where some totally get Bradley and company's vision, and others don't (joke – welcome to that club), ROC USA is widely admired.  Try to find a negative article in mainstream media that includes ROC USA.
You'll be hard pressed to do so.
ROC isn't the only one that gets positive media, but consider how often the industry gets negative media. Each one of those stories – good, bad or meh – are wake-up calls for manufactured housing professionals.  Just consider the series of largely negative stories on Clayton Homes in the Seattle Times, Buzz Feed and others.  While Clayton gets positive media, those are often fawning fans of Buffett who are bragging about their latest acquisition of a site builder.
The bottom line is that ROC USA is a bright spot for the industry's story, but they shouldn't be the only one.  There are, as Bradley has told MHProNews, numbers of good community operators who safeguard resident interests.
Bradly has also encouraged that the industry clearly define land lease communities that protect resident tenancy, and those who may sell out for redevelopment.
Promoting Manufactured Home Ownership – With "Only 1 in 100 Eaten by a Lion" Op-Ed Paul Bradley, ROC USA on the Aurora CO Denver Meadows MH Park, Community Closure,
It's the kind of advice that professionals should consider, because it comes from a voice that has carved a positive name for their brand in an often unjustly dismissed industry. Perhaps the new communities association that is being formed will take on this issue? Doing so well is arguably worth tens of billions of dollars in more revenue for the industry every year.  "We Provide, You Decide." © ## (News, analysis, and commentary.)
Footnote 1 Typo or terminological error is in the original. For a better understanding of industry terminology, click here and here.
Related Reports:
"Why Advocates Need to Rethink Manufactured Home Quality," Harvard, GSE, Genz, "High Satisfaction"
Good News With Harmful Twist, Anti-Community Owners MHAction Activist Grabs Headlines
New Manufactured Home Industry National Association Related Statements
'Tip of Iceberg' – Rick Rand; Marty Lavin, Communities have 'No Confidence' in Manufactured Housing Institute, New National Trade Group Announced
"Trailers for Sale or Rent," "Pencil Head, Its Not a Trailer Park," Manufactured Home Rental Reality Checks
1) To sign up in seconds for our MH Industry leading emailed news updates, click here.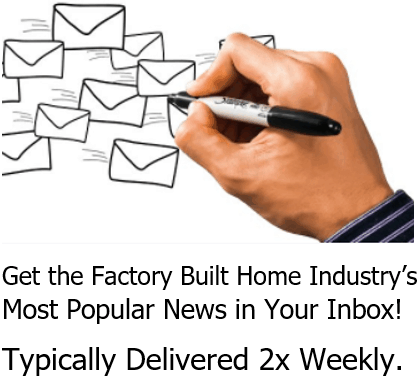 2) To provide a News Tips and/or Commentary, click the link to the left. Please note if comments are on-or-off the record, thank you.
3) Marketing, Web, Video, Consulting, Recruiting and Training Resources
Submitted by Soheyla Kovach to the Daily Business News for MHProNews.com. Soheyla is a managing member of LifeStyle Factory Homes, LLC, the parent company to MHProNews, and MHLivingNews.com.