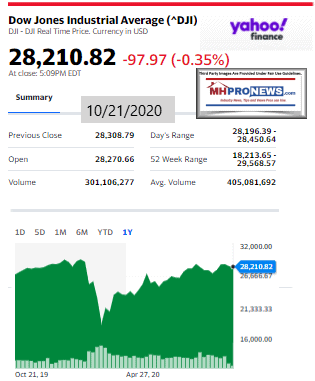 On 10.20.2020, Seeking Alpha published a rather glowing report on Nobility Homes (OTC:NOBH).
Beyond the non-uncommon errant mix of terminology by Seeking Alpha on the terms mobile and manufactured homes, the report spotlights several strengths their writer underscored. As many industry readers know, there has been no mobile homes built in the U.S. since June 15, 1976, despite that common misuse of that term.
The 5 year track, per Yahoo Finance, of NOBH stock is shown below.
This evening's featured focus is found following tonight's quotable quotes, the left-right headlines, and two of our three market snapshot graphics at the closing bell today. The final market graphic that summarizes over a dozen manufactured housing industry connected stocks at the closing bell follow the featured focus, recent and related report links.
Quotes That Shed Light – American Social, Industry, National Issues…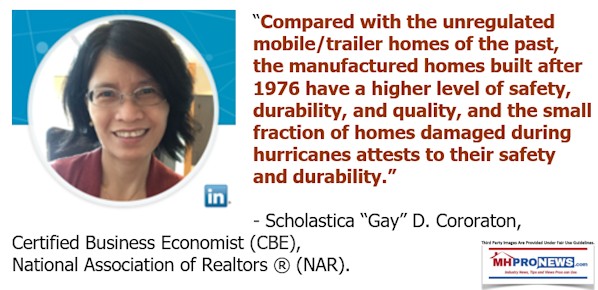 Headlines from left-of-center CNN Business
Warning to Wall Street
NEW YORK, NY – OCTOBER 28: Sir Richard Branson, Founder of Virgin Galactic, poses for photographs  before ringing a ceremonial bell on the floor of the New York Stock Exchange (NYSE) to promote the first day of trading of Virgin Galactic Holdings shares on October 28, 2019 in New York City. Virgin Galactic Holdings became the first space-tourism company to go public as it began trading on Monday with a market value of about $1 billion.
Reverse mergers are the hottest way to go public — but they may be out of control
Tesla posts record profit and says it will sell half a million cars this year
Big Tech is under pressure. Here's where to find growth
LIVE UPDATES Wall Street really wants Congress to pass a stimulus package
Opinion: Why the US economy won't gain any traction until 2021
Bitcoin surges after Paypal jumps into the cryptocurrency business
Stephen Colbert moved to tears by Dolly Parton's voice
The 'Code Red' scenario for Google
Sam's Club is putting robot janitors in all of its stores during the pandemic
The pandemic is speeding up automation, and 85 million jobs are on the line
Tesla's Shanghai Gigafactory will play a bigger role in its global ambitions
A mask startup is rapidly expanding into empty mall stores
How to get along with your boss while working remotely
AOC plays video game on Twitch to encourage voting
Bottles of Purdue Pharma L.P. OxyContin medication sit on a pharmacy shelf in Provo, Utah, U.S., on Wednesday, Aug. 31, 2016. A Nov. 2015 forecast from health data firm IMS Health expects global sales of brand and generic prescription drugs, and nonprescription medicines, to total $1.4 trillion in 2020.
OxyContin maker will plead guilty to criminal charges, pay $8 billion and close the company
S. flags fly half-mast in front of the New York Stock Exchange (NYSE) in New York, U.S., on Friday, Oct. 2, 2020. New York faced pressure as middle and high schools reopened, infection rates in virus hot spots rose further and the city's bond rating was cut by Moody's.
Wall Street could call the 2020 election before the media does
The Hummer is making a comeback — and this time, it's all-electric
Headlines from right-of-center Fox Business
MARKETS
How declining unemployment may benefit Trump in this key state
The state's unemployment rate in September fell to 4.7%, the fifth-lowest in the country, after topping out at 11% in April.
US retail sales grow for 5th month in a row
MARKETS
Volatility hits stocks on stimulus wait, 10-Year Treasury hits 5-month high
POLITICS
Democrats block Senate GOP's skinny stimulus bill, negotiations continue
POLITICS
Trump admin touts signing up 700 state, local leaders for 'drain the swamp' initiative
OPINION
Joe Biden's 7 deadly economic sins: Stephen Moore
SAFETY NET
PERSONAL FINANCE
Workers look to Social Security for retirement as coronavirus hits savings
TRIAL AND ERROR?
HEALTH
Volunteer in AstraZeneca coronavirus clinical trial dies, report says
HOWDY, NEIGHBOR
TECHNOLOGY
Facebook testing 'Nextdoor'-like feature called Neighborhoods
HEFTY HOME OWNERSHIP
LIFESTYLE
Black homeowners pay astonishingly more on mortgages study shows
TOO POLITICAL
LIFESTYLE
Scott Baio rips John Stamos, 'Happy Days' reunion: 'Marxist crap'
MAJOR FRAUD
CRIME
Man uses $2.5M in PPP loans to purchase plane, luxury car: Prosecutors
NOT SAFE FOR WORK
LIFESTYLE
Former waitress suing employer after sex tape is shared among staff
'DEVASTATING IMPACT'
AIRPLANES
Another airline cuts thousands of jobs
TAXING 'EM DRY
POLITICS
Is Arizona trying to be the next California with new tax proposal?
LIFESTYLE
Tesla-fighting GMC HUMMER EV debuts
LIFESTYLE
Notorious B.I.G. releases posthumous freestyle in partnership with Pepsi
FOOD & DRINKS
Taco Bell to honor free taco deal after base is stolen during first game of World Series
RETAIL
Amazon debuts 1-hour grocery pickup at Whole Foods stores nationwide
REAL ESTATE
$14M home is most expensive new build sold in Florida Panhandle
LIFESTYLE
Here are the fastest-growing jobs in every state this year: report
SMALL BUSINESS
Applying for PPP forgiveness? Here are some things to know
FOOD & DRINKS
Papa John's founder says company is in trouble once pandemic ends–here's why
SPACEX
SpaceX is rapidly growing its Internet satellite business
AIRPLANES
Delta CEO says airline will continue COVID-19 middle seat policy 'well into next year'
LIFESTYLE
How the pandemic has accelerated the next generation of farming
ECONOMY
Biden's tax plan could create rates as high as 62% in these states
HEALTHCARE
FedEx is ready to bring COVID-19 vaccines to your door
BUSINESS LEADERS
Buffett's firm hit with multimillion dollar fine for subsidiary's Iran sales
RETAIL
Amazon says employees can work from home a little later
SOCIAL MEDIA
Zuckerberg: Facebook will restrict less content after US elections
FOOD & DRINKS
Dunkin', Wendy's spice things up in Twitter battle
VIDEO
Kennedy: Biden wants to 'hose rich and restless' with tax hike
POLITICS
2020 presidential election ballots cast so far
Market Indicator Closing Summaries – Yahoo Finance Closing Tickers on MHProNews…
Featured Focus –
Where Business, Politics and Investing Can Meet
From Seeking Alpha, is the following report.

Nobility Homes Is Cash-Rich With 54% Upside
Oct. 20, 2020 6:22 AM Nobility Homes, Inc. (NOBH)
Summary
Large cash balance with no debt gives them staying power.
In the long term, they are a likely COVID-19 beneficiary as rural detached housing becomes more attractive at the same price point as urban apartments.
Aligned owner-operator management that treats outside shareholders fairly with good capital allocation.
54% upside to my price target.
Nobility Homes (OTC:NOBH) is a builder of mobile and manufactured homes based in Florida. The company is very conservatively financed, and trades at a low valuation. There are also a number of potential benefits to the firm coming out of the COVID-19 pandemic. Given their extremely strong balance sheet and continued profitability through the pandemic, their continued viability is not in doubt.
Operations
The company has one manufacturing facility (which they own) in Ocala, Florida. This facility is on 35.5 acres straight west across the state from Daytona Beach, about 1.25 hours NW of Orlando. They claim they can be cost-competitive delivering homes within 350 miles of their location, an area which includes essentially the entire state of Florida. Significant portions of Alabama, Georgia, and South Carolina would be within that radius as well, but they have no sales facilities in those states and most sales are within Florida. They operate 10 sales facilities (of which they own the real estate for six) all of which are within Florida, which is how they make the majority of their sales. This vertical integration allows them more control over their operations compared to many smaller manufacturers, who often sell through independent dealers.
Based on the reported area of land owned by the company, the large wooded area and the grassy areas surrounding their plant are all excess land that they own. While I'm not going to add a separate value for this land, it is worth noting that it would be available to expand their operations should they choose to do so. It probably could also be sold, and they have a history of selling underutilized real estate assets in the recent past, so that is a possible small catalyst.
Market Proposition
The market proposition for mobile and manufactured housing has always been that it is less costly than site-built housing. There are a few reasons for this – one is the efficiency of assembly line style production. The tradespeople involved can quickly switch from one dwelling to the next, and do their work in an enclosed, climate-controlled area. That improves their productivity. There are also quality differences. Nobility's website has a list of their quality enhancements over minimum standards, but they still use 2×4 wall studs. Site built construction would normally use 2×6 studs. This is just an example of a quality difference, and for most people it probably wouldn't be noticeable on any individual difference. The price difference is noticeable, with models ranging from $38,195 for a single wide trailer style unit to $121,895 for a five-bedroom, 2650 square foot model. Their average retail sales price in 2019 was in the middle of that range at $84,217. The biggest obstacle to sales is likely consumer acceptance of mobile homes, which have a checkered reputation. The company sells primarily to those looking to place a home on their own land and to retirement communities in Florida, which probably helps with the "trailer park" reputation of mobile homes at least somewhat.
Vertical Integration and Competitive Advantage
I mentioned previously that I believe their vertically integrated model likely provides a competitive advantage. In most cases, mobile home manufacturers sell their products to independent dealers, and ship them to the dealer's lot. Then the dealer ships the home again to its final destination and hooks it up. Because they own their own dealers, they use model homes at each dealership and ship directly from the factory to the customer's site. That saves shipping the house once, which is substantial cost savings, and very relevant on a product that is generally a low-priced alternative. Their retail sales model also helps them manage inventory. Because they largely manufacture based on orders, they are less likely to need to mark down stale completed-home inventory, which helps their margins. Finally, because of their strong balance sheet they are not dependent on floor-plan financing to finance their inventory, which reduces finance costs compared to independent dealers.
The company is also vertically integrated in other ways. They run an insurance agency out of their retailers which helps their clients insure their purchases. While this isn't a big line of business for them, I think the convenience offered to the customer probably adds value and helps convert prospects to sales. They also have a joint venture with a mortgage company to offer mortgages on their products. This venture isn't very large, and they don't consolidate it as they aren't in control and don't guarantee the loans. That said, another source of financing is a benefit to their customers, as mobile homes can be hard to finance (they are often financed as vehicles versus real estate). I think these integrations allow them to offer a better value proposition to their customers, which enhances their competitive position and provides a small moat.
Valuation
The company has an exceptionally strong balance sheet. As of their most recent quarterly report, they had over $27 MM in cash and CDs, and another $4 MM in short term investments and cash surrender value of life insurance. The company has no debt, and doesn't even pay fees to maintain a line of credit. Given they own a significant amount of real estate, and have $10 MM in inventory, their capital structure is very conservative.
That said, their capital allocation is at least reasonable. The company has been paying out significant dividends, and has also been buying back stock. They paid a $3.6 MM dividend in 2019, and bought back $4.6 MM in stock, so they returned the majority of their $8.8 MM in earnings to shareholders in the year. They paid the same dividend ($1 per share) in 2020. They have historically paid a small dividend in March, but have now paid $1.00 for the last two years. If they continue that pattern, that would give the shares a 4.2% yield on their current price of $23.95. They also bought back over 5% of the company in 2019.
From a valuation point of view I think it makes sense to treat the excess cash separately from the operating business. There is $33.2 MM in cash, CDs, short term investments, and cash value of life insurance. They have no debt, and other current assets significantly exceed total liability, so they probably don't need much of that cash for working capital. I'm going to assume $30 MM is excess.
From a valuation point of view, this is a cyclical business. They had small losses in 2009 and 2010, and then a big loss in 2011 when they wrote down significant inventory. The huge overbuild of the housing bubble took demand for their product with it, and even if there is a significant recession as a result of COVID, I don't think it will be housing led. In fact, I think it is reasonably likely that low cost detached housing is a beneficiary of COVID-19, as a mobile home in a semi-rural area may seem more attractive than an urban condo or apartment dwelling at a similar price point. Thus, I think more recent earnings are a better predictor of the long-term value here than their housing bust years.
In the trailing twelve months they had $1.92 per share of earnings. Using a 15X multiple, which seems reasonable for a quality manufacturing business, gets to a $28.80 per share value for the operations. Adding the $30 MM in excess cash is another $8.26 per share or $37.06 per share. That is 55% upside to the current share price, and I think it is likely dividends and buybacks will continue here.
Management
Management here is the Trexler family which has 65% of shares, and GAMCO has another 15%. This reduces free float considerably, to the point that the average volume is only a touch over $20,000 per day, according to Seeking Alpha's Overview for the stock. That is not a huge amount of liquidity, but it is enough that most individual investors should be able to build a position using patience and limit orders. One risk is that Terry Trexler, the CEO, is 80 years old. It is hard to know how much of their success has been due to his leadership. An eventual transition to Thomas Trexler (executive VP, age 56) seems likely, and he has been a director since 1993 so he certainly has long-term experience here. Both Trexlers take modest compensation packages of ~$250,000 per year, especially considering they have control of the firm. They also take no stock options, and grant only a few thousand per year to others. All things considered, I think management seems trustworthy and aligned with outside shareholders.
Risks
The biggest risk here is probably business being affected by the COVID-19 pandemic. Earnings have been down quite a bit the last couple of quarters. While they haven't closed down at any point, foot traffic has understandably been lower in their sales centers. I suspect, however, that most of these lost sales have been deferred rather than eliminated. A haircut or lunch out that someone skips is lost forever, but a new house purchase is probably just delayed. Their concentration in Florida is probably also a risk, as that has been a hotspot for the virus recently. That said, it seems reasonable that providing low-cost detached housing won't be harmed in the long term by this, and may actually benefit.
There are also risks related to liquidity and management control, which I've covered above. I think management appears to be treating shareholders fairly, and doing a good job managing the business. This seems like a chance to tag along with quality owner-operators.
Another potential risk here is regulation. Manufactured housing earns a significant portion of its market share by being cheaper than site-built housing. While some of that benefit is due to efficiency in the process, some of it is due to lower standards. If the regulator (HUD) chose to materially increase the construction standards for manufactured housing, it could hurt the position of the industry relative to site-built housing as costs would increase. I think this is relatively unlikely under the Trump administration, but possible in a Democratic administration. That said, regulations have been largely static since a big overhaul in the early 1990s under both parties in power, so I think this risk is reasonably muted. The bigger risk from a Democratic administration is probably increased corporate taxes, as the company is a cash-tax payer. That risk is shared with much of the market.
Finally, financing is a risk to the company's sales. There are relatively few lenders that finance manufactured housing compared to site-built housing. If one or more of them were to withdraw from the market that could impact the availability and cost of financing for the company's customers. That has the potential to hurt sales. They do have the balance sheet strength to finance their own sales if they had to, but that would add a different set of risks to the firm.
Conclusion
Nobility Homes is trading at a significant discount to the fair value of the firm. It is conservatively financed, and is returning capital to shareholders through dividends and buybacks. Management compensation is reasonable and they are well aligned with shareholders through significant stock ownership. The business is cyclical, but there are potential tailwinds from shifts in demand post COVID-19. Their business model and vertical integration appear to give them at least a modest competitive advantage. The company has downside protection from its large cash balances and unencumbered real estate and inventory.
Disclosure: I am/we are long NOBH. I wrote this article myself, and it expresses my own opinions. I am not receiving compensation for it (other than from Seeking Alpha). I have no business relationship with any company whose stock is mentioned in this article."
##
Nobility Homes President Terry Trexler on "Coronavirus ("COVID-19") Pandemic" Results; plus, Manufactured Housing Investing, Stock Updates
To see other reports that shed more light on Nobility Homes, see the related reports linked above and below.
SSK Communities-Flagship Communities IPO Drama Update, Nobility Homes, Inc. (NOBH) Announces Sales Earnings – Third Quarter 2020, plus Manufactured Home Investing, Stock Updates
Other related topics follow.
Danny Ghorbani Challenges Manufactured Housing Institute (MHI) Leaders on "Must-Do" Zoning, "Failed Miserably" in Placement Issues
Hopeful News! Builder Confidence Grows, Views from Mainstream and Manufactured Housing
Related, Recent, and Read Hot Reports
"Witch's Brew" of Predatory Practices – Longtime MHI Member/Attorney Marty Lavin Rips Manufactured Housing Institute, Exposes Duty to Serve Financing Stonewall
AEI's Edward Pinto, Fortune – Housing Flips Recession Script, But Trouble Looms Just Ahead – Manufactured Housing Insights
"Let This Moment Radicalize You," FBI Raids Manufactured Home to Foil Radical Plot, Gov Whitmer Blames President Trump
"More Punitive Regulatory" Regime Looms Warns New Manufactured Housing Industry Insider
Dark Money-Billionaires Buffett, Gates, Soros Funding Black Lives Matter, Antifa – Named by AG Barr in Riots, Looting – Hijacking Peaceful George Floyd Death Racial Justice Protests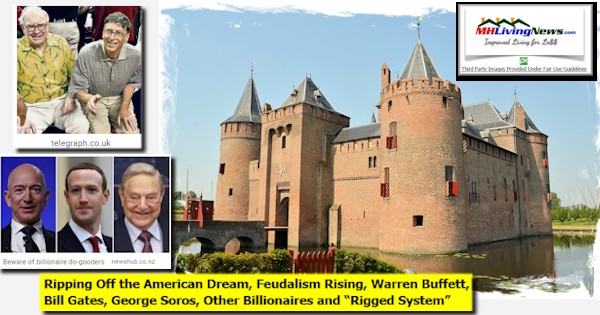 Manufactured Housing Industry Investments Connected Closing Equities Tickers
Some of these firms invest in manufactured housing, or are otherwise connected, but may do other forms of investing or business activities too.
NOTE: The chart below includes the Canadian stock, ECN, which purchased Triad Financial Services, a manufactured home industry lender
NOTE: Drew changed its name and trading symbol at the end of 2016 to Lippert (LCII).
Following Change, Manufactured Housing Institute Board of Directors and MHI Executive Committee Examined
Fall 2020…
Berkshire Hathaway is the parent company to Clayton Homes, 21st Mortgage, Vanderbilt Mortgage and other factory built housing industry suppliers.
· LCI Industries, Patrick, UFPI, and LP each are suppliers to the manufactured housing industry, among others.
· AMG, CG, and TAVFX have investments in manufactured housing related businesses. For insights from third-parties and clients about our publisher, click here.
Enjoy these 'blast from the past' comments.
MHProNews. MHProNews – previously a.k.a. MHMSM.com – has celebrated our 11th year of publishing, and is starting our 12the year of serving the industry as the runaway most-read trade media.
Sample Kudos over the years…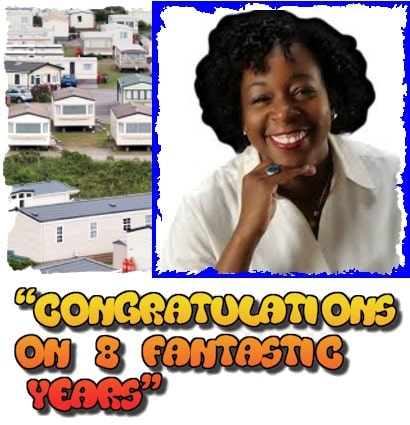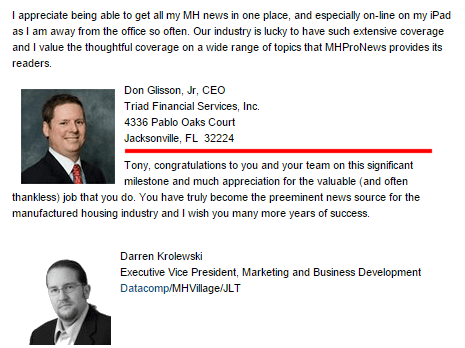 Learn more about our evolutionary journey as the industry's leading trade media, at the report linked below.
Correcting the Manufactured Housing Industry Record – Looking Back, Looking Ahead – Plus Manufactured Home Investing, Stock Updates
· For expert manufactured housing business development or other professional services, click here.
· To sign up in seconds for our industry leading emailed headline news updates, click here.

Disclosure. MHProNews holds no positions in the stocks in this report.
Evidence-Based State of the Manufactured Housing Industry, Fall 2020 Report – plus, Sunday Weekly Manufactured Home Headlines Review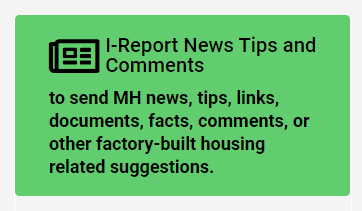 That's a wrap on this installment of "News Through the Lens of Manufactured Homes and Factory-Built Housing" © where "We Provide, You Decide." © (Affordable housing, manufactured homes, stock, investing, data, metrics, reports, fact-checks, analysis, and commentary. Third-party images or content are provided under fair use guidelines for media.) (See Related Reports, further below. Text/image boxes often are hot-linked to other reports that can be access by clicking on them.)
By L.A. "Tony" Kovach – for MHLivingNews.com.
Tony earned a journalism scholarship and earned numerous awards in history and in manufactured housing. For example, he earned the prestigious Lottinville Award in history from the University of Oklahoma, where he studied history and business management. He's a managing member and co-founder of LifeStyle Factory Homes, LLC, the parent company to MHProNews, and MHLivingNews.com. This article reflects the LLC's and/or the writer's position, and may or may not reflect the views of sponsors or supporters.