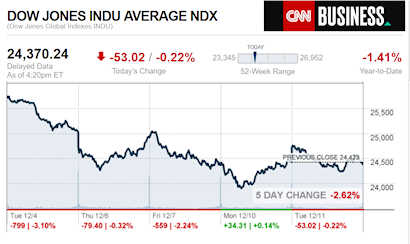 In the waning days of 2018, the political tag line in Washington, D.C. might be "It's the border, stupid." Stocks swung wildly again but closed only slightly down on a day that President Donald J. Trump apparently surprised "Chuck and Nancy" into doing an on-camera border security and wall funding debate.  That will be our focus for this evening.
If you're new, already hooked on our new spotlight feature – or are ready to get the MH professional fever – our headline report is found further below, after the newsmaker bullets and major indexes closing tickers.
The evolving Daily Business News market report sets the manufactured home industry's stocks in the broader context of the overall markets.  Headlines – at home and abroad – often move the markets.  So, this is an example of "News through the lens of manufactured homes, and factory-built housing." ©
Part of this unique evening feature provides headlines – from both sides of the left-right media divide – which saves busy readers time, while underscoring topics that may be moving investors, which in turn move the markets.
Readers say this is also a useful quick-review tool that saves researchers time in getting a handle of the manufactured housing industry, through the lens of publicly-traded stocks connected with the manufactured home industry.
This is an exclusive evening or nightly example of MH "Industry News, Tips and Views, Pros Can Use." © It is fascinating to see just how similar, and different, these two lists of headlines can be.
Want to know more about the left-right media divide from third party research?  ICYMI – for those not familiar with the "Full Measure," 'left-center-right' media chart, please click here.
Select bullets from CNN Money…
Stocks whipsawed after Trump spars with Pelosi and Schumer
Delta changes the way fliers board planes
Oreo-maker Mondelez has a plan to become the biggest name in snacks
Google CEO Sundar Pichai grilled by Congress on privacy, bias and China plans
Barclays app stops you spending on the wrong stuff
Veteran investor says there's more to tech than FAANG
How Huawei's CFO ended up in a Canadian jail cell
Chinese companies threaten to punish employees caught using Apple products
Million-dollar homes and a battle against cancer: What court papers reveal about Huawei's jailed CFO
Verizon says its media business is essentially worthless
India's hasty central bank appointment is a risky move
Nissan to sell limited edition sports car for $1.1 million
Kathie Lee Gifford is leaving 'Today'
Lyft's John Zimmer put it all on the line to catch Uber
The maker of Mercedes cars is spending $23 billion on batteries
20181211-time-person-of-year-cover-gfx
Jamal Khashoggi and journalists named Time Person of the Year
10,400 Verizon workers quit their jobs. That's a good sign for the economy
Another sign of a wobbly economy in November jobs report
Thomson Reuters will cut 3,200 jobs by 2020
GM's restructuring was tough. Ford's could be even harder
How to lead when your competition is beating you
On guard and under pressure: The challenges of being the only woman at work
What workaholic bosses want you to know
Want to get hired? Your résumé should look like this
How to get the credit you deserve at work, without bragging
Select Bullets from Fox Business…
Dow closes rocky session lower after 500-point drop
Business in China 'a different game', Motorola Solutions CEO says
Dow closes rocky session lower after 500-point drop
Tesla CEO Elon Musk slams CBS for 'misleading' edit of '60 Minutes' interview
Google could be collecting this data without you realizing
Top 5 IPOs that may be coming in 2019
USPS may franchise your mailbox: What that means for you
$867B farm bill omits stricter food stamps work requirements
French protests, new financial initiatives to cost $11 billion
Why perseverance could be paying off for Madoff victims
Bitcoin's nosedive spurs layoffs
Democrat Ocasio-Cortez slams Harvard over lawmaker orientation
Things that will cost more in 2019
Brexit is dead: Nigel Farage
Verizon takes $4.6B charge as Oath media business struggles
China signals reduction in US auto tariffs
Daimler to buy nearly $23B worth of electric car battery cells
China's auto sales fall in November for fifth month
Holiday debt: Tips to avoid overspending
To President Donald J. Trump: An open market letter
Conservatives should resist the urge to regulate Big Tech
Europe, the US and everything in between: Thoughts & Worries
Here's how much the flu season could cost this year
Here are the new tax brackets for 2019
Today's markets and stocks, at the closing bell…
Manufactured Housing Composite Value (MHCV)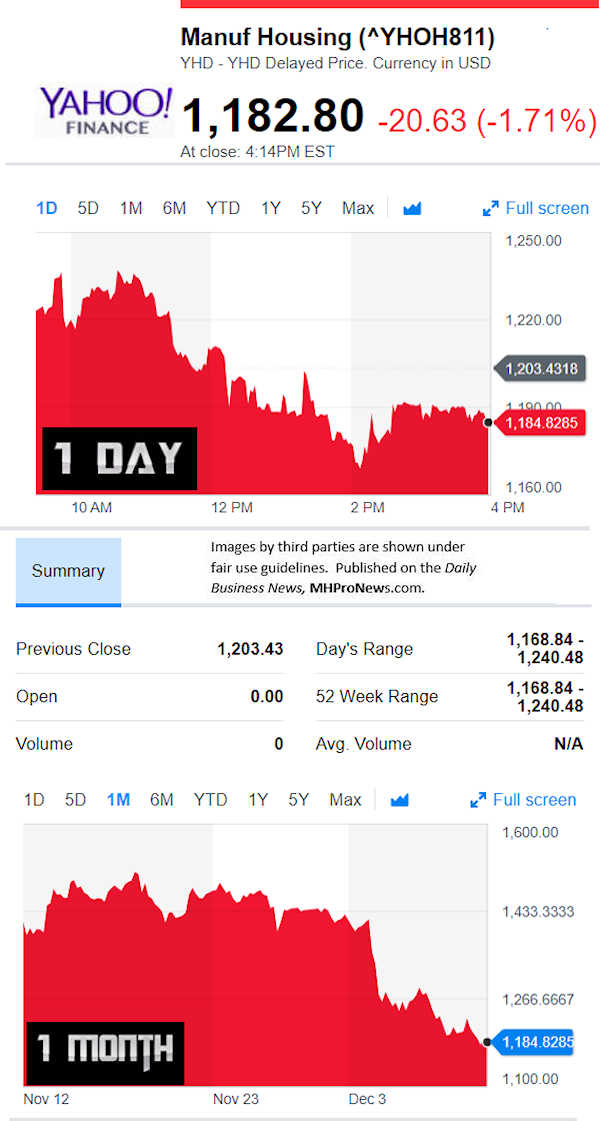 Today's Big Movers
For all the scores and highlights on tracked manufactured home connected stocks today, see the Bloomberg graphic, posted below.
Today's MH Market Spotlight Report –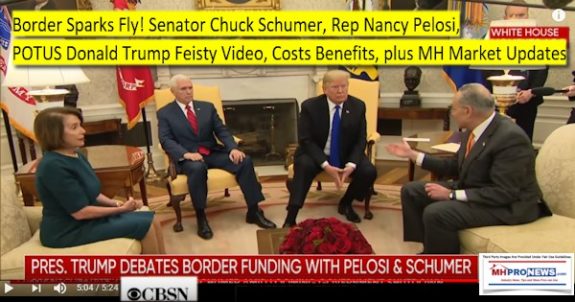 The President of the United States (POTUS) Donald J. Trump has owned casinos, so perhaps there is some level of riverboat gambler in the nation's 45th chief executive.
Pundits on the political right, like talk radio king Rush Limbaugh, have said for years that Republicans tend to cave in the face of media pressures.  Be that as it may, one would have a hard time making that same claim against President Trump.  CBS News provided the clip below which captures, the key moments in the mini-debate on the border wall debate and a possible pre-Christmas partial government shutdown.

MHProNews has tracked the border issue for some time, because it matters to the industry and the nation.  You will find MHVille pros on all sides of this debate. Which is why facts matter, like the eye opening and timeless report accessed by clicking on the linked box below.
Follow the Money – 100s of Immigration Protests, MoveOn, George Soros, The Border, Mexico's AMLO, and Manufactured Housing
Warren Buffett's son Howard has weighed in on this issue, see the report linked below.
Our 50-State Border Crisis: How the Mexican Border Fuels the Drug Epidemic Across America
FAIR has provided the following data points.
Immigration raids have often disrupted manufactured housing producers, communities, and others.
Is the video above a preview of the next two years?  Welcome to divided government, and welcome to the early salvos in the 2020 campaign for votes and money from people like you.
Bloomberg Closing Ticker for MHProNews…
NOTE: The chart below includes the Canadian stock, ECN, which purchased Triad Financial Services.
NOTE: The chart below covers a number of stocks NOT reflected in the Yahoo MHCV, shown above.
NOTE: Drew changed its name and trading symbol at the end of 2016 to Lippert (LCII).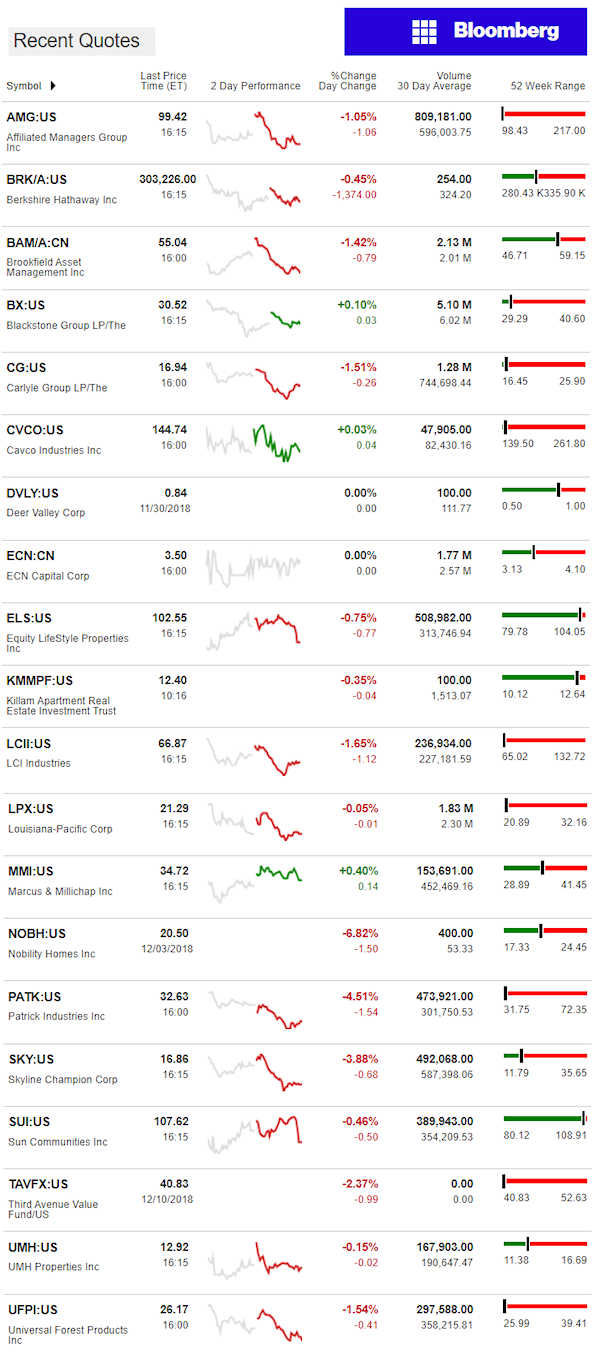 Berkshire Hathaway is the parent company to Clayton Homes, 21st Mortgage, Vanderbilt Mortgage and other factory built housing industry suppliers.
LCI Industries, Patrick, UFPI and LP all supply manufactured housing.
AMG, CG and TAVFX have investments in manufactured housing related businesses.
Your link to industry praise for our coverage, is found here.
For the examples of our kudos linked above…plus well over 1,000 positive, public comments, we say – "Thank You for your vote of confidence."
"We Provide, You Decide." © ## (News, analysis and commentary.)
(Image credits and information are as shown above, and when provided by third parties, are shared under fair use guidelines.)
Submitted by Soheyla Kovach to the Daily Business News for MHProNews.com.