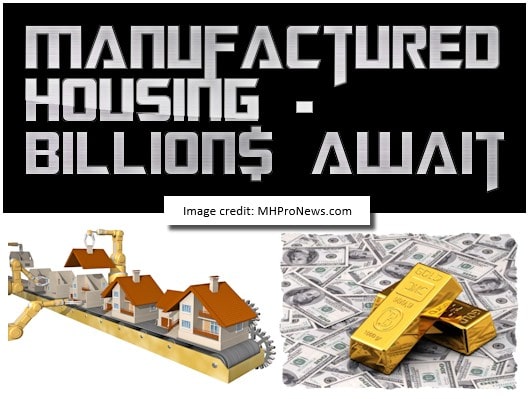 Tens of billions of dollars are at stake.  That translates to millions of dollars that are routinely being spent in each of the local markets that manufactured housing industry companies and communities serve.
Manufactured home professionals are aware of the ongoing issues that the industry faces. Many of them are due to misunderstandings about the quality, nomenclature, and value proposition that modern manufactured homes provide.
Confusion abounds by public officials – who often refer to manufactured housing 'trailer houses,' or 'mobile homes,' – even though there have been no mobiles homes built in the U.S. for over 40 years.
Lifestyle Factory Homes, LLC – the parent company of industry trade media leaders MHLivingNews.com and MHProNews.com – has for years engaged public officials and the broader media through interviews, articles, videos, reports, and graphics.  Those outreaches are routinely done in conjunction with industry professionals, experts and sponsors.


The latest outreach is linked below, and includes exclusive quotes from Congressman Dennis Ross, and Triad Financial Services' president and CEO, Don Glisson, Jr.
Fixing Housing & Creating Good Jobs – "The Doctor's In"
Examples of 2 previous media outreaches among several dozen prior, positive engagement efforts in last 18 months are linked from the images below.
How much money could the manufactured housing industry potentially could tap from a full-threated, proper engagement effort? A few facts will shed light on that question.
Per National Priorities, every hour, federal taxpayers in United States pay $4.87 million toward Housing Assistance in 2016. That's over $51 billion – $51,226,748,138 – as of 12.12.2016 at 1:00 PM ET.
Those sums don't reflect what the unsubsidized part of the housing market represents, which is over $1 trillion dollars a year in the U.S. Consider the fact that new manufactured housing sales represents only some $5.28 billion dollars a year, based upon 80,000 projected sales in 2016, at an average price of about $66,000 per home.
The solution to fueling industry growth through educating media, public officials and prospective buyers is described by John Bostick, owner and president of Sunshine Homes, Red Bay AL, in an article linked here.
A variety of other industry professionals supportive of the same principle are cited in an article, linked here.
"We Provide, You Decide." © ##
(Image credits are as shown above.)

By Soheyla Kovach for MHProNews.com.