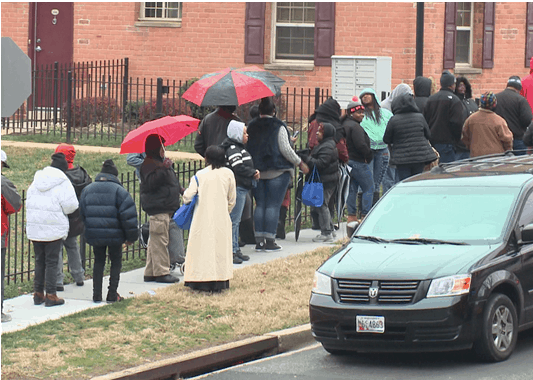 Hundreds in Washington D.C. braved cold temperatures overnight with hopes of being considered for affordable housing being made available.
According to WUSA 9, the first 200 people in line were accepted inside to begin their applications. If approved, they would be put on a waiting list for affordable housing at the Woodberry Village developments. It could be more than a year before their name is called.
"I've been homeless for awhile now," said Alonzo Simmons, who had been waiting in line since 4am. "And it's time for me to get in the inside."
Doors did not open until 9 am on December 8th, but many people arrived Wednesday evening to lock in a spot at the front of the line. People did attempt to cut in line and some arguments ensued, but no serious incidents occurred.
"You may get a call six months to a year from now," said Carolyn Young, who was near the front of the line. "But because we all desperately need affordable housing, we have to do this right here."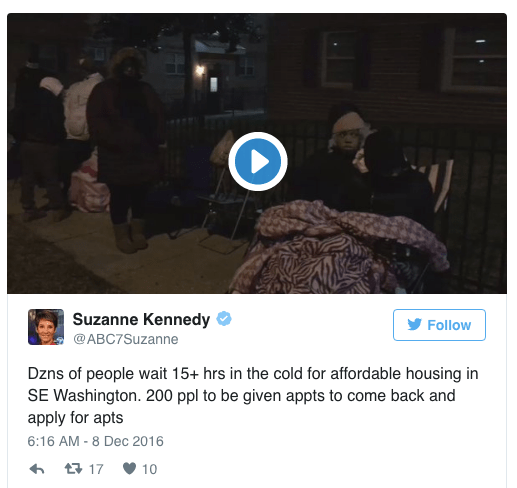 One D.C. resident said that the length of the line shows that the city needs to do more to address the affordable housing issues. Homelessness is up 14 percent this year.
"The city makes me so upset because there's money to be used to put into housing," said Cynthia Green. "And they're not doing it for the people. And it's the people's money."
The Solution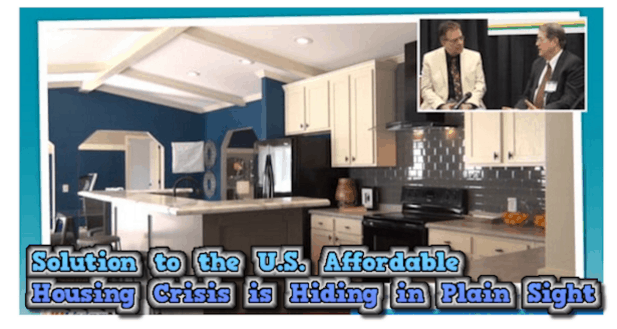 MHLivingNews has covered how manufactured housing is the solution  "hiding in plain sight" for the affordable housing crisis that can be used in rural, suburban and many municipal settings.
Modular building – notably on multi-story projects like the one spotlighted by the Daily Business News linked here is another green, time and money saving approach that factory builders should be encouraged to provide the growing numbers seeking affordable housing. Those calls have been heard – and echoed – by major publishers including Bloomberg, which famously wrote, "The solution to the affordable housing crisis is hiding in plain sight."
MH Experts, Academics, and MH Industry Pros Point the Way 

Noting that RVs outsell manufactured housing by some 5 to 1, Leigh Abrams, prior chairman of Drew Industries, told MHProNews that: "I think the GoRVing campaign has been crucial to the success of the RV industry. This campaign, albeit on a smaller scale, was continued even during the economic downturn."
"In prior years and I continue to be today," said Abrams, "a staunch supporter of a MH industry generic advertising campaign. Unfortunately, we were unable to gather the various segments within the MH industry to agree upon a method of funding the campaign and what the campaign should be about."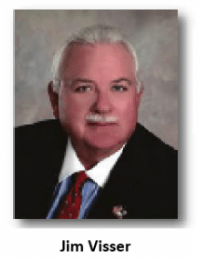 The retiring Jim Visser has told many that he has been a long-time advocate of doing an image and marketing campaign.  Visser has metaphorically tossed his arms up in disbelief that the industry keeps missing a golden opportunity to tap into the affordable housing crisis, by helping manufactured housing shed its negative image.
Industry consultant and long-time president of the Manufactured Housing Association for Regulatory Reform (MHARR), Danny Ghorbani, likewise joined the chorus of voices calling for not just a new "post production" association, but also for doing an image and education campaign.
Just Imagine…

"Imagine engineered homes, that meet or exceed strict federal safety, energy and performance standards, built to the nation's only preemptive code for permanent homes," said Daily Business News Publisher L.A. "Tony" Kovach.
"By using the same proven systems that keep costs down on cars, smartphones, clothing or other produced products, you save on labor, time, have about 30% less waste, can buy in bulk and thus save money."
"And the U.S. Census Bureau and Government Accountability Office state our homes are about half the cost of conventional construction," he added.

"Despite evidence that disproved misconceptions … negative stereotypes continued to influence local governments to impose regulatory restrictions on this type of housing," writes Lisa Tyler, PhD, of Bethel University.
"NIMBY – Not In My Back Yard – is alive and well," says Kovach, "in part because for too long, industry professionals have just taken the old stereotypes and ribbing on the chin."
"Do we put down the old cell phones that led to today's smart phones? No. As a society," the publisher and industry advocate rhetorically asks, "would we accept that same kind of close-minded prejudice towards a racial or ethnic group?"
The full story, "The Solution to the Affordable Housing Crisis is Hiding in Plain Sight," is linked here. ##
(Image credits are as shown above.)

Submitted by RC Williams to the Daily Business News for MHProNews.