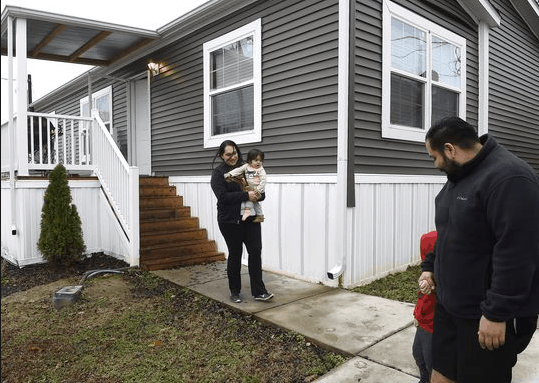 UMH Properties (NYSE: UMH) is seeing significant growth in Nashville, Tennessee and hopes to shed the "trailer park" perception around manufactured housing.
Could positive publicity also be fueling a rise in stock prices for the Freehold, New Jersey based company?
With the sharp rise in demand for housing, UMH wants to expand three Nashville area manufactured home communities to accommodate more than 550 new manufactured homes, according to the Tennessean.
On December 8th, the Metro Planning Commission recommended that the Metro Council approve UMH's request for a rezoning to allow 56 more homes at its 130-home Trailmont community in Goodlettsville. Early next year, the commission is scheduled to take up additional requests.
"Nashville is a wonderful market for us," said Jeffrey V. Yorick, UMH's vice president of engineering. "It's the economy in Nashville — employers moving to the area, redevelopment is occurring all across the region."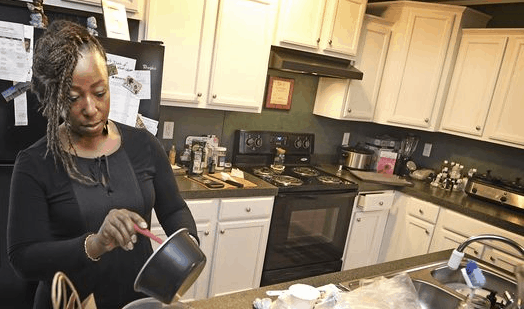 At Sandy Hills Mobile Home Park, resident Frankie Robinson has changed her tune about manufactured housing.
"I was just thinking of trailer trash and it just wasn't for me," said Robinson. "I like having neighbors who visit each other and care for their homes at Shady Hills."
"It's a community of mobile homes [sic] and the people who live there. It's become a neighborhood," said Robinson.
Gail Newman, a 38 year resident at UMH's Holiday Village, says she's seen sharp improvements since UMH took over the property and has grown tired of the stigma.
"The thing that makes me mad about the news is when they refer to a home in a mobile park [sic], they call it trailer," said Newman.
"A trailer is pulled by a hitch and travels. A mobile home [sic] is on a foundation and it's secured. You don't move it."
As industry professionals know, the irony is that Newman meant manufactured home, not mobile home. But media reporters, editors and others speaking about HUD Code manufactured homes often get that wrong too, unaware that there have been no mobile homes built in the U.S. for over 40 years.


Growth Equals Growth?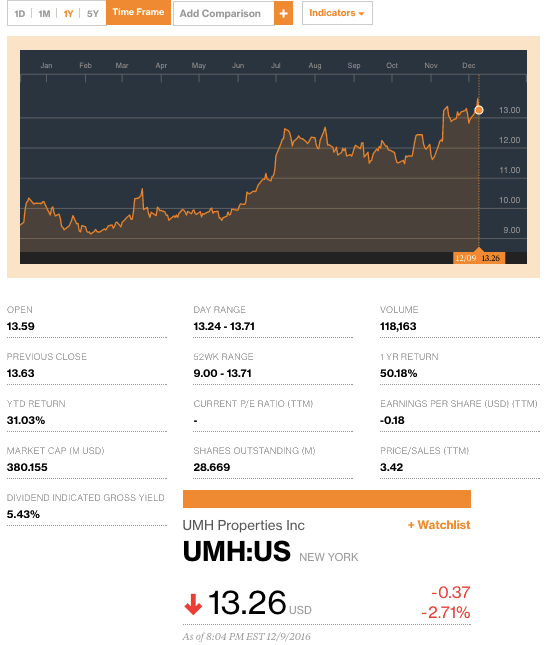 According to Equities, UMH stock hit a new 52-week high on December 9th, hitting a peak price of $13.71. Shares closed at $13.26 for the day. The company now has a market cap of $380.15 million.
The price of UMH stock has risen over 38 percent since May 6, and has outperformed the S&P500 by over 29 percent.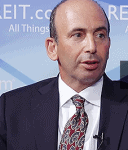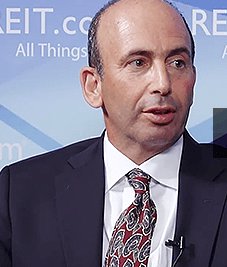 The Daily Business News has covered UMH recently, including better than expected investor sentiment in the company, and their announcement of a new loan with Wells Fargo.
"We are very pleased with our relationships with Wells Fargo Bank and Freddie Mac," said UMH president and CEO Sam Landy.
"We appreciate their continued support. Not only will this new loan save us approximately $350,000 annually on our interest expense, but it demonstrates the increasing value of our communities and the financial flexibility of our company, allowing us to further execute our long-term growth strategy."
For more about Sam Landy, check out our "A Cup of Coffee…" segment with him linked here.
As Daily Business News readers already know, UMH is a real estate investment trust (REIT) that owns and operates 98 manufactured home communities (MHCs) in seven states east of the Mississippi, composed of 17,800 developed home sites. ##
(Editor's note: The letters "SIC" used in brackets (example: [sic]) after a copied or quoted word that appears odd or erroneous, is used to show that the word is quoted exactly as it stands in the original, even though it is used in error.  Example: A HUD Code home called a mobile home [sic] that is placed in a mobile home park [sic] is properly called a manufactured home, and a manufactured home community, respectively.

"The terminology matters, because the terminology defines the construction standard," said LMHA's Steve Duke, in a story, linked here.)
(Image credits are as shown above.)

Submitted by RC Williams to the Daily Business News on MHProNews.