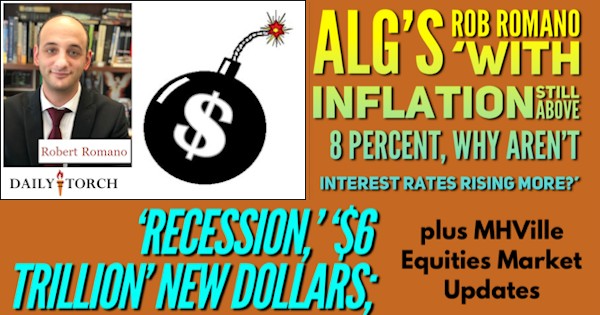 Texas Senator Ted Cruz (R) tweeted that "For the 7th day in a row, President Biden has overseen record high gas prices. This is the cause and effect of Biden waging war on American energy." Americans for Limited Government (ALG), publishers of the Daily Torch new-views website have shared a similar view. ALG recently said: "Government and financial institutions around the world now see another recession coming with the war in Ukraine worsening along with the supply chain crisis." There are a range of predications about what lies ahead in the housing market in general and the ongoing need for affordable housing. Some experts and pundits think housing is in a bubble which could burst, others think the underlying fundamentals will safeguard current housing valuations. Inflation is reportedly the #1 issue for Americans per several public opinion polls. Fuel prices, a significant factor for virtually all products in the U.S.A., is in some ways more important and negatively impactful for HUD Code manufactured homes than they would be for smaller and lighter products that are shipped. Manufactured housing has managed to navigate the economic and political headwinds while maintaining some growth. But professionals need to be aware of what the potential risks are for our industry if the policies and economic headwinds persist. It is against that context that ALG's Vice President of Public Policy, Robert Romano published the following news-analysis on 5.16.2022.
For the 7th day in a row, President Biden has overseen record high gas prices.

This is the cause and effect of Biden waging war on American energy.

— Senator Ted Cruz (@SenTedCruz) May 16, 2022
Government and financial institutions around the world now see another recession coming with the war in Ukraine worsening along with the supply chain crisis and…
(1/2)https://t.co/PwwL4wzkIi #inflation #economy @LeaderMcConnell @GOPLeader

— Americans for Limited Government (@LimitGovt) May 16, 2022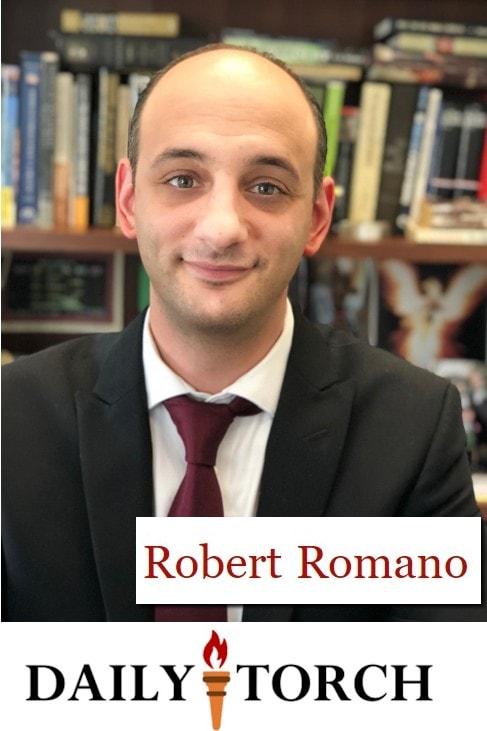 With inflation still above 8 percent, why aren't interest rates rising more?
Ever since inflation first rose above 5 percent in June 2021, the Federal Reserve has kept its policy rate far below that of the inflation rate, even as it reached more than 8 percent the last two months, in order to keep a more accommodative policy stance coming out of the brief 2020 Covid recession.
Even now, with the Federal Funds Rate at just 0.75 percent to 1 percent, it will come nowhere close to the rate of inflation, which stood at 8.3 percent in April. And with just five meetings left in the year for the Fed's Board of Governors, Fed Chairman Jerome Powell, who was just confirmed to another term by the Senate, has ruled out any more than a half a percentage point interest rate hikes, telling reporters on May 4, "Seventy-five basis points is not something the committee is actively considering."
Meaning, even if the Fed did half a point rate hikes at each meeting for the rest of the year, the Federal Funds Rate would still just be 3.25 percent to 3.5 percent by December, much lower than the current rate of inflation, even with the recession signals flashing red all over the place and the economy clearly overheating.
But what about market-driven interest rates? While the Fed's policy rate is set by the Board of Governors, rates such as 10-year treasuries at 2.9 percent or 30-year mortgage rates at 5.3 percent are very much set by markets and what banks and investors are willing to lend the government and home buyers, and while they have increased some, those too have similarly remained below the rate of inflation.
Now, part of that is driven by the Fed itself keeping lending costs artificially lower than they otherwise might be by keeping rates low. That is, when it is cheaper for banks to lend, then they can afford to pass on some of those savings to borrowers.
During Covid, the government spent, borrowed and printed more than $6 trillion to fight the pandemic and the ensuing economic lockdowns. The Fed's purchase of treasuries and mortgage securities during this time similarly have kept interest rates lower than they would have been.
Then, there is just the flight to safety. Government and financial institutions around the world now see another recession coming with the war in Ukraine worsening along with the supply chain crisis and incipient inflation, and so they are flooding into U.S. treasuries markets. This action requires selling their own currencies to purchase treasuries in dollars, causing the U.S. dollar to strengthen and interest rates to drop.
In short, lenders, in offering relatively low interest rates are pricing in a lower rate of economic growth in the near future. That is, with the economy overheating and prices surging, banks are betting that the imminent recession will keep inflationary pressures lower in the near-term.
In history, other times in recent economic history when inflation sat above market-set interest rates were in 1973 through 1975, and 1979 through 1980 — even as the Fed did act to hike rates in real-time. Both resulted in recessions, and because inflation was already very high headed into each of them, it remained higher coming out of them, compressing the subsequent business cycle and hastening the pace to the next recession after that.
Which is why it is preferable to prevent the inflation in the first place. Unfortunately, with the supply chain crisis not yet resolved and the Fed's blast of liquidity after Covid still sloshing around the economy, higher prices look as if they will be persistent even headed into the next recession. Only time will tell how sever it is. Stay tuned.
Robert Romano is the Vice President of Public Policy at Americans for Limited Government Foundation. ##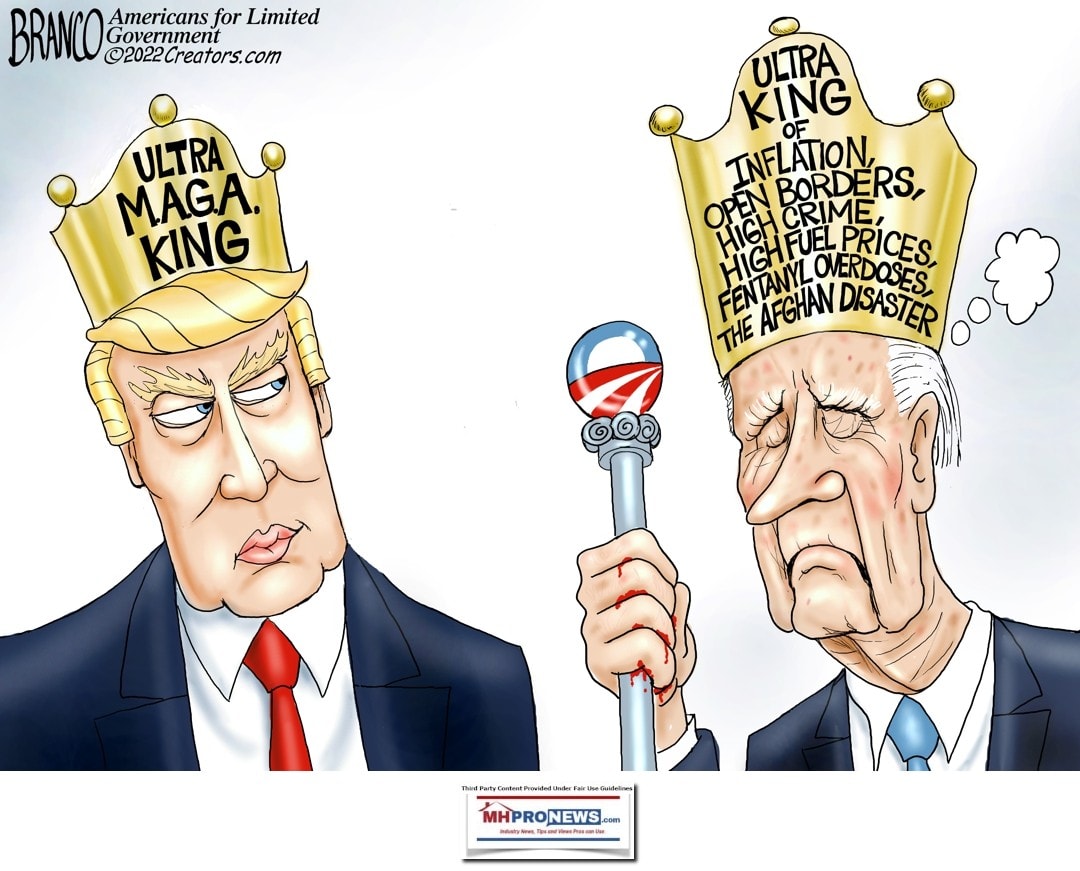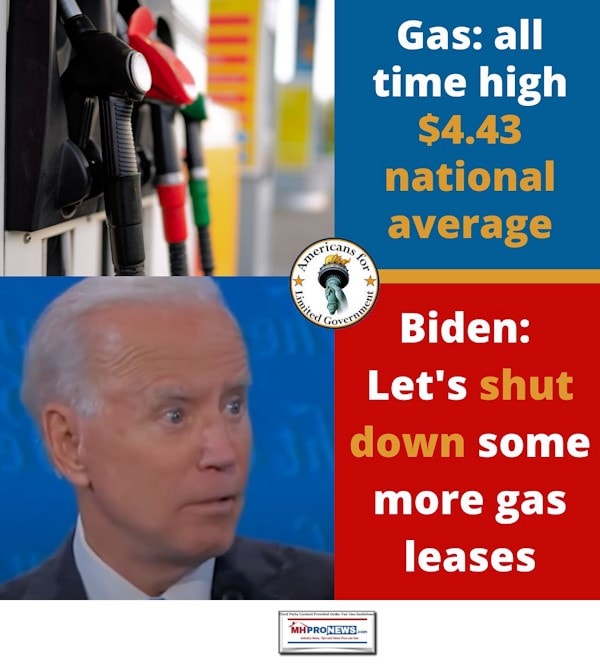 Additional Information, Programming Note, and MHProNews Analysis in Brief
Of course, inflation impacts housing affordability, and the reverse is also true. Romano is not alone in noting that interest rates, while higher than they have been in years, are also under the rate of inflation claimed by the federal government.
As a programing note, the Biden White House has released a statement on creating more affordable housing. It mentions manufactured housing several times. That statement and related content from various nonprofits will be the subject of an upcoming MHProNews report, fact-check, and analysis.
There are several things that simply can't be made up, they just have to be experienced. The Biden White House website states: the following about the new "Press Briefing by Press Secretary Karine Jean-Pierre, May 16, 2022" that said: "Also today, the administration announced an Action Plan to Ease the Burden of Housing Costs, taking a series of actions to address one of the largest items in a typical family's budget and one of the largest drivers of inflation in our economy." Jumping ahead, "The last thing — I promise — and then we'll go to your questions.  But before I do that, I just want to say a few words about how honored I am to be here with all of you today in this role, in this room, standing behind this podium. I am obviously acutely aware that my presence at this podium represents a few firsts.  I am a Black, gay, immigrant woman, the first of all three of those to hold this position." As WMAL's former CNN reporter turned talk radio pundit Chris Plante said on 5.17.2022, 'kind of a rough start' for Press Secretary Karine Jean-Pierre.
Everything about this clip is amazing. https://t.co/HMgxnyyU65

— Jeremy Boreing (@JeremyDBoreing) May 16, 2022
Wait until @ElonMusk sees this https://t.co/tWqc2dKZR6

— Benny Johnson (@bennyjohnson) May 16, 2022
Math, facts, and historic patterns matter, like them or not. Attempting to massage reality through spin, paltering, censorship, and outright falsehoods can thankfully be revealed through a look at facts and evidence considered with common sense.
The impact of a lack of affordable housing, which clearly includes manufactured homes as the White House has aptly noted, has economic ripple effects.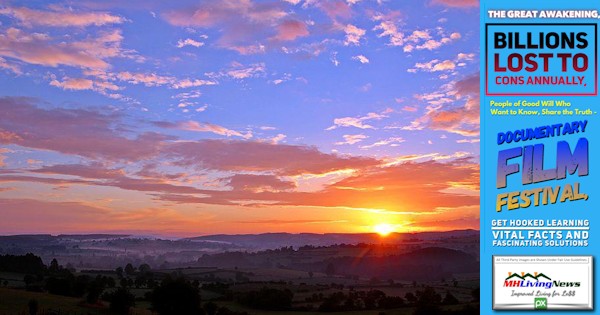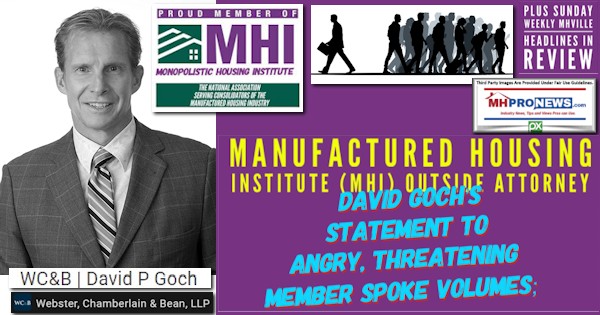 See the related reports below to learn more.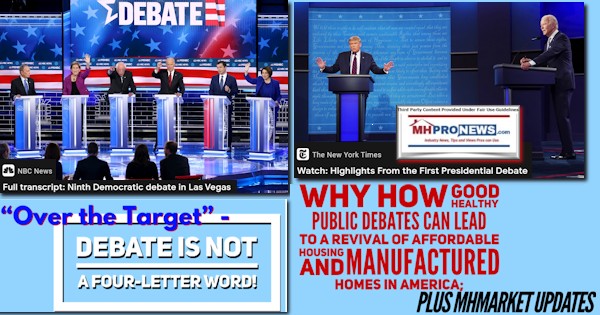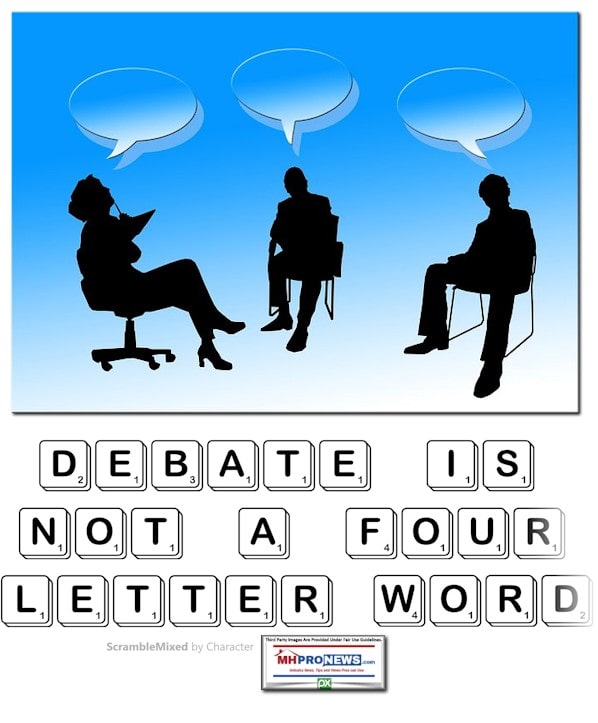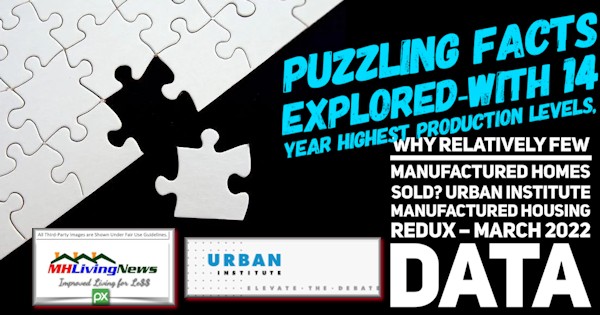 Next up is our daily business news recap of yesterday evening's market report, related left-right headlines, and manufactured housing connected equities.
The Business Daily Manufactured Home Industry Connected Stock Market Updates.  Plus, Market Moving Left leaning CNN and Right-leaning (Newsmax) Headlines Snapshot. While the layout of this daily business report has been evolving over time, several elements of the basic concepts used previously are still the same. For instance. The headlines that follow below can be reviewed at a glance to save time while providing insights across the left-right media divide. Additionally, those headlines often provide clues as to possible 'market-moving' news items.
Market Indicator Closing Summaries – Yahoo Finance Closing Tickers on MHProNews…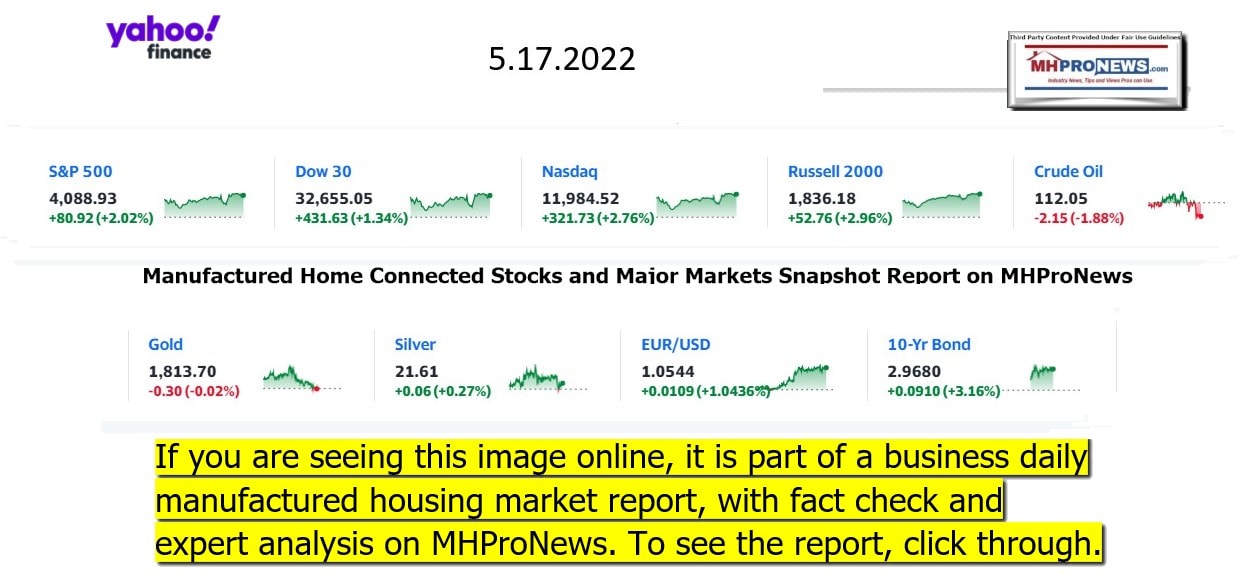 Headlines from left-of-center CNN Business – from the evening of 5.17.2022
It's just not that simple
Jeff Bezos and Joe Biden are having a really stupid fight about what causes inflation
Warren Buffett's Berkshire Hathaway finally bails on Wells Fargo
American oil is usually a cheaper option. Not anymore
Europe is still confused about how to pay its Russian gas bills
Walmart sounds the inflation alarm, shares tumble
Opinion: How President Biden can win the energy war with Russia — and lower gas prices
Stocks could fall a lot further
Elon Musk proves once again that the rules don't apply to him
Nestlé is flying baby formula into America as shortage continues
Twitch, a live-streaming giant, comes under scrutiny after Buffalo shooting
Buffalo massacre puts spotlight on hate-filled website
Not lovin' it: How Russians reacted to McDonald's closing
Thinking about selling your home? This may be the time
Fox prime time feeling heat for pushing 'replacement theory' espoused by Buffalo shooter
New York Mayor Eric Adams wants Jamie Dimon to ride the subway to work
A person walks with Century 21 shopping bags as New York City enters Phase 4 of re-opening following restrictions imposed to curb the coronavirus pandemic on July 20, 2020 in New York, New York.
Century 21 is staging a comeback
Brides are pumped to wear black wedding dresses
DELIVERY
A bike messenger carries a DoorDash Inc. bag in San Francisco, California, U.S., on Wednesday, Dec. 23, 2020. Bloomberg is scheduled to release consumer comfort figures on December 24. Photographer: David Paul Morris/Bloomberg via Getty Images
DoorDash's business continues to boom two years into the pandemic
Pizza has a delivery problem
Instacart adjusts its tipping policy to address tip baiting
Walmart can stock your kitchen when you're not home
Amazon to let other online retailers offer Prime delivery service directly on their sites
INVESTING
The Goldman Sachs headquarters building in New York, U.S., on Monday, Jan. 17, 2022. Goldman Sachs slumps as much as 8.9% on Tuesday, the most since June 2020, after its fourth-quarter trading revenues came in lower than expected, dragged down by an 11% decline in its equities business.
Goldman Sachs gives top bankers unlimited vacation days
JetBlue launches hostile takeover for Spirit
Oil stocks are the new FAANGs
Robinhood is introducing a stock lending program
Why this obscure corner of the crypto world has investors in a panic
Headlines from right-of-center Newsmax 5.17.2022
Rand Paul to Newsmax: Dems 'Politicizing' Shooting 'a Big Mistake'
President Joe Biden, with wife Jill Biden by his side, delivers remarks after visiting the scene of a mass shooting in Buffalo, New York, Tuesday. (Nicholas/AFP via Getty Images)
Democrats and President Joe Biden politicizing the deadly Buffalo mass shooting for topics of gun control and racism is not only "dangerous" but disrespectful of the victims, Sen. Rand Paul, R-Ky., told Newsmax. [Full Story]
Russian Invasion of Ukraine
Lithuanian President: Putin Has 'Unlimited Appetite' for Countries
Retired Colonel Criticizes Ukraine Invasion on Russian TV
Ukraine Working on 'Further Stages' of Azovstal Evacuation: Deputy PM
Captured Russians: Kremlin Commanders 'Shooting Their Own Wounded'
Russian Air Strike Kills 8 in Northern Ukraine: Emergency Service
Putin Sees No Threat From NATO Expansion, Warns Against Military Build-Up
Ukrainian Unit Seizes Russian Commander's Secret Notebook
Sweden Expects Russian Cyber Attack After NATO Move
Ukraine: More Than 260 Fighters Evacuated From Mariupol Mill
Yellen Links Russia Sanctions to 1940 US Asset Freezes Aimed at Nazis
Turkey: No to Sweden, Finland Joining NATO
More Russian Invasion of Ukraine
Newsmax TV
Keller: I Hope Dr. Oz Wins in Pennsylvania | video
Paul: 'Fool's Errand' to Give Money Without Oversight | video
Austin Scott: Biden, Democrats Showing Why They're Bad for America | video
Nunes: Hillary Lawyer Part of Bigger Conspiracy to Get Trump | video
Comer: Baby Formula Shortage Shows Biden Admin's 'Incompetence' | video
Ukraine MP: Russia Is Retreating in 'Different' Directions
Oz: You Need a Scientist in the Senate | video
More Newsmax TV
Newsfront
Nestle to Fly In Gerber Baby Formula
Gerber-owner Nestle will fly extra baby formula to the United States to try to resolve acute shortages, The Wall Street Journal reported…. [Full Story]
Related Stories
Abbott Says Agreement Reached to Reopen Baby Formula Plant
US Embassy in Russia: We're Banned From Visiting Detained WNBA Star Brittney Griner
United States officials say that Russia blocked the U.S. embassy from [Full Story]
US Traffic Deaths Hit 16-Year High
The number of traffic fatalities in the United States rose in 2021 to [Full Story]
Supreme Court Leaker's Punishment Must Be 'Harsh,' Fmr. State Justice Says
The identity of the Supreme Court leaker who divulged a draft [Full Story] | Platinum Article
Trump: Liz Cheney 'Worse Than Any Democrat'
Former President Donald Trump has called Republican Rep. Liz Cheney [Full Story]
Watch Big Races in Pa., N.C., on Newsmax Tonight!
Newsmax TV will offer live coverage of Tuesday night's primary [Full Story]
Texas Librarians Feeling Under Pressure Dealing with Book Bans
With more than 1,000 books being banned in some 86 school districts [Full Story]
Judge: Transgender Middle School Student Can Use Boys' Bathroom
A federal judge has again ordered an Indiana middle school to allow a [Full Story]
What Happens if Iran Launches a Nuclear Strike on the Vatican or Gulf States?
What would happen if Iran does get – or already has – a nuclear [Full Story] | Platinum Article
Related
What Happens if Iran Launches a Nuclear Strike on Israel or Egypt? |Platinum Article
New York Teen's Remains Found in South Carolina 13 Years After Her Disappearance
The remains of a 17-year-old girl from the Rochester, New York [Full Story]
Pentagon: 'Rigorous Scientific Analysis' to Be Applied to UFOs
During the first public hearing on UFOs in more than 50 years on [Full Story] | video
Ron Johnson Slams Biden for Visiting Buffalo After Skipping Waukesha
Ron Johnson, R-Wis., rebuked President Joe Biden for finding [Full Story]
Related
In Buffalo, Biden Condemns Racism, Mourns New Victims
Pentagon IG Report: Afghanistan Withdrawal 'Significantly Reduced' Terrorist Tracking
The Department of Defense "has faced several challenges" conducting [Full Story]
House GOP Latinos Start PAC to Help Other Conservative Hispanics Win Seats
Mario Diaz-Balart, R-Fla., and Rep. Tony Gonzales, R-Texas, [Full Story]
Rand Paul to Newsmax: Dems 'Politicizing' Shooting 'a Big Mistake'
Democrats and President Joe Biden politicizing the deadly Buffalo [Full Story] | video
Bill to Honor WWII Army Rangers Awaits Biden Signature
A bill authorizing the Congressional Gold Medal to the Army Ranger [Full Story]
Report: Lionel Messi to Join Inter Miami, Purchase 35 Percent of Franchise
Ex-FC Barcelona legend Lionel Messi has plans to retire in the United [Full Story]
Bernie Sanders: Super PAC Money Not Welcome in Dem Primaries
Bernie Sanders, I-Vt., says he is against the use of super PAC [Full Story]
Clinton Campaign Lawyer Sought to 'Use' FBI: Prosecutor
A lawyer for Hillary Clinton's 2016 campaign who is charged with [Full Story]
House Holds First Congressional Hearing on UFOs in 50 Years
The U.S. House of Representatives on Tuesday held Congress first [Full Story]
FDA Clears Pfizer's COVID Booster Shot for Ages 5 to 11
The U.S. Food and Drug Administration has authorized the use of a [Full Story]
Israeli Military Using Massive Drill to Simulate Striking Iran
Israel Defense Forces (IDF) will conduct the largest military drill [Full Story]
Retired Russian Colonel Criticizes Ukraine Invasion on Russian TV
A retired Russian colonel made critical comments on Russian state TV [Full Story]
Twitter: Musk Signed $44B Deal Without Asking for More Info
Twitter Inc. published its account on Tuesday of its deal [Full Story]
Record High 234,000 Migrant Encounters at Border in April
Just over 234,000 migrants were intercepted at the southern border by [Full Story]
Queen Makes Surprise Appearance to Mark New Subway Line
Queen Elizabeth II made a surprise visit Tuesday to a train station [Full Story]
Black Lives Matter Has $42 Million in Assets
The foundation started by organizers of the Black Lives Matter [Full Story]
Biden to Make Another Call for Gun Control During Buffalo Visit
President Joe Biden again will call on Congress to pass gun control [Full Story]
Japan and US Preparing Statement Promising to 'Deter' China: Nikkei
Japan and the United States have started preparing a statement that [Full Story]
Rubio Blasts Biden Over Easing of Cuba Restrictions
Marco Rubio, R-Fla., is slamming President Joe Biden's Cuba [Full Story]
Musk Links $44B Deal Progress on Proof of Spam Bot Share on Twitter
Elon Musk said on Tuesday his $44 billion offer would not move [Full Story]
Trending Stories
More Newsfront
Finance
Walmart Cuts Full-Year Profit Forecast as Fuel, Labor Costs Spike
Walmart Inc. cut its full-year profit forecast on Tuesday, signaling a bigger knock to the retail giant's profit margins from surging costs of everything from fuel to labor. The company's shares fell 6.5% to $138.51 in premarket trading. Walmart has fared better than most…… [Full Story]
Feud Between Biden, Bezos Escalates Sharply
Nuzzo: DeSantis to Fight Litigation Driving Homeowners Insurance Crisis
Judge: California's Women on Boards Law Is Unconstitutional
US Can Waive Trucking Rules for Formula Deliveries If Needed: Buttigieg
More Finance
Health
FDA Clears Pfizer's COVID Booster Shot for Ages 5 to 11
The U.S. Food and Drug Administration has authorized the use of a booster shot of Pfizer and BioNTech's COVID-19 vaccine for children aged 5 to 11, the regulator said on Tuesday. The authorization makes everyone in the United States aged five and above eligible for booster…… [Full Story]
Injecting Body Fat Into Arthritic Hands Lessens Pain, Increases Function
US Offering Additional 8 Free COVID-19 Tests to Public
Dogs Accurately Sniff Out COVID-19 at Airports
Asymptomatic Coronavirus Could Be Linked to Severe Hepatitis in Children
MHProNews has pioneered in our profession several reporting elements that keep our regular and attentive readers as arguably the best informed in the manufactured housing industry. Among the items shared after 'every business day' (when markets are open) is our left-right headline recap summary. At a glance in two to three minutes, key 'market moving' news items are covered from left-of-center CNN Business and right-of-center Newsmax. "We Provide, You Decide." © Additionally, MHProNews provides expert commentary and analysis on the issues that others can't or won't cover that help explain why manufactured housing has been underperforming during the Berkshire era while an affordable housing crisis and hundreds of thousands of homeless in America rages on. These are "Industry News, Tips, and Views Pros Can Use" © features and others made and kept us the runaway #1 in manufactured housing trade publisher for a dozen years and counting.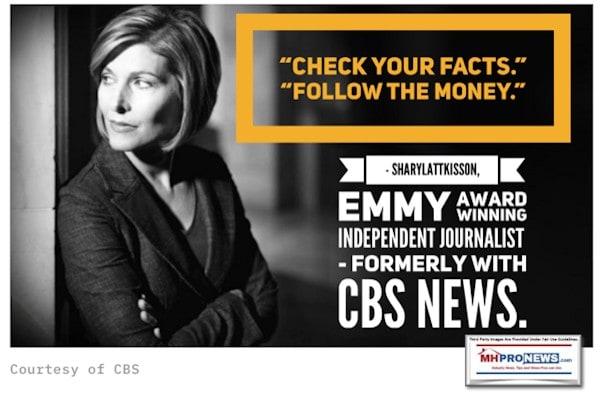 Manufactured Housing Industry Investments Connected Equities Closing Tickers
Some of these firms invest in manufactured housing, or are otherwise connected, but may do other forms of investing or business activities too.
NOTE: The chart below includes the Canadian stock, ECN, which purchased Triad Financial Services, a manufactured home industry lender
NOTE: Drew changed its name and trading symbol at the end of 2016 to Lippert (LCII).
NOTE: Deer Valley was largely taken private, say company insiders in a message to MHProNews on 12.15.2020, but there are still some outstanding shares of  the stock from the days when it was a publicly traded firm.  Thus, there is still periodic activity on DVLY.
Manufactured Home Communities (a.k.a. 'Mobile Home Parks' – SIC) – Exploring UMH Properties; Fellow Manufactured Housing Institute Member Yes! Communities Suits and Settlements; plus MH Markets Updates
'Announcing!' 'Manufactured Community Owners' Association of America' 'Finally Bringing Fight To Manufactured Home Community Sector of the Industry' – plus Sunday Weekly Manufactured Housing Headlines Review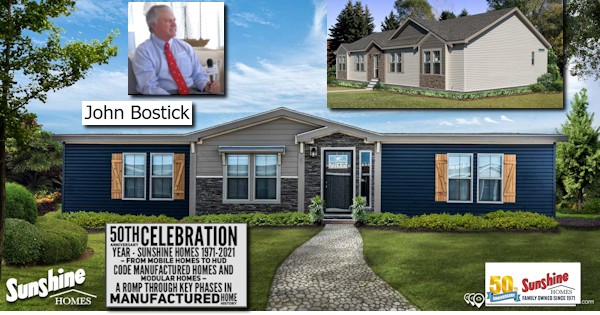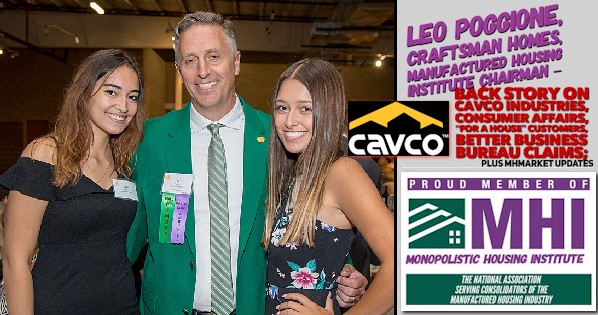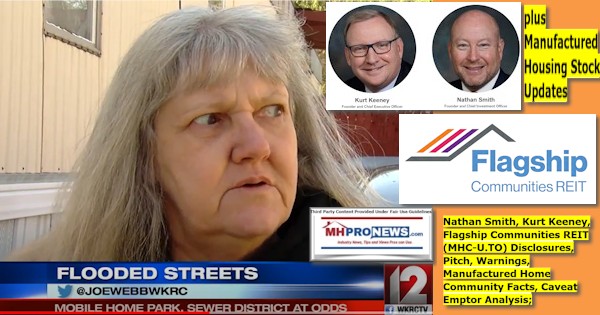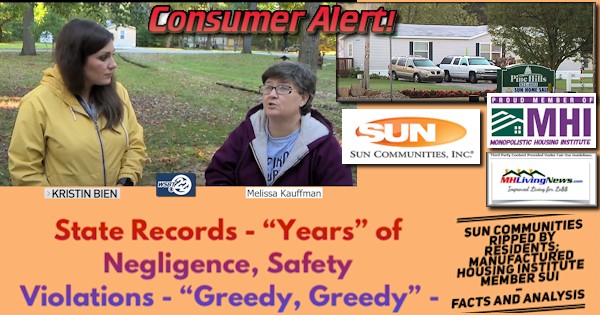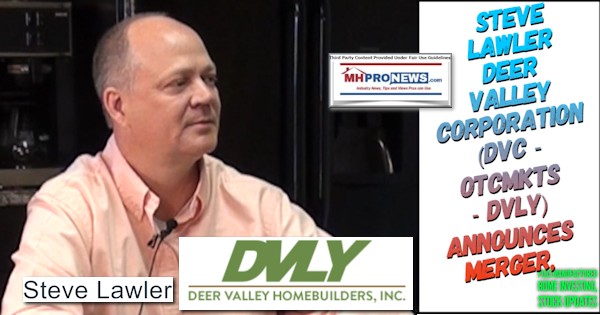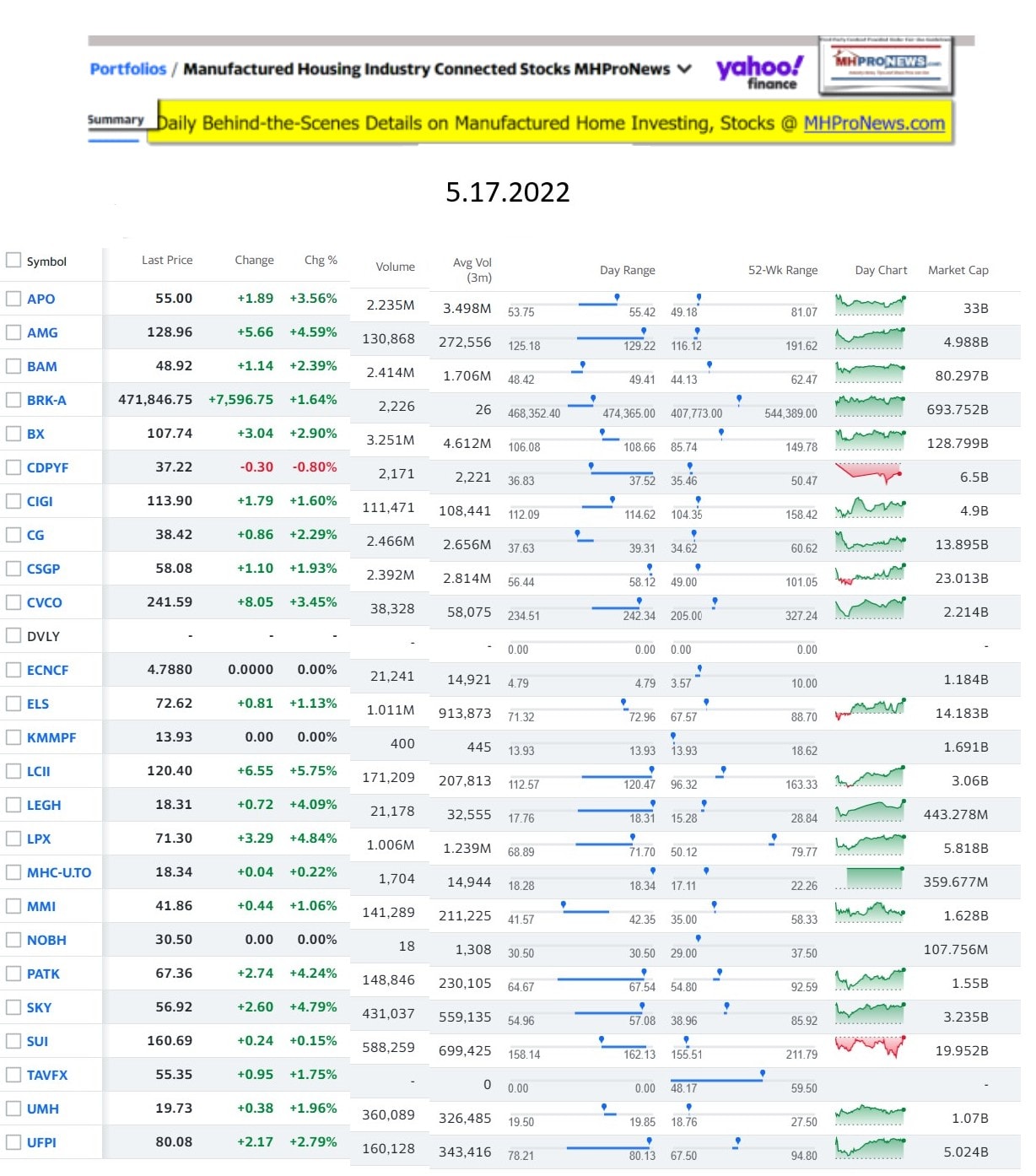 2022

…

Berkshire Hathaway is the parent company to Clayton Homes, 21st Mortgage, Vanderbilt Mortgage and other factory-built housing industry suppliers.


·

LCI Industries, Patrick, UFPI, and LP each are suppliers to the manufactured housing industry, among others.




·

AMG, CG, and TAVFX have investments in manufactured housing related businesses.

For

insights from third-parties and clients about our publisher

, click here.


Enjoy these 'blast from the past' comments.

MHProNews. MHProNews – previously a.k.a. MHMSM.com – has celebrated our 11th year of publishing and have completed over a dozen years of serving the industry as the runaway most-read trade media.
Sample Kudos over the years…
It is now 12+ years and counting…
Learn more about our evolutionary journey as the industry's leading trade media, at the report linked below.
· For expert manufactured housing business development or other professional services, click here.
· To sign up in seconds for our industry leading emailed headline news updates, click here.

Disclosure. MHProNews holds no positions in the stocks in this report.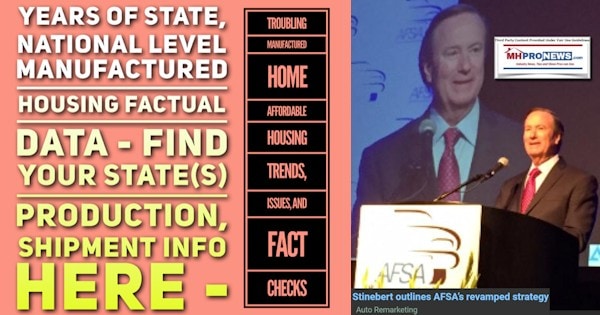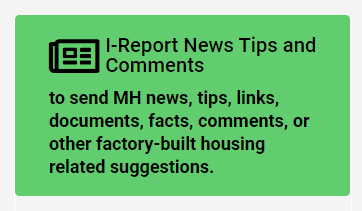 That's a wrap on this installment of "News Through the Lens of Manufactured Homes and Factory-Built Housing" © where "We Provide, You Decide." © (Affordable housing, manufactured homes, stock, investing, data, metrics, reports, fact-checks, analysis, and commentary. Third-party images or content are provided under fair use guidelines for media.) (See Related Reports, further below. Text/image boxes often are hot-linked to other reports that can be access by clicking on them.)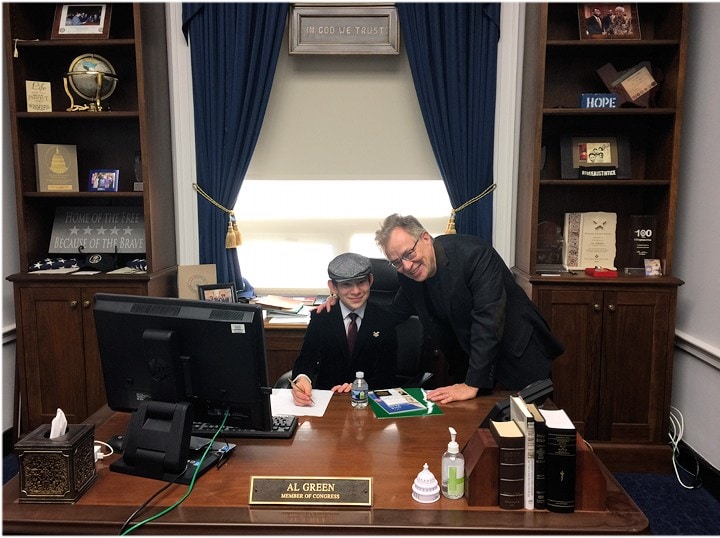 By L.A. "Tony" Kovach – for MHProNews.
Tony earned a journalism scholarship along with numerous awards in history. There have been several awards and honors and also recognition in manufactured housing. For example, he earned the prestigious Lottinville Award in history from the University of Oklahoma, where he studied history and business management. He's a managing member and co-founder of LifeStyle Factory Homes, LLC, the parent company to MHProNews, and MHLivingNews.com. This article reflects the LLC's and/or the writer's position and may or may not reflect the views of sponsors or supporters.