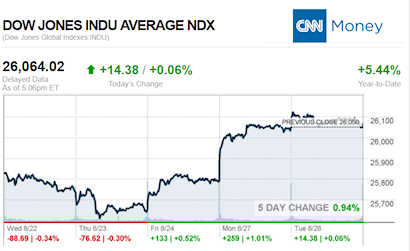 Don't look now, but a subject that MHProNews has been spotlighting for years has now drawn President Donald J. Trump's attention. There are many things this could mean, which will be part of our market focus for this evening.
If you're new, already hooked on our new spotlight feature – or are ready to get the MH professional fever – our headline report is found further below, after the newsmaker bullets and major indexes closing tickers.
The evolving Daily Business News market report sets the manufactured home industry's stocks in the broader context of the overall markets.  Headlines – at home and abroad – often move the markets.  So, this is an example of "News through the lens of manufactured homes, and factory-built housing." ©
Part of this unique evening feature provides headlines – from both sides of the left-right media divide – which saves busy readers time, while underscoring topics that may be moving investors, which in turn move the markets.
Readers say this is also a useful quick-review tool that saves researchers time in getting a handle of the manufactured housing industry, through the lens of publicly-traded stocks connected with the manufactured home industry.
This is an exclusive evening or nightly example of MH "Industry News, Tips and Views, Pros Can Use." © It is fascinating to see just how similar, and different, these two lists of headlines can be.
Want to know more about the left-right media divide from third party research?  ICYMI – for those not familiar with the "Full Measure," 'left-center-right' media chart, please click here.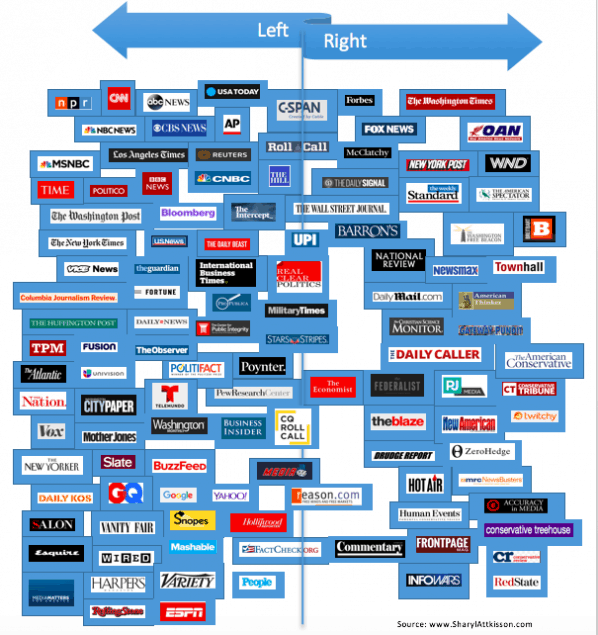 Select bullets from CNN Money…
Where is the US housing market headed? 4 things you need to know
JPMorgan just made another high-profile artificial intelligence hire
Best Buy makes all the right moves, but Wall Street isn't sold
Stocks are at record highs. What to buy and what to avoid
Tariffs are slamming newspapers with higher costs. Publishers want a reprieve
Trump slams Google search as 'rigged' — but it's not
Steve Jobs' widow blasts stepdaughter's memoir
US airlines struggle to make money from China's travel boom
Toyota's latest step to future-proof itself: Upping its self-driving bet
Didi promises dramatic changes after second passenger murdered
EA Sports cancels remaining Madden Tournaments to review 'safety protocols'
Google will now help you get a bank loan in India
America's trade deal with Mexico could be a relief for automakers
Students are learning and experimenting inside Google's virtual labs
Instagram combats misinformation and trolls with three new features
Instagram and Tinder go back to school with features just for college kids
How Tencent's like Facebook, Instagram, WhatsApp, Spotify and Snapchat all rolled into one
Wanna bike instead of ride? Uber is cool with that
GoPro CEO: We're 'actively looking' to source outside of China
Overstock is basically a crypto company now
FCC Inspector General: Ajit Pai did not favor Sinclair
Bloomberg News reassigned reporter after Wells Fargo CEO called to complain
Bad optics for White House
Fasten your seat belts for a wild fall on Wall Street
Meet the 26-year-old behind those free phones in hotel rooms
Move over, Intel. AMD rules in Silicon Valley — and on Wall Street
Airbnb has its first female board member
Walt Disney World workers land deal for $15 minimum wage
This small company liked Trump's tariffs. Now it's fighting to keep its factory open
Select Bullets from Fox Business…
US, Mexico trade pact will occur with or without Canada
Kudlow says Trump will force Canada's hand on trade, here's how
Stocks higher as investors digest latest economic data
The stock market is having a stellar August: What's next?
Jimmy Carter urges Dems not to impeach Trump
Trump warns Google, Twitter, Facebook: 'They better be careful'
Why you might want to wait to buy a home
Sears, Amazon expand partnership
America's return to prosperity biggest story of year, possibly decade: Varney
Maker of James Bond's cars, Aston Martin, going public
How Stumpy's turned hatchet-throwing into a fast-growing business
United Airlines expands flight coverage for college football season
New law will make it easier to check your child's credit: Why you should
Millionaire PTAs: Not your mother's school bake sale
Ferrari owned by Navy veteran for 58 years sells for $5 million
Here's how long $1 million in retirement savings will last in your state
More Americans may owe the IRS next tax season
US workers see biggest pay, benefit increase in 10 years
How Stumpy's turned hatchet-throwing into a fast-growing business
Stumpy's Hatchet House: How to throw a hatchet
JPMorgan to offer free online stock trading service
Goldman Sachs to cover breastmilk shipping costs for new moms
Only banks should continue with quarterly earnings reports: Signature Bank Chairman
Ferrari owned by Navy veteran for 58 years sells for $5 million
General Motors and Caterpillar jump; Tesla and Pfizer skid
Toyota invests $500 million in Uber, expands self-driving car partnership
US-Mexico trade deal sparks rally in auto stocks
Today's markets and stocks, at the closing bell…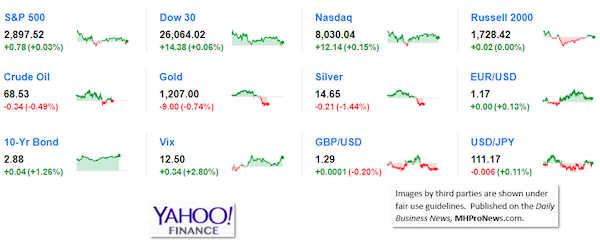 Manufactured Housing Composite Value (MHCV)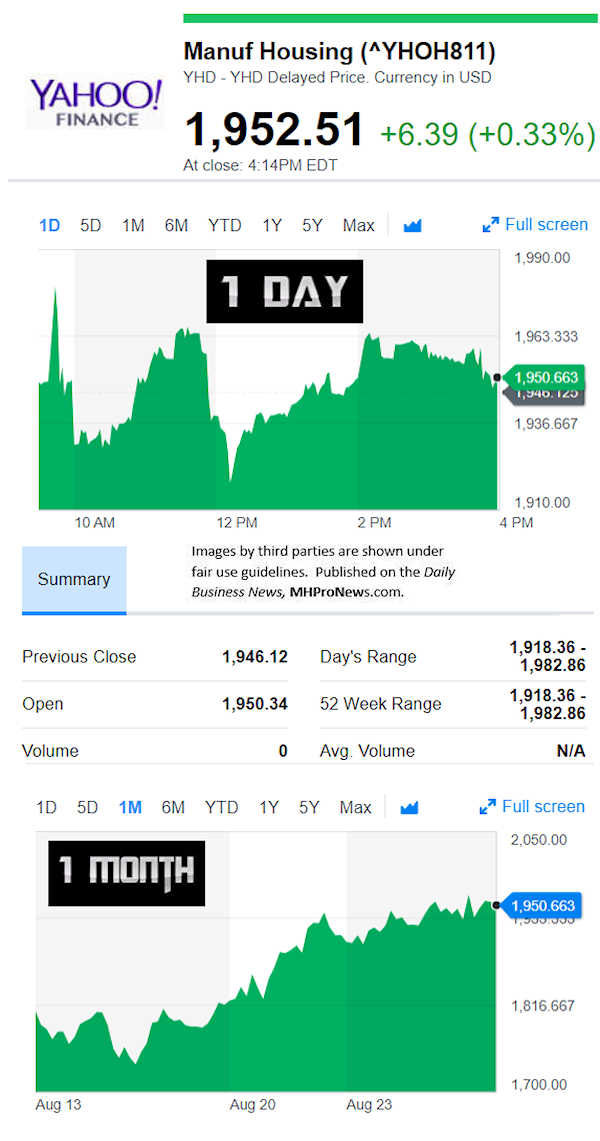 Today's Big Movers
For all the scores and highlights on tracked manufactured home connected stocks today, see the Bloomberg graphic, posted below.
Today's MH Market Spotlight Report –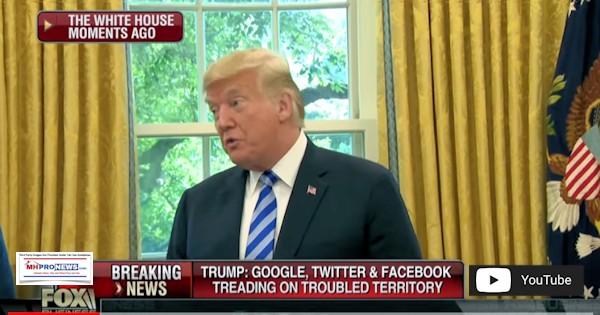 There's a significant level of misunderstanding and misinformation on the topic of the tech giants and free speech.
The left tends to talk about things like 'hate speech' by white supremacists and white nationalists.  Yet, if the protests last year and this year organized by white supremacists is any indication, there are very few of them, less than 2 dozen came to a 'national' protest. The left may also talk about "net neutrality," which sounds good, but was an Obama era terminology that didn't mean what it seemed to imply – think 'affordable care act.'
By contrast, what the right tends to be concerned with is rigging algorithms in a way that skews search results, tilting news searches away from conservative sources more toward left-wing sources.
With that brief background, President Trump weighed in today on the tech giants and concerns over rigged searches. Per CNBC:
Trump said in a tweet that Google's search engine had "rigged" news story search results to show mostly "bad" stories about him and other conservatives. He later criticized Facebook and Twitter.
He says Google is prioritizing left-leaning outlets and warns that the situation "will be addressed."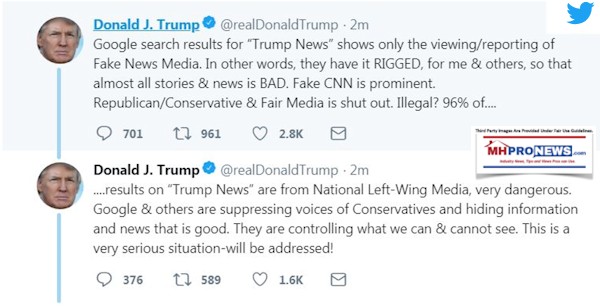 The president's comments come a week before Google, Facebook and Twitter testify before Congress.
Larry Kudlow, Trump's economic advisor, says the White House is "looking into" whether Google suppresses positive articles about the president.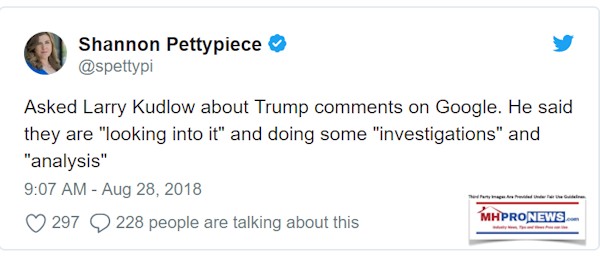 Fox Business provided this news clip.
CNBC provided this news clip.
The following tweets are of interest to those who are concerned with the problem of monopoly in general, or the tech giants in particular.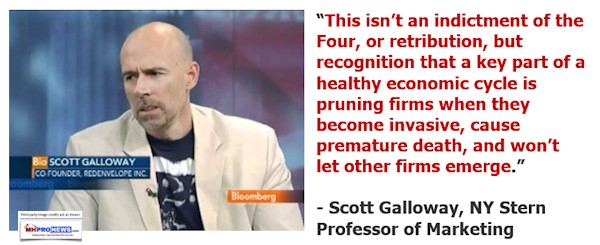 The Daily Business News on MHProNews has periodically reporting for some time about NY Stern Professor Scott Galloway, and his push to break up the tech monopolies.
NY Stern University's Scott Galloway on Facebook Founder Mark Zuckerberg's Capitol Hill Hearings
Similar reasoning Galloway uses for tech could easily apply to Berkshire Hathaway, and others.
Professional, Investor Alert "Brace Yourself, This is How Much America's 1 Percent Has Saved"
There are a growing number of voices across the left-right divide that are weighing in on the harmful impact of giant companies that make it very difficult for smaller companies to emerge.
Facebook, Marketing & News – Manufactured Housing Pros, Sarah Miller, 'Citizens Against Monopoly' Sound the Alarm
MHProNews will continue to track this topic, as most of the industry's trade media ignores the topic. "We Provide, You Decide." ©
"Shadows of Liberty" Movie Introduction, Affordable Housing, and You
Bloomberg Closing Ticker for MHProNews…
NOTE: The chart below includes the Canadian stock, ECN, which purchased Triad Financial Services.
NOTE: The chart below covers a number of stocks NOT reflected in the Yahoo MHCV, shown above.
NOTE: Drew changed its name and trading symbol at the end of 2016 to Lippert (LCII).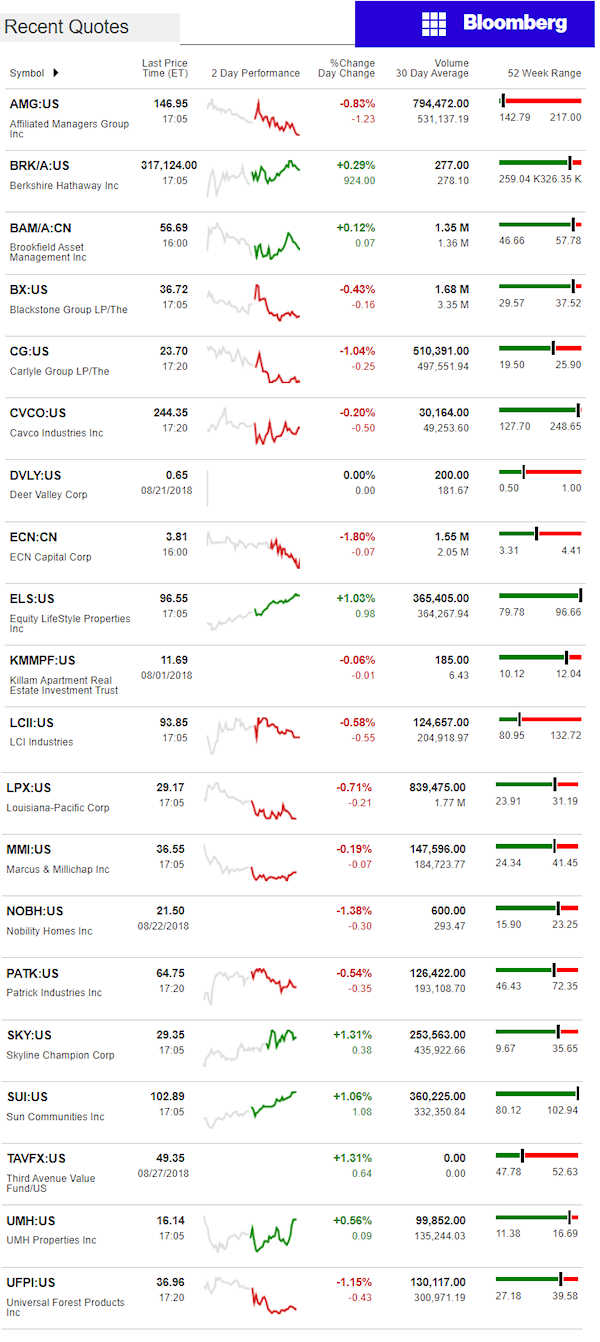 Berkshire Hathaway is the parent company to Clayton Homes, 21st Mortgage, Vanderbilt Mortgage and other factory built housing industry suppliers.
LCI Industries, Patrick, UFPI and LP all supply manufactured housing.
AMG, CG and TAVFX have investments in manufactured housing related businesses.
Your link to industry praise for our coverage, is found here.
For the examples of our kudos linked above…plus well over 1,000 positive, public comments, we say – "Thank You for your vote of confidence."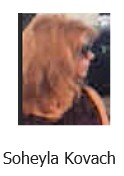 "We Provide, You Decide." © ## (News, analysis and commentary.)
(Image credits and information are as shown above, and when provided by third parties, are shared under fair use guidelines.)
Submitted by Soheyla Kovach to the Daily Business News for MHProNews.com.