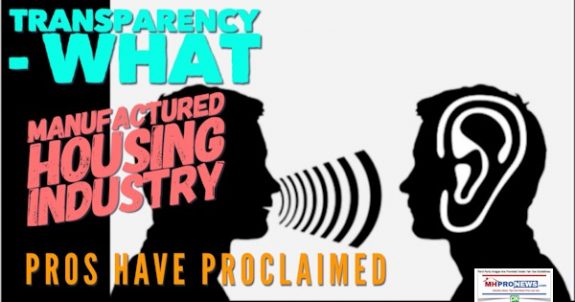 Facts are a reflection of reality. Other words for 'facts,' are truth, proof, reality, evidence and actualities.
Facts are not opinions, which we all have, but which may or may not be aligned with the facts.
Opinions of all kinds are routinely flowing into MHProNews HQ.  They come via phone, email, social media, texts or even by good-old fashioned U.S. Mail. We welcome the input from all.  Because even those – sometimes, especially those – that 'see it differently' are important to consider.
In science and with logic – objective reasoning – the mind is supposed to open, until it discovers the truth of a subject.  Once the truth is understood, the mind closes on truth. Truth isn't what we or someone else wants or desires the truth to be.  Rather, truth is a reflection of facts, of reality.
So, the mind – like the mouth – ideally closes when it is time to chew, and swallow, on substantial truth.  Some fear the truth, and they or others will toss out all sorts of distractions – red herrings, razzle dazzle, etc. – hoping to keep minds from closing on the truth.
First, the Big Facts…
What follows first are a set of statistics, but they speak volumes.  We'll deal with quotes and more facts in an upcoming report.
Every visit to a page is akin to a vote.  It tells us – and now, you – what the industry is reading, and how often.
These are the actual numbers provided by third-party Webalizer, which is installed on the website's server, which means it is accurate (not a guess from a third-party service that is not installed on a website's server).  Let's first share some third-party quotes about Webalizer, not boasts from Webalizer.  These two are taken from page 1 Google search results:
"A handy tool for doing this [website analytic data] with a web serveris 

Webalizer

." – 100TB.
"

Webalizer

is a fantastic, free web server log file analyzer.

It is fast and generates very nice statistical reports about who is hitting your site and what they are hitting

." – AvaJava.
Note, we don't know specifically who visits a site, that would require a login or other tags that we don't generate or require. But what we do is get aggregated data that tells us about industry readership.
Keep in mind, that the Manufactured Housing Institute (MHI) says (we think, incorrectly – and won't go into detail today why we believe that number is likely too low – but that's another story for another time) that there are some 40,000 full time equivalents (FTEs) in manufactured housing in the U.S.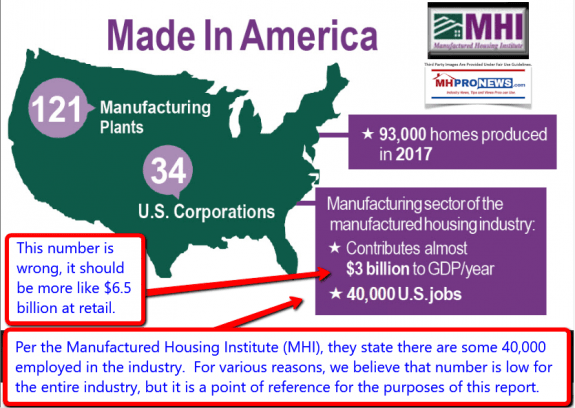 For lack of a better piece of third-party data, we'll use that for now.
There are certainly others who are professionals that are looking at MHProNews.  Among them, per Webalizer, are federal officials (.gov), educators (.edu), military (.mil), Canadians, people from other nations, and so on. We know media and other researchers that may not be part of an educational institution (not a .edu) will also be periodic visitors on our website.
The following are two screen captures, both done today: "Generated by Webalizer" a "Summary by Month" that were "Generated 23-Oct-2018 07:04 CDT."
These first two are among the several CPanel or URLs among the dozens that we own for MHProNews.com, or our original URL mhmarketingsalesmanagement.com.  Note that it is the same as MHProNews.com, both will take you to the same pages.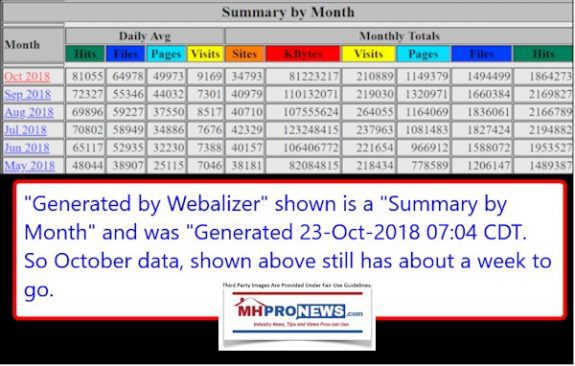 We'll call all of this herein MHProNews for clarity, because it is all on the MHProNews.com website.  What those two cPanel/URLs shown above tell you is this.  On those two URLs/CPanels alone on MHProNews, there are so far during the month of October some 11,000 plus visits-per-day from professionals like yourself.
It's a strong, practical endorsement of time and engagement.  Now, what specifically is attracting those readers?
Let's look at some examples.
The article linked below was published on the afternoon of 10.20.2018.
By 10.22.2018 it already had the following results.
In less than half-a-week, that article generated a total hit count equal to 1 out of 7 professionals in MHVille claimed by MHProNews (again, we disagree with MHI's total estimate, our thinking is their total is too low).  Thousands of industry professionals that do certain jobs may never visit a website like this, as it is designed for managers, owners, executives, investors, and other professionals, etc.
Rephrased, that article is red-hot. Or tongue in check, 'read-hot.'  That article is the one linked below.
Expose! Why Has Warren Buffett/BH Funded Anti-MHC Activists, MHAction? Why Fund Attacks on ELS, Frank Rolfe, Blackstone Group?
The article linked below was published on Oct. 9th.
The article linked below was published on Oct. 2nd.
NBC Video – Federal Authorities Investigating Clayton Homes, Maxine Waters Denounces Lending "Discrimination" Against Minorities
ICYMI, or want a refresher, those two articles are linked above and below.
Clayton Homes Ripped by Customer Complaints Spotlighted on ABC News
First Takeaways?
The first takeaways are that:
MHProNews totally dominates.
Industry readers want serious news and analysis, not just eye-or-ear tickling opinions, thinly-veiled marketing, or arguably agenda-driven, and weaponized reports.
The best efforts to derail MHProNews by the purported Omaha-Knoxville-Arlington triangle and their allies has had an effect, but has not succeeded in destroying this industry-leading resource.
Take Two
Last month, as you saw above, there were more than 10,000 visits per day. Frankly – due to efforts we'll attribute to what others told us wee alleged efforts reported by people with knowledge – tried to undermine our evidence-based reporting, commentary, and analysis
That said, MHProNews traffic rebounded, as you see. It continues to climb. Professionals must like what they see, because we outpace the typical other trade media sites. So much so, that one of our competitors said of themselves, that they don't publish news at all. That was honest.  They publish feel good opinions.
When a few hundred manufactured housing industry professionals show up for an event, the industry celebrates.  Perhaps it should.  When MHI reportedly gathered over 1,000 pros to Las Vegas to hear HUD Secretary Carson, that was a record in recent history for them.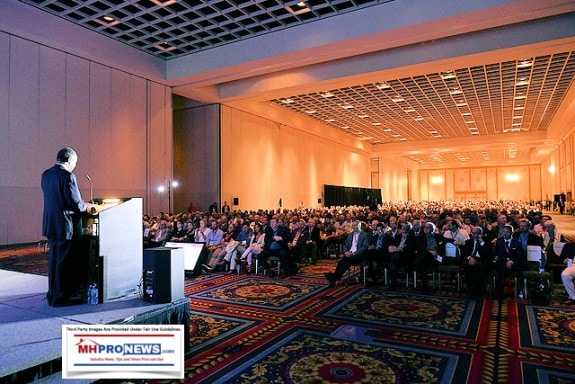 Compared to 1,000 that heard that HUD Secretary Ben Carson address, 1000 hits on many articles would be a low total for dozens of our articles a month.  To be objective, no question that it is harder to get someone to an event, than to pick up their smartphone, tablet or get them to logon with their laptop or desktop computer.  But it is also no question that both a live event, and digital content can be compelling.
Per sources to MHProNews, if you take a single day total, that exceeds in a day what several other's 'news' or 'blogs' or 'magazines' get in an entire month.
Note too that in addition to what Webalizer reports, our email news attracts thousands who read the headlines, plus a healthy percentage who click through from the emails to read the stories that interest them.
As a plug, this is part of the reason why our advertisers get results.  We have more engagement, and more routine engagement.  It is common sense that a business daily is going to outperform a weekly or monthly blog, or an email that goes out once a month or every two weeks with messages and content that is routinely opinion, rather than news-with-analysis.
So that's the broad brush. It is why MHProNews is the runaway #1 in manufactured housing.
With the table set, now, let's drill down from there.
There are 'modules' or sections of the website, such as
The Daily Business News
The Masthead Blog
MHARR News,
Featured Articles,
Industry Voices, and so on.
Routinely among the higher traffic parts of the MHProNews website is MHARR – Manufactured Housing Association for Regulatory Reform – news.  Keep in mind that there are 'hits' on a specific article, but there are also 'hits' on the module or section itself.   So, a visit to the 'top' of the module is distinct – and tabulated separately – from a visit to a specific article. Some professionals bookmark a specific page, and then they visit that page daily, x times weekly or whenever.
The number on the left is the rank of that on the MHProNews website, the second number are the hits on that article as of the date and time shown.  The third is the link being ranked.
As we've revealed previously, there are numerous URLs and several CPanels on the MHProNews website.  So, these are not grand totals.  These are the total for a specific CPanel and a specific URL only.  Grand totals would be significantly higher, but take time to pull and total.  That's not yet automated, so we pick a higher total CPanel and URL, and then use it for a sampling.
Rephrased, the total on the Masthead blog, shown below doesn't include the hits on the specific article that follows.

Let's stipulate that both President Donald J. Trump and his anti-Trump opponents at times error in various ways. No one is perfect. Let's note later why the bullets below matters for the cause of the economy, affordable housing in general, and manufactured homes in particular.
So, on this date, as of the time shown above, those two URLs have had over 7,400 total hits. The average visitor on MHProNews checks out several pages per visit, before moving on with their day.
As an FYI, at just over 1000 hits so far this month is the following.  Needless to say, not everyone does sign up.  But obviously, there are more than enough that do, and some of them encourage their friends to read our emailed news updates too.  That's what the subscribe is to, our emailed news, which typically goes out twice weekly.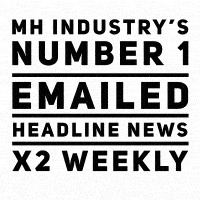 Months – Almost a Year Since a Report First Posted…
It has been almost a year since the report below was published. It was published on November 15th, 2017.  Yet, 11 months later, it is still among the top 250 reports being accessed on MHProNews, per Webalizer. It's an ongoing signal that the Manufactured Housing Institute (MHI) is not pleasing people with its performance. Because if they did, who would be reading the report below?
Study Recommending New Manufactured Housing Association for Independent Retailers, Communities, Lenders, Others Released
Part One of a Multiple Part Series – Bottom Lines?
Short term, the industry's independents should focus on influencing their peers and circle of influence to do what they did in 2016.  Vote to surprise the powers that be, by providing the red tide, instead of a blue wave.
Once the midterms are over, as we've noted previously, there are specific needs for our industry.  Those are more likely to get addressed by the Trump Administration, not by pro-big tax, big regulation government Democrats.
The final bottom line is that the across the spectrum, big companies, small or all in between, readers flock to MHProNews. This month, its over 11,000 visits daily, per just 2 of the dozens of URLs and CPanels that data that we have.  Fear and over-caution must be confronted by prudent action.
For the next two weeks, we'll continue to lead the charge up to the midterms, blended along with other key industry news reports, and some specials.  Once the midterms are done, you'll see a revised program that can provide the next tidal shift that could begin to sweep out the old guard in MHVille, and replace it with the new. That could in turn witness a true rise in manufactured housing shipments to its true potential, not this purportedly foot-on-the-brakes limited scenario professionals and investors struggle under today.
Stay tuned for more facts and reason based special reports, along with evidence and logic based analysis that you won't find anywhere else in MHVille.  Please join those who are signing up for our emailed news updates, at this link here. © ## (News, analysis, and commentary.)
(Related Reports are further below. Third-party images and content are provided under fair use guidelines.)
1) To sign up in seconds for our MH Industry leading emailed news updates, click here.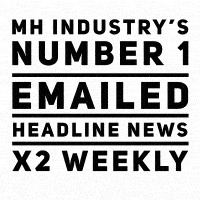 2) To pro-vide a News Tips and/or Commentary, click the link to the left. Please note if comments are on-or-off the record, thank you.
3) Marketing, Web, Video, Consulting, Recruiting and Training Re-sources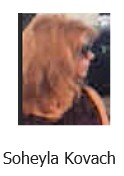 Submitted by Soheyla Kovach to the Daily Business News for MHProNews.com. Soheyla is a managing member of LifeStyle Factory Homes, LLC, the parent company to MHProNews, and MHLivingNews.com.
Related Reports

:
What are the FACTS about Manufactured Housing Industry Traffic vs. Real Estate? MHVillage, MHProNews, Manufactured Housing Institute Data
NDAs, Warren Buffett, Richard 'Dick' Jennison, Manufactured Housing Institute (MHI), and MHVille