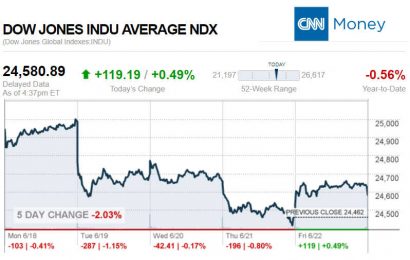 U.S. Department of Commerce Secretary Wilbur Ross told Fox Business that the U.S. lost the trade war, it already happened. What President Trump is seeking is to reverse decades of lost trade battles.  CNBC's Jim Cramer think the U.S. can win, but must do so fast
If you're new, already hooked on our new spotlight feature – or are ready to get the MH professional fever – our headline reports are found further below, just beyond the Manufactured Housing Composite Value for today.
The evolving Daily Business News market report sets the manufactured home industry's stocks in the broader context of the overall markets.
Part of this unique feature provides headlines – from both sides of the left-right media divide – that saves readers time, while underscoring topics that may be moving investors, which in turn move the markets.
Readers say this is also a useful quick-review tool that saves researchers time in getting a handle of the manufactured housing industry, through the lens of publicly-traded stocks connected with the manufactured home industry.
MH "Industry News, Tips and Views, Pros Can Use." ©
ICYMI – for those not familiar with the "Full Measure," 'left-right' media chart, please click here. 
Selected headlines and bullets from CNN Money:
What higher wages means for Domino's and McDonald's
ZTE pays $1 billion fine to US over sanctions violations
Tariffs on European cars would hurt US auto jobs
Etsy sellers confront unknowns after Supreme Court ruling
Chipotle hopes quesadillas and milkshakes bring customers back
This group is getting ahead in America
OPEC strikes deal to increase oil production
Wall Street banks are healthier than ever
Self-driving Uber driver may have been streaming 'The Voice'
GM's new Chevy Blazer will be built in Mexico
What's wrong with Starbucks
GM is bringing back the Chevy Blazer, an SUV classic
Harley-Davidson is spared tariffs by India
Take that, America. Europe's tariffs take effect
Tech stocks are on fire
How to have a better relationship with money
'The Conners' is happening, without Roseanne Barr
Your online shopping may get more expensive
An innovative way health care companies are finding new workers
Goldman Sachs: Buckle up. Trade war fears will likely get worse
American media keeps falling for Russian trolls
Turkey's currency crash puts economy at heart of election
Airbus: Brexit chaos threatens our future in UK
Daimler warns US-China trade war will hit its profits
AT&T quickly rolls out streaming TV service after Time Warner deal
Intel CEO resigns after 'past consensual relationship' with employee
Judge rules CFPB's structure is unconstitutional
Here's how KitKats are made
Charles Krauthammer, legendary conservative intellectual, dies at 68
Corey Lewandowski dropped by speakers bureau after 'womp womp' comment
'Stranger Things' caused an Eggo boom. Now sales are waffling
Selected headlines and bullets from Fox Business:
Trump to EU: Drop your tariffs on US goods or I'll retaliate
President Trump fired a new warning shot to the European Union.
Oil climbs even as OPEC agrees to up production
Dow snaps losing streak as oil prices surge
GE should temporarily suspend dividend: Goldman
Online sales tax will benefit these states the most: Fitch
Chipotle shares rise as chain tests new menu items
GM to make Chevy Blazer SUV in Mexico
NBA Draft rookie pay scale: Here's how much each player will earn
Monsanto trial over possible Roundup cancer link begins
4 common mistakes in retirement planning
Internet sales tax ruling 'rebalances things'
UPS, Teamsters reach handshake deal on new contract
Steel maker JSW to build new plant, invest $500M after Trump tariffs
Supreme Court adopts new rules for cellphone tracking
Charles Krauthammer dies at age 68
Chevy unveils new SUV: the Blazer
US has 25 million illegal immigrants: Texas Lt. Gov.
US dairy farmers 'deeply concerned' about exports situation
Internet sales tax ruling 'rebalances things'
Today's markets and stocks, at the closing bell…

Manufactured Housing Composite Value (MHCV)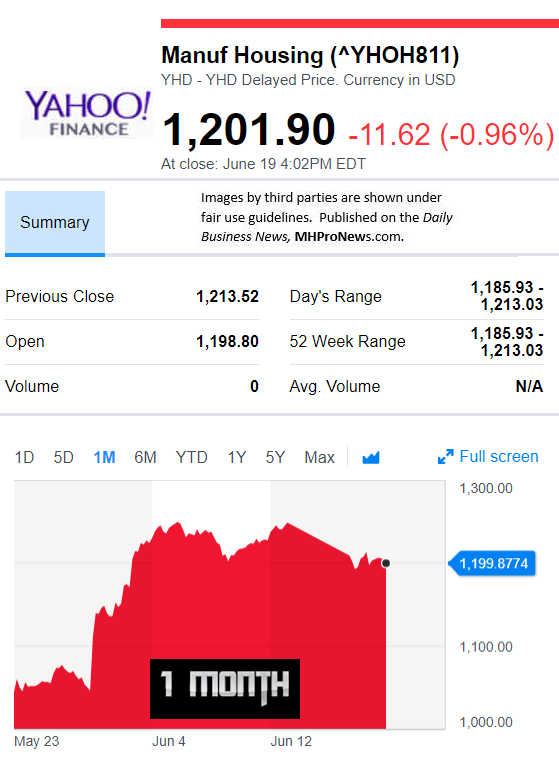 Today's Big Movers
For all the scores and highlights on tracked manufactured home connected stocks today, see the Bloomberg graphic, posted below.
Today's MH Market Spotlight Report –
"From now on, we expect trading relationships to be fair and to be reciprocal."
– President Donald J. Trump
 That was just a few weeks ago, when the 45th president let the world know that he wasn't going to take it anymore.  This is another campaign promise, not a surprise. 
CNBC's Jim Cramer expects President Donald Trump will win his trade fight.
"You just need it be done within the next three to six months because the world [economy] is slowing too quickly," Cramer said.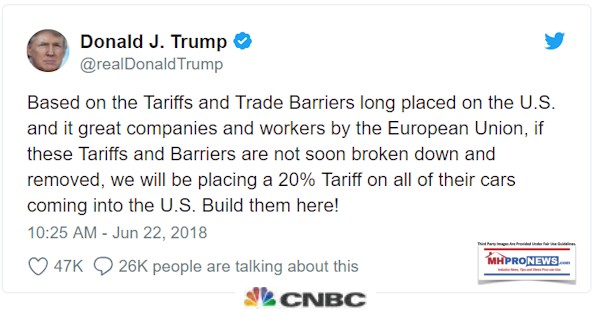 Cramer has indicated previously his belief that these policies can work.  Others, previously reported by the Daily Business News in our evening market report, have too.
The Dow broke its losing streak today, closing up.
Some bullets from CNBC on this topic today.
•          President Donald Trump will win his trade fight, CNBC's Jim Cramer said Friday, but investors should hope it happens quickly.
•          "Stocks are getting cheap because I genuinely believe we are going to win the trade war," Cramer said. "You just need it be done within the next three to six months because the world [economy] is slowing too quickly."
•          Cramer spoke before Trump tweeted another tariff threat, this time targeting imported autos from the European Union.
•          This week, Trump also instructed the U.S. trade representative to identify $200 billion worth of Chinese goods for additional tariffs at a rate of 10 percent. That would be on top of the 25 percent tariff on up to $50 billion of Chinese products that the president unveiled last week. Those latter measures, announced on June 15, are set to start July 6.
•          The Trump administration put tariffs of 25 percent on steel imports and 10 percent on aluminum imports from Canada, Mexico and the European Union earlier this month.
•          There are many "false reports" that the administration will "let up" on its trade tactics, Cramer said. However, Cramer thinks Trump and his White House advisors "really believe they have China on the run."
•          "Why make a truce?" Cramer asked, saying the thesis in the White House seems to be, "'Why should we take our foot of the pedal? Why not just crush them.'"
•          On Tuesday, Cramer said he's not worried yet about the escalating trade conflict between the United States and China.
•          Cramer contended that Trump has the upper hand. "The president is saying, 'You know what guys [China] … we got more staying power than you, particularly with your stock market collapse.'"
Related Report:
As Trade War Talk Heats Up New Infographic Helps Visualize World's Biggest Exporters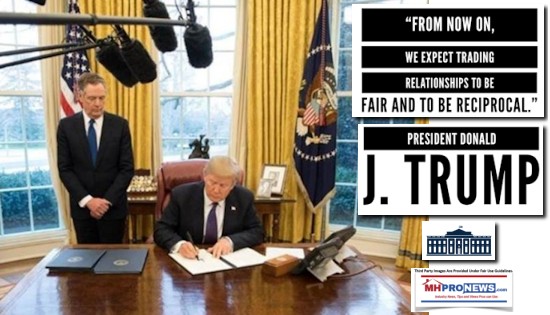 Bloomberg Closing Ticker for MHProNews…
NOTE: The chart below includes the Canadian stock, ECN, which purchased Triad Financial Services.
NOTE: The chart below covers a number of stocks NOT reflected in the Yahoo MHCV, shown above.
NOTE: Drew changed its name and trading symbol at the end of 2016 to Lippert (LCII).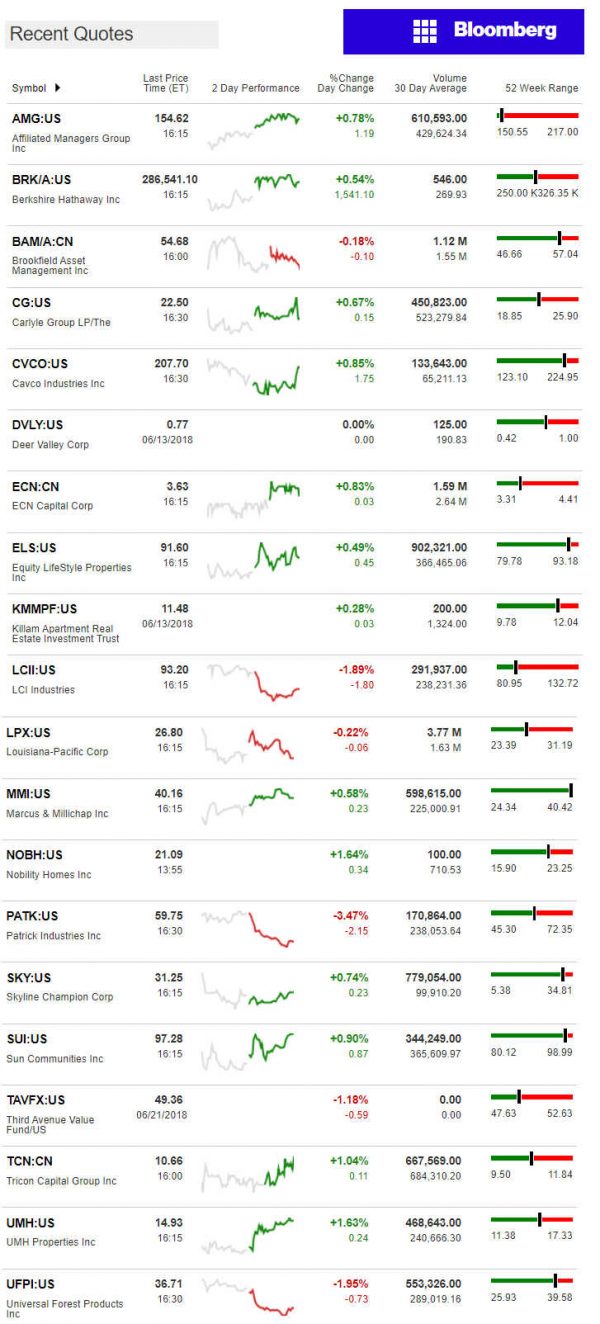 Berkshire Hathaway is the parent company to Clayton Homes, 21st Mortgage, Vanderbilt Mortgage and other factory built housing industry suppliers.
LCI Industries, Patrick, UFPI and LP all supply manufactured housing.
AMG, CG and TAVFX have investments in manufactured housing related businesses.
Your link to industry praise for our coverage, is found here.
For the examples of our kudos linked above…plus well over 1,000 positive, public comments, we say – "Thank You for your vote of confidence."
"We Provide, You Decide." © ## (News, analysis and commentary.)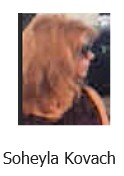 (Image credits and information are as shown above, and when provided by third parties, are shared under fair use guidelines.)
Submitted by Soheyla Kovach to the Daily Business News for MHProNews.com.