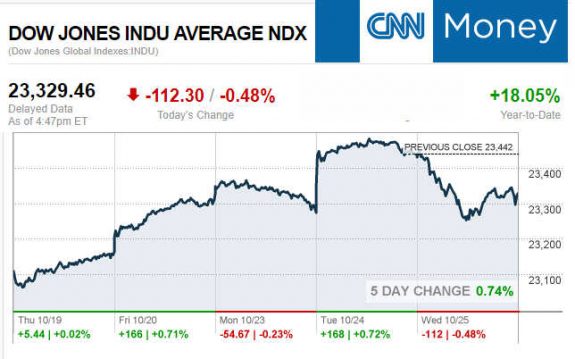 How much regulation is good, and how much is too much?  Today's snapshot, graphics and video, on that topic further below will be used to complement the Time Magazine cover that frets that the Trump Administration is wrecking the modern regulatory state. 
And ICYMI it, earlier today the Daily Business News reported that barring the unforeseen, Canadian ECN Capital Corp (TSE:ECN) will be buying manufactured home lender, Triad Financial Services.  Once that occurs, ECN will join the other industry connected stocks tracked here daily in the charts, graphs, tickers and commentary, below. 
If you're new, already hooked on our new spotlight feature – or are ready to get the MH professional fever – our headline reports are found further below, just beyond the Manufactured Housing Composite Value for today.
The evolving Daily Business News market report sets the manufactured home industry's stocks in the broader context of the overall markets.
Part of this unique feature provides headlines – from both sides of the left-right media divide – that saves readers time, while underscoring topics that may be moving investors, which in turn move the markets.
Readers say this is also a useful quick-review tool that saves researchers time in getting a handle of the manufactured housing industry, through the lens of publicly-traded stocks connected with the manufactured home industry.
MH "Industry News, Tips and Views, Pros Can Use." ©
Selected headlines and bullets from CNN Money:
Here's what you'll pay for Obamacare in 2018
Amazon now has more than 500,000 employees
Government reviewing Puerto Rico power deal
Uber sued for gender, racial pay inequity
Walmart is putting even more robots in its stores
Amazon Key asks users to trade privacy for convenience
How much has Bill O'Reilly's star power faded?
It's not just the NFL suffering TV ratings slump
Mark Halperin accused of sexual harassment Trending
Success means not having to clean your own home
Launching the Dodge Demon on a drag strip
Selected headlines and bullets from Fox Business:
CVS Health is in Talks to Buy Aetna: Sources
House passes budget plan, paving way for tax cut legislation
Dow, S&P 500 end up; earnings a boost
Brent oil hits 27-mth high on Saudi talk of extending supply cuts
Trump declares opioid epidemic a national public health emergency
Trump names acting IRS chief: Who is David Kautter?
Warren Buffett: Bitcoin is a 'real bubble'
Opioid Arrest: Insys Therapeutics founder indicted
Martin Sorrell predicts bullish market ahead of GOP tax cuts
Trump's plan to eliminate SALT will shave 10% off the value of your home: Pelosi
Missile maker Raytheon boosts production as US military stresses readiness
Peter Thiel: Bitcoin is 'very underestimated'
Americans short-changing their 401(k)s
Fmr. NPR CEO: Once I left the 'liberal bubble' I learned to love the right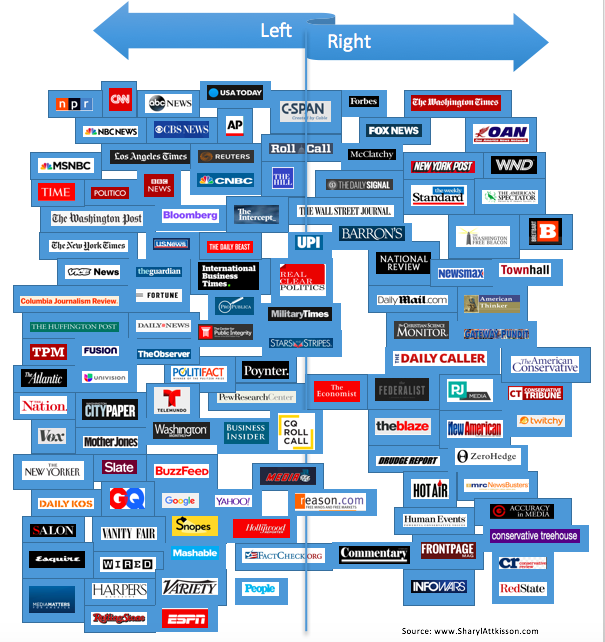 ICYMI – for those not familiar with the "Full Measure," 'left-right' media chart, please click here. 
Today's markets and stocks, at the closing bell…
S&P 500 2,560.40 +3.25(+0.13%)
Dow 30 23,400.86 +71.40(+0.31%)
Nasdaq 6,556.77 -7.12(-0.11%)
Crude Oil 52.79 +0.61(+1.17%)
Gold 1,268.20 -10.80(-0.84%)
Silver 16.80 -0.13(-0.77%)
EUR/USD 1.165 -0.0166(-1.40%)
10-Yr Bond 2.45 +0.01(+0.33%)
Russell 2000 1,497.46 +3.98(+0.27%)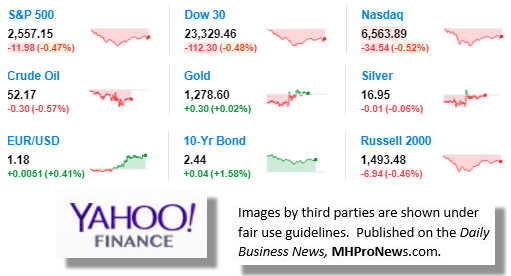 Manufactured Housing Composite Value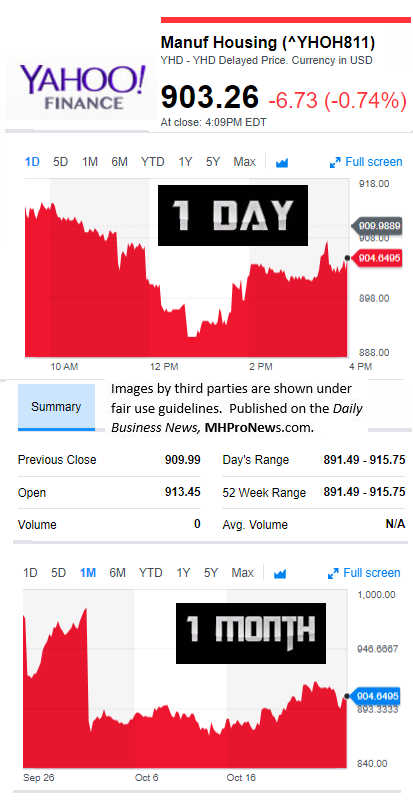 Today's Big Movers
For all the scores and highlights on tracked manufactured home connected stocks today, see the Bloomberg graphic, posted below.
Today's MH Market Spotlight Report –
Left-of-center Time Magazine, and the right-of-center New York Post are known for their often creative covers.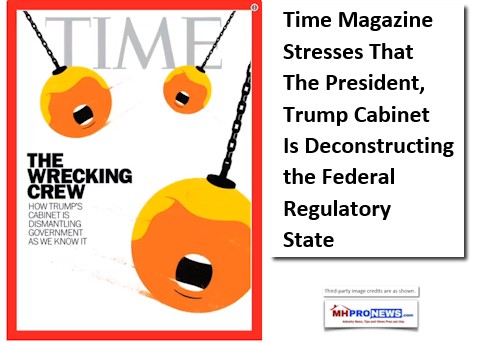 Time's newest cover is meant as a slam on the Trump Agenda, making their case that the Trump Administration is taking a wrecking ball to the federal government as we know it.
The graphic rich video on this page from Steve Forbes explains why less is more for business and consumers, regarding government regulation.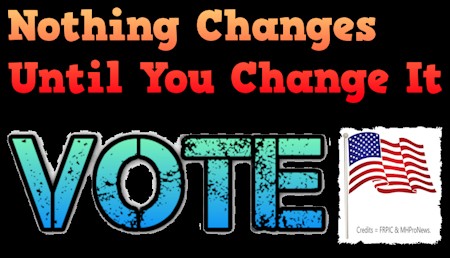 MHProNews has spotlighted economic facts for years, and hit the issue heavily during the 2016 campaign season, with charts like the one below.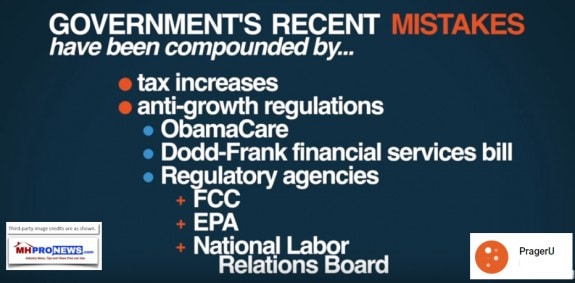 A number of experts and market watchers agree that much of the economic growth so far this year is because of regulatory roll-back.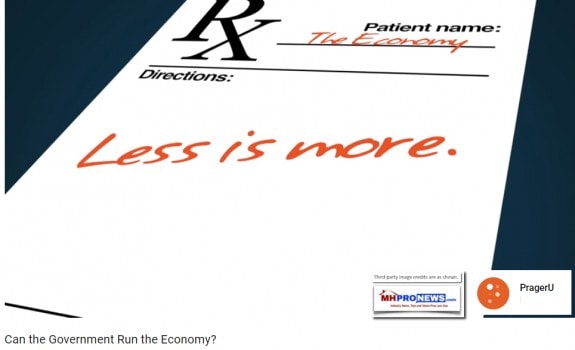 With the Senate and now the House having both passed a budget, the way is clear for a tax reform push for years end.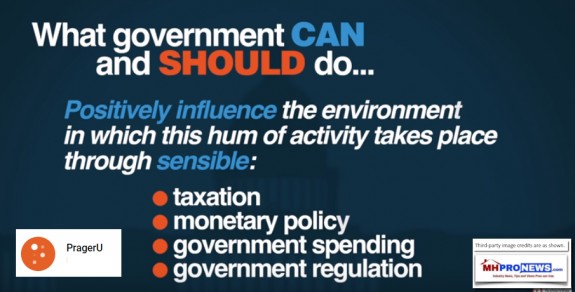 The stills above are just a few of the well crafted graphics in the video below.
The White House Press Room's West Wing Reads Today…
————
In economic news, the Washington Examiner reports that data from the Labor Department on Thursday showed that "the total number of workers receiving unemployment benefits again fell to the lowest level in nearly 44 years in mid-October," a sign that "job creation is strong."
————
Regarding the phony Trump dossier, the Wall Street Journal editorial board writes on the hidden joint financial actions of the Democratic National Committee and Hillary Clinton's campaign that make it appear "Democrats paid for Russians to compile wild allegations," about President Trump, as well as the credibility of the investigation as a whole.
————
The Christian Post's Samuel Smith writes on Vice President Pence's promise to Middle Eastern Christian leaders that the United States will begin providing help to "rebuild their ancient communities" following the order President Trump gave to the U.S. State Department to enable U.S. aid funding to go "directly to faith-based organizations actively supporting Christians and other religious minorities displaced by the Islamic state."
————
At the Associated Press, Erica Werner and Alan Fram write on the unity within the Republican Party after a pair of prominent senators denounced President Trump and invited their colleagues to join them. Instead, "most GOP lawmakers rallied around Trump and his agenda," and "voiced unqualified support," for the President, Werner and Fram report.
See Recent Exclusive 1 Year Snapshot of All Tracked Stocks
http://www.MHProNews.com/blogs/daily-business-news/manufactured-housing-industry-markets-wall-street-reacts-to-trumponomics-1-year-data-snapshot/
NOTE: the chart below covers a number of stocks NOT reflected in the Yahoo MHCV, shown above.
NOTE: Drew changed its name and trading symbol at the end of 2016 to Lippert (LCII).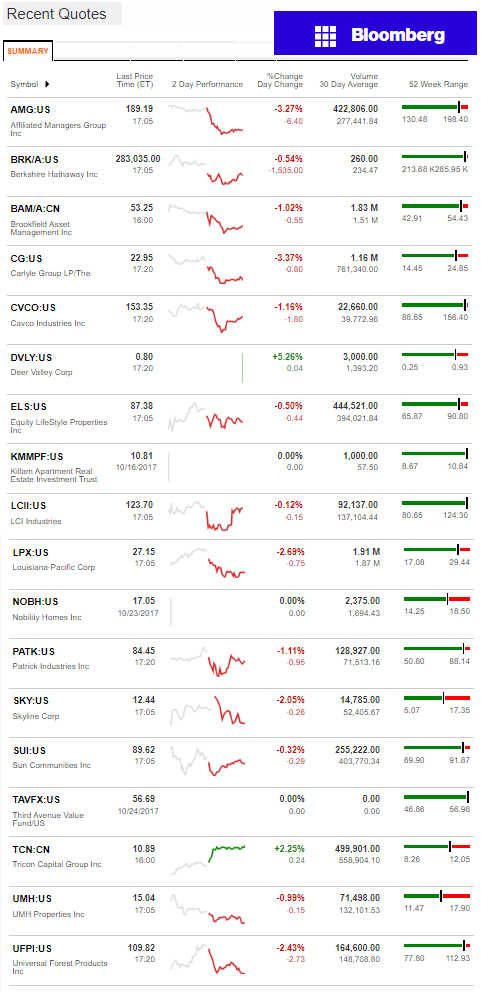 Berkshire Hathaway is the parent company to Clayton Homes, 21st Mortgage, Vanderbilt Mortgage and other factory built housing industry suppliers.
LCI Industries, Patrick, UFPI and LP all supply manufactured housing.
AMG, CG and TAVFX have investments in manufactured housing related businesses.
Your link to a recent round of industry praise for our coverage, is found here.
For the examples of our kudos linked above…plus well over 1,000 positive, public comments, we say – "Thank You for your vote of confidence."
"We Provide, You Decide." © ## (News, Analysis.)
(Image credits are as shown above, and when provided by third parties, are shared under fair use guidelines.)

Submitted by Soheyla Kovach to the Daily Business News for MHProNews.com.