From L.A. to D.C., the left, right and center of the nation has been buzzing about the Kid Rock for Senate tease.
He says, the door is still open…
Democratic Senator Elizabeth Warren had stated that given President Trump's victory, the idea of Kid Rock running for the U.S. Senate as a Republican in the State of Michigan had to be taken seriously.
The performance artist and his would-be, could-be, won't-be, might-be opponent Sen. Debbie Stabenow (D-MI) fund raised on the threat.
But on Howard Stern's SiriusXM radio show, he mostly killed the idea with the same four letter blitz that he launched his voter registration, campaign website and related 'campaign' with, "F— no, I'm not running for Senate," per the LATimes.
"Are you f—ing kidding me? Who couldn't figure that out?" the proud manufactured home owner said.
The Po-Dunk video below uses some salty language 
and suggestive images, but also provides an interesting
way of 'uplifting' the common woman and man that
the Clinton campaign called "the deplorables." The 
video celebrates those who cling to their Bibles and guns. The
"camo" manufactured home belongs to Kid Rock.  He "loves it."

Rock's friend and fellow performer, Ted Nugent, said it was a stunt weeks ago, as MHProNews had previously reported.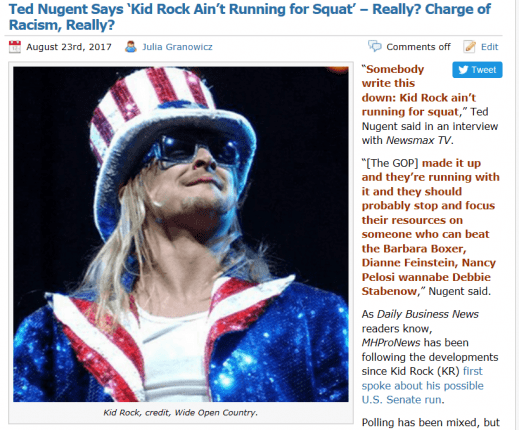 Manufactured Home Features in "Po-Dunk," "Born Free" Performer's "Platform"
Robert Ritchie, Kid Rock's given name, said he's releasing a new album and will be doing a tour.
"I'm releasing a new album. I'm going on tour, too. Are you f—ing shitting me?" he asked Stern, per Washington D.C.'s The Hill.
"Singing karaoke in a double wide."
– lyrics from, Tennessee Mountain Top
Kid Rock Played the song above during his "Big Interview" with
Dan Rather – they filmed this video in his camouflaged manufactured home
that overlooks Nashville, TN – the artist's own "Tennessee Mountain Top"
Again, salty and suggestive.

The Rocker Leaves the Door Open
"If they keep f–king with me in the papers and everything, I'm going to run," a laughing Ritchie said on Stern's show, stated the Hill. "And I'm going to go to f–king DC, I'm going to beat the shit out of Debbie — whatever the f–k her name is — and then I'm going to go to D.C. and I'm going to smack the living shit out of all of them motherf–kers on the Hill."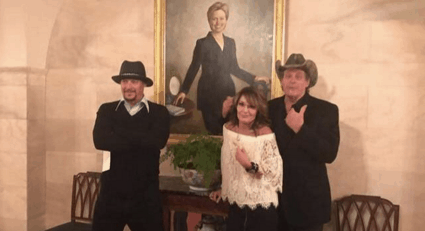 While suggesting he doesn't always agree with how President Trump phrases his message, Kid Rock said, "I think the things he's doing is good."
Ritchie admitted, "I say dumb shit, but I'm like f—ing in a band."
Should the left, right and center pray that the media pushes him into it? Would politics ever be the same?  ##   (News, analysis, commentary.)
(Image credits are as shown above.)

Submitted by Soheyla Kovach to the Daily Business News on MHProNews.com.