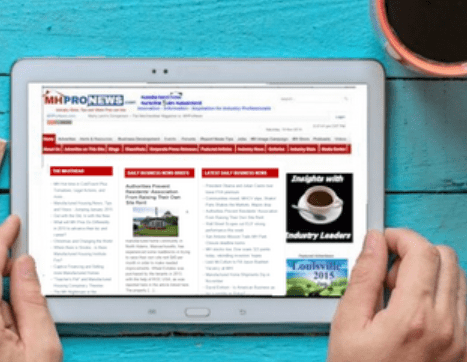 What's New in public focused Manufactured HomeLivingNews.com
Renters' Nation: The Dark Side of Dodd-Frank and Its Impact on Affordable Housing
Mary Zokoe talks Martin Motor Sports, Community Guidelines, More! Inside MH Road Show Video
What's New in Manufactured Housing Industry Professional News
CFPB imposed appraisal rule on HPML loans one month old. Mortgage disclosure rules will delay home sales. MHC has right to replace MH says judge. Houseless Katrina victims still recovering. Unique wastewater treatment facility ideal for MHCs. Home rentals moving from Mom & Pop to investors. Lego homes for disaster housing? Dow Jones tumbles, recovers. Fed official questions Fed policies. CA bank focuses on MH loans. And much, much more in communities and boardrooms, as well as facts and figures that affect the MH industry.
Saturday, Aug. 29
Some Katrina Victims just now Receiving Housing Assistance
Friday, Aug. 28
Oil Price Drop will Cost Jobs, Reduce Home Values
Legos on Steroids for Modular Disaster Housing?
Stock Market ends Week much Less Volatile
Title Company Head says Mortgage Disclosure Rules will Delay Home Sales
Manufactured Home Code Enforcement in City Hands
NYC Students Entering a Modular Home in Solar Decathlon
Thursday, Aug. 27
July's Pending Home Sales Slow on Short Supply
Near All Manufactured Housing Stocks Close Up; Dow Gains Strength
Judge Rules Manufactured Home Community's Right to Replace Homes
Skyline Corp. Reports Q4 and Fiscal Year 2015 Financials
Unique Wastewater Treatment System Solves Manufactured Home Community Problem
Wednesday, Aug. 26
Clayton Bradley Academy Expansion Begins
New Single-family Home Sales Rise in July
Manufactured Housing Stocks Close Up; Dow Regains Lost Ground
Fed's St. Louis Veep Questions Fed Policies
NIPSCO Energy Program Saves MH Owners on Utilities
Texas City Allows only Newer Manufactured Homes to be Sited
Tuesday, Aug. 25
Owners of Manufactured Home Community Honors Resident Students
Dow Continues Sliding; Manufactured Housing Stocks Close Mixed
Minimalist, Modular Container Homes Develop in Dallas
As with Land Lease Communities, Institutional Investors are Replacing Mom & Pop Operations in Home Rentals
Appraisal Rule on HPML Manufactured Home Loans – 1 Month Impact?
Canadian Land Lease Community Offers Lake Erie Vacationing
Monday, Aug. 24
Homes Selling Quicker than Six Months Ago
Deer Valley Shines; Dow, Nasdaq, S&P Continue Tarnished Fall
Could the Dow Jones Drop 1,000 Points? History says Maybe
Manufactured Home Community Installing Individual Water Meters
Community West Bancshares to Focus on Manufactured Home Loans
Sunday Morning Recap-Manufactured Housing Industry News Aug. 16-Aug. 23, 2015 ##
(Photo credit: MHProNews)

Article submitted by Matthew J.Silver to Daily Business News-MHProNews.