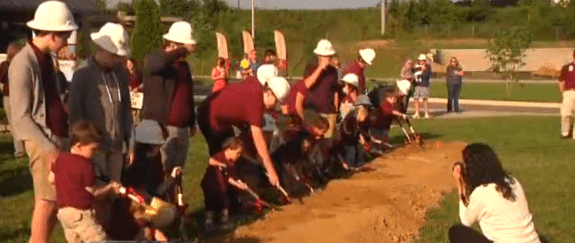 Updating a story MHProNews last published April 17, 2015 regarding the expansion of the Clayton Bradley Academy on the campus of Clayton Homes in Maryville, Tennessee, the Class of 2030 and the Class of 2018 broke ground for the multipurpose building that will include a 600-seat gymnasium, ten additional classrooms, a training center and a media resource center.
As wate-tv reports, school administrators for the STEM (science, technology, engineering and math) school say they needed more space as enrollment grew. Clayton Homes CEO Kevin Clayton says the 35,000 square foot facility "will be the icon building as you enter the campus. One of the purposes of the Clayton Bradley Academy was to share all the innovative teaching methods that we're doing here," said Clayton.
"Public schools, private schools, anybody that's interested, they have an open door. We believe there should be as many schools as possible and choices for families," he added.
The academy opened in 2013 and established a pre-K program in 2014. Construction on the new building, part of which will be modular, will begin this week and is expected to be completed within six months. ##
(Photo credit: wate-tv–Students break ground for the expansion of the Clayton Bradley Academy)

Article submitted by Matthew J. Silver to Daily Business News-MHProNews.