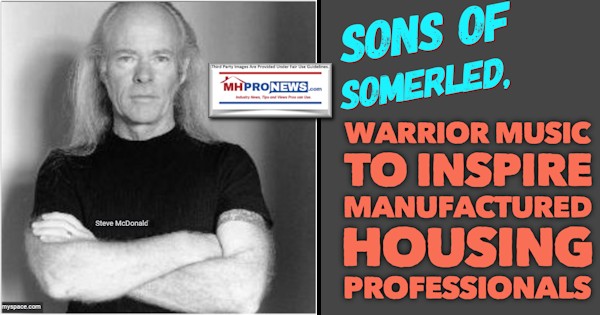 Our publisher calls this track from a Steve McDonald's classic album of the same name, "warrior music."
Some conflicts are peaceful in the sense that no blood need be shed.  
But as a multiple year Manufactured Housing Institute (MHI) executive level member told MHProNews, "I'm ready for info-wars." He understands that it accurate information is near the heart of what is needed in MHVille.  In our era, getting the facts out beyond the noice can become a form of 'warfare.'
MHI member Terry Decio said, "I'm tired of being the best kept secret. I'm ready to help house America."


MHI Chairman Joe Stegmayer received a subpoena in the latter part of 2018, as did his company, Cavco Industries. Stegmayer stepped down as Chairman and CEO of publicly traded CVCO.  Their stock dropped like a rock, sparking shareholder investigations. An insider called it a "debacle." 
That same Joe Stegmayer said on a MHI branded video that in many ways, manufactured housing is an "untold story."
It was an accurate statement, but also an odd and self-contradictory admission. After all, at about the same time in 2018 as MHI was claiming to have reached 84 million Americans with their advertorials, the industry was going into its 10-month year-over-year downturn during an affordable housing crisis. That takes some talent to accomplish, doesn't it?
Painted Into a Corner?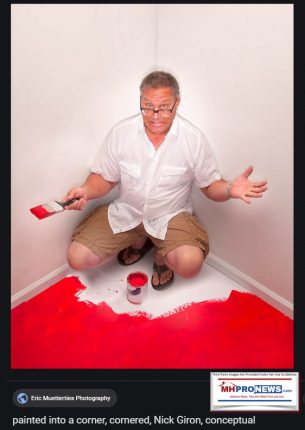 Part of the problem that MHI and their leadership faces is that they have debatably painted themselves into several corners. By holding them accountable for their own claims and words, much could be accomplished. When they fail to live up to their own claims, that speaks volumes. They have done so many inexplicable and profoundly odd things, that they are unwilling to publicly discuss or debate the issue of their performance. We know, because we have offered to do so directly and through their attorneys several times.
That's their constitutionally protected right to remain silent, which MHProNews respects. 
But it is time to keep putting even more metaphorical heat on them. Why? Because they are demonstrably caving on issue after issue that this publication and others voices – most notably MHARR – but some others less visibly do too – even from within their organization's own ranks. 
That said, here's McDonald's two songs that open the album. They are best played back to back, there is only a few moments of pause between the two on the album.
You can just listen, because this version has no visuals worth mentioning, just showing the album cover.
Once you've finished the two music tracks, while your blood is pumping, it will be worth it to dig into the reports linked from this report.
The consolidators are pressing manufactured housing independents and untold numbers of customers living in land lease communities that used to be owned by mom and pops, but are now often dominated by so-called vulture capitalists. There are signs that a synergy between white hat independents and large numbers of residents could be part of the move to bring the industry back to its glory days, for the benefit of homeowners and white hat independents alike.
Here are the lyrics, according to Genius to:
Sons of Somerled 
Through an age of fighting men
When sword was mightier than pen
There lived a clansman bold and true
The very one our name came through
Born of blood line dating from
The hundred battles warrior Conn
Gaelic Viking in his veins
Testify his battle fame
For three hundred and fifty years
The western highlands lived in fear
Fighting to regain the Isles
Down to Islay and Argyle
From the Dalriadan line
Through the centuries there we find
A Scotsman born with Viking name
Born to rule through love and pain
Hail to ye sons of Somerled
Hail to ye sons of Somerled
Ruling from the Isle of Man
Lslay was the place they'd …make their stand
After almost twenty years
He rid the Isles of Norsemen
..then and there
Hail to ye sons of Somerled
Hail to ye sons of Somerled
Through the timeless history
Fighting for their destiny
Images fly through my head
Images of Somerled… Somerled [musical chorus]
The warrior kings lived by the sword
From hill to loch and dark fjord
Battling 'til his life he shed
Leaving the throne
To the sons of Somerled.
##
As a closing thought, Sharyl Attkisson – a former CBS News investigative journalist and award winner – has in recent years turned independent and toward doing investigations and reports that often target her own profession.  Why?  Is it because she doesn't love journalism? Quite the opposite is true.   She is cited in the report below, which very much relates to an issue that ought to involve our industry.
President Says Democratic Run Cities Responsible for Growing Homeless Crisis, Other Big Metro Ills, Democrats, Protestors Strike Back
If you truly love your profession, you want it to be of the highest standards, not the lowest or mediocre, right? If so, then your profession is worth fighting for, and thus the need for inspiration for those conflicts between competing narratives, one set which harms MHVille, while the other set can liberate the industry to return to greatness.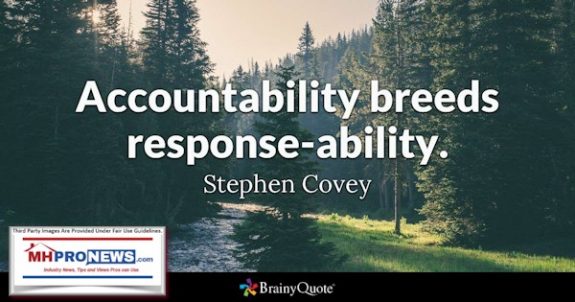 That's your second installment to inspire advancement, here at the runaway #1 manufactured home "Industry News, Tips, and Views Pros Can Use" © where "We Provide, You Decide." © ## (News, analysis, and commentary.)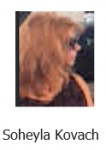 Submitted by Soheyla Kovach for MHProNews.com.
Soheyla is a managing member of LifeStyle Factory Homes, LLC, the parent company to MHProNews, and MHLivingNews.com. Connect with us on LinkedIn here and
Related Reports:
Click the image/text box below to access relevant, related information.
Manufactured Housing Institute Fine New Manufactured Home Industry Promoting Video, Insights & Usefulness
Making Affordable Manufactured Housing Appealing and Great Again
Another Resident Leader, and Another Sounds Off – Mark Bowersox, Manufactured Housing Institute Presidential Contest
MHPros, Community Owner-Operators, Take Note: Happy, Concerned Resident Leaders, Elected Official's Perspectives – What Lies Ahead?
"Rape, Pillage, and Murder" Reactions from Industry Professionals to Frank Rolfe Report