Affordable housing, working and middle class incomes are far from a new issue.  They have been part of the national scene in the U.S. for decades, as this brief recap and linked reports will serve to outline. And sexual or other scandals have arguably often taken those long-pressing issues for the masses hostage.
For the big three networks, an "average of 22.4 million Americans watched the evening news last week," per a recent December report on Adweek.  The graphic below suggests another 5.4 million watch one of the top 3 cable news networks. If one considers the other business news, and lesser watched 'national' cable channels, perhaps 30 million (+/-) tune in to someone's news program weekday evenings, out of a the estimated 2018 United States population (February 2018) of 327.16 million, per U.S. Census Bureau figures.
So a small minority of Americans tune into news.  That is no doubt fine for those who would prefer to do their work with the least possible level of public scrutiny.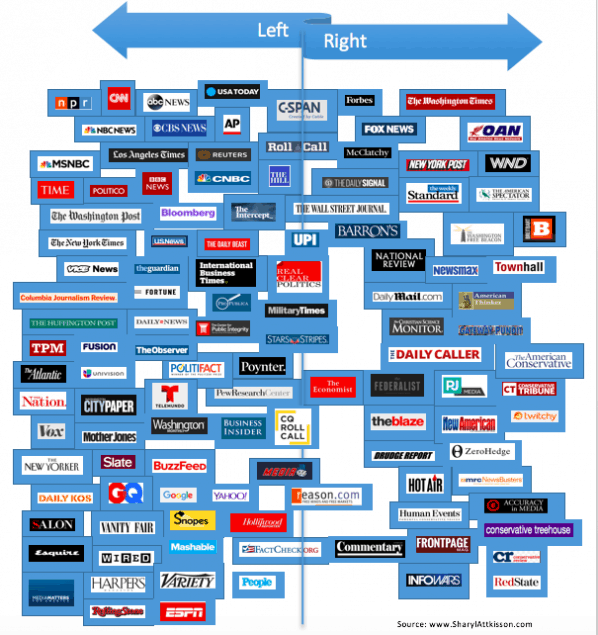 The highpoint for pre-HUD Code mobile home industry was achieved during the presidency of Richard M. Nixon. For two years, as the new home shipment chart below reflects, production soared passed 500,000 units a year. Those sales levels were supported by policies that provided Veterans Administration (VA) backed lending on mobile home loans, perhaps some emergency housing orders, and other encouragement from the federal government.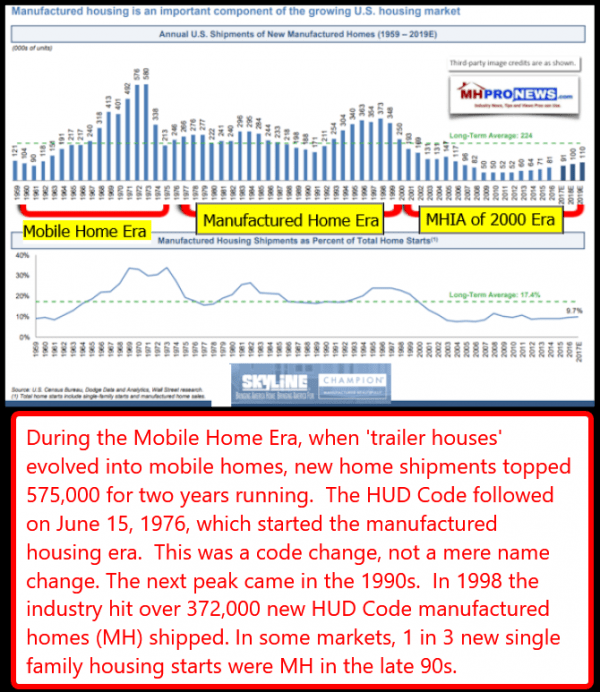 The scandals of Watergate brought down the presidency of Richard Nixon (R). In the video posted, mention is made of the role of how opposition research was used by Nixon and his allies against Senator Ted Kennedy (MA-D). For more on Nixon and mobile homes, and the emergence of the federal construction, safety, and energy that became the HUD Code for manufactured housing, click the linked report below.
Help Others "Get It" – Loans on "Mobile Homes" Promoted by Another U.S. President
The presidency of Gerald Ford (R) was brief, but not without its influence on the transition from mobile homes to manufactured housing. A literal and metaphorical stumble caused Gerald Ford to lose to Jimmy Carter. For insights into President Ford's roll in the transition from Mobile to Manufactured Homes is accessed by clicking on the linked box below.
U.S. President Praised "The Mobile Home Industry," Manufactured Homes are "Here to Stay"
President Jimmy Carter's (D) brother Billy had his shares of embarrassing moments. But the curated video Scandalous points to the effects of 'Ted' or 'Teddy' Kennedy at Chapaquidick bridge that may have been the difference between Carter losing to Republican Ronald Reagan (R). For some points on the Carters and manufactured housing, see the linked report, below.
President Jimmy Carter Blasts Trump Administration on Affordable Housing, Carter's Manufactured Home Ties
We've noted previously on the Daily Business News on MHProNews how the President Bill Clinton (D) era ushered in the passage of the Manufactured Housing Improvement Act of 2000 (MHIA), which in the new home shipments graphic shown is the most 'modern' part of the manufactured home industry's history.
Affordable Housing, Manufactured Homes, Bipartisanship, Bill, Newt, Sexual Scandals, and You
The Clinton era also gave us the sad turn of the phrase from Clinton operative James Carville. It was all done to distract from Clinton's sexual scandals.
"Drag a hundred-dollar bill through a trailer park, you never know what you'll find," James Carville, Clinton Strategist
Some don't like to admit it, but every administration for decades has had its share of real and/or manufactured scandals. It's bipartisan.
But affordable housing ought to be non-partisan.  The case for manufactured housing ought to transcend partisan lines.  Which is why it is worth noting that the Manufactured Housing Association for Regulatory Reform (MHARR) does its work with no PAC, while the Manufactured Housing Institute (MHI) has its MHI PAC. 
The video that follows is an interesting look at how scandals, past or more recent, have often hobbled presidents. In the case of Senator Ted Kennedy (MA-D), his scandal kept him from becoming president.  These events in turn thus influenced policies, including those related to incomes and affordable housing.  The video walks through several administrations, adding flavor and context to some of the linked information above and below.
Investors and professionals should be mindful of just how rapidly affordable housing can be ramped up with contemporary manufactured homes. The example of Rollohome is an ever-timely reminder – linked in the box below – because if that builder went from start-up to 60,000 homes in 2 years, it can most certainly be done again.  Arguably, it should be better, because we now have the federal standards known as the HUD Code for manufactured homes and the MHIA of 2000.
Before a younger generation thinks that there were no big allegations, concerns, dirty politics, and scandals prior to our time, the video above yields interesting insights by using numerous clips from the respective eras, mixed with commentary by the people who lived it.  That's this morning's "News through the lens of manufactured homes, and factory-built housing," where "We Provide, You Decide." © ## (News , analysis, and commentary.)
NOTICE: You can join the scores who follow us on Twitter at this link. You can get our 'read-hot' industry-leading emailed headline news updates, at this link here.

NOTICE 2: Readers have periodically reported that they are getting a better experience when reading MHProNews on the Microsoft Edge, or Apple Safari browser than with Google's Chrome browser. Chrome reportedly manipulates the content of a page more than the other two.
(Related Reports are further below. Third-party images and content are provided under fair use guidelines.)
1) To sign up in seconds for our MH Industry leading emailed news updates, click here.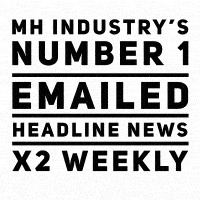 2) To pro-vide a News Tips and/or Commentary, click the link to the left. Please note if comments are on-or-off the record, thank you
3) Marketing, Web, Video, Consulting, Recruiting and Training Re-sources
Submitted by Soheyla Kovach to the Daily Business News for MHProNews.com. Soheyla is a managing member of LifeStyle Factory Homes, LLC, the parent company to MHProNews, and MHLivingNews.com.
Related Reports

:
HUD's Operation Breakthrough, Promoting Factory, Industrialized Building – Mobile Home Era to Modern Manufactured Homes.
"A New Era of Cooperation and Coordination," is Promised by HUD Secretary Carson, Saying "I Hear You"
"Thou Shall Not Steal," $2 Trillion Annually Lost to Lack of Affordable Homes, Making the Manufactured Home Case
Fear affects decision-making every day. But often, " F.E.A.R." is an acronym for " False Evidence Appearing Real." Our research indicates that the solution to the affordable housing crisis is hiding in plain sight, but fear and prejudice have kept it from being widely embraced.
" Best vote ever ," said one manufactured home resident as he took a sandwich, water and thanked President Donald J. Trump. " I knew right from the beginning," said another resident in the Naples, Florida manufactured home community as he shook the president's hand, and thanked him.