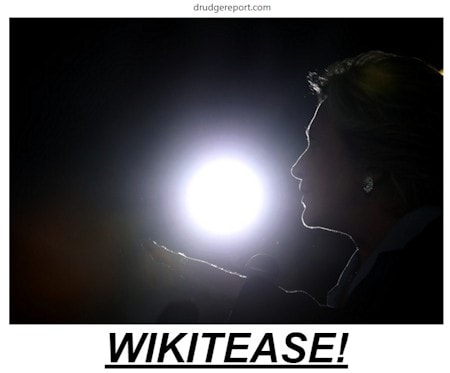 The Vice Presidential debate will be tonight.  The LA Times says the following about the snapshot and best places to catch the debates live.
What: The only vice-presidential debate of the 2016 election, featuring Republican Mike Pence and Democrat Tim Kaine, moderated by Elaine Quijano of CBS News
When: 9 p.m. Eastern, 6 p.m. Pacific. 90 minutes without commercial breaks
Where: Farmville, Va.
TV: All broadcast channels and cable news networks: ABC, NBC, Fox, CBS, MSNBC, Fox News, Fox Business, CNN, Univision, Telemundo and C-SPAN
Livestream: YouTube and others, including Facebook, which is partnering with ABC
Online: Follow The Times' live coverage here on Trail Guide
Radio: NPR
Our Daily Business News election headline news from around the web, with implications for the 2016 race for the Oval Office, follows below.
RASMUSSEN: Clinton, Trump Tied Again…
Pennsylvania 'Most Vulnerable' For Election Hack…
BizPacReview Howard Stern slaps CNN on-air for blatantly lying, contacts Donald Trump to clear up false report
WIKITEASE!
 Record Gun Sales 17 Months Straight…
PRUDEN: October surprises ahead of election…
BizPacReview – Did Trump literally just game the New York Times into printing his tax returns?
RUSSIA MASSIVE NUKE DRILL…
40 MILLION EVACUATE…
Moscow-Washington Ties Crumble…
FBI destroyed laptop belonging to Cheryl Mills after time-limited search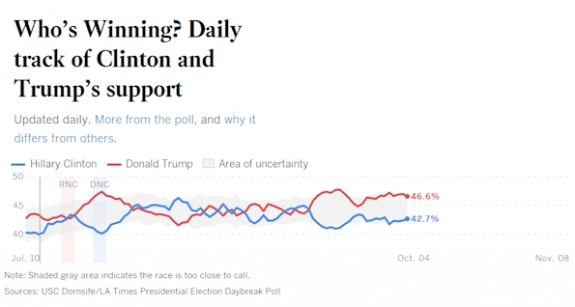 http://www.latimes.com/nation/politics/
BORDER SURGE BEFORE TRUMP WALL!
Obama releases Illegal Alien Kids…
NYT on ObamaCare: Only more government intervention can cure this government intervention
Bloomberg – Existential Threat to World Order Confronts Elite Meeting…
NewsMax – Ex-Rep. Flanagan: 'Atrocious' Hillary's Poll Numbers Static
STUDY: USA FAILS TO MAKE 'MOST FREE' LIST…
NYT – Leftist Era Fades…
To see Monday's Daily Business News headline coverage and commentary, click here.##
(Image credits are as shown above.)

Submitted by L. A. "Tony" Kovach to the Daily Business News, MHProNews.