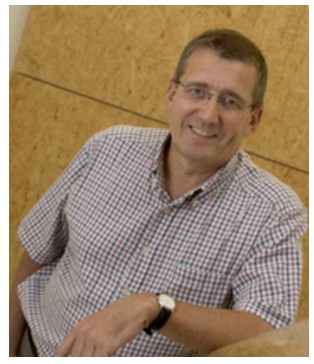 Eric Dean is out to help solve the worldwide housing shortage, one factory-crafted home at a time, reports ProSales Magazine's Gary Thill.
"A house is a very simple thing, but every time we build a house we seem to reinvent the wheel," Dean told the audience at the FEA 2016 Forest Products Forum. "So we've done a seamless design process linked to a seamless manufacturing process. All through the process what we are doing is cutting out layers of people we don't need."
UK based Dean works as the innovation and production director for Legal & General Homes, Ltd, a unit of British insurer and whose goal is to be one of the largest homebuilders in the country.
Note video above is a Legal & General commercial.
Dean recently presented a new, Cross Laminated Timber (CLT)-focused manufacturing process as a way to make building single and multi-family homes easier by turning it into a prefabricated home assembly line.
The "layers of people" Dean talks about includes an entire construction crew as well as plumbers, electricians and other specialists. Instead, his vision is that it would take just two people to build a house in about five hours.

"It becomes a logistics exercise," Dean said. "We've got the right process and the right tools. We can really work efficiently. There's no skill in any of it; this process is all about mass production. It doesn't matter if we're making 100 houses of the same type or different; as long as the process is the same, we can deliver it efficiently."
No Legal & General video of CLT's were seen as available at this time,
so the video above is an example of a CLT process.
The efficient process would work as follows; the plant would take raw wood and transform it into 20-meter CLT panels to serve as the "chassis" for modular single-family homes and multi-family units.
After the panels are made, they are run over 12 stations of machine assembly that can cut out outlets, doors, window and even laminate and finish gypsum board walls. The completed "box" comes with electrical and plumbing, and is placed into waiting foundations, with one level on top of each other.
With Innovation – Comes Pushbacks…
But there is push-back from opponents to CLT.  The video below is one example, from the concrete trades.
ProSales writes, "L&G, which boasts $1 trillion under management, has pledged another $650 million for additional plants." Is that a strong enough commitment for their CLT plans to overcome opposition?
The current plan is to for Dean and the company to focus its efforts in the United Kingdom (UK), where 132,000 homes are built every year.  There is a need for more than 250,000, per L&G Homes, Ltd. Over time, with success in the British Isles, will they target beyond the UK too? ##
(Image credit is as shown above.)

Submitted by Joe Dyton to the Daily Business News, MHProNews.