Tuesday, 8.30.2016 saw some 194,207 shares Equity Lifestyle Properties, Inc. (NYSE:ELS) trade hands, says the PressTelegraph. But their headline on this date erred in say "stock dropped," as Yahoo! Finance confirmed the Daily Business News' Bloomberg supplied ticker's report that ELS' stock was up, closing at 77.79, +0.19 (+0.24%).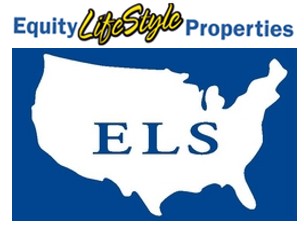 InvestorNewswire states that the consensus rating on ELS by analysts covering the stock stood at 2. That numeric value is based upon a simplified ratings scale of 1-5, where 1 represents a Strong Buy, and 5 is a Strong Sell. So 2 is a buy.
Current projections range from $73 to $87 with the average sitting at $78.333. ELS will be doing its quarterly report on 10.17.2016.

As manufactured housing professionals, investors and enthusiasts know, ELS is REIT and one of the largest owner/operators of manufactured home communities and RV parks.
A prior report on ELS reported by Frank Griffin is linked here. ELS is one of the manufactured home industry connected stocks tracked every business day by the Daily Business News, with the most recent report, linked here. A link to an interview with ELS Chairman Sam Zell, is linked here. ##
(Image credits, font/text by MHProNews, ELS logo is the property of that firm, and is used here under fair use guidelines.)

(Editor's Notes: "Quo vadis" is Latin for, "where are you going?" Matthew Silver is taking some much needed and well-earned time off, and L. A. "Tony" Kovach will be helping fill the Daily Business News role in the interim).
MH Industry Market Reports by L. A. "Tony" Kovach, to the Daily Business News for MHProNews.