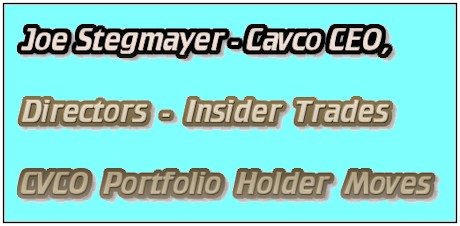 Cavco Industries director Jack Hanna has filed a Form 4, according to a report by StreetInsider, see that as a download, linked here.
On August 29, Director William C. Boor disclosed the sale of 2,500 shares sold last May 4th, for an average price of $86.81, states FinanceDaily.  Boor's reported holding is $488,046 of the stock, per Securities and Exchange Commission (SEC) filings.
Chairman, President and CEO Joseph H. Stegmayer reportedly sold 20,000 shares at a price of $89.92 on Friday August 15th, which reflects his holdings value at $45,178,326 per data filed with the SEC, says FIDaily.
Director Steven G. Bunger released for sale $494,010 in shares, averaging $89.82 on March 18th, per a filing yesterday, bringing his holdings in Cavco to zero.
Here is the rundown on other reported market activity for Cavco Industries, Inc. (NASDAQ:CVCO).
Steven G. Bunger, Director let go of $494,010 worth of shares at an average price of $89.82 on March 18th. That brings the Director's holdings to $0 per an SEC filing
Other portfolio managers reported:
Northwestern Mutual Wealth Management Co reduced holdings again, selling 59 shares, down a total of 90.8% from 03/31/2016 to 06/30/2016.
Royal Bank of Canada increased their holdings, buying 1,681 shares, an increase of 35.7% in the quarter to 6,393 shares valued at $599,000.
Schwab Charles Investment Management Inc acquired 994 shares growing its position 3.7%, at the end of the quarter, an increase from $2,261,000 to $2,636,000, or a change of 16.6% quarter over quarter.
Also at the end of the quarter, Investors LLC sold 97,001 shares, reducing holdings by 25.5%, from $35,538,000 to $26,540,000, or a change of $8,998,000 since the last quarter.
The Daily Business News reported on Saturday, Aug 27th that Robert Robotti's firm moves, and that of Credit Suisse Ag, Friedberg Investment Management, and Trexquant Investment, LP, see link here.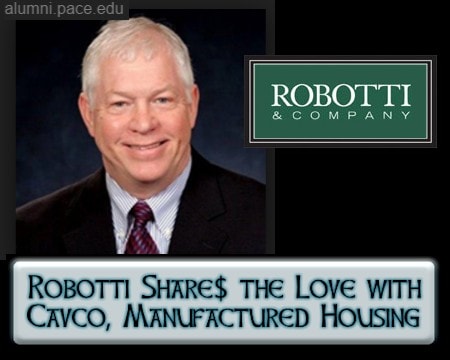 In the manufactured housing industry related stock's market report, yesterday's close for CVCO was as shown on the Bloomberg ticker below.

Equity analyst CJS Securities started covering CVCO with a rating of "Market Outperform" and a price target of $105.00.
For an in depth report from their recent quarterly results, click here.  For the interview with the firm's chairman and CEO – A Cup of Coffee with…Joe Stegmayer, please click here.  ##
(Image credits are as shown.)

(Editor's Note: Matthew Silver is taking some much needed and well-earned time off, and L. A. "Tony" Kovach will be helping fill the Daily Business News role in the interim.  Wow…keeping up to speed on all that is happening in the world of factory built housing…this is work… 😉
Article submitted by L. A. "Tony" Kovach, to Daily Business News for MHProNews.