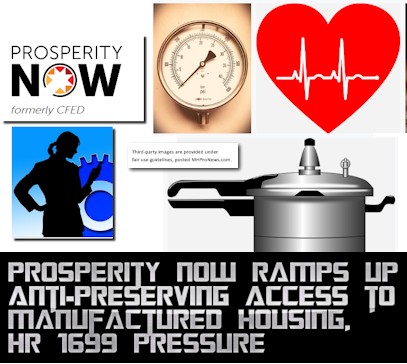 Prosperity Now is the rebranded version of what was known for decades as CFED.  As many manufactured housing industry professionals know CFED opposed the Preserving Access to Manufactured Housing Act.
In a release, Prosperity Now claims that, "A bill recently introduced in Congress would roll back some basic consumer protections for buyers of manufactured homes. That's right: the Preserving Access to Manufactured Housing Act, H.R. 1699, has been resurrected once again—putting vulnerable homebuyers at risk."
Sources have speculated that the former CFED was part of the behind-the-scenes efforts with left-of-center media attacks on the manufactured home industry in the 2015-2016 congressional session.

The Daily Business News reached out to Doug Ryan – their point-person for affordable housing and manufactured home issues, and Andrea Levere, the organization's president for comments and clarifications, but as of press time, they've not responded.
As the top link documented, the Washington, DC based 'consumer group' was clearly disappointed with the 2016 general election outcome.
Ryan Admitted Lack of Sufficient Knowledge
As part of an exclusive interview, Ryan admitted that he wasn't as informed on the details of chattel financing as some of the industry's professionals.
Those CFPB policies in turn are harming consumers.
Even when CFED turned Prosperity Now has had those facts repeatedly presented – and will not try to debate or disprove them – they have stuck with their party line.

Amazingly, even Richard Cordray has said there never has been much high cost lending in manufactured housing.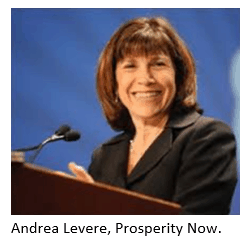 But those admissions – along with the exclusive revelation that CFED was getting funding from the CFPB – did not cause them to alter their course.
As a disclosure, and as a matter of pro-consumer, free enterprise economic principle, MHProNews and MHLivingNews have opposed the CFPB's onerous regulations and their harmful impact on consumers, plus the manufactured housing industry professionals and lenders.
Prosperity Now Calls on Their Supporters…
"Take action now!" – said the left-of-center organization.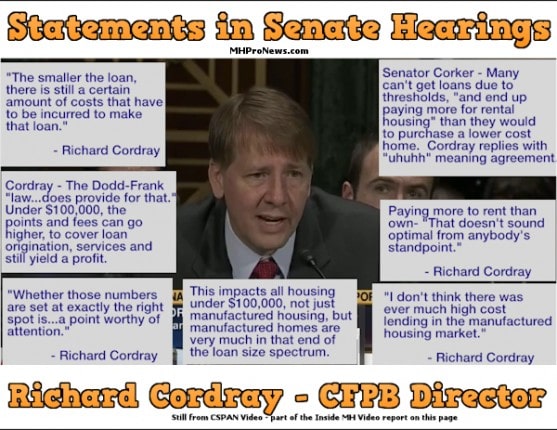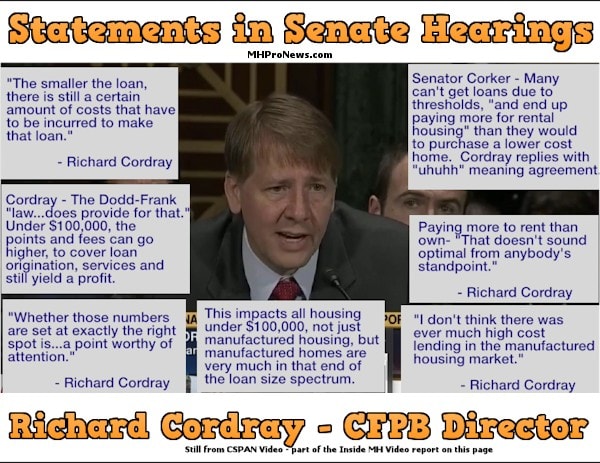 The screen capture below shows what they are pushing, and the links and graphics on this page demonstrate how their talking points have been debunked, including by the CFPB's director, Richard Cordray.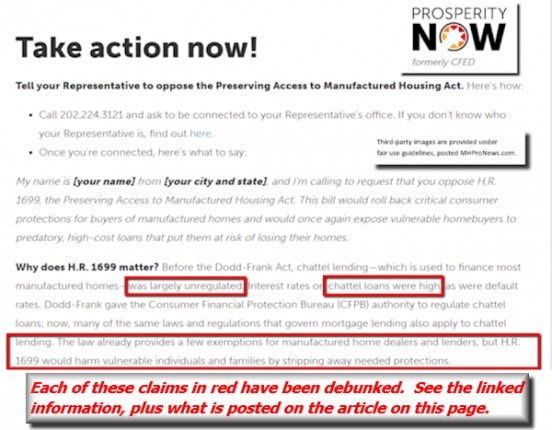 The Need to Engage with Prosperity Now
While the bulk of the industry does not agree with the organization on these issues, professionals ought to be mindful that CFED has a long, overall pro-manufactured housing position.
On subjects like Duty To Serve, or other issues, there are many in manufactured housing who would hold a similar position to CFED/Prosperity Now.
"My 80 percent friend is not my 20 percent enemy."
– Ronald Reagan.
While CFED/Prosperity Now is off the mark on this issue, the industry should find ways to work with them as they can on the other issues where there is common ground belief that manufactured homes are good for millions of consumer. ## (News, analysis.)
(Image credits are as shown above, and when provided by third parties, are shared under fair use guidelines.)

Submitted by Soheyla Kovach to the Daily Business News for MHProNews.com.