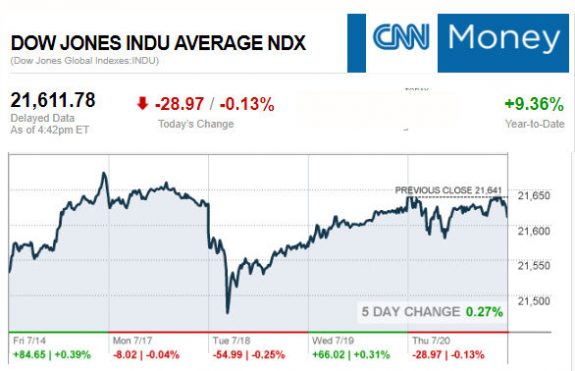 If you're hooked our on new spotlight market feature – or are ready to get the fever – our ELS headline report is further below.
The evolving Daily Business News market report sets the industry's stocks in the broader context of the overall market stocks.
By spotlighting the headlines – from both sides of the left-right media divide – this report also helps readers see what are the trends and topics that may be moving the investors that move the markets.
Readers say this is also a quick review tool that saves researchers time in getting a view of the manufactured housing industry, through the lens of publicly traded stocks.
MH "Industry News, Tips and Views, Pros Can Use." ©
Selected headlines and bullets from CNN Money:
If Congress repeals Obamacare only the rich win
How much O.J. may get from NFL pension plan
Ford reveals first-ever F-150 police truck
O.J. Simpson hearing: A blast from the media past
Sizzling Nasdaq climbs for 10th day in a row
How Google searches can track infectious diseases
What to do with your first $1,000 in savings
Does your employer offer these 5 key benefits?
Mice caught on tape at a Dallas Chipotle
Musk has 'verbal approval' to build NY-DC hyperloop
GOP moves to kill rule that made it easier to sue banks
Selected headlines and bullets from Fox Business:
Corning to add 1K jobs, invest $500M as part of 'Made in America' week
Drivers should brace for higher gas prices: AAA
Wall Street flat as home improvement retailers get Amazoned
Oil settles down after early rally lifts Brent past $50
Microsoft profit beats on strong cloud demand
Prominent digital drug marketplaces knocked out in 1-2 punch
Frontier Airlines offers $24 tickets for limited-time only
Chipotle: Norovirus confirmed amid reports of 133 sick customers
American retirees unhappy as U.S. takes another dip in retirement security
Veterans can soon shop tax free at Exchange online
USS Gerald R. Ford, Navy's most powerful supercarrier, set to join fleet
Fox News: OJ Simpson parole hearing: Former football star approved for October release
Tomi Lahren: Hollywood liberals don't know why they hate Trump
1/3 of global dementia cases may be preventable, report finds
Wimbledon match-fixing? 3 matches flagged for suspicious betting patterns
Visa beats profit estimates, raises earnings forecastarticle Visa beats profit estimates, raises earnings forecast
US says ban on laptops in airplane cabins has been lifted
ICYMI – for those not familiar with the "Full Measure," 'left-right' media chart, please click here.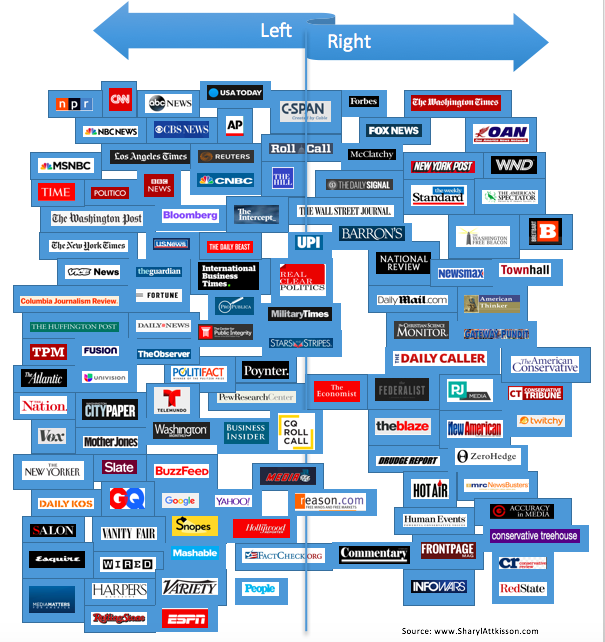 Today's markets and stocks, at the closing bell…
S&P 500   2,473.45 -0.38 (-0.02%)
Dow 30 21,611.78 -28.97 (-0.13%)
Nasdaq 6,390.00 +4.96 (+0.08%)
Crude Oil 46.73 -0.39 (-0.83%)
Gold  1,243.40 +1.40 (+0.11%)
Silver 16.25 -0.00 (-0.01%)
EUR/USD 1.1631 +0.0115 (+1.00%)
10-Yr Bond 2.266 -0.002 (-0.09%)
Russell 2000 1,442.35 +0.58 (+0.04%)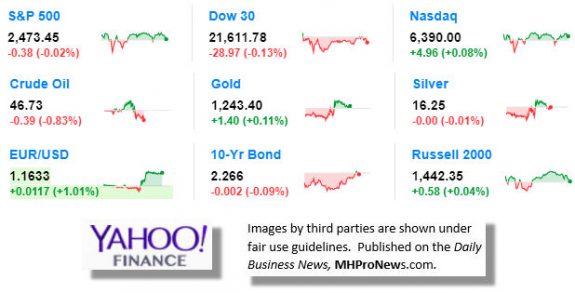 Manufactured Housing Composite Value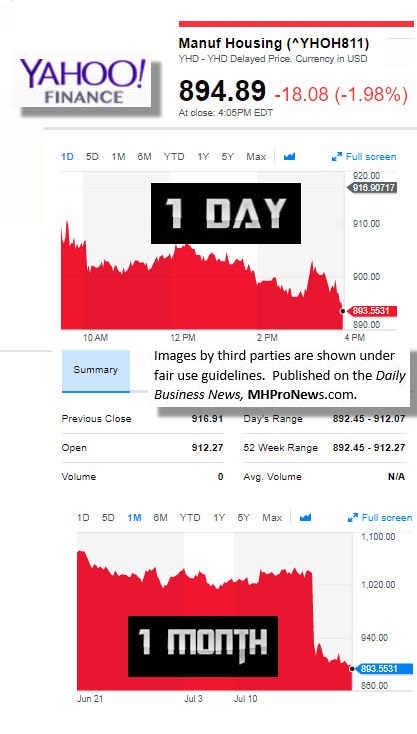 Today's Big Movers
NOB, AMG, BAM, SKY lead the gainers.  UFPI, Patrick and LPX lead the sliders today, with pressures on conventional home builders mounting.
For all the scores and highlights on tracked stocks today, see the Bloomberg graphic, posted below.
Today's MH Market Spotlight Report – ELS in the Spotlight
Depending on who's list and how you count site (with RVs, or just manufactured homes) ELS is in the top two in America with their community portfolio.
When we last visited ELS with our MHProNews Spotlight on July 7th, there was heavy trading, and the stock slid.  Today, the stock broke through its all-time high before retreating marginally.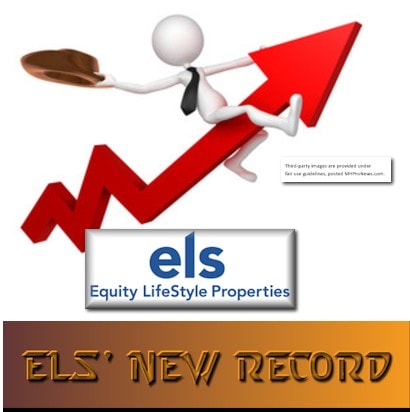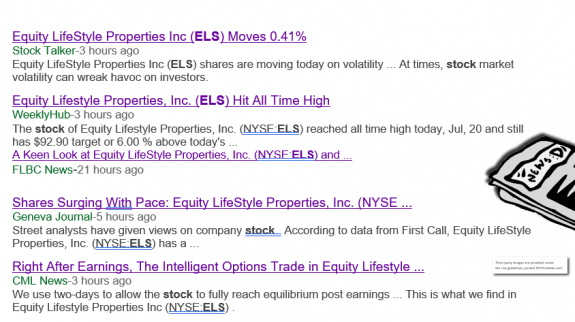 If you look at the freshest snapshot of news headlines from Google on ELS, it all is rosy.  We picked the report from the Weekly Hub to share, with all of the typos and abbreviations as they were found in the original (we know how that feels too ;-)…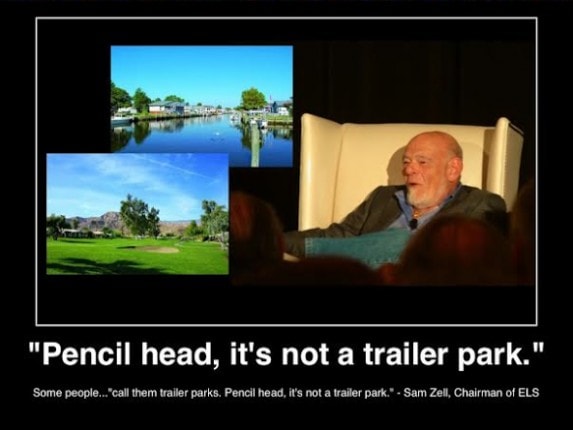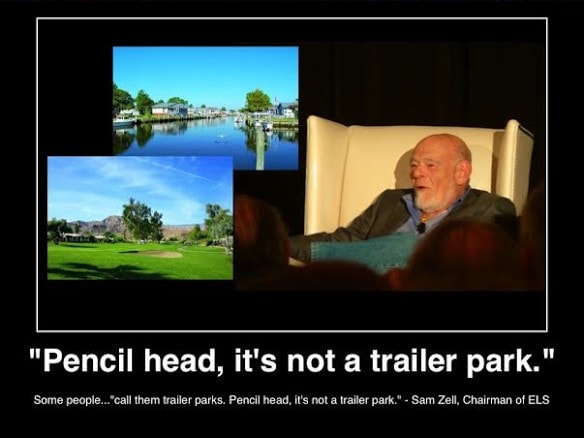 Equity Lifestyle Properties, Inc. (ELS) Hit All Time High
July 20, 2017

"Investors sentiment increased to 1 in Q4 2016. Its up 0.05, from 0.95 in 2016Q3. It increased, as 25 investors sold Equity Lifestyle Properties, Inc. shares while 86 reduced holdings. 35 funds opened positions while 76 raised stakes. 79.09 million shares or 0.09% less from 79.16 million shares in 2016Q3 were reported.
Tiaa Cref Investment Mgmt Limited Liability reported 0.04% stake. Aperio Grp Ltd Limited Liability Company reported 0.01% in Equity Lifestyle Properties, Inc. (NYSE:ELS). American Assets Advisers holds 22,457 shares or 1.06% of its portfolio. Earnest Prtnrs Limited Liability Com invested in 24 shares or 0% of the stock. Ellington Group Limited Liability Corporation reported 5,400 shares stake. Sumitomo Mitsui Tru holds 0.01% of its portfolio in Equity Lifestyle Properties, Inc. (NYSE:ELS) for 80,186 shares. Raymond James Service Advsrs Inc holds 0% or 3,418 shares. Resolution Cap Ltd accumulated 1.16M shares. State Board Of Administration Of Florida Retirement Sys stated it has 0.03% in Equity Lifestyle Properties, Inc. (NYSE:ELS). Schwab Charles Inv accumulated 1.12M shares. Amp Capital Invsts Ltd holds 0.59% or 1.36 million shares. D E Shaw & Inc holds 989,320 shares. Ftb Advsr Incorporated invested in 0% or 142 shares. The United Kingdom-based Standard Life Invs Ltd has invested 0.23% in Equity Lifestyle Properties, Inc. (NYSE:ELS). Moreover, Sg Americas Securities Llc has 0% invested in Equity Lifestyle Properties, Inc. (NYSE:ELS).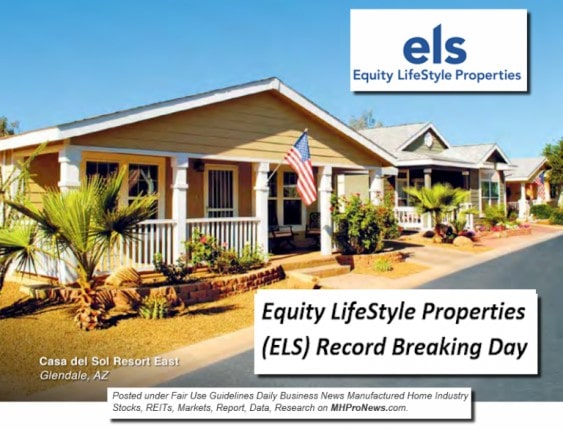 Since February 14, 2017, it had 0 insider buys, and 3 insider sales for $1.67 million activity. Shares for $939,420 were sold by ROSENBERG SHELI Z on Thursday, February 23. MAYNARD ROGER sold $601,610 worth of stock.
The stock of Equity Lifestyle Properties, Inc. (NYSE:ELS) reached all time high today, Jul, 20 and still has $92.90 target or 6.00 % above today's $87.64 share price. This indicates more upside for the $7.74B company. This technical setup was reported by Barchart.com. If the $92.90 PT is reached, the company will be worth $464.40M more.
Trading stocks at an all time highs is usually a winning strategy. An all time high points to a stock which has the most positive fundamentals ever. Even thought the pullback rate is high, if correct risk management is utilized, investors can trade very well such events.
About 185,677 shares traded. Equity Lifestyle Properties, Inc. (NYSE:ELS) has risen 15.90% since July 20, 2016 and is uptrending. It has underperformed by 0.80% the S&P500.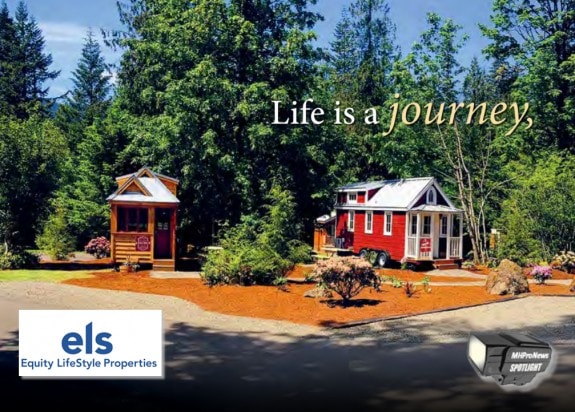 Equity Lifestyle Properties, Inc. (NYSE:ELS) Ratings Coverage
Among 4 analysts covering Equity Lifestyle Properties (NYSE:ELS), 2 have Buy rating, 1 Sell and 1 Hold. Therefore 50% are positive. Equity Lifestyle Properties had 9 analyst reports since August 25, 2015 according to SRatingsIntel. Robert W. Baird downgraded the stock to "Neutral" rating in Wednesday, October 21 report. On Monday, July 17 the stock rating was maintained by Cantor Fitzgerald with "Hold". The firm earned "Buy" rating on Monday, September 7 by Zacks. The firm has "Outperform" rating given on Monday, November 21 by Robert W. Baird. BB&T Capital initiated Equity Lifestyle Properties, Inc. (NYSE:ELS) on Tuesday, November 10 with "Hold" rating. The stock of Equity Lifestyle Properties, Inc. (NYSE:ELS) earned "Buy" rating by Zacks on Tuesday, August 25.
More notable recent Equity Lifestyle Properties, Inc. (NYSE:ELS) news were published by: Seekingalpha.com which released: "Equity LifeStyle Properties (ELS) CEO Marguerite Nader on Q1 2017 Results …" on April 18, 2017, also Seekingalpha.com with their article: "A Margin Of Safety With Equity Lifestyle?" published on March 23, 2016, Nasdaq.com published: "Equity Lifestyle Properties, Inc. (ELS) Ex-Dividend Date Scheduled for June 28 …" on June 27, 2017. More interesting news about Equity Lifestyle Properties, Inc. (NYSE:ELS) were released by: Forbes.com and their article: "Ex-Dividend Reminder: Equity Lifestyle Properties, Fifth Third Bancorp and EPR …" published on September 26, 2016 as well as Nasdaq.com's news article titled: "Equity Lifestyle Properties Reaches Analyst Target Price" with publication date: July 13, 2017.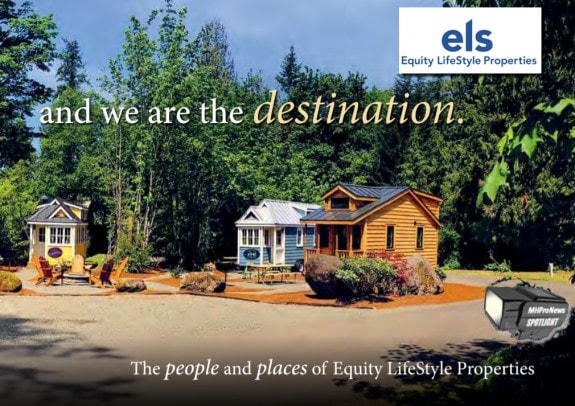 Equity LifeStyle Properties, Inc. is a real estate investment trust . The company has market cap of $7.74 billion. The Firm is an owner and operator of lifestyle-oriented properties (properties) consisting primarily of manufactured home (MH) communities and recreational vehicle (RV) resorts and campgrounds. It has a 43.49 P/E ratio. The Firm operates through two divisions: Property Operations and Home Sales and Rentals Operations."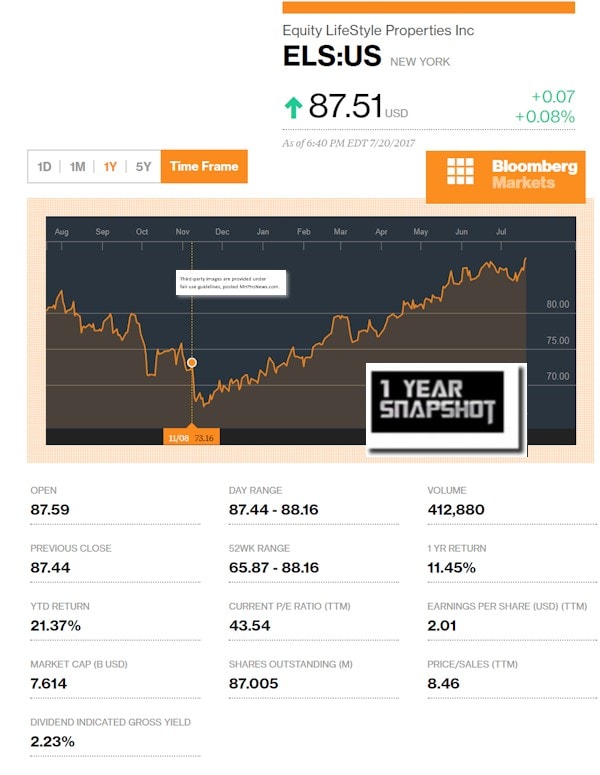 See Recent Exclusive 1 Year Snapshot of All Tracked Stocks
http://www.MHProNews.com/blogs/daily-business-news/manufactured-housing-industry-markets-wall-street-reacts-to-trumponomics-1-year-data-snapshot/
NOTE: the chart below covers a number of stocks NOT reflected in the Yahoo MHCV, shown above.
NOTE: Drew changed its name and trading symbol at the end of 2016 to Lippert (LCII).
Manufactured Home Industry Connected Stock Markets Data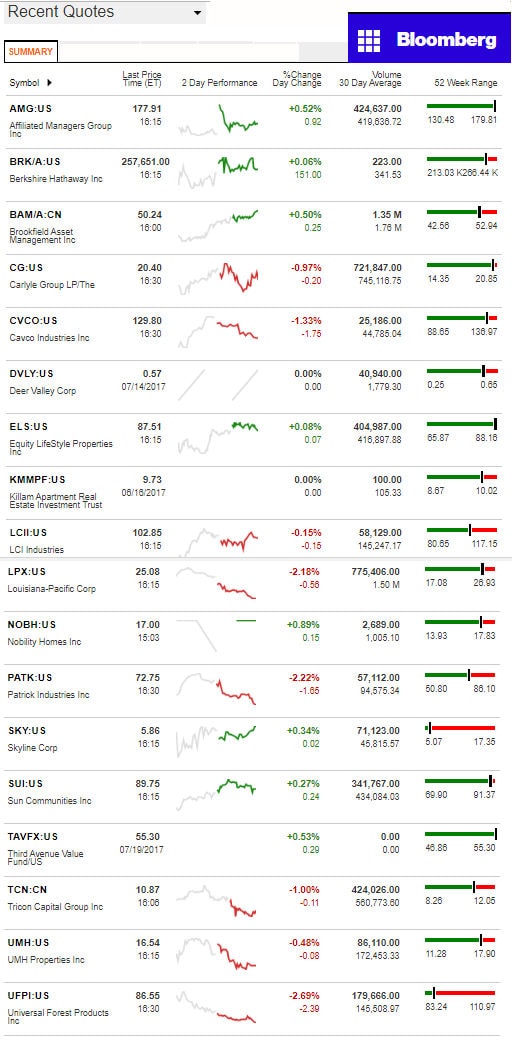 Berkshire Hathaway is the parent company to Clayton Homes, 21st Mortgage, Vanderbilt Mortgage and other factory built housing industry suppliers. LCI Industries, Patrick, UFPI and LP all supply manufactured housing, while AMG, CG and TAVFX have investments in manufactured housing related businesses.
You will find only the very best manufactured home industry coverage, every business day.
"We Provide, You Decide." © ##
(Image credits are as shown above, and when provided by third parties, are shared under fair use guidelines.)

Submitted by Soheyla Kovach to the Daily Business News for MHProNews.com.