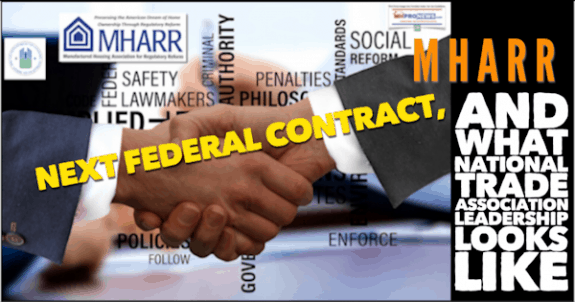 The last time federal data was checked by the Daily Business News on MHProNews, the Manufactured Housing Institute (MHI) had about 7 times the revenue that the Manufactured Housing Association for Regulatory Reform (MHARR) does.
In their last emailed message to their members, MHI – via the voice of their previous Executive Committee Chairman, Nathan Smith – made an arguably hypocritical attack on the brand-new national community association, as was fact-checked and analyzed in the report below.
Nathan Smith, SSK Communities, and Manufactured Housing Institute (MHI) Slam New National Manufactured Home Communities Group in Written Statement
In that same message from MHI to members – which several state associations then forward to their members – MHI failed to mention that HUD had clarified and issue that is important to communities and retailers, and thus all of those who supply them.
By contrast, MHARR notified their members, affiliates and readers on the same day that HUD notified both MHARR and MHI.  The 'frost free foundation' interpretive bulletin (IB) impacts thousands of locations nationally, some of which are MHI members.  Why the silence?
TO: MHARR MANUFACTURERS MHARR STATE AFFILIATES MHARR TECHNICAL REVIEW GROUP (TRG) FROM: MHARR RE: HUD "Clarification" on Frost-Free IB Offers More Questions And Confusion Than Answers As a follow-up to the MHARR memorandum sent earlier today regarding finalization of the proposed "frost-free" Interpretive Bulletin (IB), it now appears that the
In that same most-recent MHI message to members, the Arlington, VA based production and post-production trade group also failed to raise the issue that MHARR has, in a new report at the link below. It is about the federal program's monitoring contract. Why didn't MHI feel it was worth mentioning?  Why did MHARR think it important to do so?
October 26, 2018 VIA FEDERAL EXPRESS Hon. Brian Montgomery Assistant Secretary U.S. Department of Housing and Urban Development Suite 9100 451 7 thStreet, S.W. Washington, D.C.
Freedom isn't Free or Easy
Manufactured housing industry professionals are free to spend their money, vote, travel, and do whatever they want to, within the bounds of laws and ethics.  People are free to be part of the new national community-owners trade association, which is made up of members who left MHI. ICYMI, or need a refresher, see what the NMHCO had to say, in their own words, quoted in the article below.
New National Manufactured Housing Association Makes Its Appeal to Industry Members
Professionals are free to be members of MHI, and/or MHARR
But wisdom suggests that the track record of MHI and MHARR should be routinely examined.
For example, in 2008, when the Housing and Economic Recovery Act (HERA) was passed, it included the SAFE Act, which MHI and their prior Chairman Nathan Smith and Tim Williams both freely admitted got passed them.  Keep in mind that MHI is a self-proclaimed umbrella trade group that says they work for post-production and producers issues.  That means, the SAFE Act was within their focus of attention.
By contrast, in that same HERA 2008 bill, MHARR – which is laser focused on federal production and related regulatory issues – worked to get the Duty to Serve (DTS) Manufactured Housing by the Government Sponsored Enterprises (GSEs) into that same HERA law.
MHARR does what they do without a political action committee (PAC), although their members are free to donate to campaigns as they may wish.
MHI has a PAC.  As MHProNews spotlighted recently, the key people and operations involved in MHI arguably backstabbed House Representatives Marsha Blackburn, and Andy Barr, both of whom faithfully supported MHI's Preserving Access to Manufactured Housing Act.
"He's Lying," Campaign Insider Video – "Don't Do Politics?" Tell Jim Clayton, Phil Bredesen, and Marsha Blackburn, Preserving Access to Manufactured Housing Act Supporter
ICYMI or need a reminder, see those two links of what MHI and their big boy allies have done, above and below.
Was Manufactured Housing Advocate Congressman Andy Barr Backstabbed?
Let us be clear from an analytical perspective. MHI, or any trade group, is free to change positions.  They are free to be loyal to, and/or to betray congressional or senate candidates.
But should that be done lightly?  What message does documented betrayal send to MHI's own membership?  Should it raise the question, has MHI betrayed some of their own members at times?
Modifying Marty Lavin
Let's look at long-time MHI member Marty Lavin's mantra, "Pay more attention to what people do than what they say."  Doesn't it suggest that one listen to what someone says, but then focus on what they actually do?
Yes.
MHI purportedly postures at lobbying.  They say they are doing something.  But meanwhile, they often fail the majority of their own members in the very things that they say they are doing. Why? Who benefits?
What MHI does Better
What MHI debatably does better than lobbying is having events that people can mix, mingle and network at nice locations. There is value to networking events. But it is a value that others could create outside of MHI. There is also value to education and marketing.  Those three items are appropriate for a post-production association. Perhaps the new national manufactured home community owners  association will do some of those roles?  Will they challenge MHI's grip over them?
MHARR has for years fought for the interests of their members. MHI has allegedly tried to kill MHARR off many times, as they tried in just the past few days via their last email to kill off the still nascent NMHCOA.
Disclosures
As a disclosure, MHARR does run banner ads with MHProNews. But our policy is simple.  No sponsor dictates our editorial or publishing content.  We've had some MHI members recently that reached out for the purposes of running ads with us.  One recently did, Legacy Housing, and per our sources, they felt well served for both of their events.
While we welcome other perspectives, our writing and publishing perspectives are our own.  We faithfully share other's messages.
No person, no product, no organization is perfect. That includes us. But when a mistake is made, the polite and professional thing to do is to raise one's hand, and say, 'ooops, that's my bad, I'll try to avoid this next time.'
MHI has a terrible track record in the last decade or so of heading off bad regulations, or of mitigating them.  Some of their own top people have said so. At least some with MHI arguably worked to get Pam Danner in at HUD. They then arguably defended and even promoted Danner, all while Danner's work at HUD harmed thousands of manufactured home retailers, communities, and thus upstream suppliers and vendors.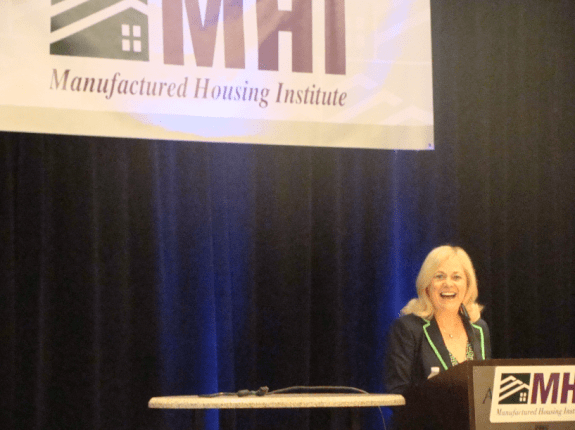 Post-midterms, the following should be considered by NMHCO and/or any other existing, new or planned trade group.  A good post-production trade group should do three things. P.E.P. Protect, Educate, Promote. At the heart of each of these three things, is education that is based upon reliable information.
A new or existing post-production trade group should realize that MHI has purportedly weaponized events and trade shows, to the benefit of their 'big boy' members.
With that in mind, post-midterm, we will begin several initiatives.  Among them is to promote the following, which was proven by the RV industry to work for their growth.
Wholesale and Retail Trade Events.
Education.
Media Engagement.
These should not necessarily exclude large companies, but they should not be allowed to dominate or in any way dictate their operation.
These realities noted, let's close by saying that the record reflects that MHARR does an amazing job with limited resources.  To use a southern expression, they are good at making every dime "holler dollar."
Make sure you read MHARR's latest on the contract controversy, at this link here. It is a topic that for whatever reason, MHI has ignored. "We Provide, You Decide." © ## (News, analysis, and commentary.)
(Related Reports are further below. Third-party images and content are provided under fair use guidelines.)
1) To sign up in seconds for our MH Industry leading emailed news updates, click here.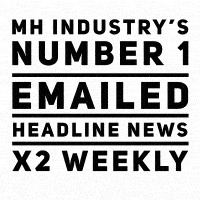 2) To pro-vide a News Tips and/or Commentary, click the link to the left. Please note if comments are on-or-off the record, thank you.
3) Marketing, Web, Video, Consulting, Recruiting and Training Re-sources
Submitted by Soheyla Kovach to the Daily Business News for MHProNews.com. Soheyla is a managing member of LifeStyle Factory Homes, LLC, the parent company to MHProNews, and MHLivingNews.com.
Related Reports

:
Due Credit, Warren Buffett, Media, and Manufactured Housing's Historic Achievement
"Girls of Steel," 3 Untold Stories of Job Creation, Growing Opportunities for MHVille