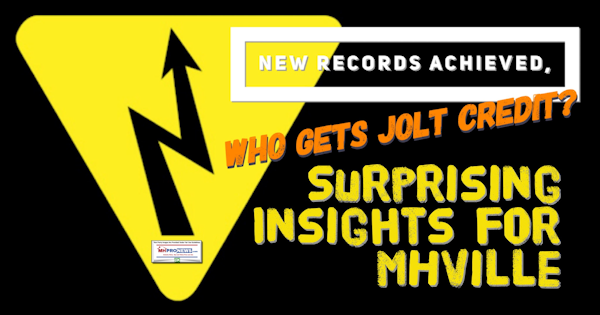 The U.S. Labor Department's Job Openings and Labor Turnover (JOLT) Survey reported a new high this week, approaching the 7 million mark.  Those in manufactured housing are all-too-familiar with this number in a practical way, because factory-builders and others tell the Daily Business News on MHProNews that competition for labor is growing more intense.
CNBC's breakdown of the Labor Department data revealed the following highlights:
Vacancies outnumbered those classified as unemployed by 659,000 for the month, an unprecedented trend that began earlier this year. Openings rose by 117,000 from June, to 6.94 million, and are up 737,000 over the past year, a nearly 12 percent increase, the department said in its monthly Job Openings and Labor Turnover Survey.
The "quits" rate, an indicator of worker confidence as it measures those who left their positions voluntarily, also hit a record of 3.6 million, a gain of 106,000, according to Bureau of Labor Statistics records that go back to December 2000. The quits rate of 2.4 percent is the highest recorded since April 2001 and was up one-tenth of a percentage point from a month ago.
Professions registering the biggest gains in job openings were finance and insurance at 46,000 and nondurable goods manufacturing, with 32,000. Openings decreased in retail (-85,000), educational services (-34,000) and federal government (-19,000).
New hires totaled 5.68 million, a marginal increase from June but also a series high and an increase of 3.3 percent from the same month a year ago.
MHProNews curates information from a variety of sources across the left-right divide for good reasons. Among them, doing so provides a reality check to those who only get their news mainly from media that lean left, or lean right.
CNBC is left-leaning, and tends to be anti-Trump and pro-Democratic.  Who says?  Among others, former CBS News investigative correspondent in their Washington bureau, award-winner – and now independent journalist, Sharyl Attkisson.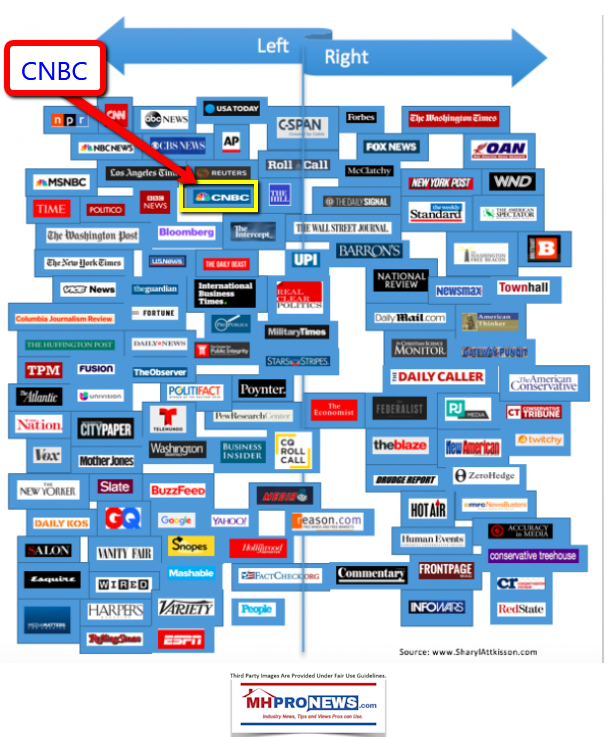 So this analysis by Jeff Cox of CNBC on who should get credit for the economic records being achieved is all-the-more interesting.
What MH Associations, Trade Groups Say
Manufacturing has also reported new records.  The National Federation of Independent Business (NFIB), a trade association of some 325,000 members – which sources there say includes hundreds from the manufactured housing industry – has also hit new highs in business confidence.
Regrettably, while many sectors are hitting new records, manufactured housing is still struggling to crawl back to the 100,000-shipment level.  This is one of many reasons why the Manufactured Housing Association for Regulatory Reform (MHARR) – an independent-producers (HUD Code home production) trade association – has for years said that a new post-production association is needed.
Double-Digit HUD Code Manufactured Home Production Growth In July 2018, MHARR
The Manufactured Housing Institute (MHI) is the industry's self-proclaimed umbrella trade group – including production and post-production – members.  Their own claim puts the onus on them to lead a more robust retail sales recovery.  MHI messages to their affiliates and members routinely take credit for almost anything that might appear to be good coming out of Washington, but the bottom line numbers are a metric that they can't – or shouldn't – ignore.
The new manufactured home shipments data tell a different story than the one that the overall U.S. economy is experiencing.
Why?
It's an important issue for every independent, some of whom never experienced the industry's higher producing glory days.  As a recent MHProNews report reveals, RV's went from trailing manufactured housing in 1998, to surpassing manufactured housing only a few years later.  Today, RVs outsell manufactured housing by some 5 to 1.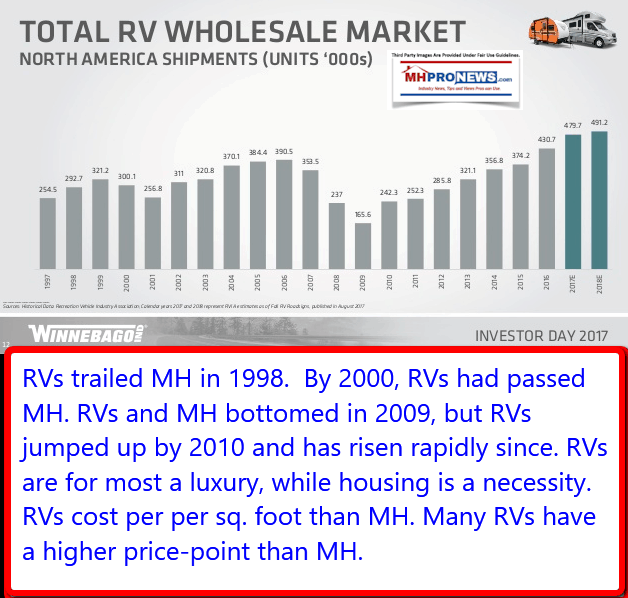 MHI?  What about what MHI award-winner Marty Lavin called the "Big Boys" – including those associated with Berkshire Hathaway?
How do those 'big boys' and the association they dominate explain closing 100 sales centers in recent years, while RVs continue to grow?
Clayton's Surprising Result – Sunday Morning Weekly Recap, MH Headline Reports and News in Review Aug 19 to Aug 26, 2018
How can the industry continue to struggle by historical terms, during an affordable housing crisis?  With the amazing spread in housing costs between conventional and manufactured homes, how can manufactured housing be struggling to recover to even 100,000 new home shipments?
Fresh Facts, Figures, Future of Affordable Housing -Comparisons- Conventional Site-Built v Mobile/Manufactured Home Industry Data
The silence of MHI and Clayton on such bottom-line issues that really matter – like new home sales levels – is deafening, isn't it?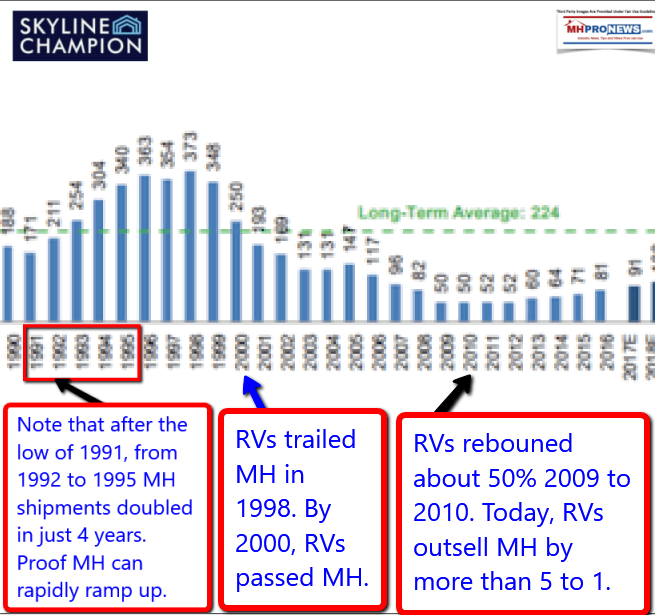 President Donald J. Trump promises reforms in regulatory and taxation that would spur job growth. He's delivering on those promises, as NFIB and other groups have applauded.
As the midterms loom, keep in mind four words that President Trump and Vice President Mike Pence, who hails from manufactured home producing Indiana, have been saying for months: "Promises Made, Promises Kept."
"Growth," "Fight on to Victory," "One People, One Family, and One Glorious Nation Under God"
The ability for independents, and businesses of all sizes, to success in a pro-business, pro-jobs growth environment are obvious.
The fact that many of these JOLT report jobs are in sectors that former President Barack Obama said were never coming back proves just how wrong he and Secretary Hillary Clinton were, and just how right the policy proposals of the Trump team have been.
Clayton, Clintons, Buffett, Then and Now…
There are those in the industry who take a 'see no evil, hear no evil, speak no evil,' approach. But as Albert Einstein once observed, if you had an hour to devise a plan to solve a problem, he'd spend 55 minutes learning the background issues related to the problem, and then would spend 5 minutes devising and proposing the solution. Yesterday, MHProNews provided the following report, which has already had thousands of hits.
"Toxic Trailers" – Clayton Homes, Warren Buffett, Kevin Clayton, Clintons – Exposé Videos
With that above report in mind, the following video documentary on the Clintons takes on a new meaning.
This video is an hour and 4o minute long, so you better do this during off time.  The documentary video walks viewers step-by-step, interviewing state and federal investigators, witnesses, and shows corroborating documents. As an FYI for those considering the claims in the video below who may be new to such issues, the Clintons both were associated with Arkansas' Rose Law Firm. Note that a simple Google search will turn up several articles from mainstream media that confirm many of the topical allegations raised.
The above concerns and controversies noted, why did Warren Buffett and the Claytons want anything to do with the Clintons?  Donald J. Trump has said that it pays to know as much as you can about something that affects your life or profession.  Doesn't the advice by the businessman-turned-president make even more sense?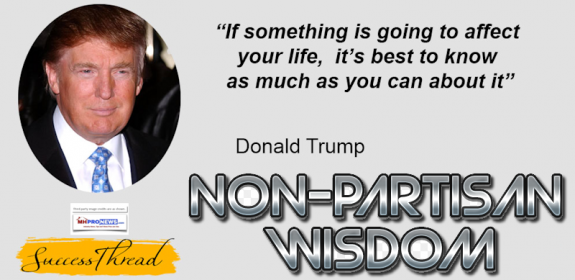 That's "News through the lens of manufactured homes, and factory-built housing," © where "We Provide, You Decide." © ## (News, analysis, and commentary.)
(Third party images and content are provided under fair use guidelines.)
1) To sign up in seconds for our MH Industry leading emailed news updates, click here.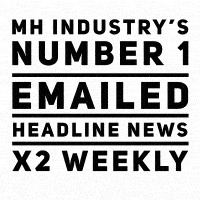 2) To provide a News Tips and/or Commentary, click the link to the left. Please note if comments are on-or-off the record, thank you.
3) Marketing, Web, Video, Consulting, Recruiting and Training Resources
Submitted by Soheyla Kovach to the Daily Business News for MHProNews.com. Soheyla is a managing member of LifeStyle Factory Homes, LLC, the parent company to MHProNews, and MHLivingNews.com.
Related Reports

:
Smoking Gun 3 – Warren Buffett, Kevin Clayton, Clayton Homes, 21st Mortgage Corp Tim Williams – Manufactured Home Lending, Sales Grab?
In manufactured housing, Terry Decio with Skyline quipped on camera " I'm tired of being the best kept secret, I'm ready to help house America." Terry's father Art was on the cover of Time Magazine, and in a good way.