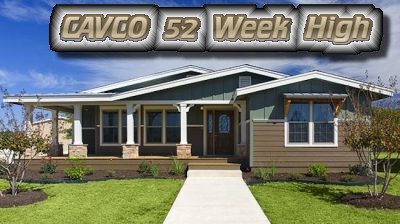 Cavco Industries, Inc., the nation's second largest producer of manufactured homes in the United States, recently hit a new 52-week high, when it reached a peak of $109.43.
Cavco closed Friday night at 101.17, down after a broader retreat by the markets
A possible benefit of a company hitting a new 52-week high is trading opportunities will open on up on either the long or short side, depending on an individual investor's perspective.
While some may look at this milestone as sign of momentum and the perfect time to buy, others with a less optimistic view might see the peak as the beginning of the end of a strong run.
Here's a closer look at the numbers behind Cavco's new 52-week high:
Volume of 235,442
Stock has a float of 8.97 million shares
Average daily volume of $96,947
Market cap up to $958.46 million
50-day SMA of $99.05 and 200-day SMA of $90.22
As is widely known by MH Industry professionals, Phoenix, AZ-based Cavco Industries produces manufactured homes, modular and park model homes, vacation cabins and commercial structures. Factory-built homes are designed and produced under such brand names as Cavco Homes, Fleetwood Homes and Palm Harbor Homes.

An uptick for Cavco
A six-month bull market means Cavco should be a low-risk investment, according to the Press Telegraph. Plus if Cavco reaches a $129.54 stock price, the company would add another $206.97 million to its overall value.
Unless the broader retreat in the markets continues its drag, some analysts believe that Cavco is on the rise.  For example:
The stock rose 2.61% on Sept. 2 and has increased by 29.10% since February 1 of this year and outperformed the S&P 500 by 16.69%
Analysts will get a better idea of how Cavco has performed on November 3, when the company next reports its earnings.
Power players' moves
Several of Cavco Industries' leaders recently sold company shares, including director William C. Boor, Chairman, President and CEO Joseph H. Stegmayer and director Steven G. Bunger.  Director Jack Hanna filed a Form 4. For more details about those moves, click here. ##
(Image credits as shown.)

Submitted by Joe Dyton to the Daily Business News, MHProNews.