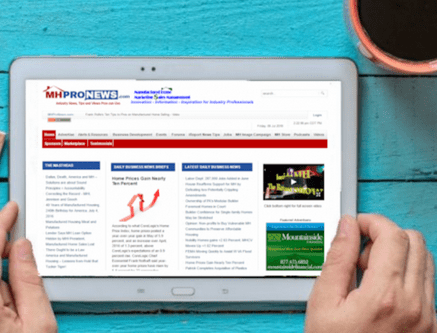 These Manufactured Housing Industry News weekly recaps are a mix of headline news and commentary that tees-up each Sunday morning issue.
That said, there are some weeks – like this one – where there are so many hot, interesting or newsworthy topics covered that it becomes difficult to decide which ones to highlight for MH Pros, MH Policy Wonks and the wide specturm of MH Enthusiasts.
For example, let's say for a moment that you aren't in the stock market. Millions are in, millions more are not. Nevertheless, following manufactured housing connected stocks – noting the trends – can be tremendously useful insights about our industry, notably as it relates to other market trends.
Many of our large and growing regular followers of our stock market reports have noted that we have recently evolved, automating some functions that yields more graphs, charts and useful data.  Even if you never invest a dime – or if you already have money invested in the MH markets – the manufactured housing connected market report is something worth a few moments every evening, to see the recap of the day's activities.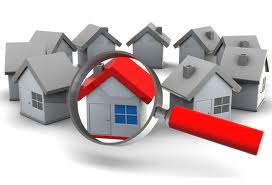 Our following on MHLivingNews continues to expand, and this past week we featured 'sponsored content' from UMH Properties and Clayton Homes, as well as two other reports. The top two shown below have drawn mainstream media attention, from hundreds of news sites each.
Updates to the Monthly Featured Articles
For a variety of reasons, this month and previously, we have begun 'phasing in' the new featured articles on the MHProNews home page (below the Daily Business News modules) over the course of two or more days.  We plan to post by Monday the last two featured articles for the month of September, one of which will be yet another Cup of Coffee interview with… that you won't want to miss.
Proof of Concept
Site metrics, feedback from readers and the astonishingly rapid rate of responses from readers from each 2x weekly emailed news update – are among the numerous signs that we have the top platforms of their kind in the factory built home industry. FYI – this Sunday morning feature and others on our site are among those that resulted from input from readers like yourself.  At MHProNews and MHLivingNews, we listen.
Site stats tell us that in-depth reports draw attention, as do reports on big companies, big name players draw attention, our ever popular interview series.  So too is every big arrest or legal action or similar 'negative' news report that's featured, because industry pros don't want just the fluff.  They want the news.  FYI, while some object to political coverage, note that the political articles are often among the top clicks.
In many cases, MHProNews and MHLivingNews are the only industry sources that tracks all of this issues and more.
While we have sponsors – thank you, one and all – because we are independent in our content and commentary, we are the industry's runaway most popular resource of its kind. Perhaps its because we cover the gamut of factory built housing news and commentary: from for-profits and non-profits, from inside and outside MH perspectives.  "We Provide, You Decide." ©
Let's Dive In…
We'll begin this week's Manufactured Housing Industry News Week in Review report with all four of the MHLivingNews features, and then progress to the recap of some of the hottest items from the Daily Business News, with all of the two dozen plus articles for the week linked below.
What's New on MHLivingNews…
Young Guns, Legends – Robbie Antonio, Eric Trump & High End Designer Prefabs "Class for the Masses" – Revolution Pre-Crafted Properties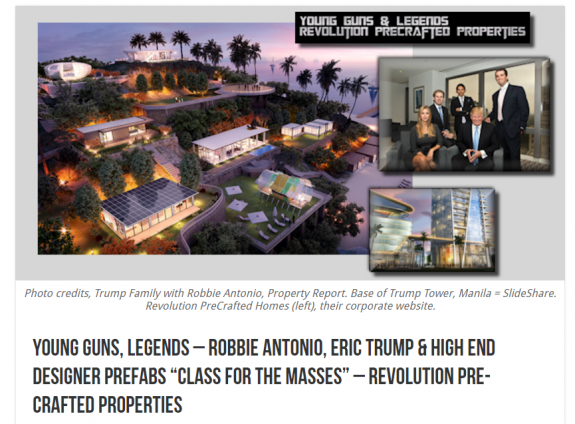 Manufacturers Gear Up to Replace Thousands of Homes Lost in Louisiana Floods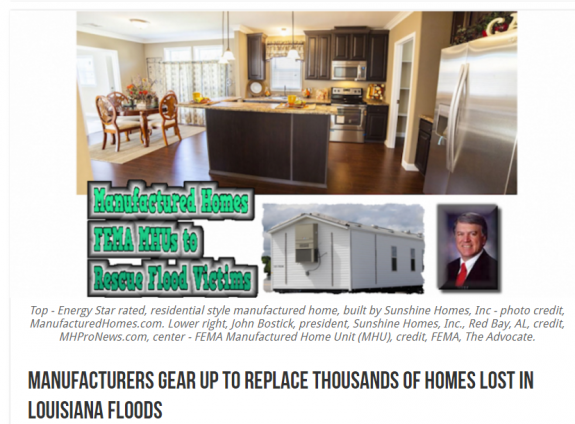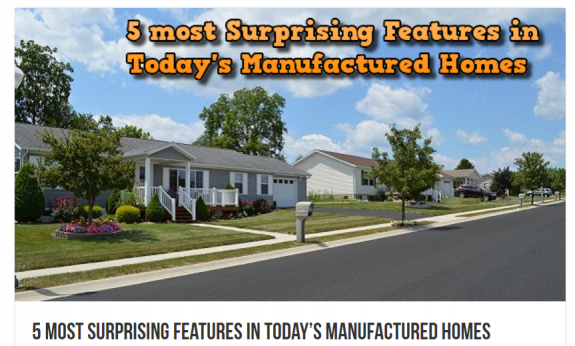 Site-built, manufactured or modular: What's the difference and what does it mean?
Saturday,  Sept 10.2016
Milestone: Cavco Industries (CVCO) stock reached new 52-week high
Friday, Sept 9
All Markets Tumble, only 1 MH track stock gains, 2 hold, the rest down for the day
Tiny Houses Go Luxury – Clayton home building group unveils new series, Video, Photos
The Other Flooding Story – FEMA and Manufactured Housing Units (MHUs)
Affordable (Manufactured) Housing Done Right – NextStepUS Annual Report
The Quarry House – This PreFab Home, Set in a Day
Thursday, Sept 8
CVCO, NRF slide, Carlyle Group, LPX glide higher, Politics/Economics Mix
Champion Home Builders crafts Net-Zero-Energy home
ELS Acquires 25 acres adjacent to existing FL Manufactured Home Community
FEMA setting up manufactured homes in Louisiana near airport, says WBRZ2
Doing "End Around" Other Factory-Builders, LivingHomes Sprouts Plant Prefab
Wednesday, Sept 7
First Time – Clinton Vs Trump Live on Cable TV Tonight
AMG and NorthStar Lead, Patrick, SKY recede – as new U.S. Oil Find Touted
HUD Code Manufactured Housing Production – Drops in July 2016, Top 10 States reported
Precarious Position vs. Federal Power – DOE, CFPB, SEC, AGs v. ITT Institutes – takeaways for MH?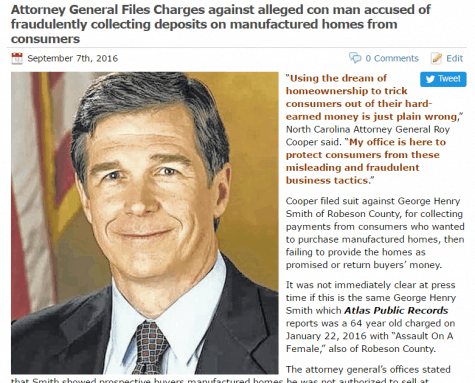 Attorney General Files Charges against alleged con man accused of fraudulently collecting deposits on manufactured homes from consumers
Tuesday, Sept 6
Manufactured Home Community Expansion Approved, But…
Sun & Third Ave lead, Deer Valley, UMH, LPX & MHCV recede
Urbanist Alan Davies – On not trashing "Trailer Parks" (sic)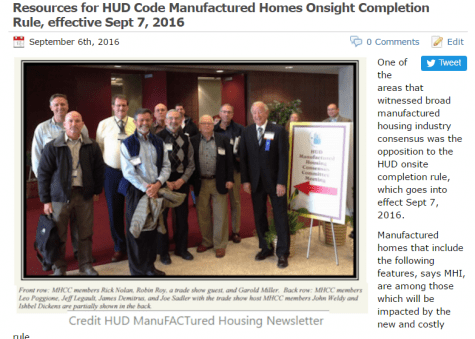 Resources for HUD Code Manufactured Homes Onsight Completion Rule, effective Sept 7, 2016
Mayor and State Senator attend to witness Manufactured Home Community Purchase
Monday, Sept 5
Skyline Stock in Focus Report; Markets Closed for Labor Day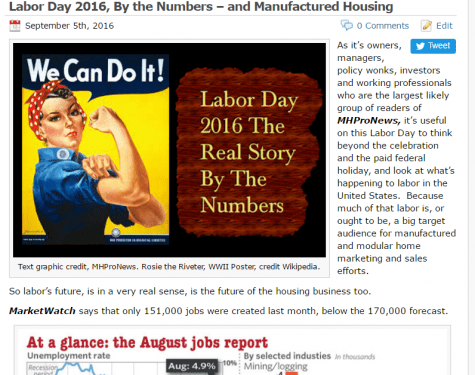 Labor Day 2016, By the Numbers – and Manufactured Housing
Solitaire Homes reaches 5,000 manufactured home milestone
Famous designer, Antonio Robbie, PreFab Leader & how Revolution PreCrafted can boost manufactured, modular home acceptance
Sunday, Sept 4
Sunday Morning Recap-Manufactured Housing Industry News Aug. 28-Sept. 4, 2016
Last and not at all the least for today, 9-11, 15 Years Later – short Video, one sentence commentary.
##
(Image credits as shown on original, posted page.)

Submitted by L. A. "Tony" Kovach to the Daily Business News, MHProNews.com.