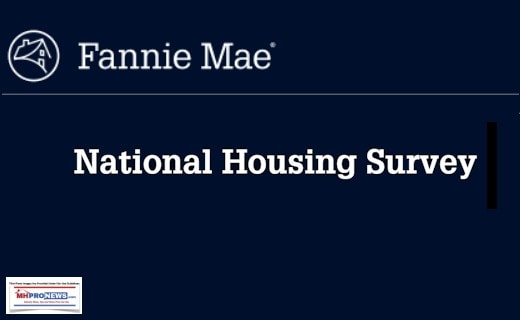 The latest Fannie Mae Home Purchase Sentiment Index® (HPSI) is out.  It's near an all-time high, but one category is declining.
Affordability for conventional housing buyers is sliding.
Manufactured Housing (MH) was MIA – missing in action – from the Fannie Mae report.  Manufactured homes aren't even mentioned.
"The latest HPSI reading edged up to a new survey high, showing that consumer attitudes remain resilient going into the spring/summer home buying season," said Doug Duncan, senior vice president and chief economist at Fannie Mae in a release to the Daily Business News. "High home prices and good economic conditions helped push the share of Americans who think it's a good time to sell to a fresh record high. However, the upward trend in the good-time-to-sell share seen since last spring has done little to release more for-sale inventory. The tightest supply in decades, combined with rising mortgage rates from historically low levels, will likely remain a hurdle for mobility and a persistent headwind for home sales."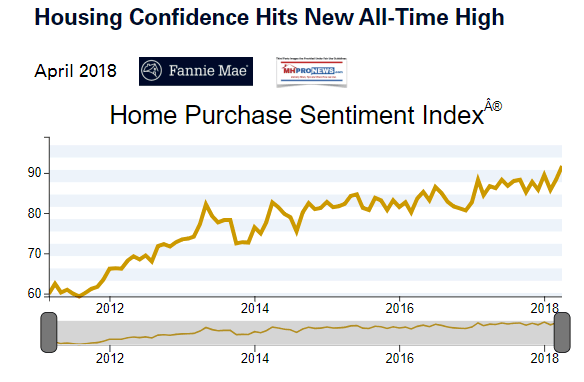 An Manufactured Housing Institute (MHI) producer, and not a MHARR dual member company, told MHProNews that, "I wish we could challenge the Fannie Mae folks on the Duty to Serve and have a real feedback on their prejudice and lack of support that was so severe that they feel compelled to rewrite the HUD code to a "new class" [of homes]; what are we [HUD Code manufactured homes] now, chopped liver?"
If that production source is correct, then at least part of the "new class of homes" pressure is coming from one or both of the Government Sponsored Enterprises (GSEs) of Fannie Mae and Freddie Mac.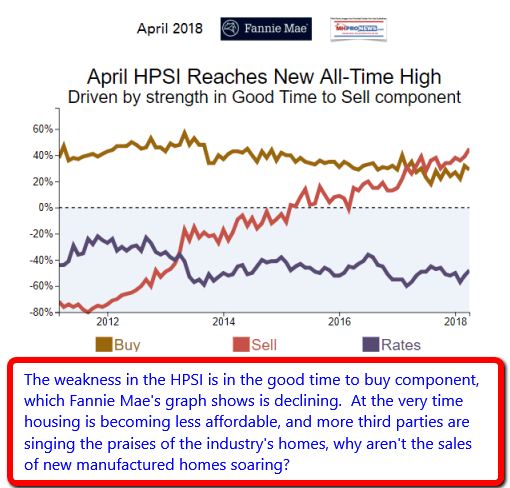 An industry blogger texted recently to say that MHProNews was the only one tackling issues that '1,000 industry professionals are talking about,' but no one else in the industry's trade media will write about. Why?
A common theme by bloggers and others in industry commentary is to "keep it positive" about MHI.
Because of reported pressure from Arlington and Knoxville, there are a number who won't sound off on-the-record about even obvious industry problems.
At the time when a growing number of non-profits, researchers, public officials, mainstream media sources such as the Washington Post, and others see manufactured housing as a key part of the solution for the affordable housing crisis, there is still resistance to the MH Industry's product.
It's an issue that MHI is paying lip service to, with 'story telling videos' that are getting few views, or controversial advertorials that have produced no noteworthy changes in the marketplace, as their own website statistics reflect.
An RV MH Hall of Fame inductee called MHProNews yesterday to say that the time for a new post-production association is now.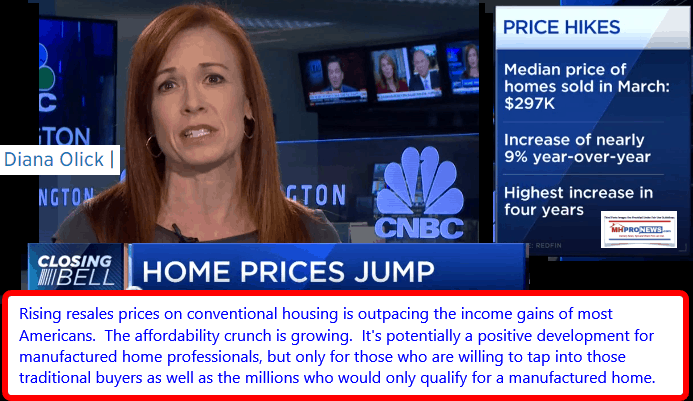 Another caller said that the opportunities for the industry are so immense, and the response from Arlington is so token, that it made that caller wonder if Clayton Homes has a conflict of interest now within MHI and the industry. Because of Berkshire Hathaway's growing interests in conventional housing, is Clayton more interested now in site building or some blending of on-site with prefab?  Isn't Clayton's presence at MHI now an inherent conflict of interest with pure HUD Code and modular builders?
Facts From Fannie Latest Housing Survey
"The Fannie Mae Home Purchase Sentiment Index® (HPSI) rose 3.4 points in April to 91.7, marking a new all-time survey high. The increase can be attributed to increases in five of the six HPSI components," said their release.
"The net share of respondents who said now is a good time to buy a home was the only component that decreased, falling 3 percentage points compared to March. However, the net share who reported that now is a good time to sell a home increased 6 percentage points month over month. Additionally, the net share who said home prices will go up in the next 12 months increased 7 percentage points in April, while the net share of consumers who said mortgage rates will go down over the next 12 months increased 4 percentage points. Americans expressed an increased sense of job security, with the net share who say they are not concerned about losing their job increasing 5 percentage points this month. Finally, the net share reporting that their income is significantly higher than it was 12 months ago increased 1 percentage point in April."  ## (News, analysis, and commentary.)
(Third party images and content are provided under fair use guidelines.)
Related Reports:
Plot Twist – Duty to Serve – Freddie Mac CEO Layton Called to Accountability w/Congressional, Administration Leaders Over New Manufactured Home Lending Revelations
Style or Substance? Lesson from Most Hated in America – Monday Morning Manufactured Home Sales, Marketing Meeting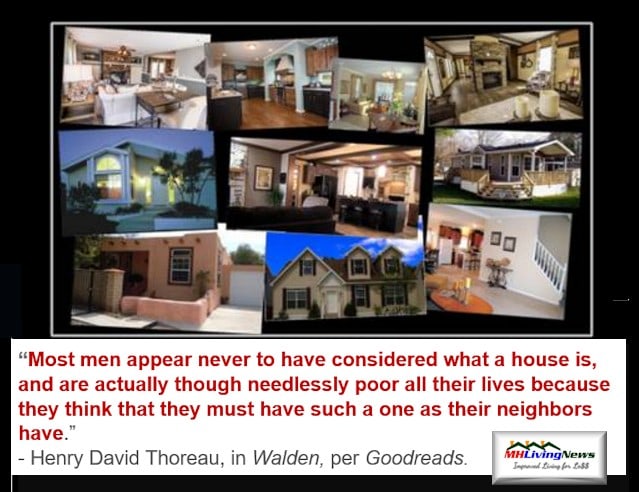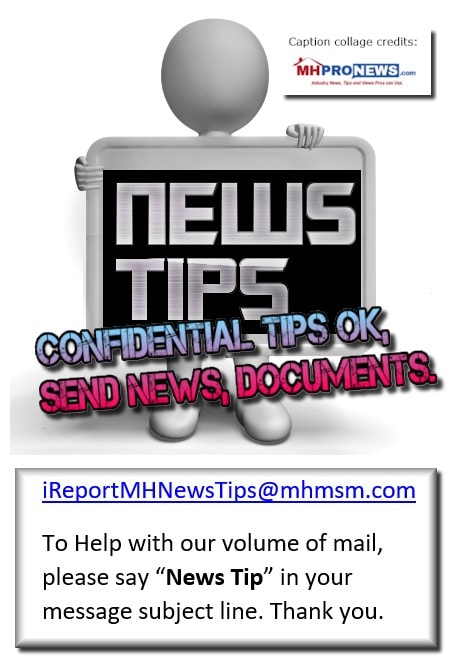 1) To sign up in seconds for our MH Industry leading emailed news updates, click here.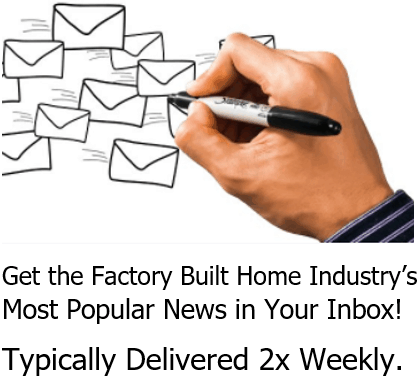 2) To provide a News Tips and/or Commentary, click the link to the left. Please note if comments are on-or-off the record, thank you.
3) Marketing, Web, Video, Consulting, Recruiting and Training Resources

Submitted by Soheyla Kovach to the Daily Business News for MHProNews.com.
Soheyla is a managing member of LifeStyle Factory Homes, LLC, the parent company to MHProNews, and MHLivingNews.com.