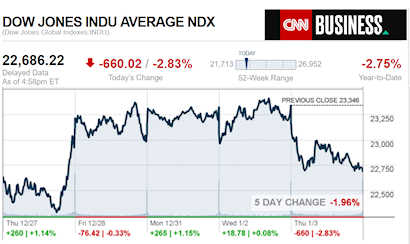 It is all about knowing what's wheat, what's chaff.
It is about what's sustainable, and what's problematic. It's about knowing what's moral or legal, vs. what's immoral and illegal. The rest are the details and commentary on today's market plunge, which the Daily Business News on MHProNews market report last night forecast. Let's see how Warren Buffett's thoughts on this matter may apply.
If you're new, already hooked on our new spotlight feature – or are ready to get the MH professional fever – our headline report is found further below, after the newsmaker bullets and major indexes closing tickers.
The evolving Daily Business News market report sets the manufactured home industry's stocks in the broader context of the overall markets.  Headlines – at home and abroad – often move the markets.  So, this is an example of "News through the lens of manufactured homes, and factory-built housing." ©
Part of this unique evening feature provides headlines – from both sides of the left-right media divide – which saves busy readers time, while underscoring topics that may be moving investors, which in turn move the markets.
Readers say this is also a useful quick-review tool that saves researchers time in getting a handle of the manufactured housing industry, through the lens of publicly-traded stocks connected with the manufactured home industry.
This is an exclusive evening or nightly example of MH "Industry News, Tips and Views, Pros Can Use." © It is fascinating to see just how similar, and different, these two lists of headlines can be.
Want to know more about the left-right media divide from third party research?  ICYMI – for those not familiar with the "Full Measure," 'left-center-right' media chart, please click here.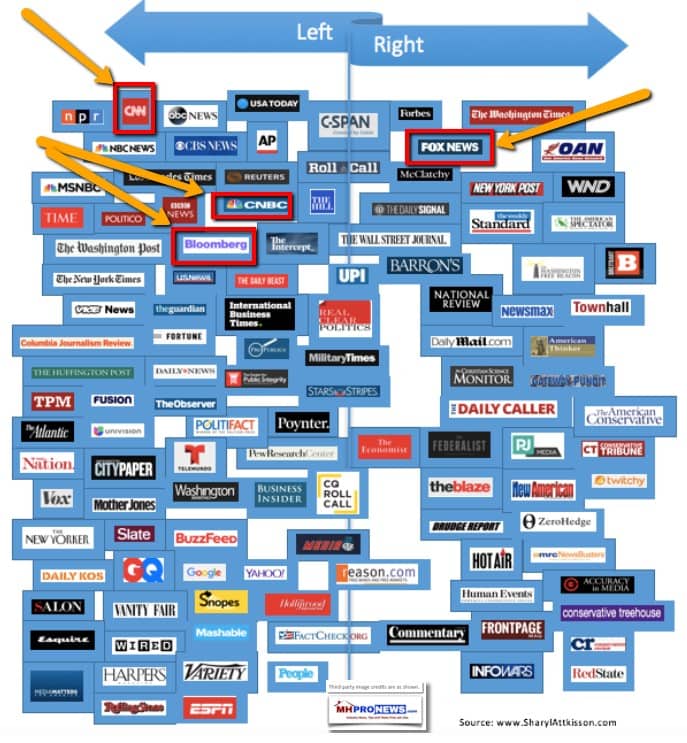 Select bullets from CNN Money…
The Dow drops 660 points as the tech company fed Wall Street's biggest fears
Apple's plunge has cost Warren Buffett nearly $4 billion
ANALYSIS The iPhone has lost its magic
PERSPECTIVES Apple's problems sound alarm bells about China's future
5 takeaways from Apple's stark China warning
GM's plug-in tax credit set to expire
Delta fare warning sends airline stocks lower
Disney leads the way for a record year at the global box office
These companies are expecting gigantic IPOs. The market might stop them
NBC News veteran warns of 'Trump circus' in 2,228-word farewell
Luxury brands are already feeling the China burn
One type of diversity we don't talk about at work: Body size
Why economists think hiring is starting to slow
We tested Tumblr's ban on porn. It needs work
The very important reason these tiny robots are taking pictures of cats
Inside China's Silicon Valley: From copycats to innovation
How Amazon's AI brought me my socks
Microsoft president: World needs to keep pace with AI
Chipotle's new strategy: Dieters welcome
Bored of exercise bikes? This company wants to make them more fun
Dollar General tries to make healthy food more accessible
Panera wants you to know exactly what's in your bread
Welch's says grape juice is for men now
Select Bullets from Fox Business…
Stocks off to historically bad 2019 behind Apple plunge, China worries
The companies that could feel pressure from new Democratic House
These US companies blame Trump's trade war for hurting sales
Apple's slide gives Buffett big buying opportunity he wanted
These states are experiencing the greatest population growth
Cathay Pacific to honor $16,000 flight sold for $675
Google stashed billions in offshore tax haven
Here's why your tax refund may be delayed
ADP job growth of 271,000 soars past expectations
General Motors taps new president as 4Q sales fall
Mark Zuckerberg halts Facebook share sales amid stock rout: Report
Roku CEO: Cord cutters creating opportunities
How GM is trying to beat Ford
Companies adjusting brands to new economy are succeeding: Andy Puzder
Dallas Fed president advocates for pause in interest rate hikes
California will force these companies to hire female board directors
Opinion: New Trump rule could help small business employees afford health insurance
College Football Playoff championship ticket prices reach historic lows
Your Wallet in the New Year
5 financial terms to know in 2019
Only this many Americans can cover a $1,000 emergency
These US taxpayers will pay more thanks to new law
Today's markets and stocks, at the closing bell…

Manufactured Housing Composite Value (MHCV)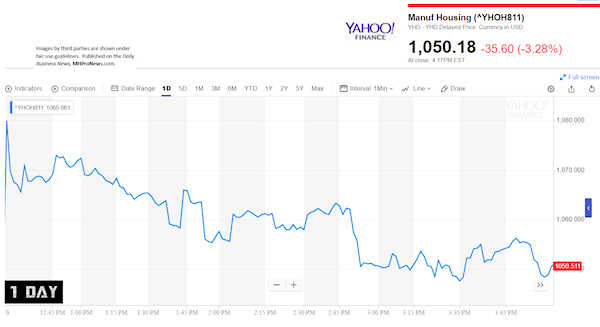 Today's Big Movers
For all the scores and highlights on tracked manufactured home connected stocks today, see the Bloomberg graphic, posted below.
Today's MH Market Spotlight Report –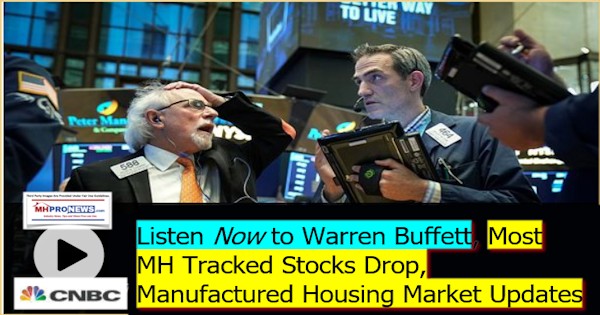 First, the facts. Most manufactured home tracked stocks are at less than half of their 1-year peak.
Last night, this MHProNews market report forecast today's declines. It wasn't rocket science, because when you watch the market trends, you start to get a feel for it.  Note, we have no positions in these tracked stocks.  As a trade publication, and as a consulting and professional services provider, we are transparently pro-manufactured home industry, pro-MH owners, and pro-consumer.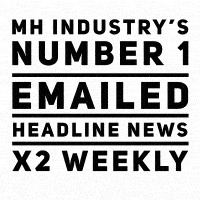 It may save time for you to review last night's market spotlight. The headline is a summary, but you can get the details by clicking on the linked text/image box below.
Markets Tick Up Slightly, But Tomorrow Could Be Ugly – Apple Nosedives, Plus MH Market Updates
Then, look at the Manufactured Housing Association for Regulator Reform (MHARR) news release to MHProNews about new home production, issued just a few hours ago.
Manufactured Home Production Decline Accelerates in November 2018
Next, let's get the market overview, per CNBC this evening.
"U.S. stocks fell sharply on Thursday following a dire quarterly warning from Apple. The iPhone maker blamed a slowing Chinese economy for the shortfall, intensifying fears that the global economy may be slowing down because of the ongoing trade war.
A weaker-than-expected reading on U.S. manufacturing added to those fears.
The Dow Jones Industrial Average dropped 660.02 points, or 2.8 percent, to 22,686.22 as Apple shares led the decline. The 30-stock index tumbled to its low of the day right before the close, trading down as much as 707.83 points.
The S&P 500 pulled back 2.47 percent to 2,447.89 as the tech sector fell 5.07 percent. The Nasdaq Composite tumbled 3 percent to 6,463.50, snapping a five-day winning streak, as Apple's stock dropped nearly 10 percent. Thursday marked Apple's worst session since 2013.
Apple said it sees first-quarter revenue of $84 billion vs. a previous guidance of a range of $89 billion and $93 billion. Analysts expected revenue of $91.3 billion for the period, according to the consensus estimate from FactSet. Apple blamed most of the revenue shortfall for struggling business in China."
Jeff Cox does a nice job in this video, and he makes the Warren Buffett quote, including some Buffett audio, in the video posted above.
For our growing numbers of newcomers to this site, let's disclose that we see reasons to believe that Warren Buffett's operations in manufactured housing could well have crossed some regulatory red-lines.  You can learn more about that at the report, linked below.
America woke up today to division. But perhaps 75 percent (+/-) of the nation's people could come together on a plan that demonstrably could do the following. Increase the U.S. Gross Domestic Product (GDP) by some $2 Trillion Annually, without new federal spending.
As a long time Buffett watcher, let's note that while no one could dispute his track record, there is a case to be made that his "strategic moat" – at least with respect to the manufactured housing industry, could in fact be open for antitrust action.  Buffett may have alluded to this when Bloomberg reported last year that one of his few concerns is about Berkshire Hathaway being broken up.
Buffett's quote below is sound.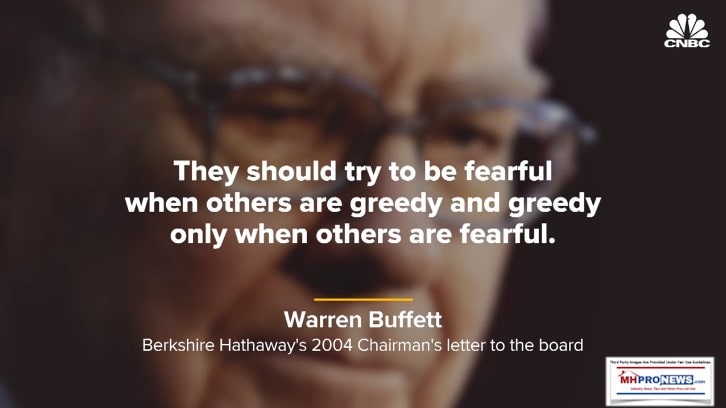 The question is, does Buffett's Berkshire brands tip firms – via various manipulations – into problematic positions that his firms then takes advantage of?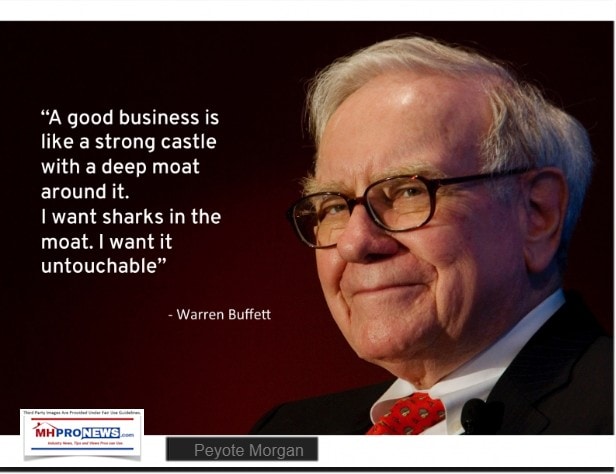 The problem with Apple, the FAANG stocks and Berkshire Hathaway is arguably the problem of monopolization. When huge stocks slide, it does tend to drag the broader markets with it.
The solution is antitrust action by state, federal, and plaintiffs' attorneys.  Or what Scott Galloway called putting oxygen back into the system.
NY Stern University's Scott Galloway on Facebook Founder Mark Zuckerberg's Capitol Hill Hearings
For more on 'inside baseball' on what's brewing under the surface of manufactured housing, see the reports linked below.
Finally, take heart.  There are some good firms in this industry.  In normal – historic – market conditions for manufactured housing, the industry ought to be soaring, not snoring.
A good way to take advantage of this time would be to own a company, or a large stake, and think long-term.  It could be a far safer bet than many stocks. Learn more, linked here.
To see a related report, click on that linked text/image box.
Related Reports:
Amid Market Turmoil, Nearly $1 Trillion Dollar Investment Fund Nuveen Bullish on Manufactured Housing, Provides Investor Outlook
Teen Sex Slaves, Lawlessness, Affordable Housing, Weaponized News, MH Accountability, as Nation Awakens to House Divided
https://manufacturedhomepronews.com/masthead/profitably-defeating-the-long-knives-2019-new-years-resolution-for-mhville/
Bloomberg Closing Ticker for MHProNews…
NOTE: The chart below includes the Canadian stock, ECN, which purchased Triad Financial Services.
NOTE: The chart below covers a number of stocks NOT reflected in the Yahoo MHCV, shown above.
NOTE: Drew changed its name and trading symbol at the end of 2016 to Lippert (LCII).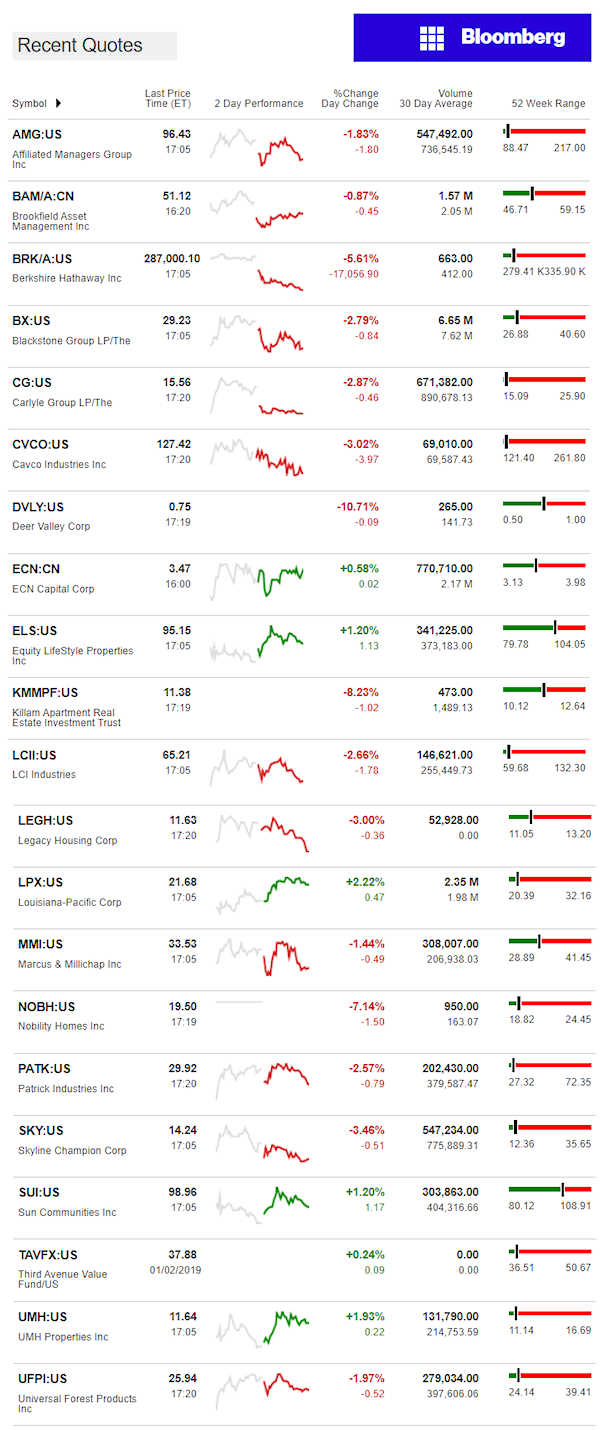 Berkshire Hathaway is the parent company to Clayton Homes, 21st Mortgage, Vanderbilt Mortgage and other factory built housing industry suppliers.
LCI Industries, Patrick, UFPI and LP all supply manufactured housing.
AMG, CG and TAVFX have investments in manufactured housing related businesses.
Your link to industry praise for our coverage, is found here.
For the examples of our kudos linked above…plus well over 1,000 positive, public comments, we say – "Thank You for your vote of confidence."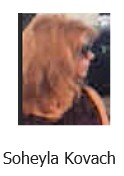 "We Provide, You Decide." © ## (News, analysis and commentary.)
(Image credits and information are as shown above, and when provided by third parties, are shared under fair use guidelines.)
Submitted by Soheyla Kovach to the Daily Business News for MHProNews.com.